Here's a look at some must-sees in the fascinating Catalonian capital.
Welcome to the city that everyone falls in love with! Warm in every sense of the word, it's not surprising that Barcelona is one of Europe's most popular travel destinations. Here are 33 things to see and do so that you can discover Barcelona at its most authentic.
1. Stroll down La Rambla, once described by Federico Garcia Lorca as "The most cheerful street in the world where the four seasons of the year live together, the only street on earth that I wish would never end, rich in sounds, abundant in breezes, of beautiful encounters, of old blood: Barcelona's Rambla." Well, we couldn't have described it better ourselves!
2. Take a guided tour of Casa Milà, an iconic building designed by Antoni Gaudí, then climb to the roof for amazing city views.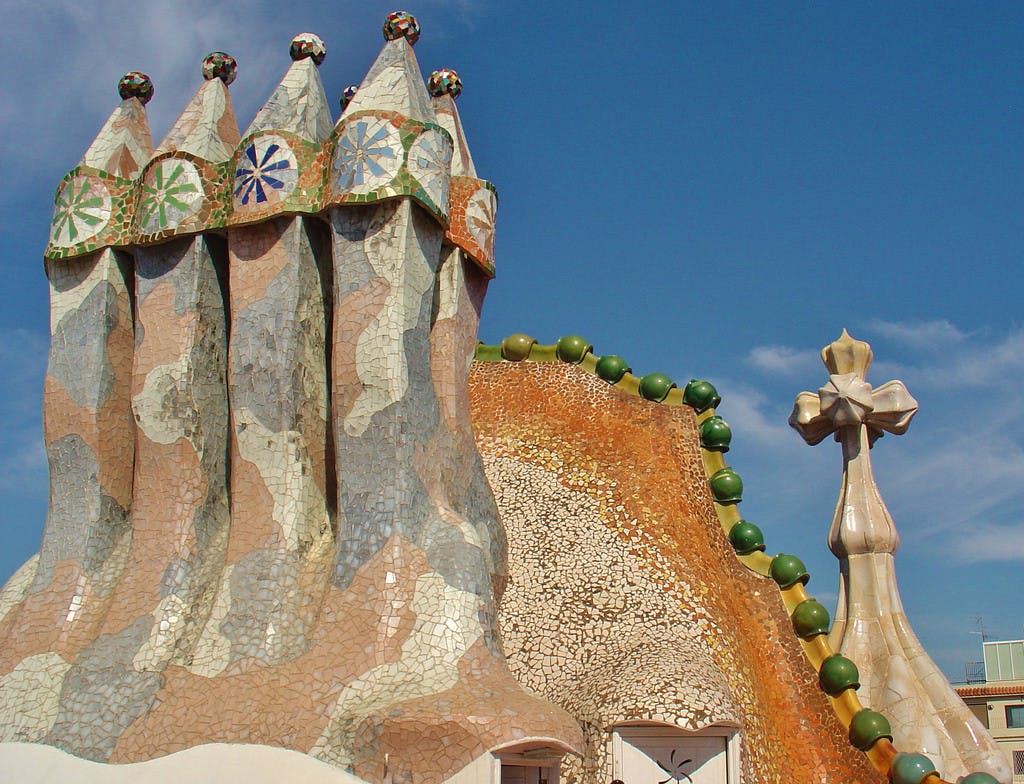 Casa Milá, Photo credit: www.traveljunction.com on VisualHunt / CC BY-SA
3. Wander through the Gothic Quarter and savor a cup of chocolate with churros on Petritxol street.
4. Sip a coffee on the terrace of Zurich Bar, a legendary locale on Plaça de Catalunya.
5. Fall in love with Gaudí's Catalan Modernist style at Casa Batlló, an architectural masterpiece known for its charming sinuosity
6. Visit one of the world's most famous basilicas: Sagrada Familia. Buy tickets in advance to avoid the (very long) queue.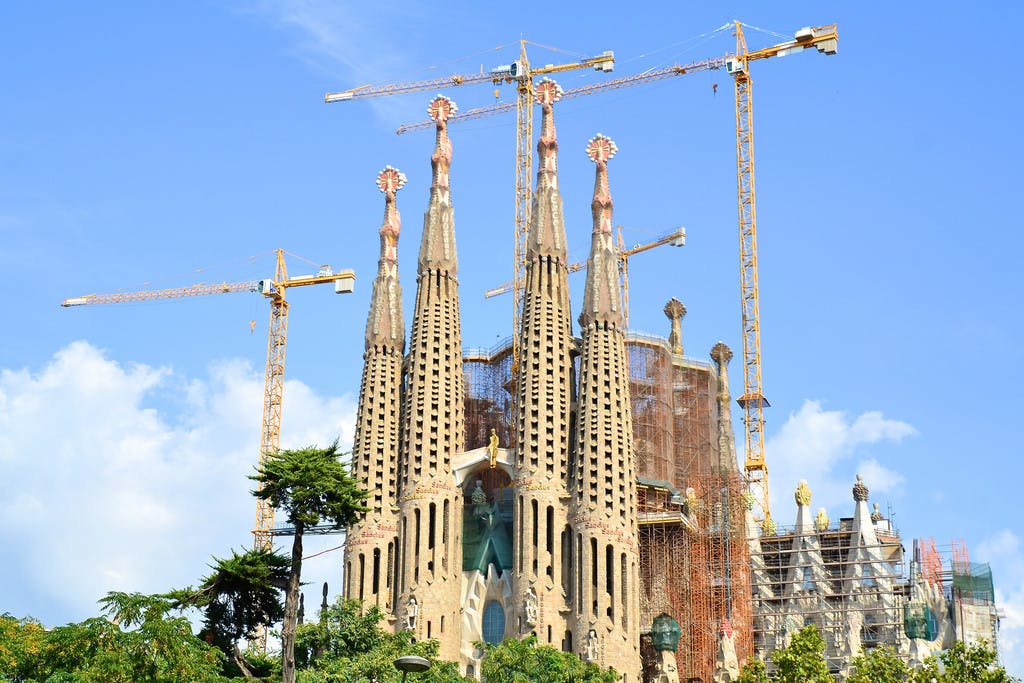 Sagrada Familia, Photo credit: sumo4fun on Visualhunt / CC BY-ND
7. Unleash your inner athlete by participating in the outdoor activities hosted by Barceloneta beach. BOX Barcelona, for instance, offers paddle boarding, surfing, yoga, boxing, running, HIIT and more. What better way to burn off all those tapas?
8. Go to Park Güell and learn more about Antoni Gaudí while enjoying spectacular city views.
9. Do you like football? Don't miss the chance to experience the authentic culé spirit by watching a Barça match at Camp Nou. Both the players and fans keep the stadium abuzz!
10. Treat yourself to a freshly squeezed fruit juice at La Boquería, the market on La Rambla that has become one of the city's major attractions.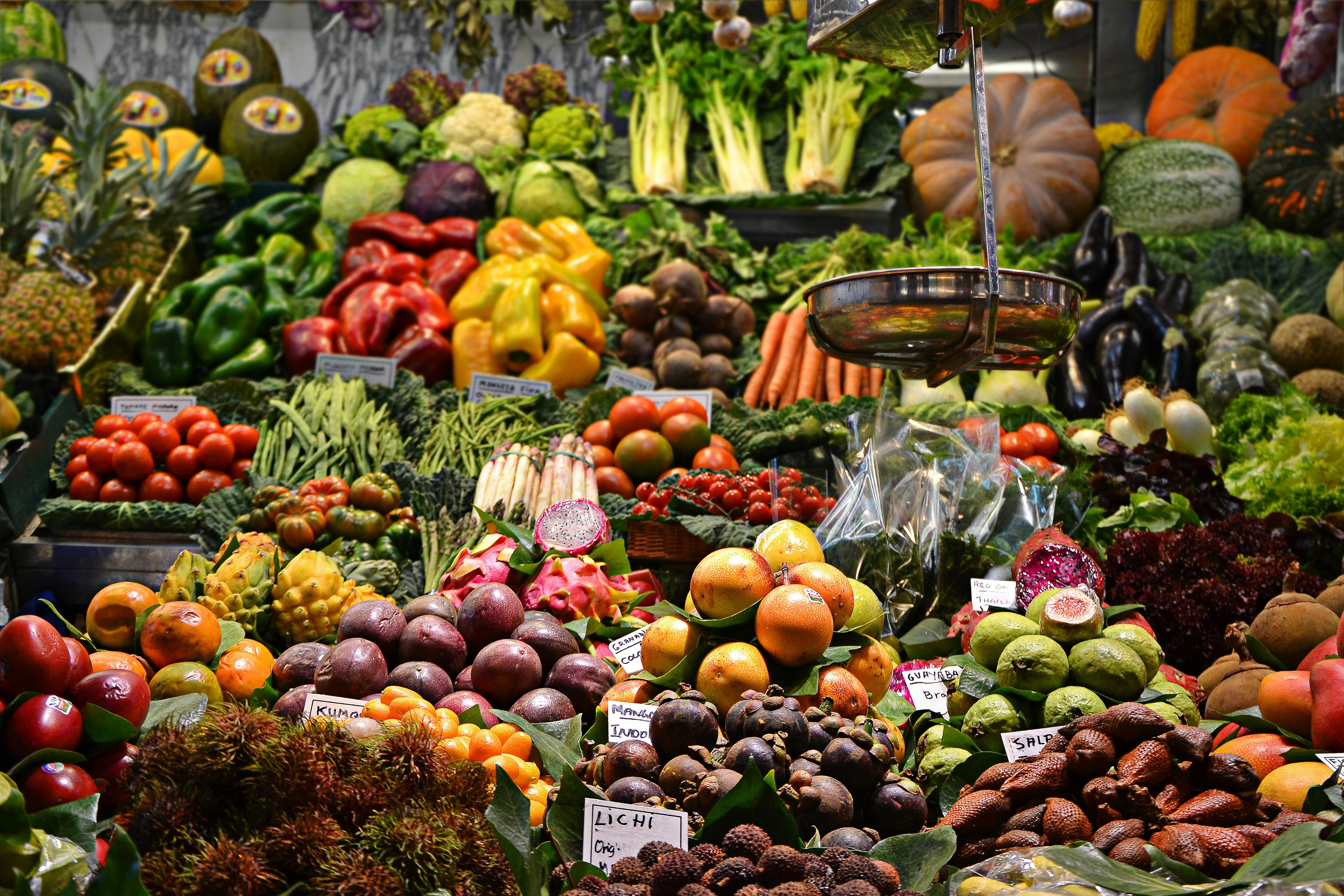 Boquería, Photo credit: ja ma
11. If you're there during summer, attend an open-air film session in Sala Montjuïc, where you can see some of the best movies of all time under the beautiful Barcelona sky. Don't forget to pack a snack and something warm for the chilly evenings!
12. Get lost in Laberint d'Horta Park.
13. Practice your negotiating skills at the Els Encants flea market.
14. In the evening, watch a fantastic light show at the Magic Fountain, made even more magical against the backdrop of Montjuïc castle.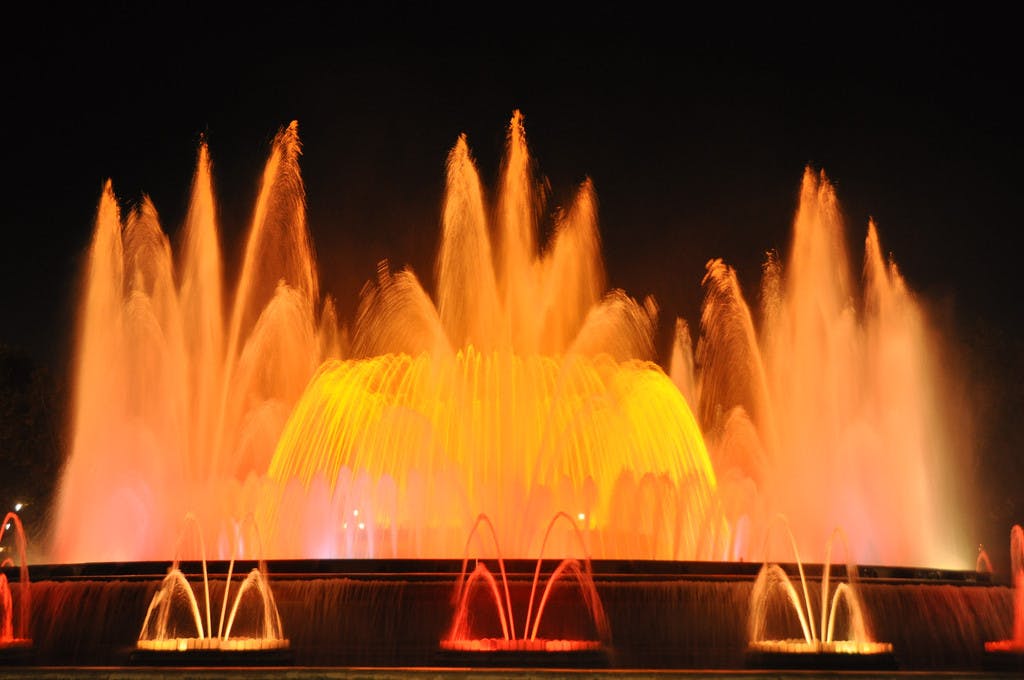 Font Màgica, Photo credit: Catalan Art & Architecture Gallery (Josep Bracons) on VisualHunt.com / CC BY-SA
15. Get tickets to Palau de la Música and discover the magnificent dome of this modernist building designed by architect Domènech y Montaner.
16. Spend a fun morning with the family at the Barcelona Aquarium.
17. Engage in a veritable local ritual by heading out for a noon vermouth aperitif on Saturday or Sunday.
18. Watch the street performers in Ciutadella Park.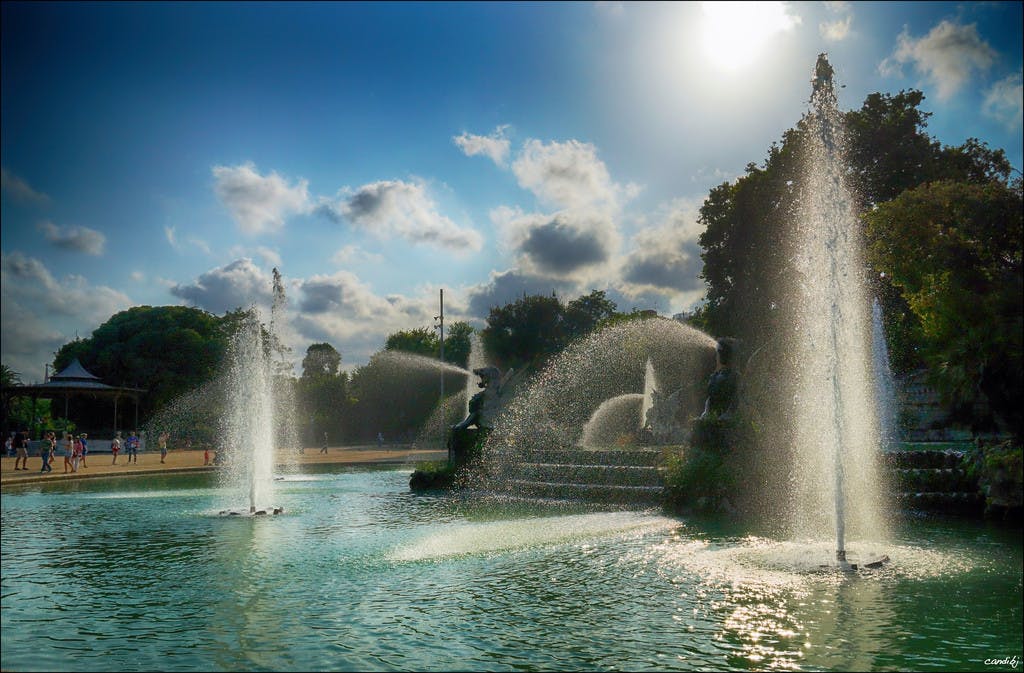 Ciutadella, Photo credit: candi… on Visualhunt / CC BY
19. Shop in Barcelona's charming boutiques.
20. Looking for some romance? Climb up to the Carmel Bunkers to watch the sunset with your better half. By the way, rumor has it that many a marriage proposal has taken place here…
21. Cultivate your well-being at the Aire de Barcelona urban spa.
22.  Go out for a snack in Gràcia, a vibrant district with a great selection of bohemian bars serving excellent tapas with a modern twist. La Bicicleta, Barbut and Extra are just a few of the places worth a visit. If you go there during August, Gràcia's ornate streets will put the icing on the cake, so to speak.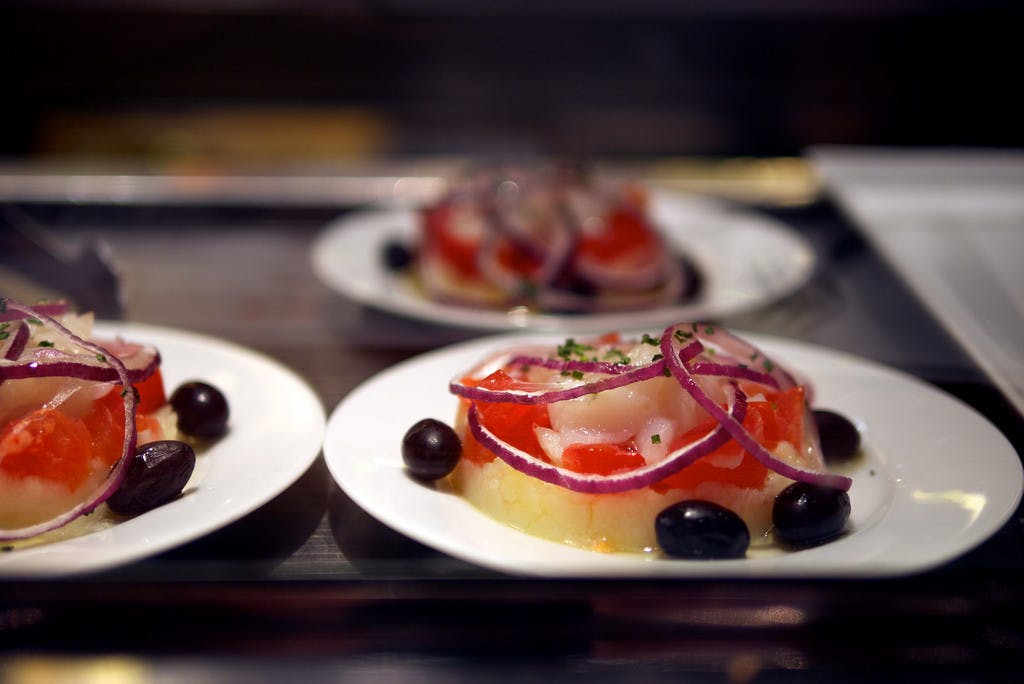 Photo credit: Jun Seita on VisualHunt.com / CC BY
23. Museum enthusiasts have a plentitude of options at their disposal:  MNAC, CCCB, Picasso Museum, Joan Miró Foundation, CosmoCaixa and more. Plus, admission is free on the first Sunday of each month.
24. Dance until dawn to the rhythm of electronic and indie pop music at Razzmatazz, one of Barcelona's largest nightclubs.
25. Recover the morning after during weekend brunch at Flax & Kale, one of the city's trendiest healthy restaurants.
26. Stroll through Raval, Barcelona's lively multicultural district.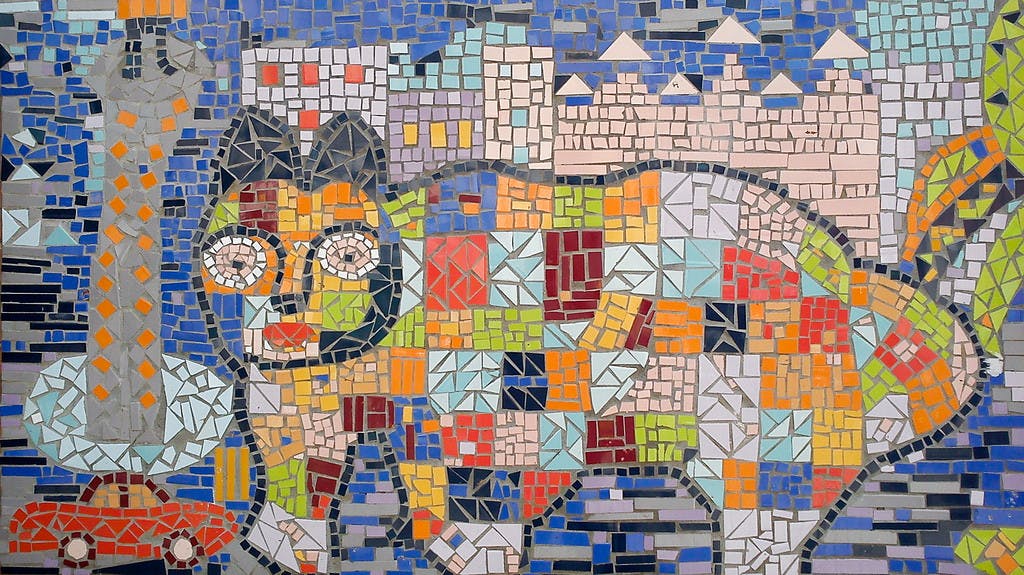 Raval, Photo credit: Almusaiti on Visual Hunt / CC BY-SA
27. Spend a day in Sitges, a coastal town where you can sample delectable seafood and authentic Catalan delicacies. Bon profit!
28. Admire the modern architecture of Pavellón Mies van der Rohe, which was built for the 1929 Barcelona International Exhibition.
29. Climb to the top of the Columbus Monument, then glance in the direction that the statue's finger is pointing for stunning panoramas of Barcelona's old port.
30. Stroll through Enric Granados Street. Cool off with some ice cream as you explore the original shops.
31. Move around town using the city's cable cars, electric bikes and boats.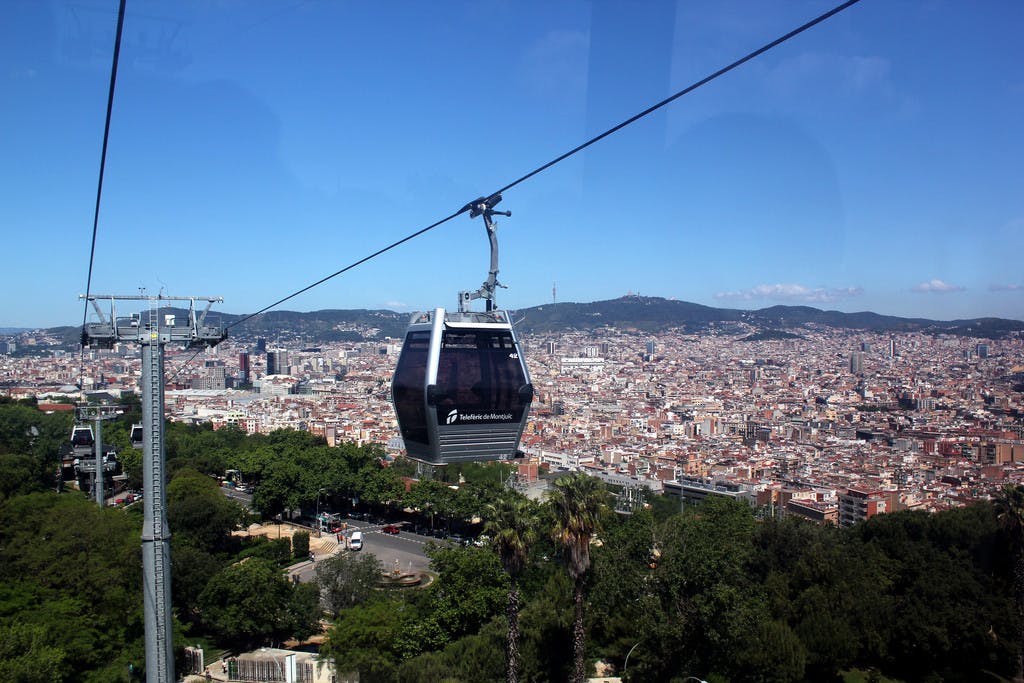 Teleférico, Photo credit: slasher-fun on VisualHunt.com / CC BY-SA
32. Take a nap in Nappuccino, Spain's first 'nap café', where you can rest when the heat strikes.
33. Visit the Catedral de Barcelona. If you happen to be here on the weekend, relax in the square and watch the traditional sardanas dancing.
Have another activity to add to the list? Let us know on Facebook!
Cover Photo Credit: Visual Hunt