Summer has arrived! Take advantage of the warm weather and treat yourself to a few days of fun in the sun. Musement shares five beach getaways that are not only perfect for anyone looking for a few days of relaxation this summer, but also super easy to reach.
There's no better way to use summer's sweltering heat to your advantage than by packing your bags for a few sunshine filled days along a dreamy sparkling coastline. One of the Europe's biggest draws for residents and visitors alike is that a short plane ride can bring you to a seemingly whole other world. When in Europe, the idea of packing up for a few days to lie on a beach and enjoy the sunshine (sans jet lag) in an exotic tropical locale doesn't necessarily have to be a pipe dream. If you're looking to do just that, here are five awesome summer beach getaway ideas for you that are super easy to reach along with some tips for what to eat once you get there. Happy packing!
Brac Island, Croatia
Although very easy to reach from Split, Brac tends to be less crowded than its other Adriatic island counterparts and is home to one of the world's most beautiful beaches: Zlatni Rat, also known as the Golden Horn.  This exquisite sandpit extends into the Hvar Channel with 634 meters (2080 ft.) of white pebble beach on either side.  Stay in Bol and take care to nosh on some the island's typical milk-fed lamb, which is served a number of ways, and procip a less-than-24-hour-old cheese baked into caramelized sugar, all in addition to the traditional Dalmation fare of course. Adventurous gastronomes will want to sip smutica, a beverage comprised of 80% goat's milk and 20% red wine.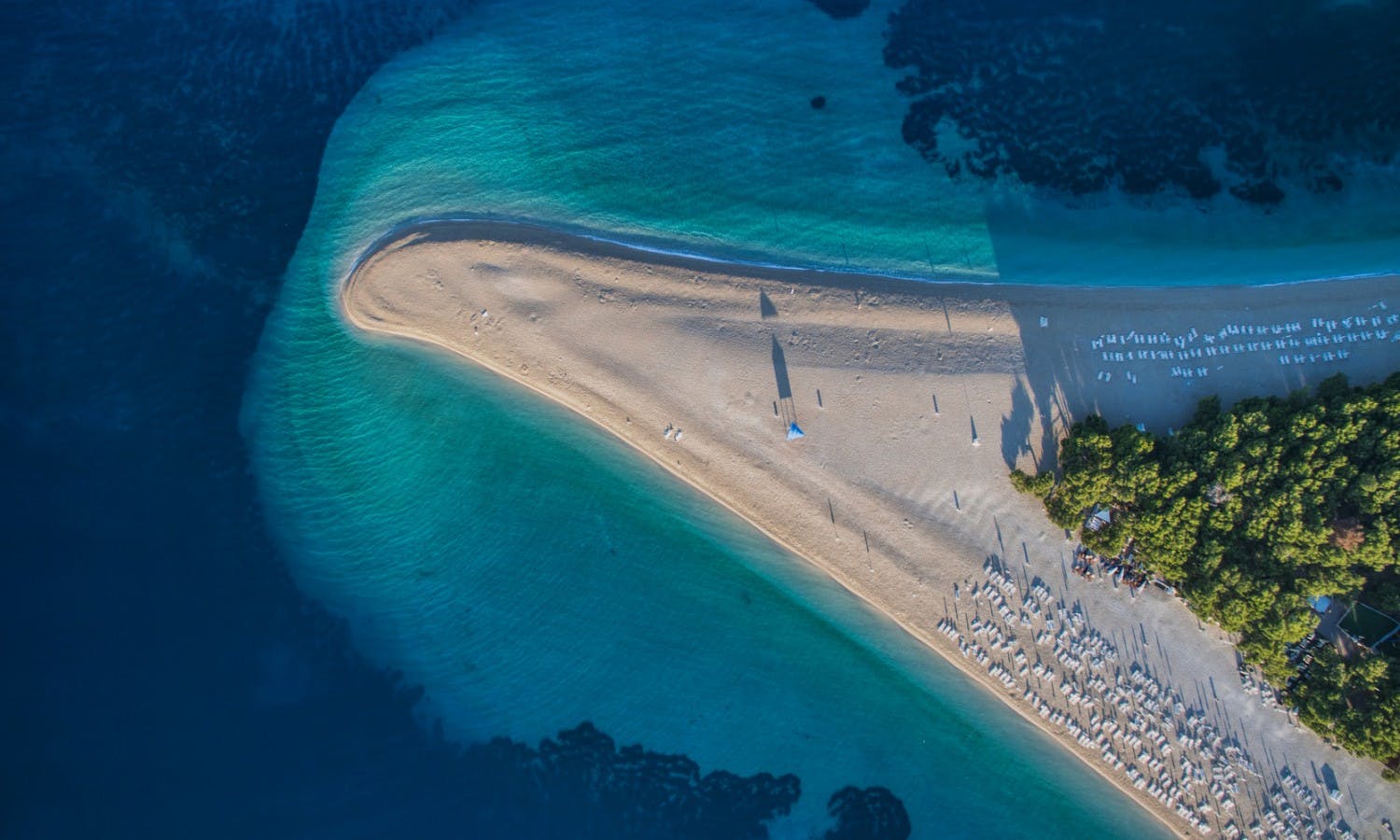 Brac Island, Croatia
Halkidiki, Greece
Yes, the Greek islands are beautiful, but the mainland also offers some pristine beaches. Fly into Thessalinki then head southeast and pass verdant pine tree forests to ultimately arrive at the sparkling turquoise Aegean beaches of Halkidiki, the birthplace of Aristotle. The stretch is divided into two areas, the built up Kassandra and the low key Sithonia. Sample some dolmas (stuffed grape leaves) and petimezi, a thick grape syrup that is often mixed with tonic.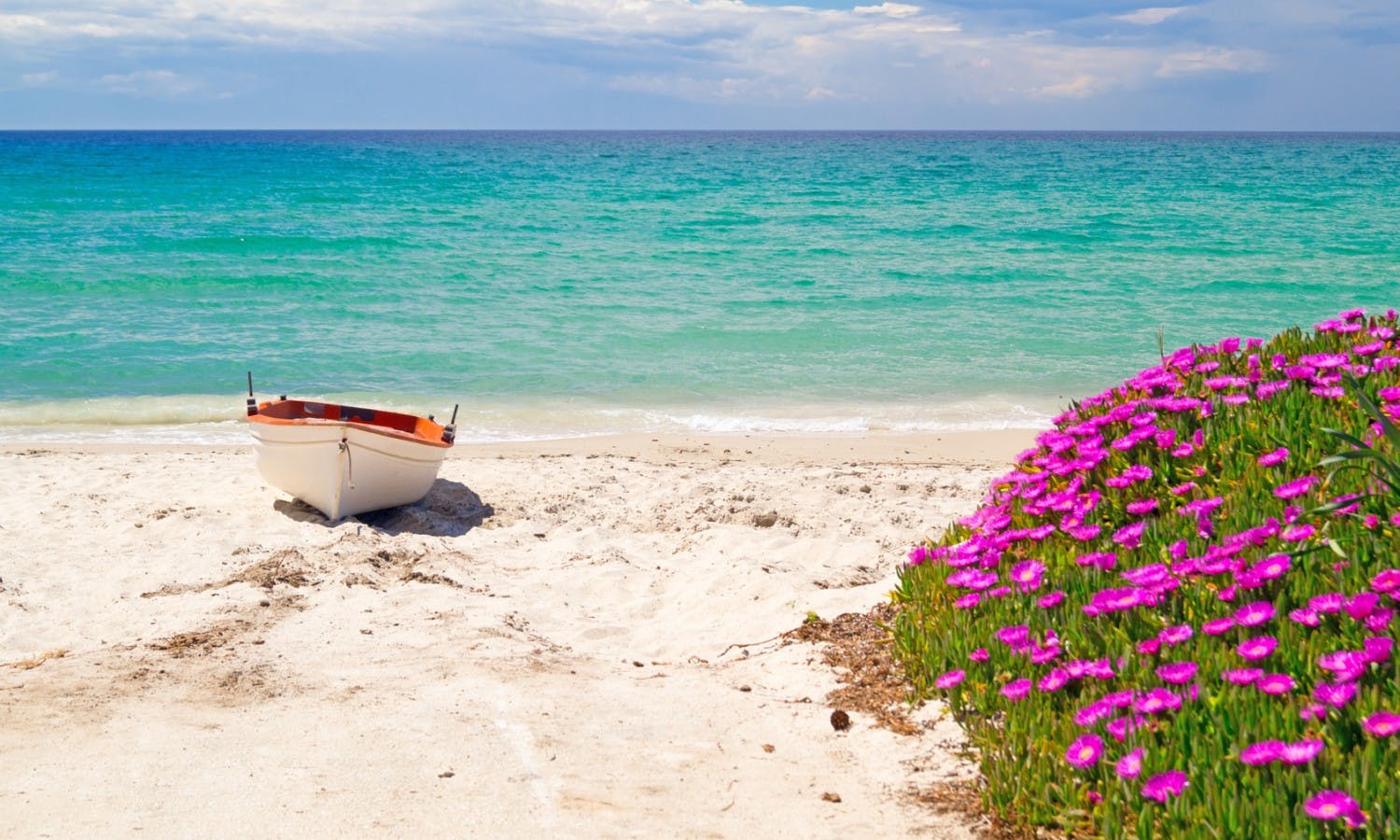 Halkidiki, Greece
Cavalaire-sur-Mer, Provence, France
Yes, St. Tropez is beautiful but the omnipresent jet setting billionaires and excessive yachts can make even the simplest of beach holidays unbearable. Cannes and Nice certainly never fail to enchant, but why not opt for a smaller Riviera town, one whose name might not ring a bell?  Cavalaire-sure-Mer is nestled quite unassumingly into the Côte d'Azur just 18 kilometers east of Saint Tropez, but it feels like a world away thanks to the lack of fuss.  Enjoy typical fresh, just-out-of-the-water typical Riviera seafood fare in dishes such as bouillabaisse.  Fly into Nice and take a drive along one of the world's most celebrated coastlines, or arrive in Toulon-Hyères, which is a little closer, but less serviced.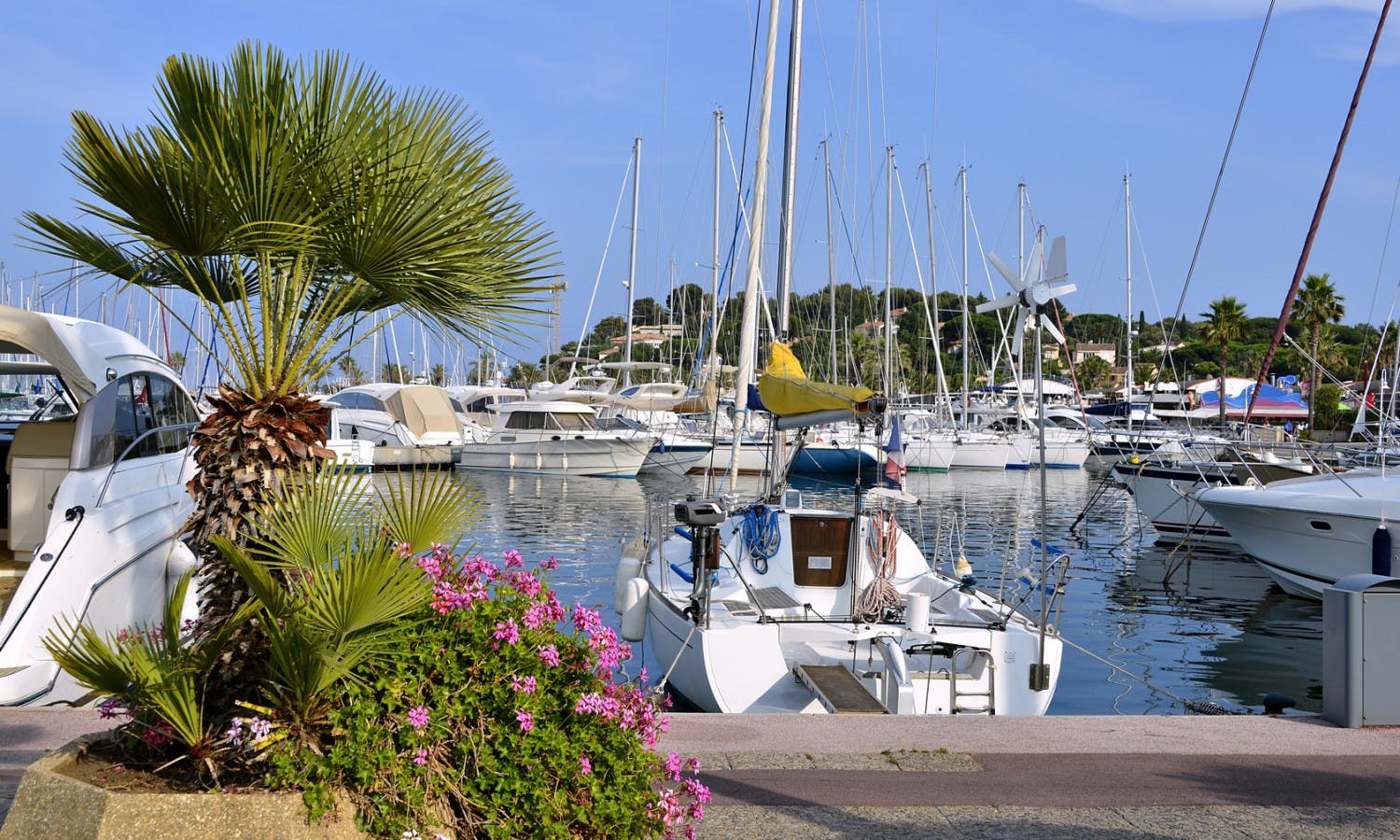 Cavalaire-sur-Mer, Provence, France
Cala Millor or Cala Bona, Majorca
Cala Millor is a vibrant modern resort town on the exquisite island of Mallorca's east coast. From water sports for adventure seekers to clubs for the night owls to a stunning 6km coast line for those who just want to kick back and relax, Cala Millor has something for everyone. You'd be remiss if you didn't eat Ramallet, a local tomato or sample a plate of fideua, a local paella like noodle dish. If you're looking for peace and quite, the neighboring Cala Bona is a traditional fishing village that still maintains its old world charm.  Airport: Palma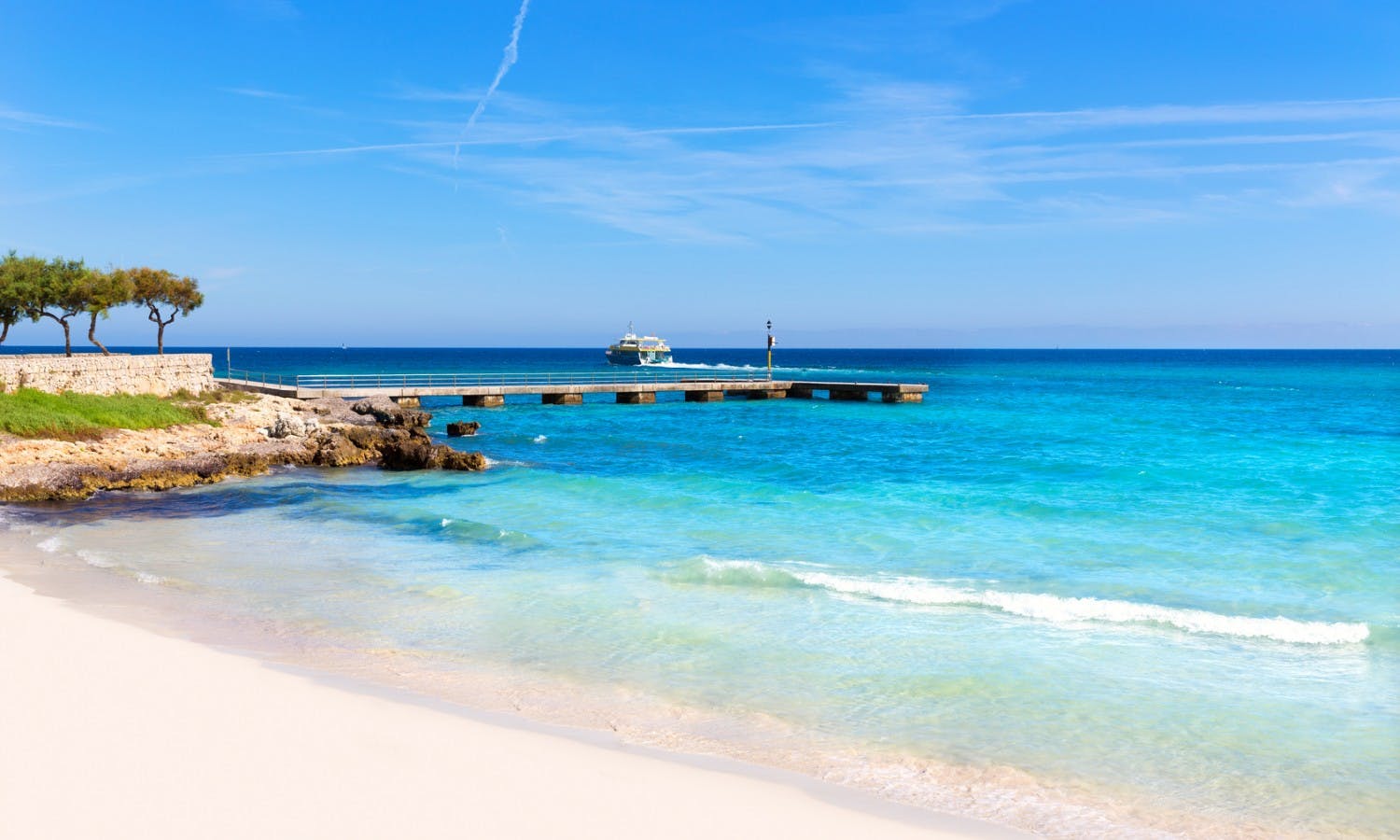 Cala Millor or Cala Bona, Majorca
Rondinara Beach, Corsica
This French island in the Mediterranean Sea is known far and wide as the birthplace of Napoleon as it is for its unspoiled paradisiacal beaches. Rondinara beach¸ a round inlet with shimmering emerald water, sits near a popular campsite. The beach isn't completely desolate as you have the option to rent a parasol and sunbed.  For those not too keen on the camping, stay in Porto Vecchio or Bonifacio, between which Rondinara is right in the middle.  Corsican cuisine is top!  Make sure to try brocciu, a cheese used for everything; azziminu di Capicorsu, a typical fish soup; and the many forms of  baccalà.  The island is also famous for its wines, so you might want to try a local variety made from the indigenous niellucciu grape.  Airport: Figari.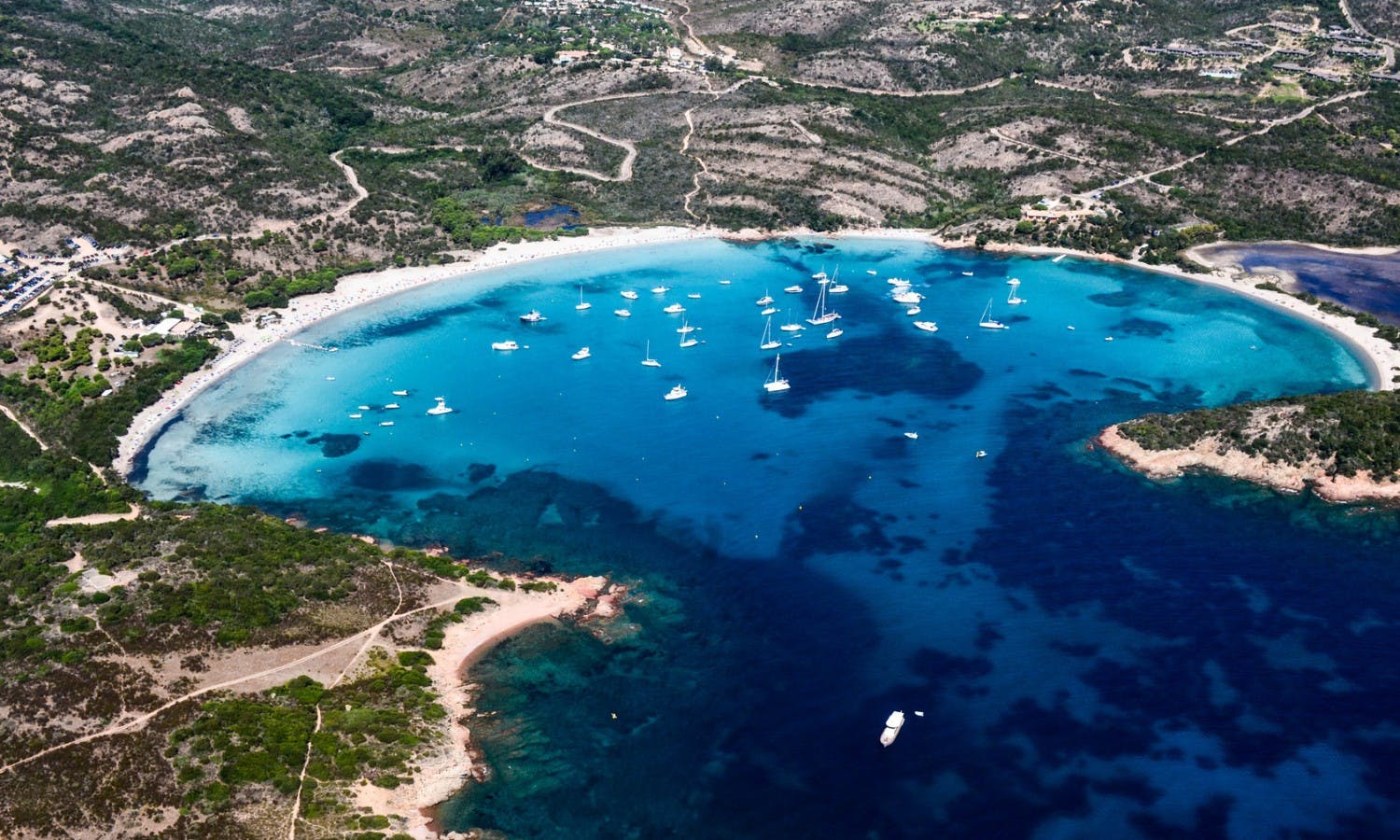 Rondinara Beach, Corsica