March has arrived and so has the itch to be on the road again. Musement takes a look at five destinations to visit this March.
Winter is on its way out and the time to take advantage of the last few weeks of the season has come. In anticipation of the glorious spring season, here are five exciting destinations you should get away to this March, from the romantic streets of Verona to wine tasting in Bordeaux.
1. Bordeaux
Also known as 'Port de la lune' (Port of the Moon), Bordeaux is a wine lover's paradise and definitely a fantastic March destination. Although the temperatures are moderate in March, there is nothing that can keep the French from enjoying a delicious meal al fresco. Taste the region's wines during a Garonne River cruise that winds through the city, and discover the history, culture and the ins and outs of winemaking at La Cité du Vin wine museum. Also celebrated for its cuisine, Bordeaux has many wonderful restaurants such as La Boite a Huitres known for the 'best oysters in Bordeaux'.
2. Edinburgh
Scotland's capital is adorned with culture, history and good times. Strolling the streets of Edinburgh's Old Town feels as if you are breathing in a cultural masterpiece.  Take an authentic Whiskey Tour to sample the distillate in its homeland, explore the majestic Edinburgh Castle with its spectacular city views, become immersed in Scottish folklore and legends, and head out of the city on a day trip to discover the beautiful Highlands and the mysterious Loch Ness. Finally, be sure to try 'haggis', a traditional Scottish dish that's delicious….just not suitable for vegetarians.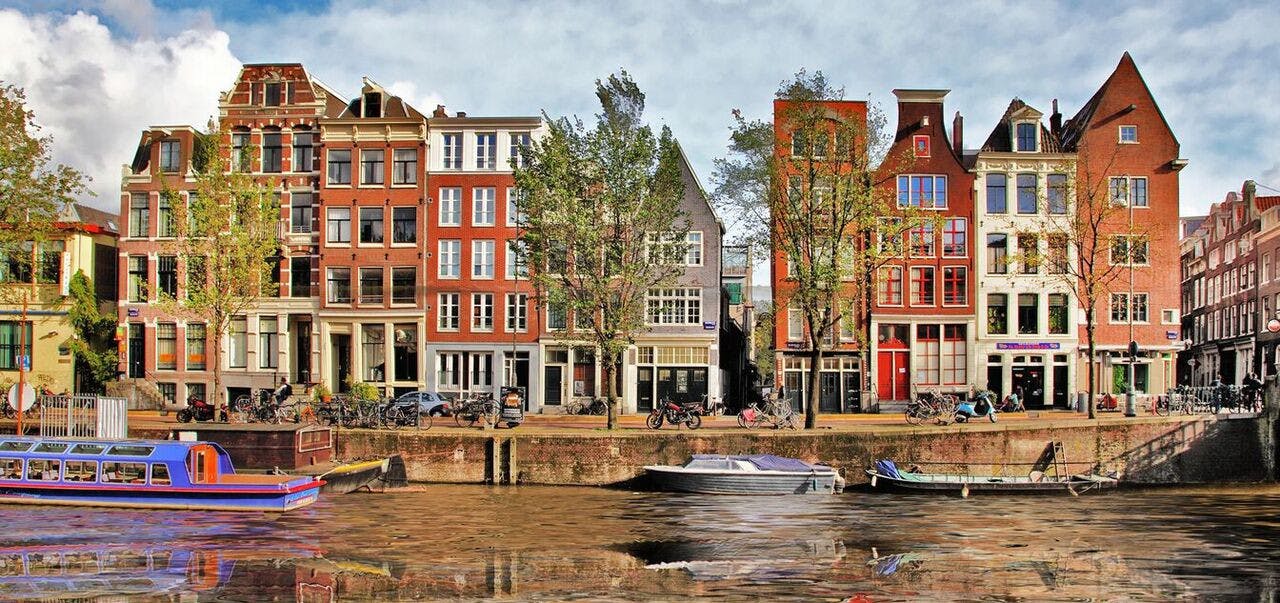 The charming canals in Amsterdam
3. Amsterdam
March in Amsterdam means that the crowds have dwindled, so travelers can explore the city sans crowds! Aside from the usual exciting entertainment that may come to mind when you think of Amsterdam, such as ganja coffee shops, the Red Light District and the Heineken Brewery, the city is chock full of culture and history. Visit the Van Gogh Museum and the Rijksmuseum in Museumplein where you can snap a fun picture in front of the iconic 'I amsterdam' sign.
4. Verona
The city that inspired Shakespeare's Romeo and Juliet, Verona is intrinsically romantic with its balconies, frescoed buildings and traditional Italian restaurants with their centuries-old decor. A symbol of 'eternal love', Verona was nominated as a UNESCO World Heritage Site.  Take a city tour to learn about its depth of history that includes an impressive Roman Amphitheatre and medieval city fortifications. Explore the culinary traditions of the Veronese and pair your delicious meal with a local wine like Valipolicella or Amarone.
5. Dublin
Feel like home in March with some good old-fashioned Irish hospitality as there is no better place to celebrate St. Patrick's day than the Irish capital! Join the enthusiastic celebrations taking place 15-19 of March. Check out the official website for more info, and be sure to take a tour of the Guinness Storehouse that is located within the eighteenth-century St. James Gate Brewery, where you will not only learn how the classic brew is made, but also get to taste some, too.