Musement takes a look at five Greek islands that should be on the itineraries of all you island hoppers out there.
The Greek islands, practically synonymous with summer, are paradise unearthed. These 600 scattered clusters in the sparkling Aegean and Ionian Seas await you! While you'll find here some of the world's most beautiful beaches that you won't want to leave once you've parked yourself on a sunbed, the islands boast much more than just fun in the sun. From culture to gastronomy to architecture, there's plenty of pleasures for the mind, palate and eyes to feast upon. Here are five you should take care not to skip during any Greek island-hopping adventures.
1. Mykonos
Although the island does tend to be popular with travelers on the party circuit, Mykonos offers much more than nightlife. This Cycladic island was inhabited as far back as the eleventh century BC, and has seen pretty much every major conqueror thereafter, from the Romans to the Byzantines to the Ottomans. Set up shop in the island's namesake main town and explore beyond its boundaries. Don't miss Ano Mera monastery and Ornos, an old fishing village with a sparkling aquamarine beach (that can get a little too close for comfort during high season), or take a day trip to Delos island, an archeology site believed to be the birthplace of Apollo.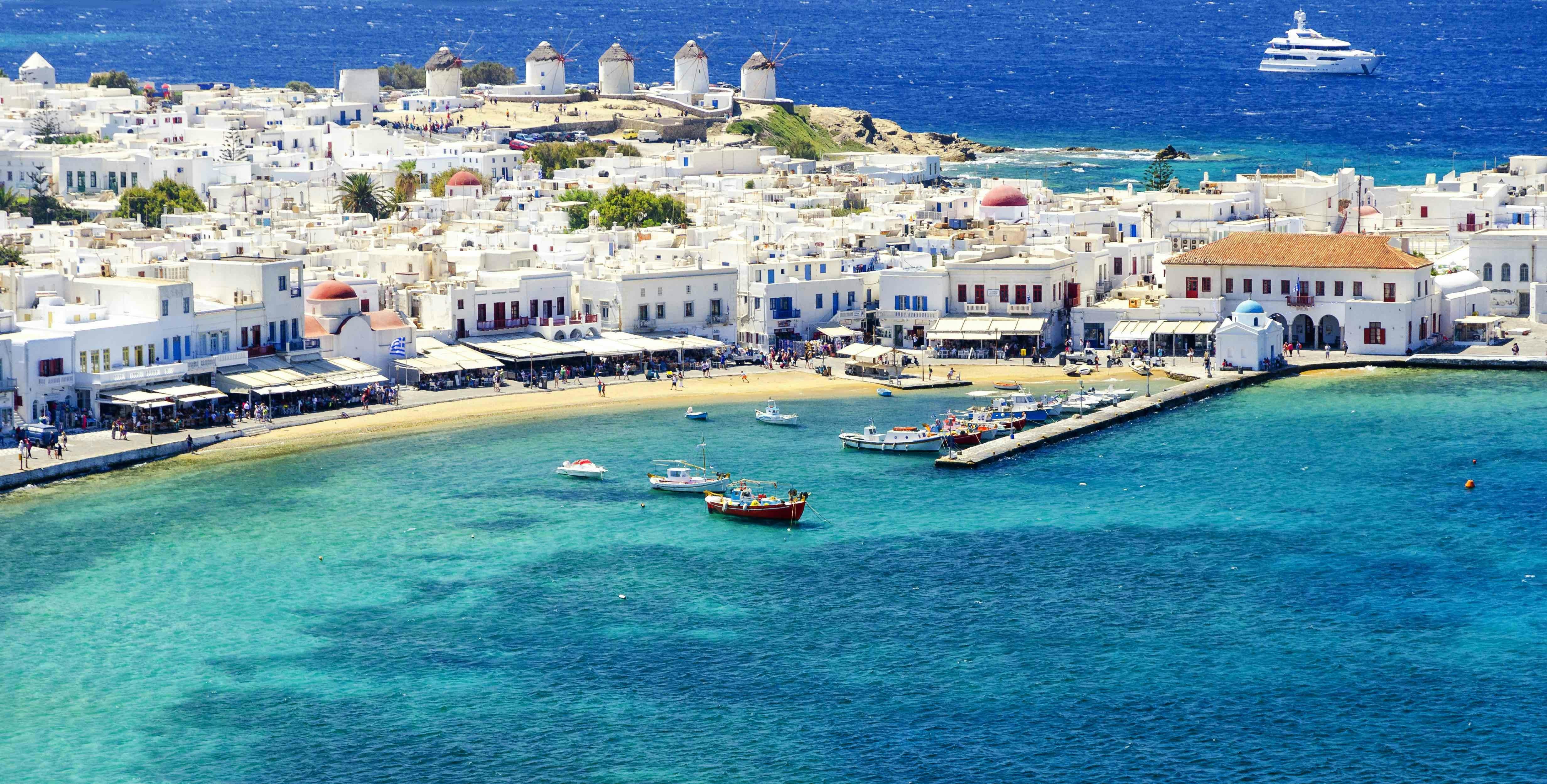 Myknoos
2. Santorini
When most people think of the Greek islands, the image of blue-domed white cubic Cycladic architecture seemingly etched into a cliffside tends to come to mind, and this island would be none other than Santorini. The Instagram darling features a towering wall from a millennia-old volcanic eruption that caused part of the island to break off and sink to the ocean floor. Today, the caldera slopes on the West coast are the most developed. Hike, explore tucked away traditional villages and unwind on amazing beaches like Red Beach, Perissa, Kamari and Perivolos. Black volcanic sand beaches can be found on the island's east coast. From wineries to cooking classes to ancient Minoan ruins, Santorini offers visitors plenty to sink their teeth into. Enjoy the sunset from Oia, take a cruise on a Catamaran or learn how to whip up some local cuisine. Santorini is your oyster!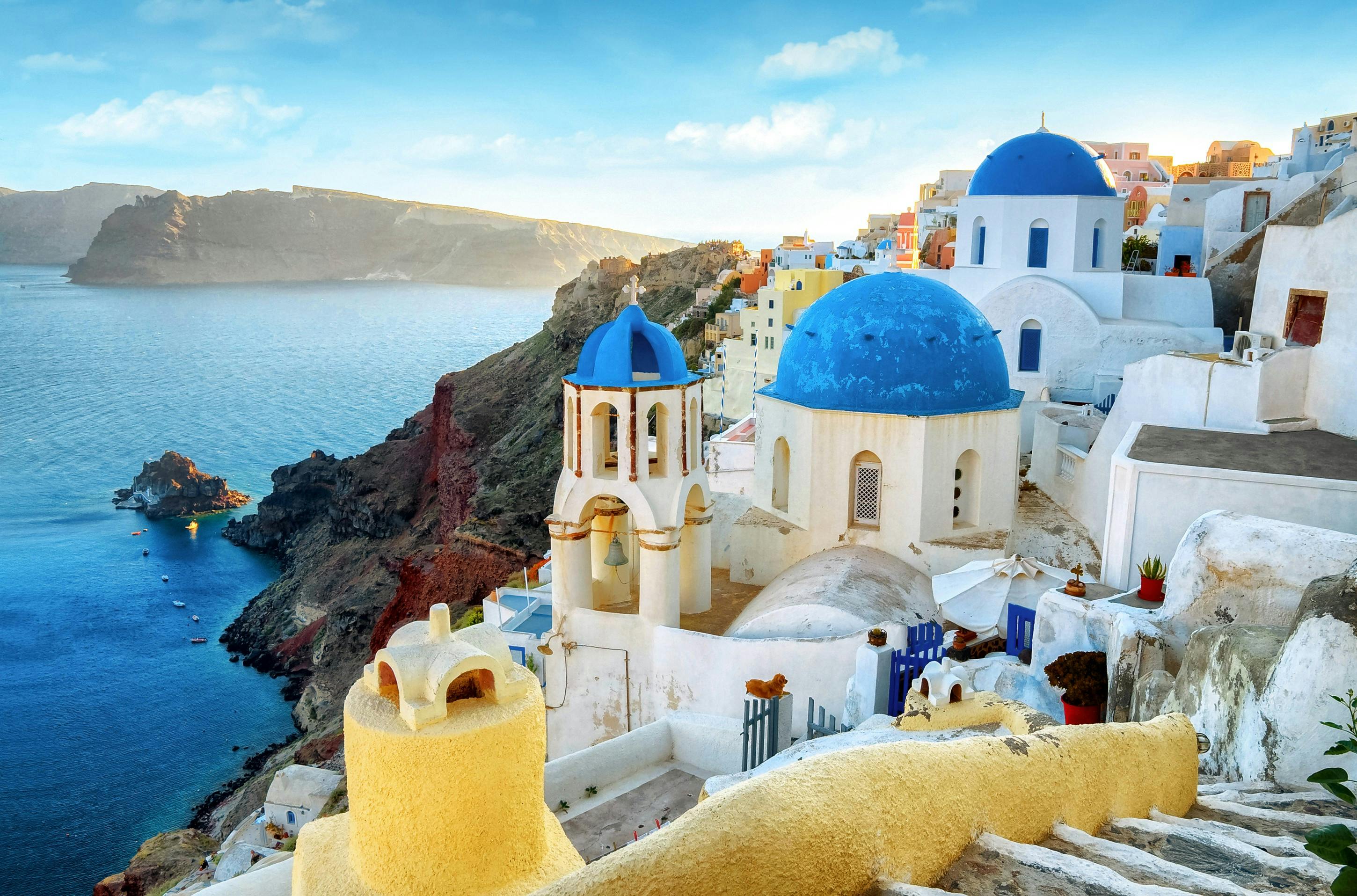 Santorini
3. Crete
We don't even know where to begin with glorious Crete! Yes, the Mediterranean's fifth largest island is part of Greece, but in some ways, it feels like a country of its own. The intriguing landscape juxtaposes towering inland mountains with gorgeous pink sand beaches. Heraklion, the island's main city, is a bustling beach town that provides the perfect balance of relaxation and culture. From here, venture out to the Palace of Knossos, Europe's oldest city and the island's largest Bronze Age archaeological site. Kick back on one of the beaches like the palm-grove studded Váï, Paleóhora on the southwest coast or the dream Balos Beach in Chania. Don't forget to sip some local wines grown at high altitudes like vilana, a popular white varietal.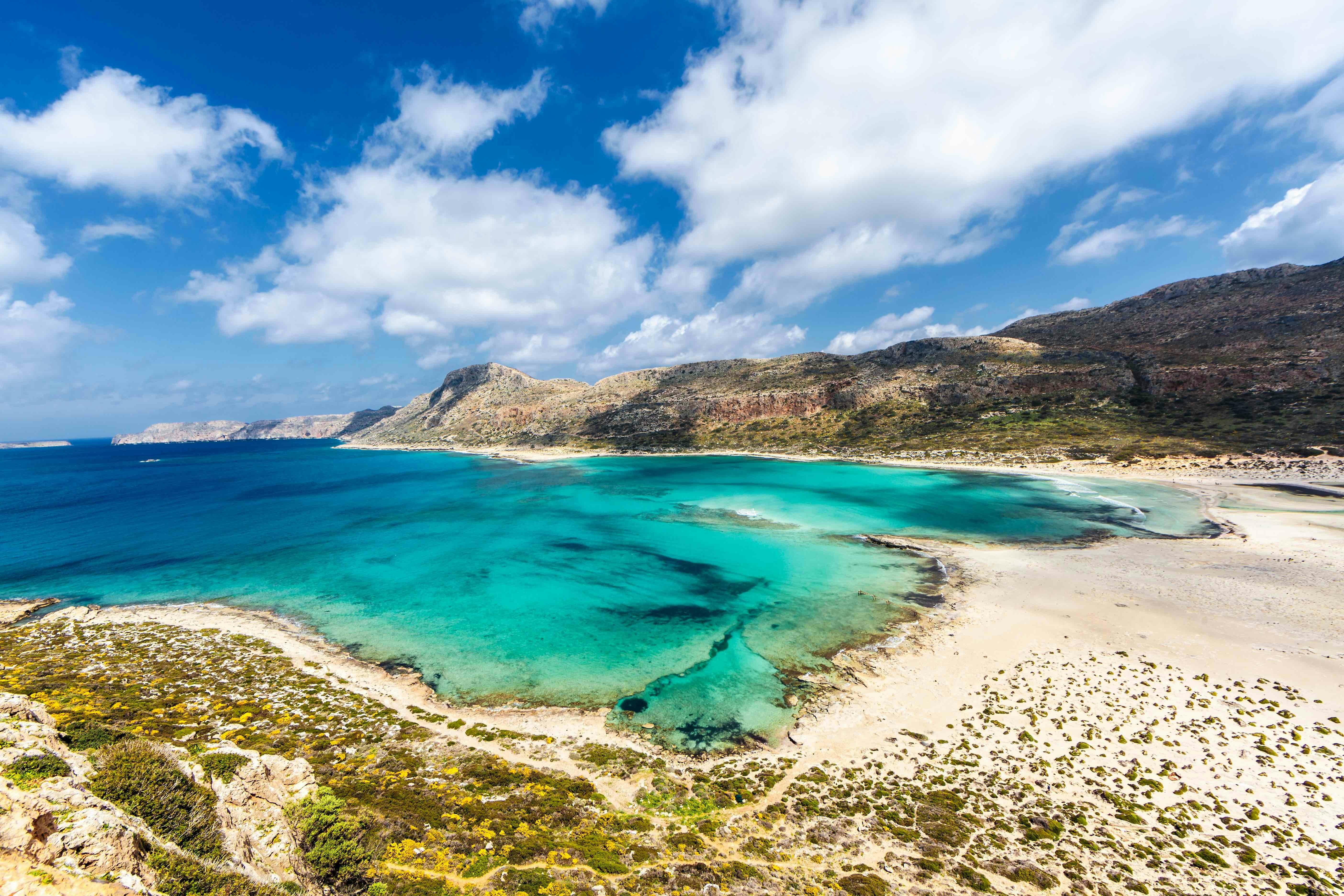 Balos Beach, Crete
4. Kos
One of the Dodecanese islands, Kos sits closer to the the Turkish mainland than that of Greece. Pretty much everywhere you look, you'll find traces of island's different rulership eras as well as ruins from the days of antiquity.  Kos Town, the island's capital, is presided over by the stunning Byzantine-era Antimachia castle and showcases an eclectic mix of architecture from the island's Ottoman and Venetian eras. Visit the Kardamena, Kefalos, Tingaki, Antimachia, Mastihari, Marmari and Pyli. Fun facts: Not only is Kos mentioned in Homer's epic Iliad, but ancient physician Hippocrates is believed to have been born there.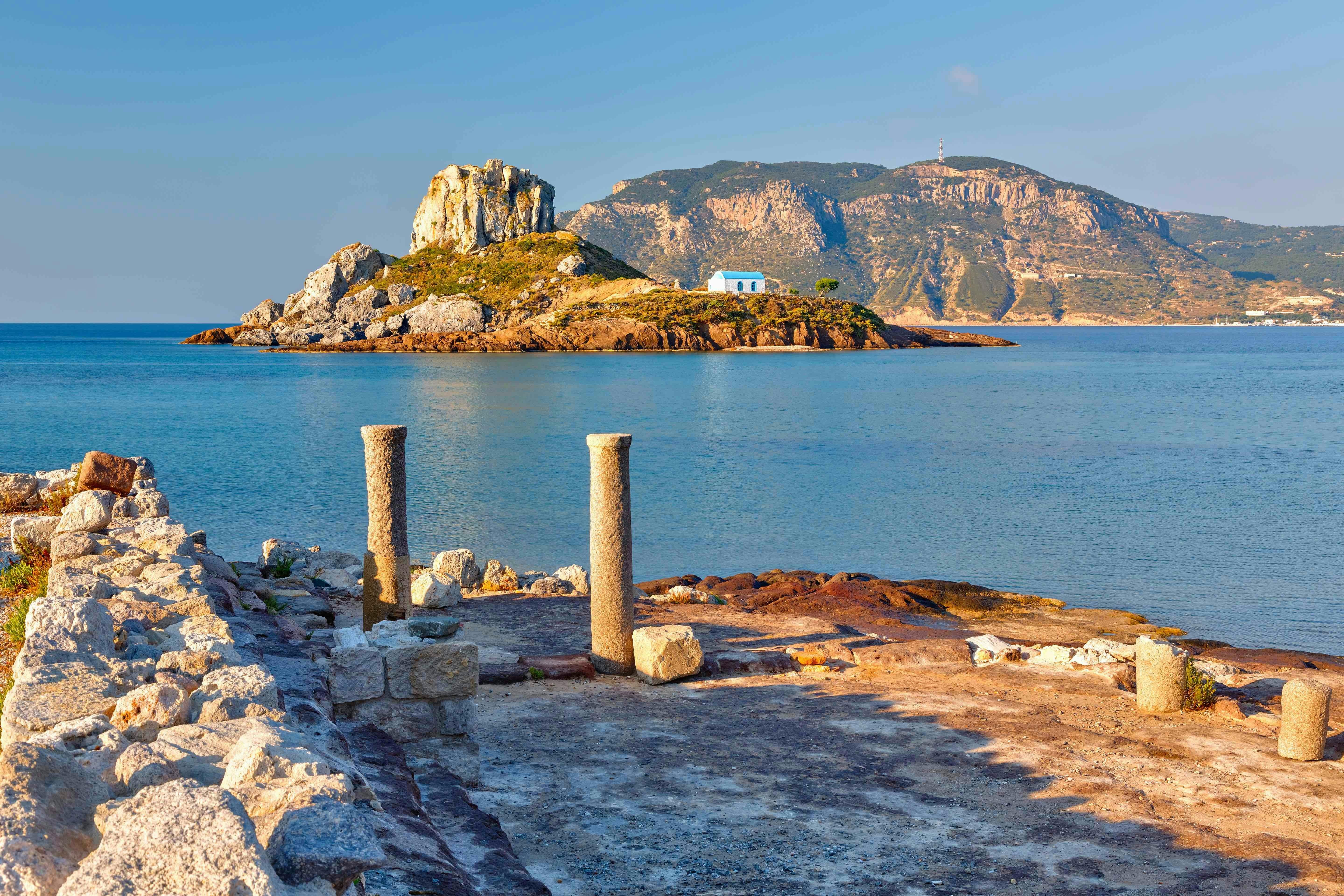 Kos
5. Zakynthos
Located in the Ionian Sea, Zakynthos (or Zante, its italian name) is characterized by verdant landscapes and sparkling turquoise water. Travelers flock here in droves, and it's easy to see why as it appeals to both beach lovers looking to unwind on the shore and adventurers eager to explore the terrain. Among the surreal beaches, Navagio is the most famous, an exposed cove with a shipwreck from 1980.  Don't forget to visit Laguna bay, home to the endangered Loggerhead turtle population. If you want to get off the island for the day, take a ferry to Kefalonia to see sites such as St. Gerasimos Monastery, Melissani Underground Lake and Drogarati Caves.

Navagio Beach