If you want to eat the best Italian food in New York, you have to look much further north of Mulberry Street to Arthur Avenue in the Bronx, a super old-school neighborhood known to locals as the "Real Little Italy."
I hate to be the one to break this to you, but I'm going to anyway: If you want to eat great Italian food when you're in New York, avoid Little Italy in Manhattan at all costs. This advice isn't news to New Yorkers, but it does come as a bit of a shock to anyone not already in the know. Little Italy in Manhattan is a gimmick; it really doesn't encompass the spirit of Italy or the love put into its cuisine. With the exception of a few decent eats, the restaurants on Mulberry Street are turn-and-burn, quantity-over-quality kind of places. Italian-American cuisine is a genre of its own, and when it's done right, it's a gem. If you want superb red-sauce pasta dishes, chicken parmesan and spaghetti with meatballs, you have to look further uptown towards the Bronx to a little gem of a neighborhood called Arthur Avenue, New York City's real Little Italy.
Located in the Bronx's Belmont neighborhood, the heart of Arthur Avenue lies at the intersection of East 187 Street where it's lined with Italian delis, shops, restaurants, bakeries and more. It's fairly easy to reach from Manhattan. You can take the 4 train to Fordham Rd./Jerome Avenue or the Metro-North Harlem Line to Fordham, but be warned, it's a little dodgy and you still have about a mile to go either on foot or by bus. If it's unfamiliar terrain, you might feel a little ill at ease, so I'd suggest either taking a taxi or an Uber, or you can take a walking tour and travel there with a guide and other gastronomically curious individuals.
It doesn't matter if you're a local or a visitor, you'll find both a plethora of Italy's finest products at your fingertips as well as some of the best Italian food this side of the Atlantic, so delicious in fact that first timers will feel like they've stumbled upon a secret while regulars rightfully emit that I-already-knew-that pride with a confident nod and shoulder shrug. Arthur Avenue isn't news to them! It's also amazing for food shopping.
Whether you've lived in New York for seemingly forever and haven't made the so-called trek because it's too far or you're a Big Apple first timer determined to visit this energetic quarter of the city, here are some suggestions for your visit. Honestly, everything is so good that I feel bad singling out a few places and not mentioning others, but I guess you'll just have to go there yourself to judge!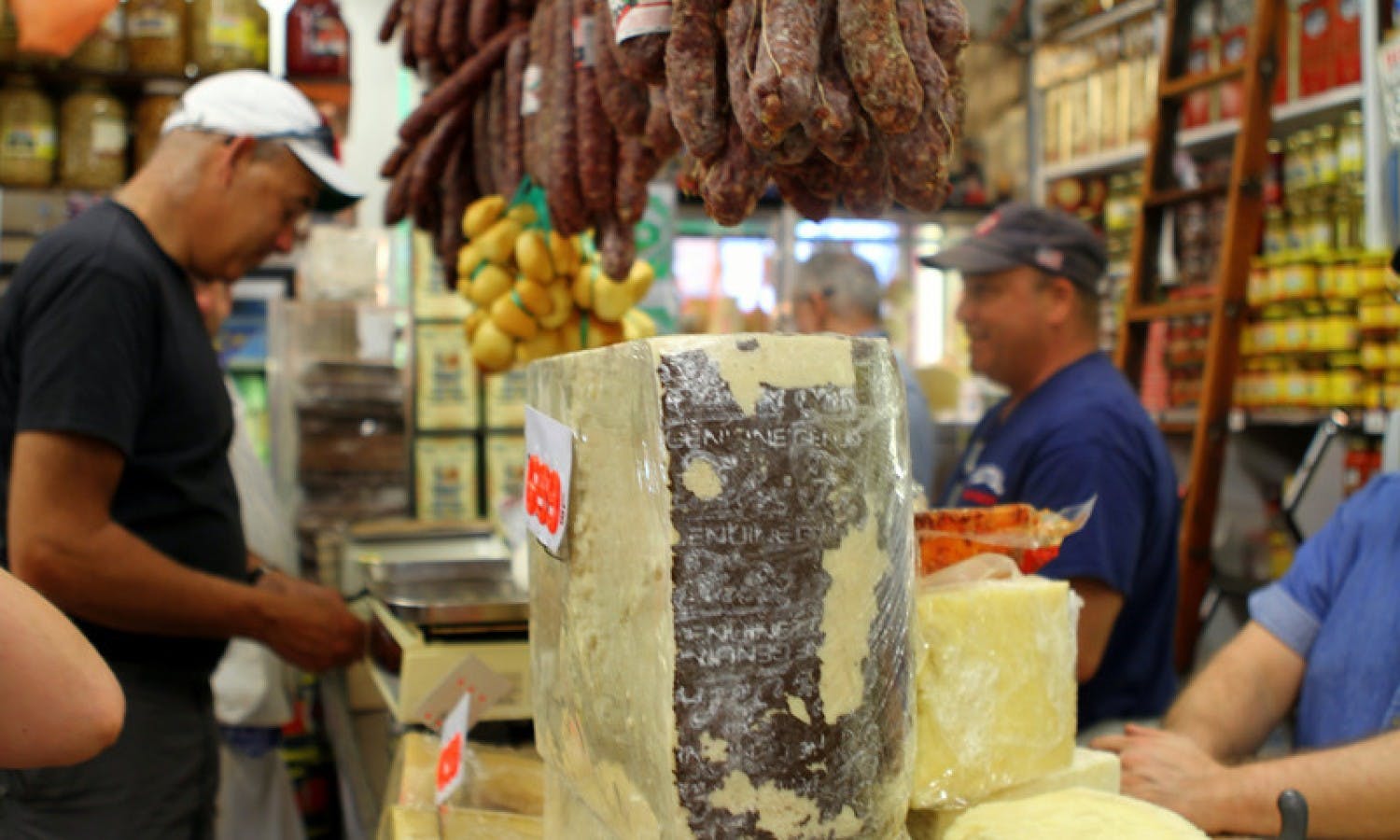 Teitel Brothers photo: Teitel Brothers
Shopping: There is a plethora of genuine Italian ingredients inside the both the enclosed Arthur Avenue retail market and its surrounding streets..
Teitel Brothers has been importing Italian gourmet delights since 1915. From sweets to tomatoes to oils and vinegar to pasta to more, if it's Italian, Teitel Brothers most likely has it. (2372 Arthur Avenue)
Joe's Italian Deli is great for its imported cheese and salumi selection as well as for the fresh mozzarella that the deli's namesake has been making with this own hands since he opened the locale more than 30 years ago. (685 East 187th St)
Baccala, scungilli, clams, shrimp, mussels and other piscine wonders from Randazzo's Seafood have been the stars of every Christmas Eve dinner of my life. (2327 Arthur Ave)
Borgatti's Ravioli & Noodles: Since 1935, three generations of Borgatti have been making handmade noodles and ravioli with fillings like pumpkin, poricini mushrooms and spinach and cheese. Need I say more?  (632 East 187th Street)
Don't miss the 80-year-old bakery Addeo & Sons (2352 Arthur Ave) for bread–the olive bread, in particular, is out of this world, and Casa della Mozzarella (604 East 187th St) for freshly made mozzarella. Many of the neighborhood's restaurant get their mozzarella here, where you'll also find meat and other antipasti on offer.
Tino's Deli: Another win for imports and hard to find products like authentic balsamic vinegar. Its prices are a little higher than some of its counterparts, but you're pretty much guaranteed to find whatever you need here. (2410 Arthur Ave)
Calabria Pork Store: I have just one word for you: 'nduja! But that's not all. This carnivore's fantasy offers a diverse array of both handmade and imported salumi and meats. (2338 Arthur Avenue)
DeLillo: Every confection at this pastry shop is dreamy, especially its rainbow cookies! (610 East 187th Street)
Madonia Brothers: Don't miss the made-to-order cannolis at this bakery, where they add the ricotta filling right in front of you. (2348 Arthur Avenue)
Mount Carmel Wines & Spirits: Visit here for a vast selection of (as it name should suggest) wines and spirits from all over Italy (609 East 187th Street)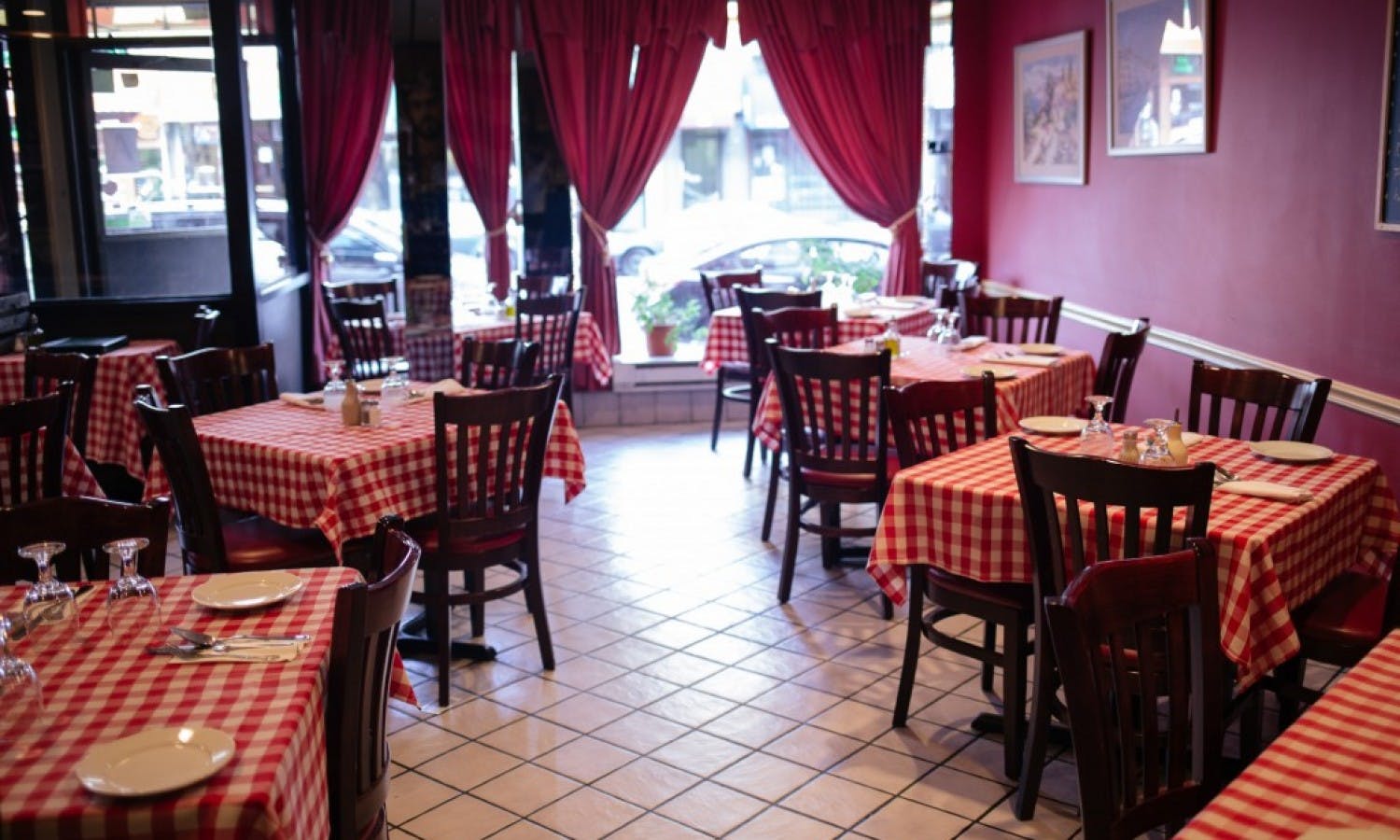 The charming dining room at Tra di Noi photo: Tra di Noi
Restaurants Who wouldn't want to sit for a meal and enjoy New York's best Italian food? Here are some restaurants suggestions.
Tra di Noi: Also one of our picks for New York City's best pasta restaurants, chef Marco Coletta serves up some of the neighborhood's best of everything. Come spring, don't miss the pasta with fava beans! (622 East 187th Street)
Emilia's: This is my aunt and uncle's favorite restaurant because it's the most old-school with its spaghetti with meatballs, gnocchi Bolognese, and chicken parmesan. (2331 Arthur Avenue)
Roberto's: Roberto Paciullo's namesake restaurant is a bit on the pricier side but worth the splurge. Expect a lot of dishes with heavy Northern Italian influences on the menu, too!  (603 Crescent Avenue)
Zero Otto Nove: This pizzeria is owned by the aforementioned Roberto is famous for stellar wood-fired pies. They have since expanded with a Manhattan outpost, but Arthur Avenue cognoscenti take great pride in visiting the original location. (2357 Arthur Avenue)
Bronx Beer Hall – We'd be remiss not to mention this locale in the heart of the Arthur Avenue Retails market which is the place to see and be seen when you're in this neck of the woods. Enjoy locally brewed beer and nosh from nearby Greco's (formerly known as Mike's Deli) which is also inside the market. The convivial vibe is enhanced by special themed nights like karaoke and trivia contests.