In honor of Take a Hike Day, Musement shares one of Italy's most beloved hiking regions: Cinque Terre.
Cinque Terre is one of Italy's most beloved, storied regions. Yes, it's packed with hordes of mostly American tourists, but it's with good reason that these Americans as well as visitors from all over the world flock here.
Monterosso al Mare, Vernazza, Corniglia, Manarola and Riomaggiore comprise the "five lands" on this five-mile craggy coastline in Liguria that is studded with pastel-hued centuries-old fishing villages, all of which are connected by train tracks, towering serpentine dizzying hillside roads, the glistening azure sea and a series of hiking trails.  It's not uncommon for travelers in Italy to visit Cinque Terre for a few days to bask under the Ligurian sun, swim in the Mediterranean, tick the UNESCO World Heritage site off their bucket list or even just to sample the local seafood-centric and pesto-heavy cuisine. However, action and adventure seekers travel here just for trails.
If you're a hiking neophyte but eager to see what the paths and the hills are about firsthand, don't let the hardcore, trekking-pole-equipped visitors scare you. Parts of the trail are totally suitable for beginners, and the paths are broken up by the town so you can do just a part of the or even take a swim in the sea (don't forget to wear your bathing suit under your hiking gear!) before continuing on your way.   As can be expected in such a high volume tourist destination, there is a cost to hike and prices for the Cinque Terre Card start at €7.50 for one day.
At the moment, some of the trails are closed due to the devastating 2011 mudslides, but here's a look at all of the Cinque Terre hiking trails so you can best plan your trek.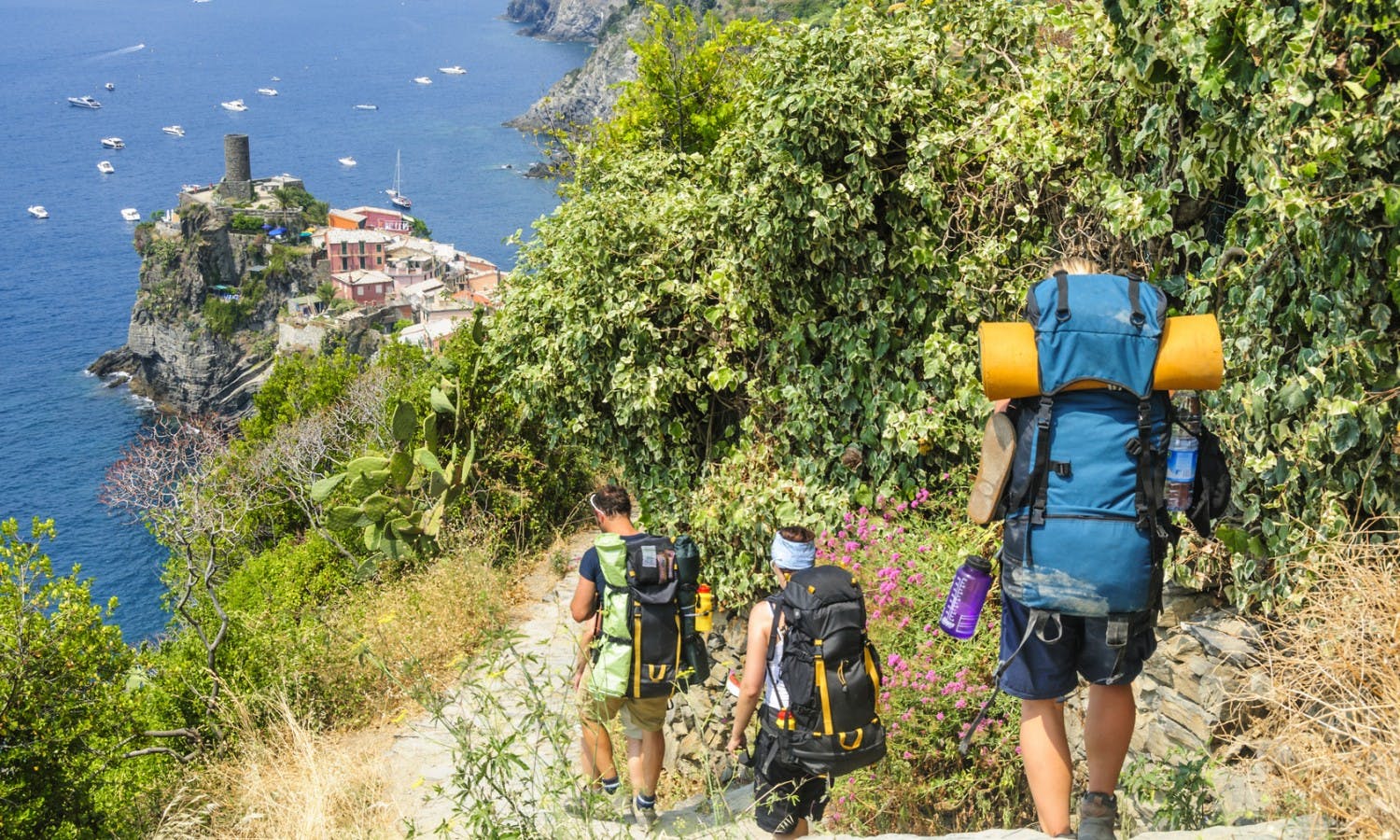 Hikers during the descent to Vernazza
The Blue Path—Cinque Terre's easiest, most visited trail–is divided into four parts and connects all five villages. In general, visitors love to stay in Monterosso as it's the only one of the five towns with a proper beach, and they arrive by train or boat in one of the four other towns to hike their way back. The Blue Path is broken up as follows:
Trail 2A comprises the most commercially popular leg of the hike: Via dell'Amore. (You've probably seen couples posing in every single cliched, lovey-dovey manner possible on the "Road of Love" in your social network feeds.)  At the moment, only half of the path is available to hikers (the other half is slated to reopen in April 2018), but you should know that the walk between Riomaggiore and Manarola is the easiest and takes approximately 15 to 20 minutes. This particular trek across a paved former railroad track is great for anyone who wants to see what the Cinque Terre hike is all about without getting too in touch with nature, letting you travel between towns as least strenuously as possible and experiencing gorgeous seaside views.  It's even wheelchair accessible.
Trail 2B links Manarola and Corniglia, and the path follows the same former railway track as its predecessor, though it lies lower and is a little longer, lasting between 45 minutes to an hour. Once you arrive in Corniglia (either by this trail or by train as there is no harbor here), a 382-stair climb to reach the hilltop town awaits you, or you can catch one of the nifty shuttle buses at the train station. Unfortunately, this trail is closed through April 2018 and you can see why here.
Trail 2C covers the leg between Corniglia and Vernazza and starting here, your trekking poles will come in handy as the two-mile hike between the towns averages less than two hours to complete. Considered medium-average on the difficulty scale, the trail is steep and uneven with a lot of climbs and descents along the way, but the views are well worth it, filled with vegetation, olive groves, vineyards and sweeping seaside vistas.
Trail 2D takes hikers between Vernazza and Monterosso, and is very similar to its predecessor, so more climbing and descending on steep, uneven terrain with beautiful sea panoramas, vineyards and olive groves along the way. It's an extraordinary way to pass two hours.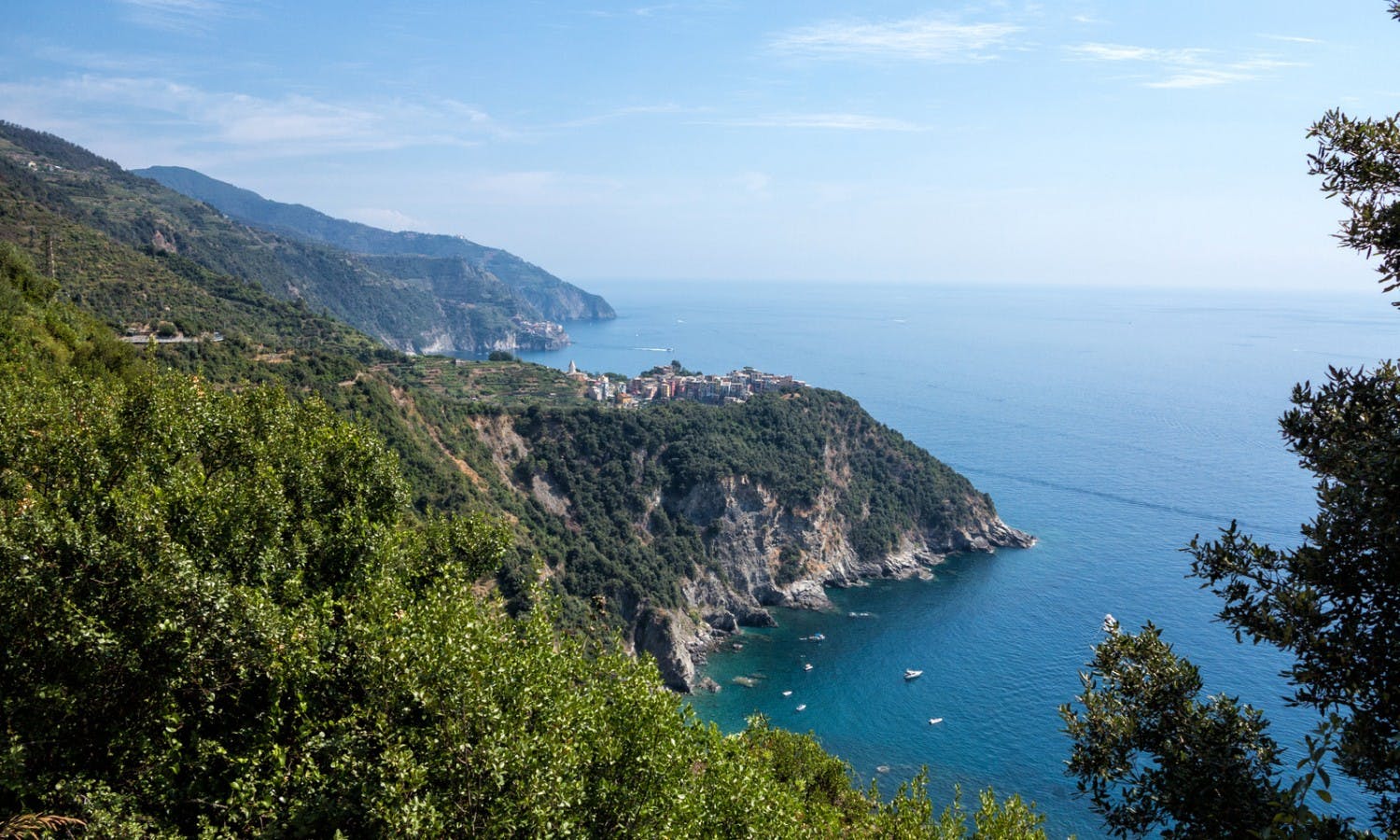 Cinque Terre from above feels sublime
There are also some other hiking trails of note.
A ten-minute walk through a pitch-black former railway tunnel from Corniglia brings you to Guvano, a clothing optional beach. If you don't want to schlep through the dark, you can also reach it via Trail X2, but be warned this trail is very dangerous.
Route 1, AKA the High Path, is not for the faint of heart. While it's not considered terribly difficult, the routes between towns are longer than those on the Blue Path, and the trails are much steeper. The High Path runs above the five towns and connects villages that are nestled even higher into the hillside. The layout is as such:

Trail 1A covers the ground between Portovenere and Colle del Telegrafo, and you can also veer off course to visit Fort Muzzerone, adding approximately another hour to your trip, which can take between three to six hours to cover the 5.5 miles that reach a maximum altitude of 1,684 feet.
Trail 1B goes from Colle del Telegrafo to Cigoletta, a 3.7-mile path that reaches an altitude of 2,461 feet and takes between two and three hours to finish.
Trail 1C, which extends 5.3 miles from Cigoletta to Termine, has a maximum altitude of 2,665 feet and can take up to three-and-half hours.
Trail 1D begins at Termine and ends at the midway point between Monterosso and Levanto: Punta Mesco, where you can enjoy a breathtaking view of the entire Cinque Terre. The 4.3-mile course reaches nearly 1,526 feet high, and the hike takes up to three-and-a-half hours.
Trail 1E between Punta Mesco and Levanto has a maximum height of 1,070 feet and the 4.5-mile trail can take two-and-a-half hours to complete.

There's more where these came from, and you can head over to In Cinque Terre to read up on all the Cinque Terre hiking trails.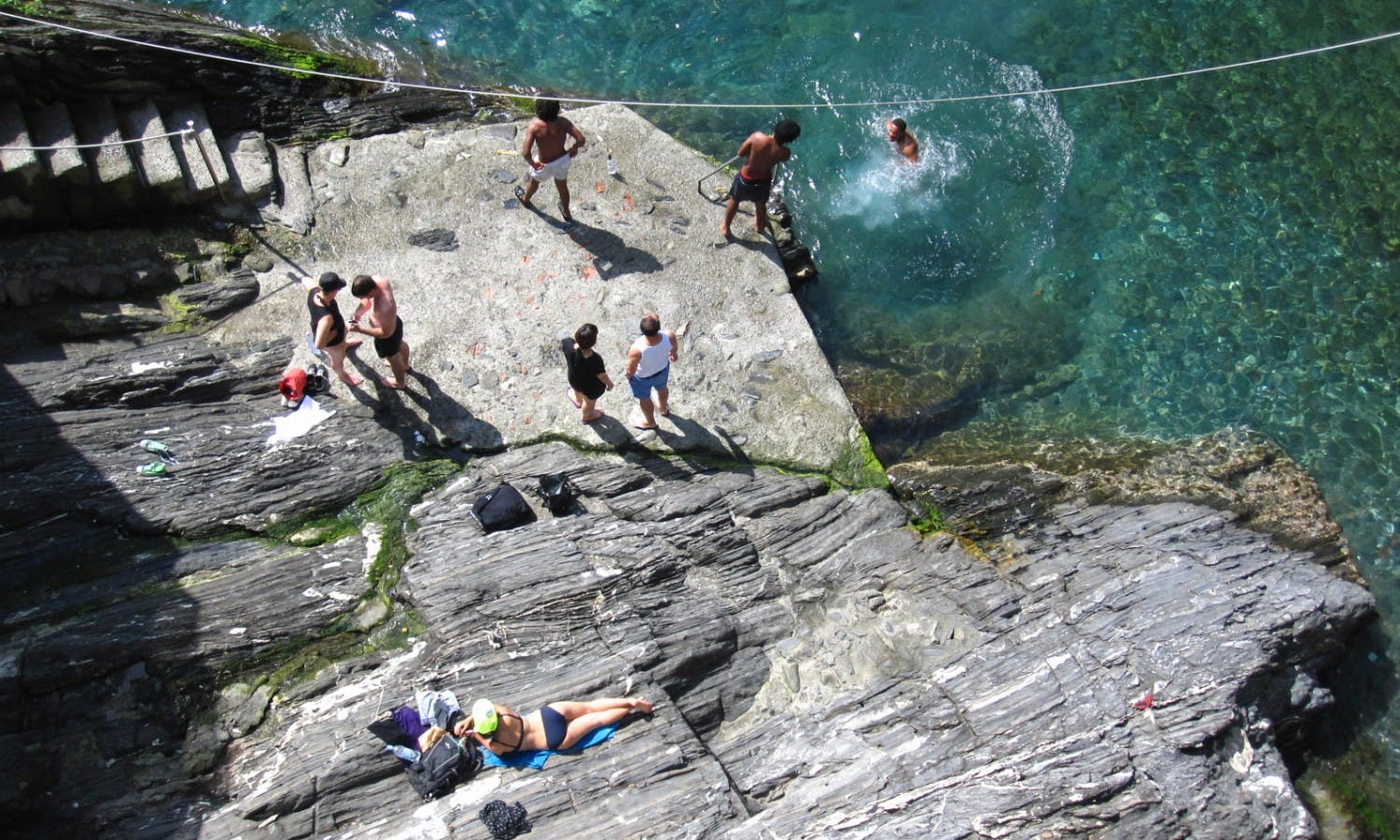 Don't forget to wear your swimsuit under your hiking gear so you can strip down and enjoy a refreshing dip in the sparkling Ligurian Sea!