The Basque Country's rich cultural heritage and diverse geography has contributed to an absolutely unique gastronomic panorama. From Michelin starred excellences to pintxos by the dozen, fresh Atlantic fish and spicy chorizo sausage here are tips for a truly memorable foodie road trip around Northern Spain.
Like many European countries Spain is well known for its culinary traditions. Diverse like its territory Spain has something to offer to foodies in search of traditional ingredients as well as avant-garde techniques. Of the entire country, one of the richest foodie destinations is the Basque region, which boasts a total of 39 Michelin starred restaurants, one with 2 stars and 4 with 3 stars, which doing the maths comes to a mind boggling 48 stars in total! For the lovers of numbers and statistics, San Sebastian counts 15 Michelin stars (with 3 restaurants being awarder top stars) resulting in the highest concentration of those coveted little symbols per capita after Kyoto.
But while numbers and statistics can be interesting – lets cut to the chance and talk about actual food. One of the defining factors of Basque cuisine is variety, both in terms of ingredients and price. The region's restaurants offer something for the fish lovers and meat eaters alike, as well as delicious fresh vegetables, cheese and of course plenty of wine to wash everything down with.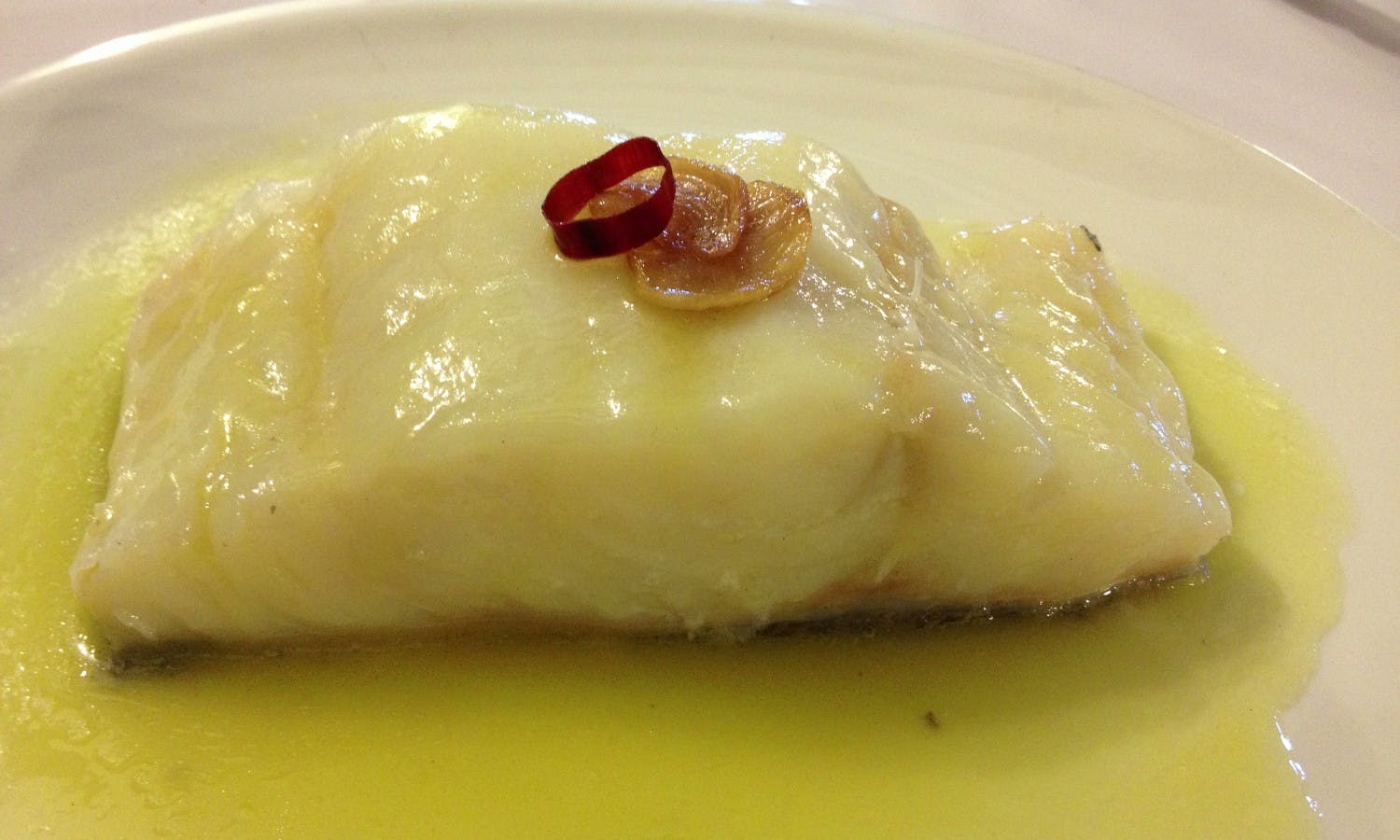 Bacalao al pil-pil – Joselu Blanco
At the top of Basque ingredients comes of course fish, with cod, especially salted cod known as Bacalao taking top spot, but also, hake, sardines, anchovies, herring, sole, sea bream, baby eels (a delicacy), tuna, bonito, bass, red mullet, octopus, squid, lobsters, crabs, clams, mussels, oysters, freshwater salmon and mountain trout. But moving inland, the region, of course, provides pork (for ham and chorizo sausage), beef, lamb and game. Basque dairy products are also of high quality, with cheeses matured in caves or huts high in the mountains. The fertile lands are a source of vegetables full of flavor: artichokes, asparagus, cabbages, leeks, onions, carrots, but also beans in Navarra and Gipuzkoa, and long green peppers from Gernika.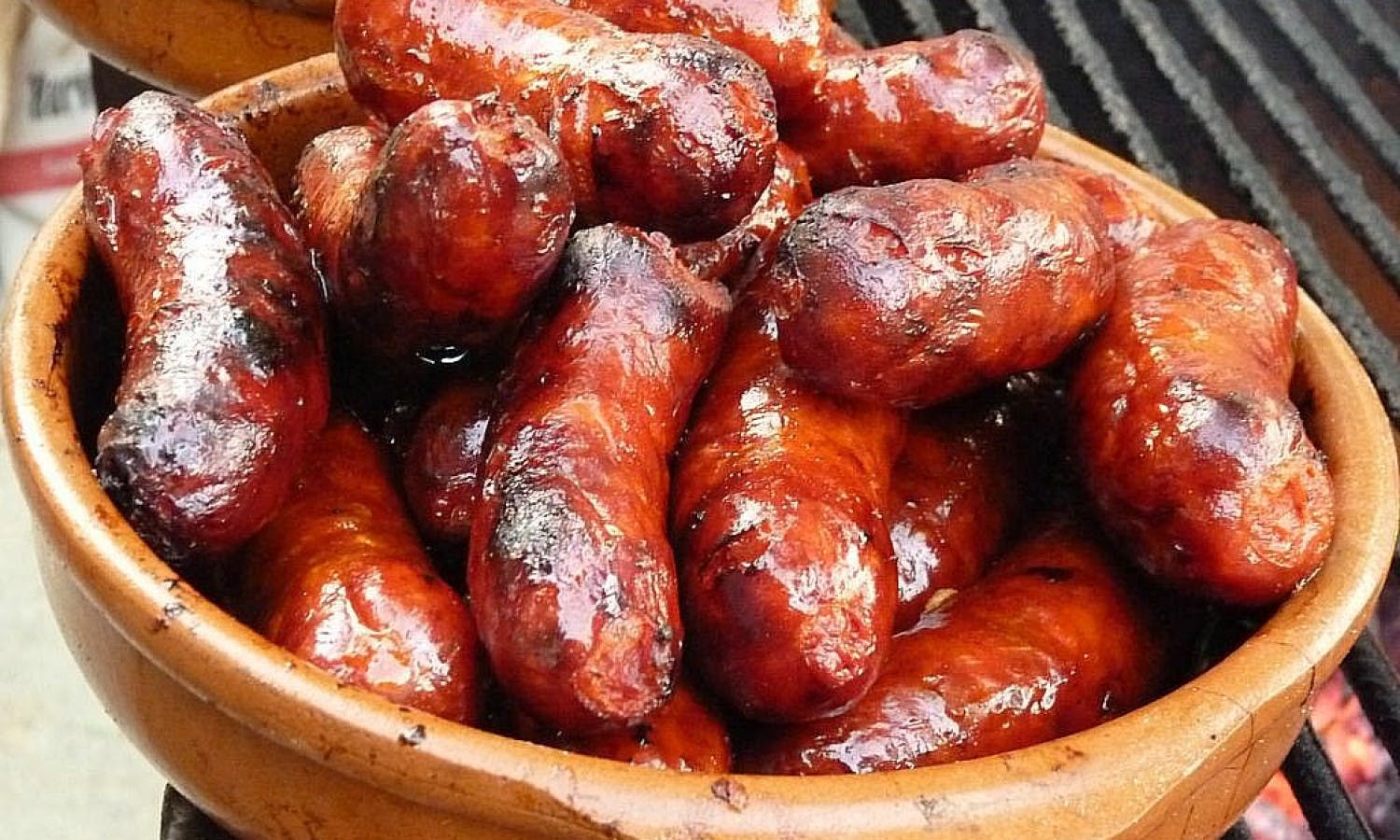 Chourizos – juantiagues
The Basque country is also home to excellent red wines from the Alavesa area of the famous Rioja wine region, while a traditional coastal wine is txakolí, a light, slightly effervescent fruity but dry wine (most popular in its white variety) which suits the fish dishes of the country as well as being perfect for a very pleasant aperitif. While beer is a popular staple in Spain, the Basques also produce excellent sparkling cider.
Fish and seafood dishes, whether grilled, baked, stewed, sautéed form the base of Basque cuisine. One of the rarest and most sought-after delicacies of the region are angulas, silvery-white baby eels cooked in a small earthenware casserole and seasoned with garlic and chili peppers. Also, a must try is marmitako, a stew of bonito and potatoes, tomatoes, garlic and white wine. Also on the menu, anything with bacalao, rehydrated in stews, cooked magically by some of the best chefs in the country, or of course, fried. Another classic Basque dish is piperrada (Spanish) or piperade (French). This is a concoction of sweet red or green peppers, roasted and peeled, sautéed in olive oil, butter, or lard, along with other ingredients such as tomatoes, garlic, onion, and ham. Often beaten eggs are swirled into this sauce just before serving, to make a kind of scrambled egg dish.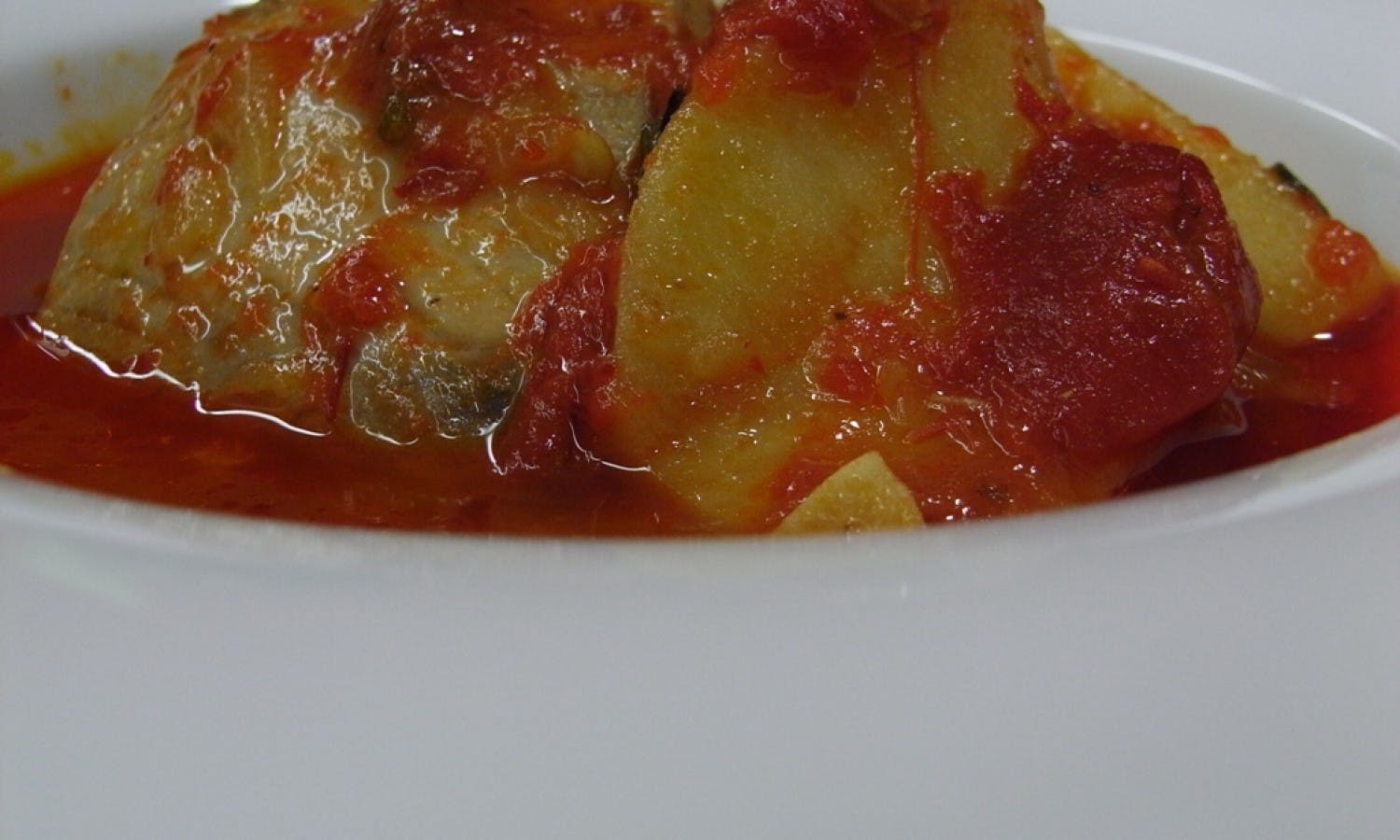 Marmitako – Javier Lastras
But you can't go to the Basque country and not indulge in the myriad of delicious pintxos. Largely classed as the Basque version of Spanish tapas, these are bar snacks range from traditional to miniature masterpieces of the culinary art. Ingredients are beautifully presented on thick slices of white bread, and create an enticing view on the "barra" – the bar counter. Here you can order as many as you like, and enjoy them with a cold glass of txakolí or a rather off-putting in theory yet surprisingly satisfying mix of Coke and (not very quality) red wine called Kalimotxo.  When in the Basque country dedicate one night to a poteo, crawling from one to another pintxos bar in the old towns of Bilbao or San Sebastian trying the delicacies on offer, and enjoying the atmosphere. Do not be alarmed by the trash on the floor, in pintxos bars, the tradition is to throw your napkins on the floor – don't bother looking for a wastebasket anywhere in the bars.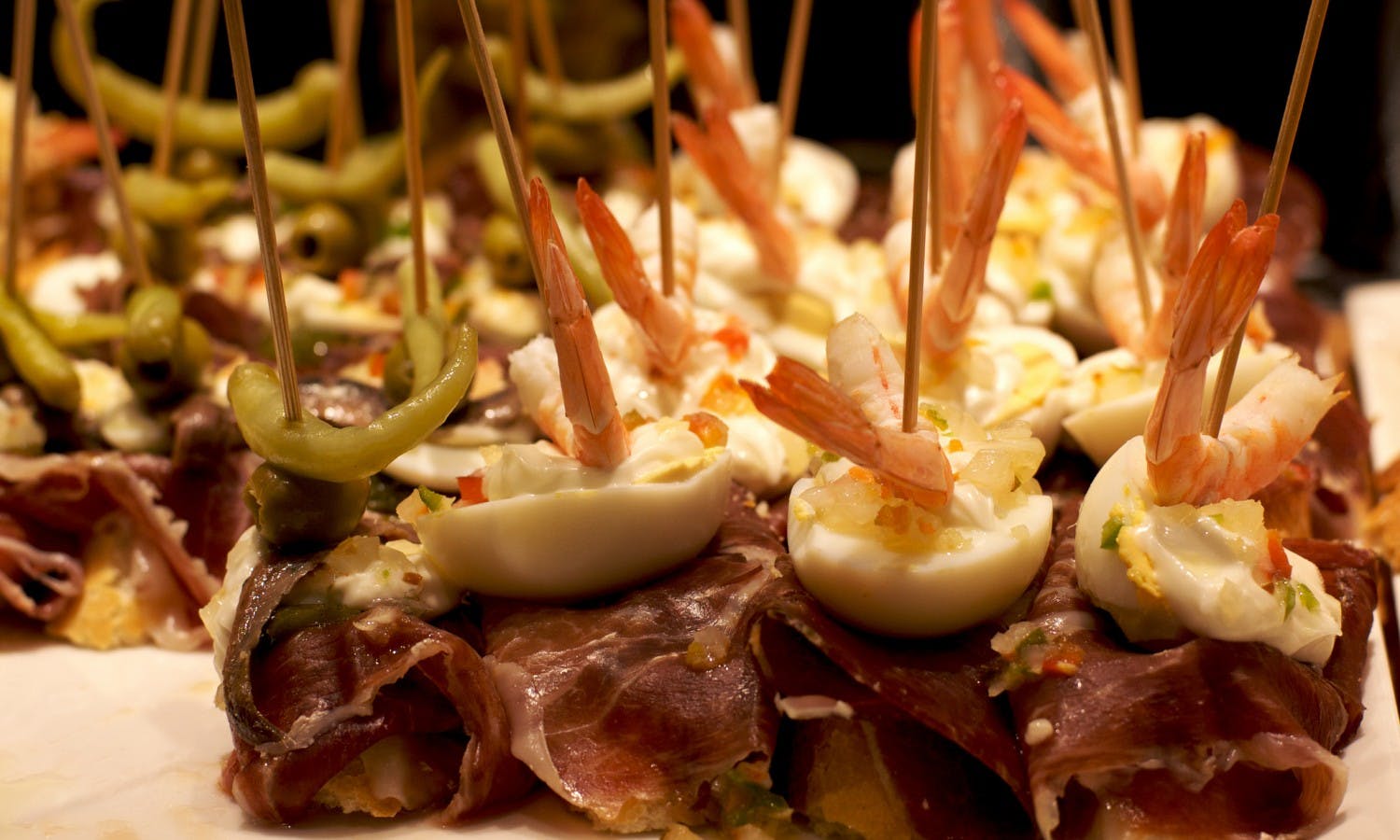 Pintxos – Katina Rogers
And now onto the practicalities.
Pintxos:
In San Sebastian make sure to sample (queue for) the delicious small eats (they're not traditional pintxos on bread) at Borda Berri. Be patient – the atmosphere is chaotic but the food is delicious. For a more traditional experience head to Atari Gastroteka, or just meander the streets and choose a bar (or more) that take your fancy. In Bilbao, head to the Casco Viejo (old town) and soak up the atmosphere. Make sure to enjoy the Pintxos at Gure Toki and relax in the square, or head to Irrintzi, the venue doesn't look all that great, but the barra is stocked with great options.
Fine Dining:
Here the options are almost limitless, but in Bilbao, if you can manage to get a reservation Azurmendi is probably one of the most exciting culinary experiences you will encounter. In San Sebastian, the father-daughter run Arzak has detained a Michelin Star (now 3) since 1989, and that should be enough to warrant the quality and innovation this restaurant brings to the table.
Undiscovered Gems:
San Sebastian: Xarma is fine dining without the accolade. Yet to be awarded a Michelin Star, head to Xarma for a quiet evening of delicious food and innovative techniques where the vibe given off the young chef duo is all about cool.
Bilbao:  El Perro Chico is just across the bridge from the old town. With a pretty view and a Spartan yet chic interior this little restaurant with a restricted menu and the very genteel staff is a perfect spot for a lazy lunch or an easy dinner.
Getaria: While not quite undiscovered, as Elkano does have a Michelin star, this place is a wonderful contradiction. A far cry from the clean and modern spaces of the starred restaurants in the area, this family-run typical traditional fish eatery is a blast from the past. The reason why its up there with the greats? The quality of the fish, and the unusual way they cook the whole turbot: on a grill on the pavement next to the main restaurant. While in Getaria take a walk on the beach and also visit the Balenciaga museum –  the iconic designer was originally from the town.