Having completed the Colorado loop and returned to Santa Fe or Taos, it's now time to head slowly south through New Mexico and Texas towards the gulf coast. There's quite a lot of driving to do, not always in the most fascinating places – but it's all part of the adventure.
Roswell
Highway 285 takes you south out of Santa Fe through some vast expanses of flat, empty scrubland. It's a long, hot drive made easier only by the fast American roads and the occasional rest stop to stretch your legs. By the time you reach Roswell, you can understand why aliens might want to take a comfort break here.
We know this town's name thanks to an incident in 1947 when a military weather balloon crashed near the town. Some people at the time believed the debris was from an extraterrestrial spacecraft. By the 1970s, various nuts, kooks and weirdos had turned it into a full-blown conspiracy and in 1995 a hoax film emerged of an alleged alien autopsy from Roswell.
Today, the town looks like many American towns of the same size, but with a strong alien flavor. Shops sell books and inflatable extraterrestrials. Streetlamps are modeled on alien heads. There's also an International UFO Museum. Perhaps more usefully, there are plenty of places to eat, drink and rest after a long drive.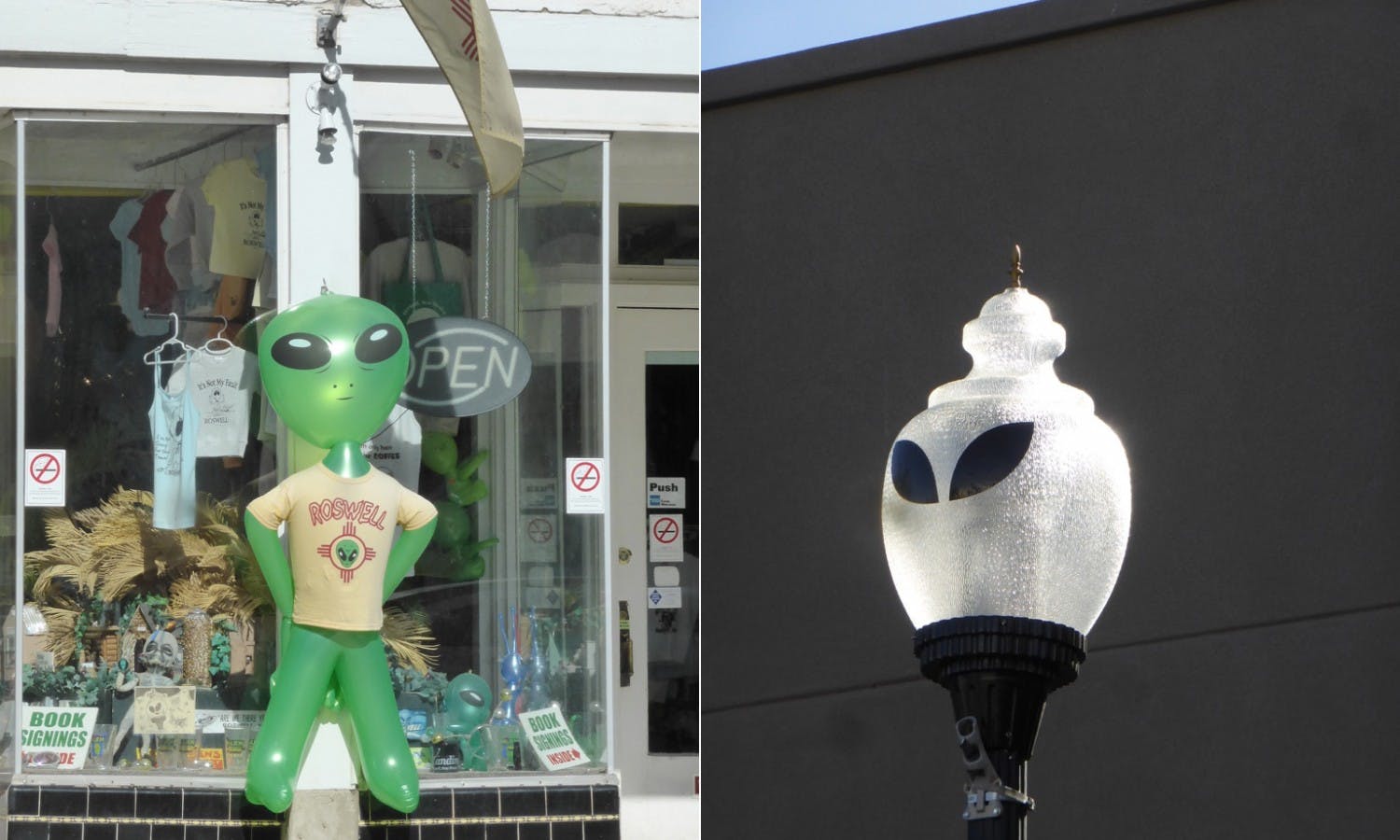 Roswell alien, Roswell streetlamp
Carlsbad Caverns
The town of Carlsbad is a gritty industrial place that has 'benefitted' recently from an oil boom. It's busy and largely without charm, with the added bonus of having overpriced (because oversubscribed) accommodation. If my opinion of the place seems bleak, perhaps it's because I stayed at America's most horrible motel (blood on the pillows), had my car smashed up in the night by a knife-wielding drug addict, and had to wait four hours in 100-degree heat for a replacement.
A much better option for entertainment is the Carlsbad Caverns National Park – home to the famous caverns. Here, you'll find some pretty spectacular stalactites and stalagmites in the Big Room: America's fifth biggest cave chamber at 4,000 feet (1,220 m) long, 625 feet (191 m) wide, and 255 feet (78 m) high.
Heading south-west towards San Antonio, there are more caves near the town of Sonora and a lovely campground set amid trees. It's a great place for a peaceful night's sleep, lulled and woken by the sound of the resident peacock.

Welcome to Carlsbad, NM
Fredericksburg, Texas
This novelty town was founded by Germans and retains a lot of German-style architecture. Most notable is the heavily restored Veriens Kirche historic church but there are a number of private houses with obvious Germanic heritage. You'll also find bakeries selling 'Bavarian' pastries and restaurants offering Teutonic food, though genuine Germans may be surprised and amused to see how this little corner of Texas has remembered the Fatherland. My pastry tasted like it had been made in Germany . . . 100 years ago. Let's not forget that 'kitsch' is a German word.
Near to Fredericksburg is the tiny settlement of Luckenbach (population: 3), which is really just an old general store/post office maintained in nineteenth-century style. There's not much to do here apart from having a beer or taking a photo. Its wider fame is as a venue for country music performances, so keep an eye on what's happening and you might catch a show.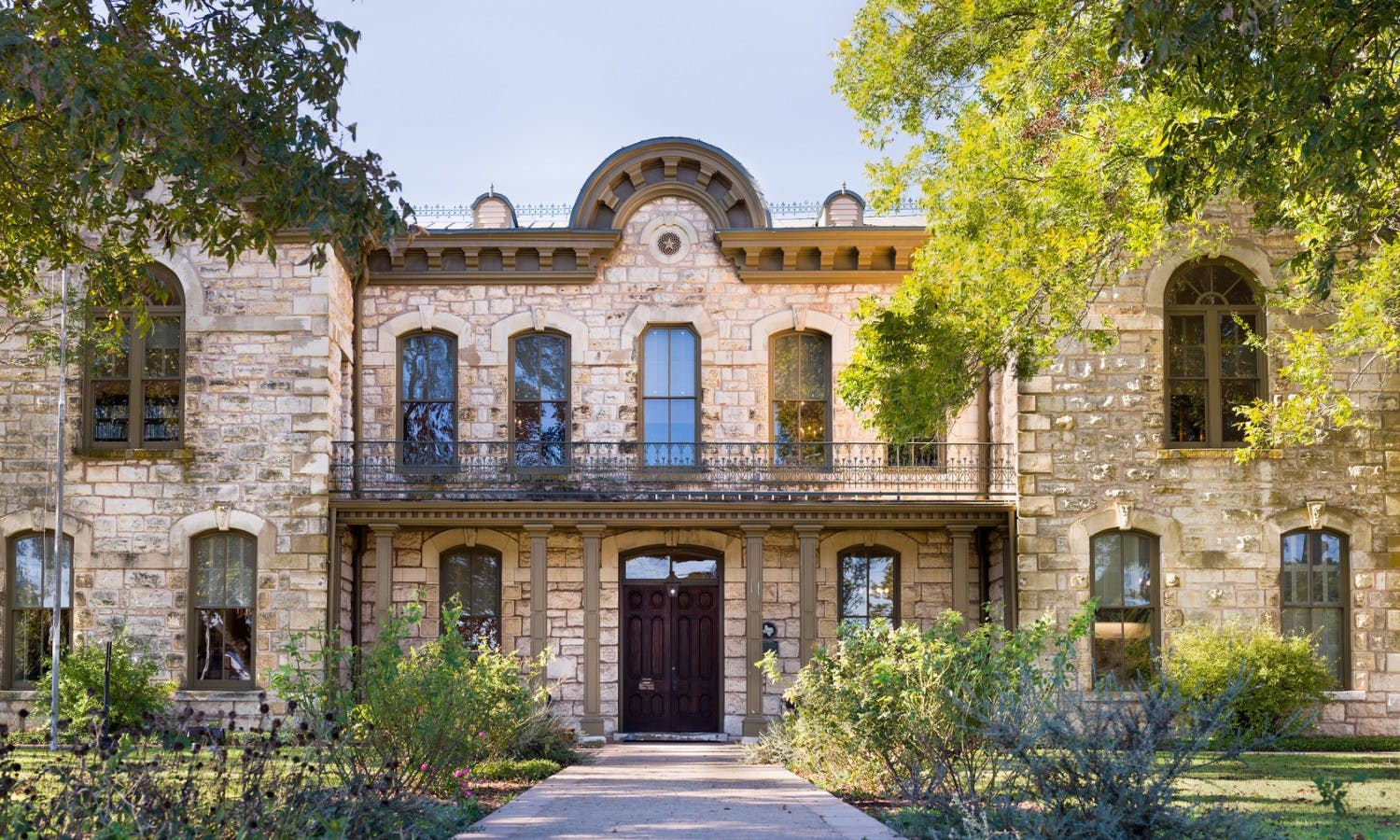 Fredericksburg Memorial Library