In honor of International Women's Day, Musement takes a look at eight international women artists whose work has profoundly impacted the world.
During the last century, women artists have not held themselves back, unleashing their highest selves forward onto the world's stage through their respective mediums, and we admire their drive and perseverance. So, in honor of International Women's Day, we thought who better to honor than these women artists who have shaken up the system?
From a brazen Afghani graffiti artist to a groundbreaking American portrait photographer to the "grandmother of performance art" to an Avante-Garde Japanese artist to a Mexican feminist icon, we remain perpetually in awe of the diligence and fearlessness that has established these women as masters in their field. In honor of International Women's Day, here's an infographic highlighting eight iconic modern women artists whose trailblazing work has etched an enduring impact not just on their industry, but on the entire world.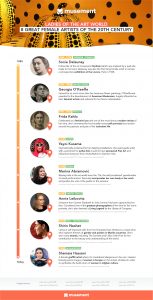 International Women's Day dates back to 1909. After taking on various incarnations across the globe, the holiday was officially adopted by the UN in 1975. Since that time, March 8 has been a day to look upon and reflect on females from all walks for life who are carving out their place in the world. From Afghanistan to Iran to China to the United States and pretty much everywhere else in between, women around the world bask in the glory of their social, economic, cultural and political achievements.
Women are champions! Females from all corners of the globe have impacted the world in their own way, and continue to do so each and every day as they churn out the daily grind and then some, while always marching ahead. International Women's Day is a time to reflect upon and celebrate their achievements in all walks of life.