There's no better way to count down the days leading up to Christmas than with an advent calendar. This year, get in the holiday spirit with Musement's 2016 Advent Calendar.
As children, some of us couldn't wait for December 1, as the first day of the Christmas season meant that it was time to crack open our advent calendars. Whether it was paper pop-ups, sweet chocolates or tiny trinkets, there was nothing quite as exciting as peeling back one of the tabs to see what awaited us inside: a paper lamb, a chocolate angel or even a plastic turtle.
Some of us were even lucky enough to have parents who, in honor of advent, would gift us a daily numbered sack or stocking stuffed with a little goody for the 24-day Christmas countdown. And honestly, who doesn't love the idea of getting into the holiday spirit with some pre-Christmas surprises? They even appeal to us grown-ups who long for some kind of something special for ourselves while we're buying gifts for everyone else. We know the Christmas season is supposed to be about giving, but when shopping for others, we sometimes can't help treating ourselves. Yes, we most certainly do feel a little guilty afterward…we know you've been there, too.
Starting today, you can play Musement's 2016 Advent Calendar to treat yourself to a little something special completely guilt-free as you e-shop for loved ones.  Answer the daily travel trivia question correctly and receive a little gift from Musement. If you're wrong, no big deal…just play again tomorrow. In fact, play every day until 24 December for your chance to win again (and again and again!).
Travel might not be top of mind as you're ticking the names off your Christmas gift shopping list. So you can always save your digital stocking stuffer from Musement for later and in 2017, resolve to make the world your oyster!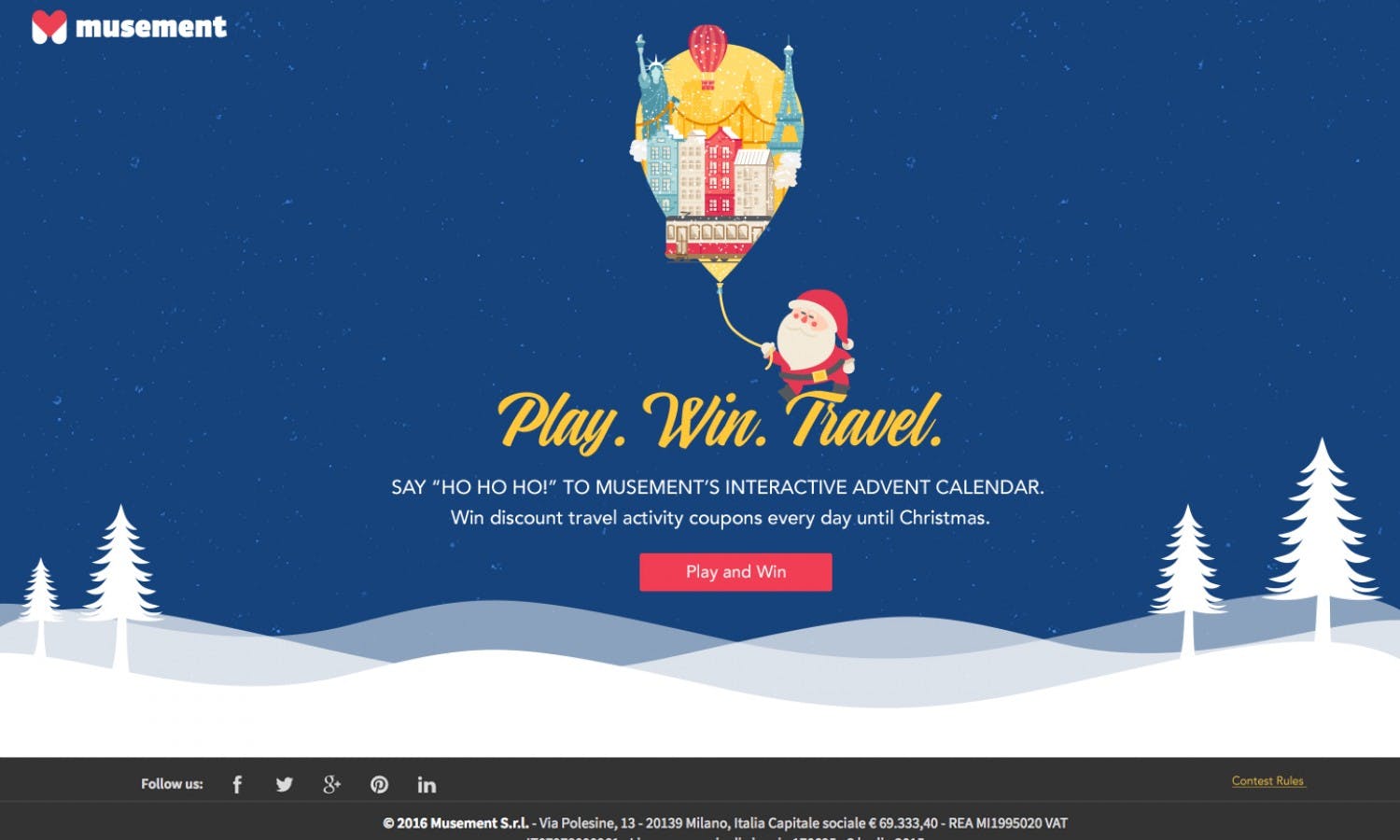 Musement's Advent Calendar