Whether I have a week with those visiting or only a couple of days, this is a list of some of the things I try to cram into the time I have with everyone that's come to the weird and wonderful place that is Berlin.
Whether I have a week with those visiting or only a couple of days, this is a list of some of the things I try to cram into the time I have with everyone that's come to the weird and wonderful place that is Berlin.
But, before beginning, two immensely important pieces of advice I can give before you head out:
RENT BIKES!
This is definitely the best thing you can do for your time in the city (and to everyone who came to visit where we never made this happen, I apologize sincerely). Berlin is flat and perfect for bikes, and for as low as 7 euros a day, it is the best way to see as much of the city in as short a time as possible. You will also be able to see places normally out of the way or too far to walk to.
"But what if it's raining?"
Buy a colorful, hilariously photogenic poncho for €2 and get back out there!
SAVE LOCATIONS ON GOOGLE MAPS!
Guess what? Your GPS works on your smartphone even without wifi (yes, that little blue dot will still follow you around). As long as you take the time in a wifi area to download the map of the city you are in (you're hopefully in Berlin right now), you will still be able to see the locations for the parks, restaurants, and statues you have saved to your phone. Since Berlin is a large city, it is also a great way to literally 'map out' where you want to go beforehand in the different sections of the city in order to maximize your very precious time. Find the map here.
Now that you have your bike and a beautiful, starry constellation of favorite locations on your map app, you're ready to start checking off as much as you can from the following: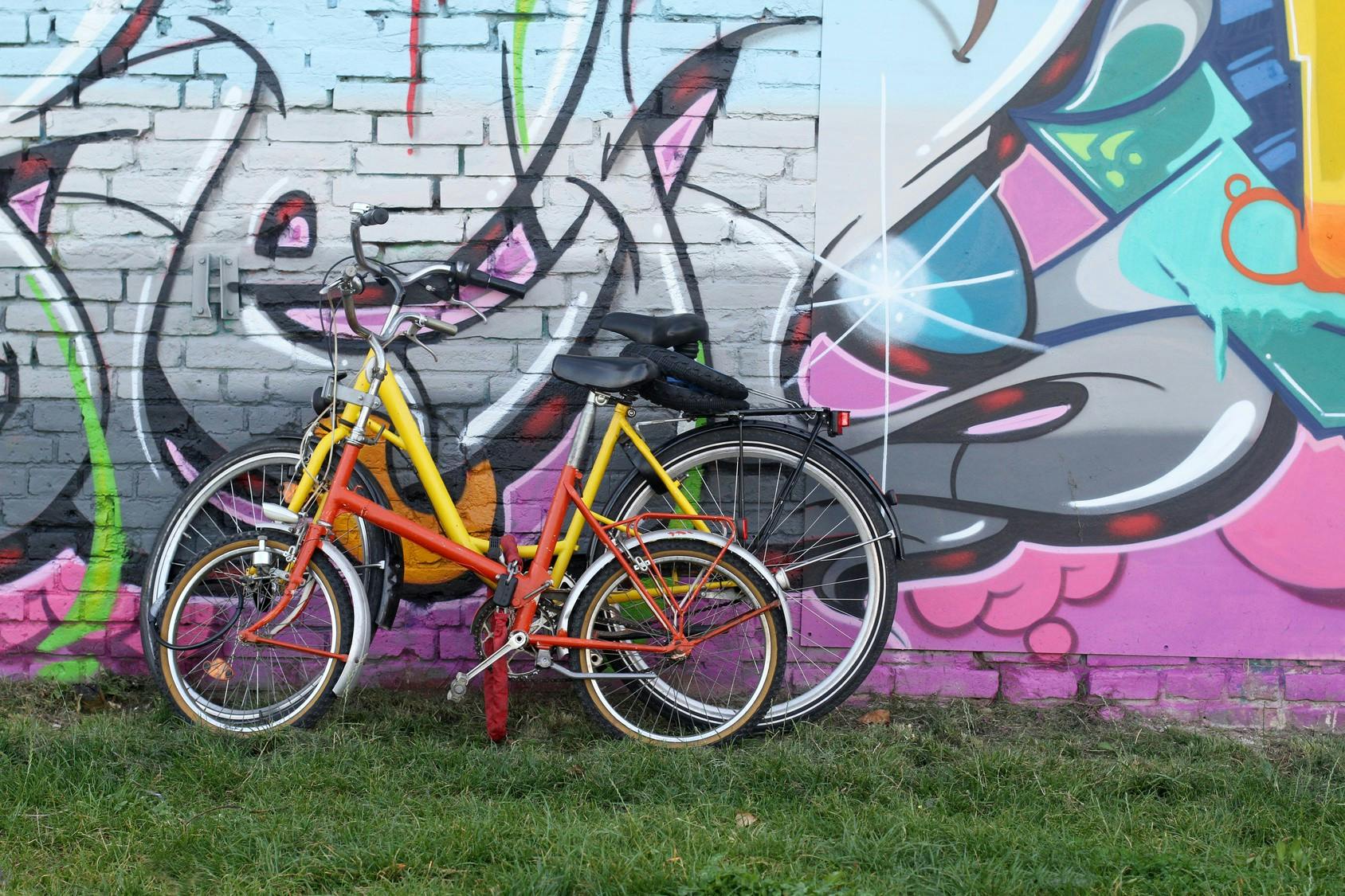 Bikes and Street Art in Berlin
Go to the Park!
Nearly everyone that comes to Berlin in the summer has commented on how incredibly green the city is (and mainly how they were not expecting that). Even in the autumn, Berlin has some incredible parks, all with an interesting concept and history, and the atmosphere is like nothing else seen in other cities.
Some advice: Get a disposable bbq, the bratwursts of your choice, and a beer or three from a grocery store and join the many groups of picnickers you'll see there.
Treptower Park  A large and popular park, but with a few hidden spots that make it a personal favorite. There is a small, but swimmable lake that is never crowded, the grandiose Soviet War Memorial, and an island (Insel der Jugend) reachable by foot or bike that are all perfect spots to watch the sun go down.
Gleisdriek  Newly opened to the public in 2011 after being a railway wasteland for almost 60 years. This park has such an amazing combination of grassy and forested areas as well as spots for almost all types of sports.
Mauer  Though I was initially a skeptic, the Sunday afternoon market and 'bear-pit' karaoke offers an energy—both supportive and hilarious—unlike anything I could have imagined.
Viktoriapark  good for a quick bike through or hike up the waterfall to the Schinkel's National Monument on top of the hill.
Tempelhofer Feld (Abandoned Airfield) & Volkspark Hasenheide  Re-opened in 2010 as Berlin's largest public park, Templehof is a massive open space great for bbq's, the sunset, or just biking through. Just beside it is Hassenheide if you prefer more green, forested parks.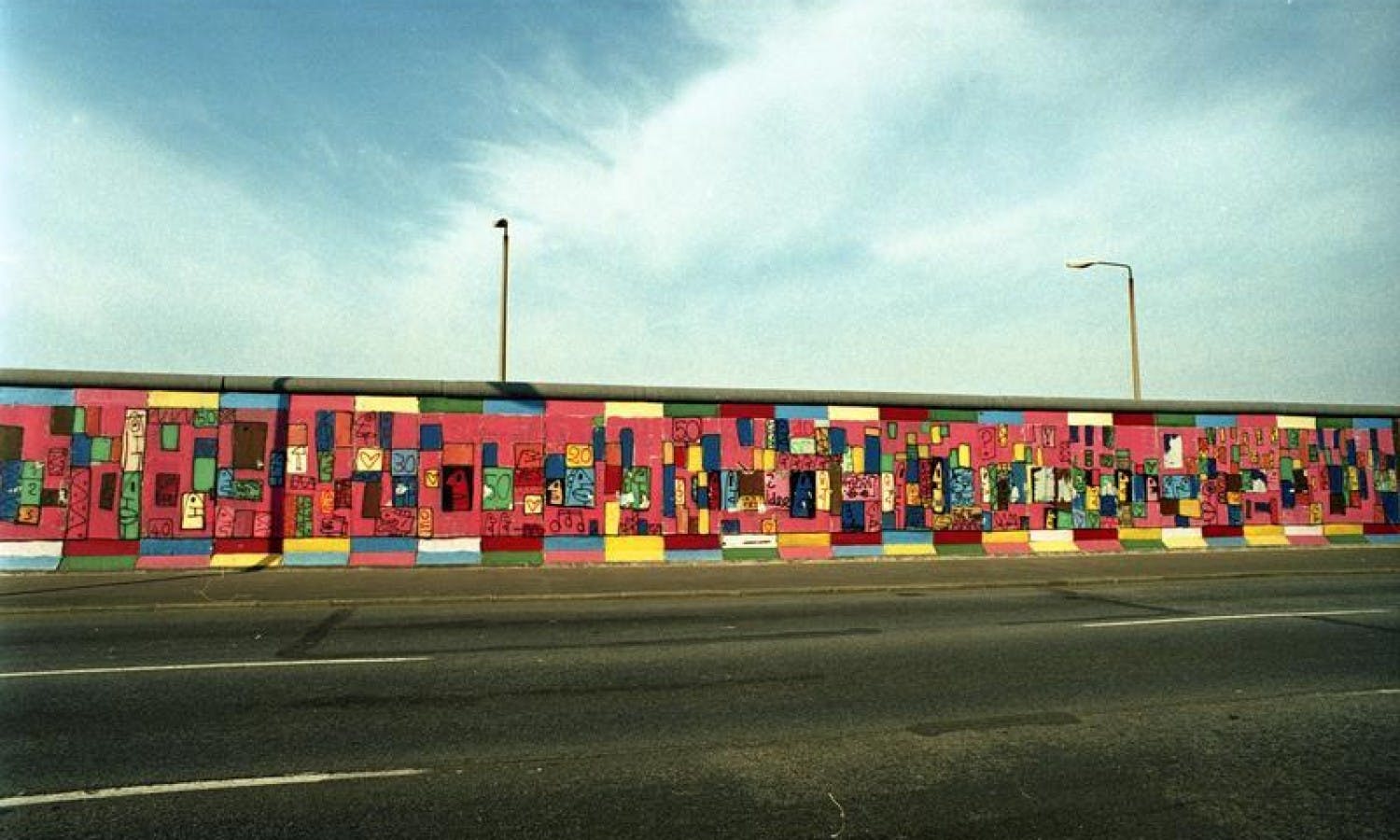 Berlin East Side Gallery
Where to Eat
Burgermeister – my burger intake went up from approximately once every two months to once a week once I sunk my teeth into my first 'Hausmiester' and this under-the-train-station gem.
Azzam – pay next to nothing for massive bowls of (REAL) hummus and masabacha—with free tea!
Sahara Imbiss – A little variety to the overwhelming amount of döner spots with Sudanese style aubergine & peanut sauce smothering every delightful sandwich or plate.
Turkish Market – open Tuesdays & Fridays. Great to grab things for the future park picnics of your day.
Fräulein Frost – Ice cream. In so many flavors. And the most generous scoop (kugel) portion I've yet to encounter in Berlin.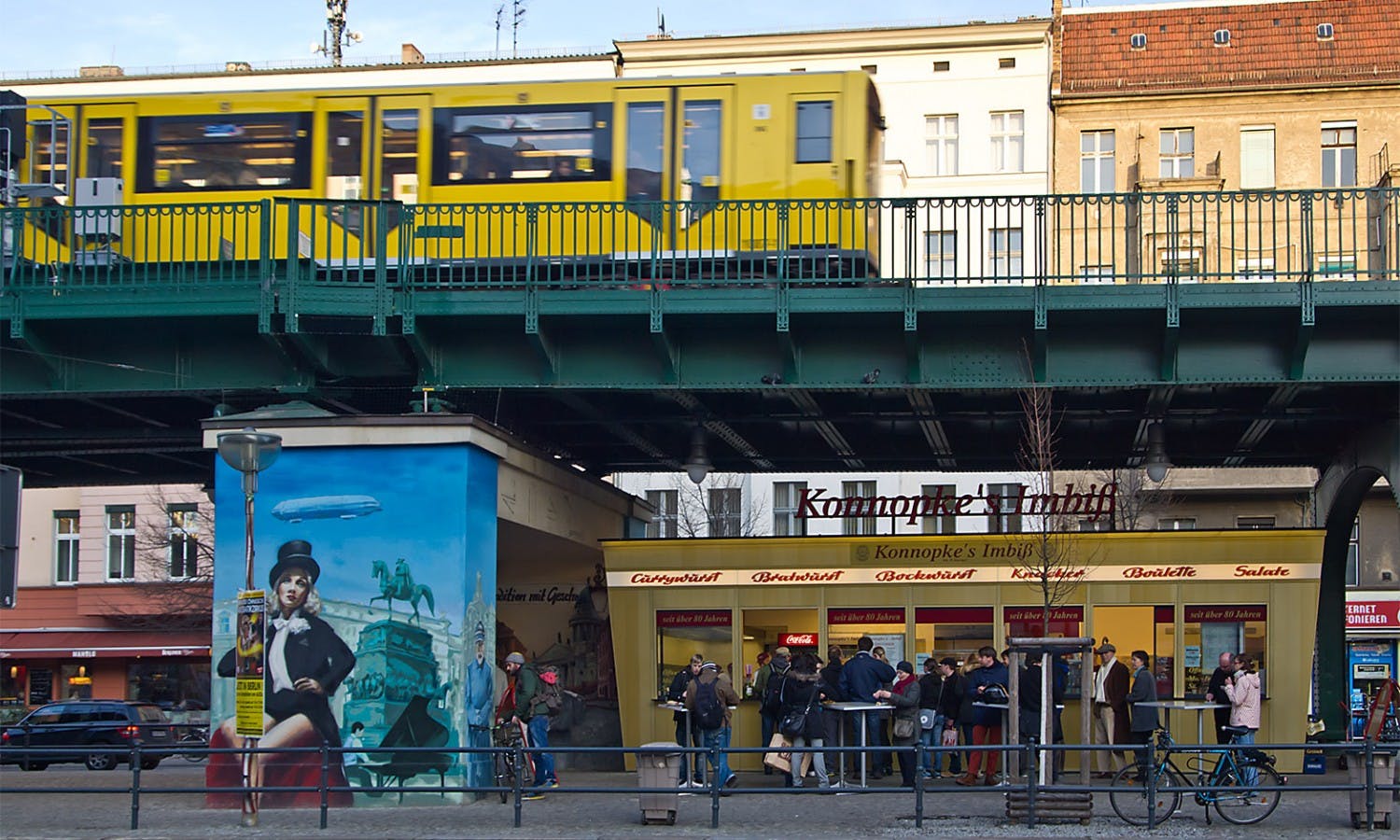 Berlin Konnopke's
The Bars 
Needless to say, Berlin is renowned for it's bar/club scene. Without diving too heavily into that world in this article, these are some of the more afternoon/evening appropriate places still offering a glimpse into the Berlin music and beverage consumption scene.
YAAM – an institution of Berlin with a sandy beach bar along the Spree and amazing Jamaican inspired food
Klunkerkranich – One of the only rooftop bars in the city with my favorite atmosphere and panorama view. Just a €3 cover, but be sure to get there early to avoid a line-up and to make it for the sunset.
Club der Visionäre – Although popular & slightly touristy, CDV is just off the Spree and still has a fantastic vibe
Winerie – after 8pm multiple bottles of wine are uncorked and you are able to taste as many and pay what you want (roughly €2 a glass) when you leave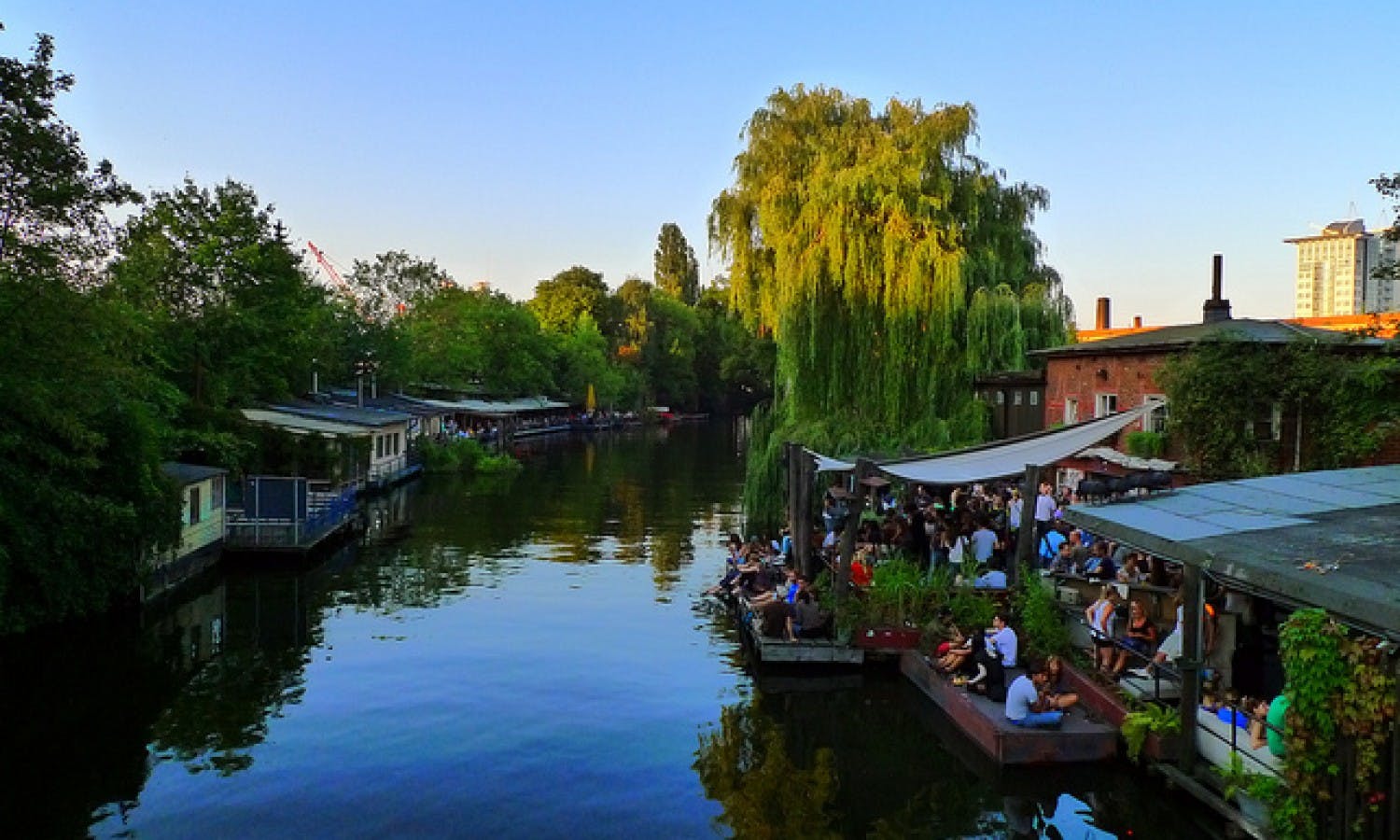 Club der Visionare
Touristy/Sight Seeing
Although, depending on your personal preferences of course, it's not ideal to spend all of your time racing from monument to tourist attraction, snapping photos, and filling your head with as many dates and names as possible, you are in Berlin. It is a massive city with such an incredible distant and recent history and it is necessary to take some of it in. These are some of the easy to get to and mostly free places to see:
East Side Galleries – Beautifully-painted and lengthy section of the inner Berlin Wall.
Museum Island – This doesn't even sound real at first, but Berlin has made it very easy to see many museums easily & quickly. Worth a short ride through to see the architecture alone.
Topography of Terror – An indoor and outdoor museum along the longest existing segment of the outer Berlin Wall.
Holocaust War Memorial – Go on a silent and eerie walk through 2711 concrete columns at varying heights or visit the Memorial to the Murdered Jews of Europe exhibition located underneath.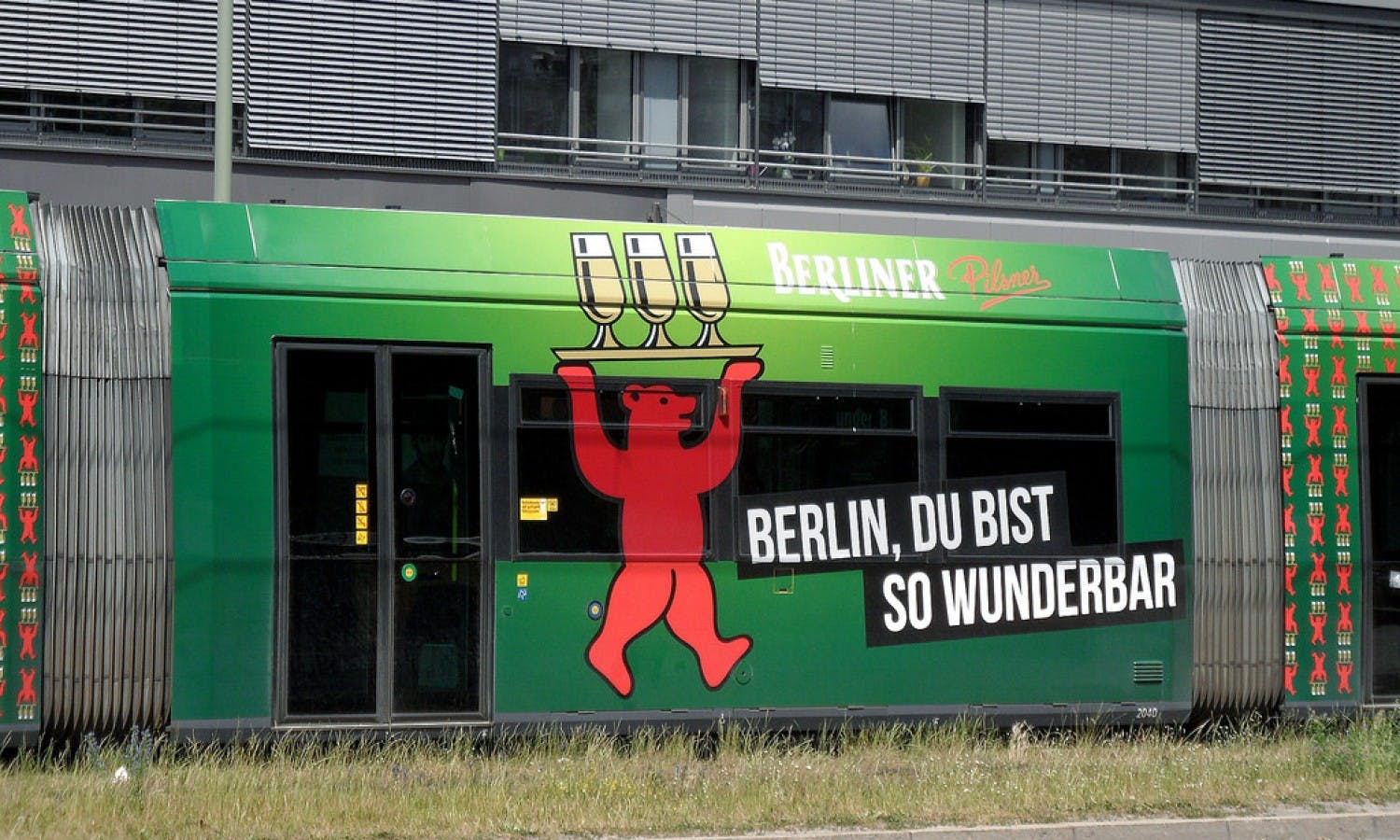 Berlin Wunderbar