A beach getaway can be quite relaxing, however packing a beach bag is not. Here are some tips to make sure you have everything you need.
Italians do many things right, and the beach is one of them. As a child, my summer vacations mostly consisted of week-long stays in Lavallette, New Jersey or Myrtle Beach, South Carolina, and there was nothing that I treasured more than this Oceanside week in the sun. I never wanted to go home. During my former incarnation as a New Yorker, my friends and I would take the trains out to Long Beach in Long Island for the day to get a beach fix—sometimes we'd make the schlep on both Saturdays and Sundays.  Other than that, I hadn't done a beach vacation since childhood prior to moving to Italy.  It's no secret that America isn't generous with its vacation time (and the less of the already meager days you use, the better), so I would use my time for European cities, and thus beach vacations weren't a priority.
It wasn't until I moved to Italy that I started to once again treasure a beach holiday. Honestly, I still can't believe I can board a train at Milano Centrale and arrive at a gentle, sparkling blue coastline less than three hours later. The Ligurian Sea puts the Atlantic Ocean that I knew to shame.
Whether it's a weekend, long-weekend or extended stay, I no longer feel guilty about kicking back on the beach. I'm a beach bum at heart and I'm not ashamed to admit it. With so many European cities at my fingertips, I have completely changed the way I travel for the better.
As I started to segue back into the beach swing of things, it's safe to say I was both over and under packed, bringing items that I didn't need (notebooks and red lipstick—this was out of habit, so gimme a break, okay?) to forgetting things I did need (SPF lip protectant and sunglasses). However after much trial and error, I think I have got beach bag packing down to a science. Here are my 10 tips.
1. Beach Bag
To start, I always use a wide tote for my beach bag. It folds easily into my suitcase taking up no space at all, which I value because I always have running gear with me, which can be a space hog. I currently use a nifty wide one I picked up at the Old Jameson Distillery in Dublin, but this one from Alphabet Bags seems to be calling my name.
2. Sunscreen
I am super pale and I burn very, very fast so naturally as much as I want some color, I also need maximum SPF protection. So, I have a ritual that begins with L'Oreal Sublime Sun SPF 50 before graduating to Hawaiian Tropic Silk Hydration Lotion Sunscreen SPF 30. I might stick with the 50 for the first couple of days, or mix and match them, using the 30 during the less-intense heat hours. It all depends on the moment. I don't want to jinx myself, but it seems to work as I haven't been drastically burned.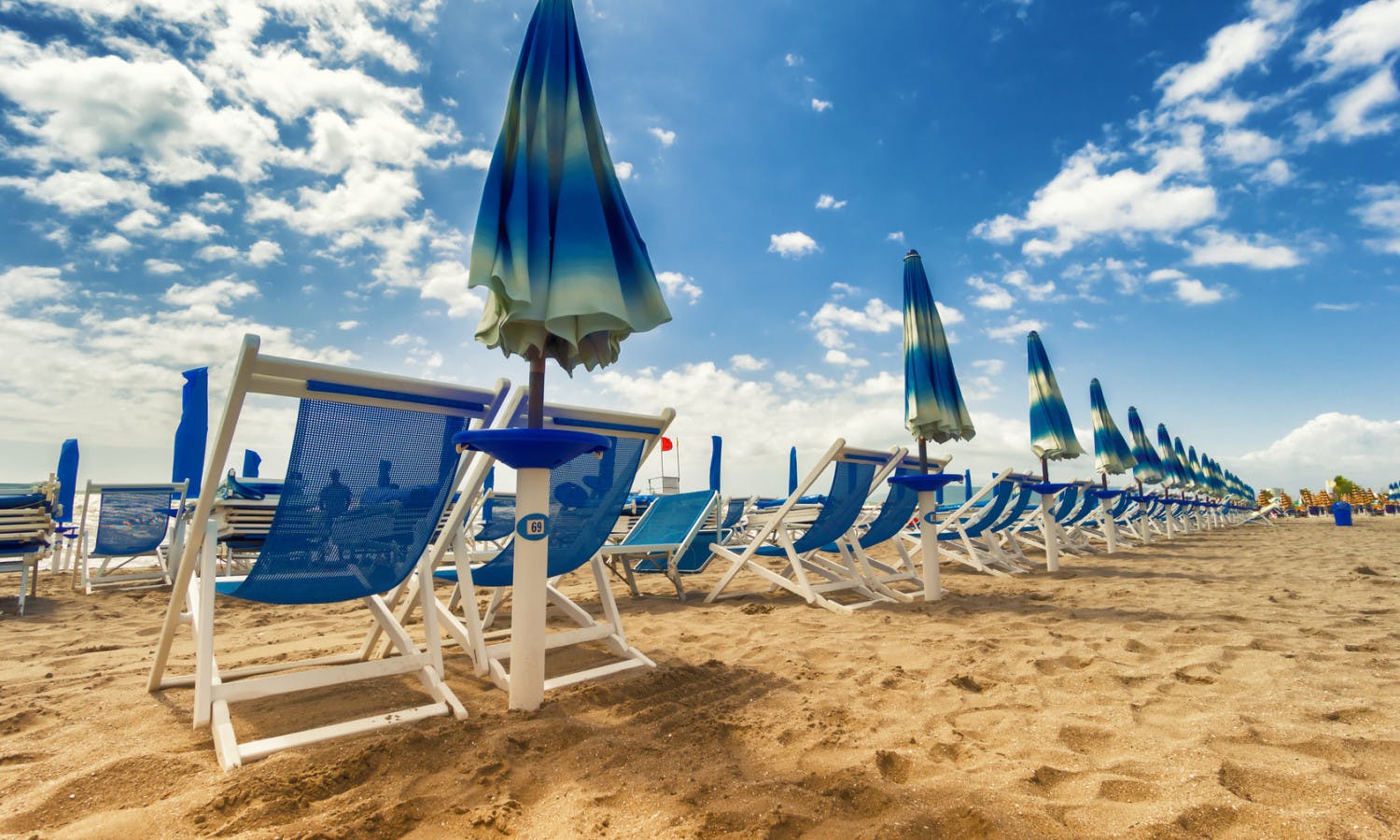 Sun-beds on a beach
3. Eyewear
I almost always have my eyes covered on the beach, even when my head is protected from the shade of the umbrella or the lettino's handy adjustable face cover. Photokeratitis is very real and but also very easy to prevent:  sunglasses with strong UVA UVB protection. I'm quite fond of Ray-Ban as they're renowned for their UVA UVB protection, and my frame of choice is the Wayfarer, though I've been coveting the Jackie O style.
4. Lip Balm
From inside our ears to behind our knees to the soles of our feet to in between our toes, we go to great lengths to ensure we cover all our nooks and crannies with sunscreen as there's nothing worse than an unexpected burn. Somehow, we always seem to miss somewhere like our noses, but our lips don't have to be one of those somewhere as they're the simplest to protect. All you need is some lip balm, however not all lip balm has SPF protection so take care to read the packaging at the time of purchase.  Both Nivea's Sun Protect lip balm ChapStick's Ultra Active Protectant Sunscreen have SPF 30.
5. Hair and Head Protection
The other area easy-to-protect that might not always be top priority is our hair. Sun damage can make it look just as fried as the Crypt Keeper's, and no one wants to look like him! A number of products out there help with this like Aveda's Sun Car Protective Hair Veil and Bed Head's Beach Bound  (I own the latter). Also, while we're on the top of the hair, we shouldn't forego adding some SPF protection to our scalps, a spot we all too often overlook, unfortunately.  I try to keep my hair up in a ponytail or bun, completely slicked back to avoid parts that expose my skin, however, some shorter haircuts may part by default so its good to put some sunscreen an any of those exposed areas. Also, a floppy hat never did anyone any harm.
6. Flip Flops
There's no better flip-flop than Havaianas to add some personality/character to your beach attire. Take your pick from a number of colors and patterns. I know it might seem like those should be on my feet and not in my gab, however, I live in Italy which has plenty of beaches (Sansone on Isola di Elba for example) that require a bit of walking/climbing to reach for which the adequate ankle support provided by my Chuck Taylors is necessary.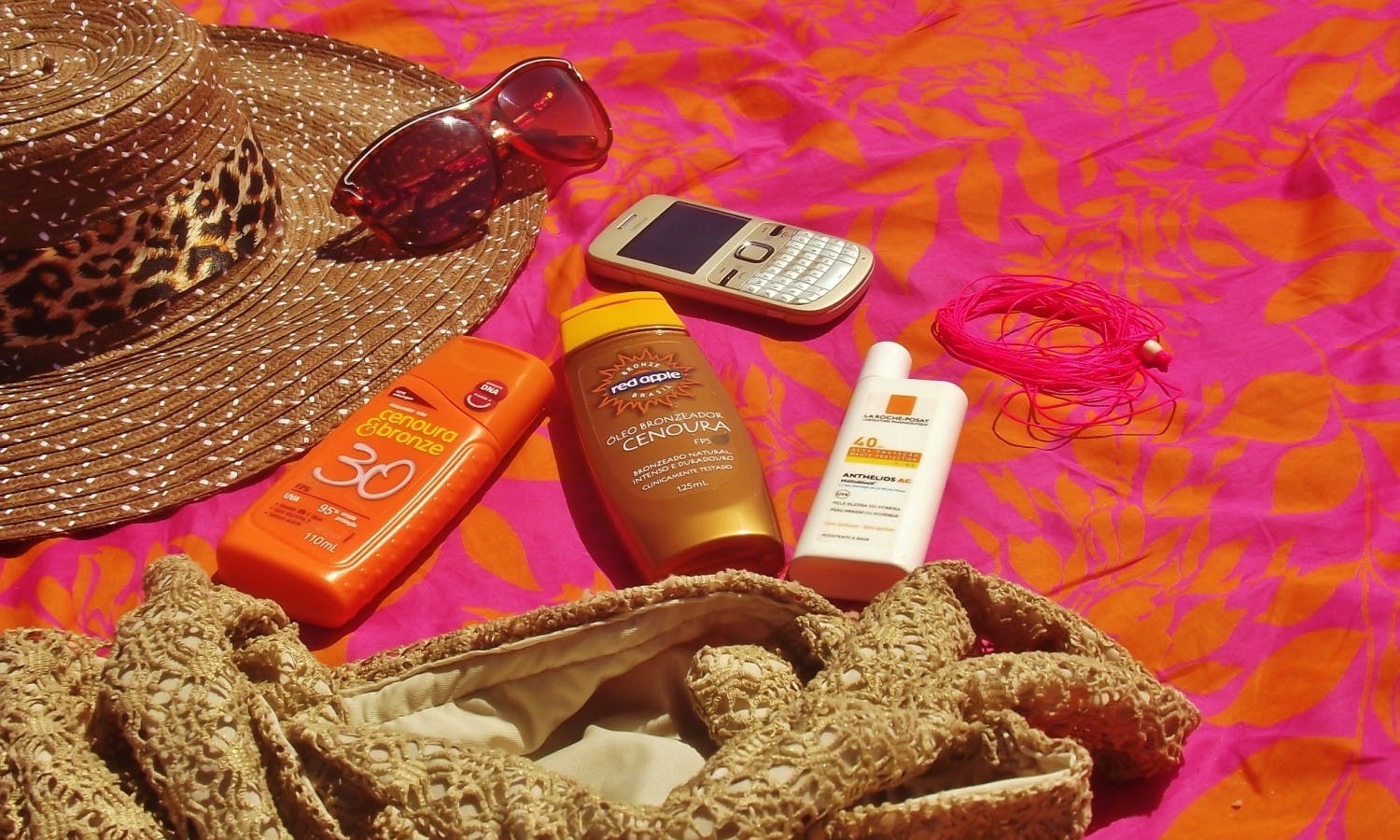 Beach essentials – Shélin Graziela
7. Water Shoes
This may or may not come as a surprise to you, but many of Italy's beaches are rocky and not sandy. And honestly, not only do the tiny pebbles and broken seashells hurt (a pain exacerbated by the heat radiating off them), but they can also make getting in and out of the water not only more difficult but a little dangerous, especially if you're as ungraceful as me. There are tons of options out there, but I'm quite fond of jelly shoes like the ones sold by Cressi, though mine cost five euro at the Civitanova market.  One tip: the tiny holes mean tiny pebbles and broken shells can still get in, usually when you enter the water when you start to sink a bit as you make your way in, so take care to buy the snuggest pair you can find.
8. Reading Materials
Reading material is always crucial. I, personally, am super old fashioned and love holding a book, however in Italy, English books are quite costly since they're imported so I have to pick and choose what I buy.  For this reason, my reliable Kindle Paperwhite comes in quite handy and, though I'm loathed to admit it, takes up less room than a proper book.
9. Beach Towel(s)
Before I mastered the art of Italian beach bumming, I was the one person in Italy with a bulky American-style beach towel, but that soon changed when I became the proud owner of not one, but two of the beach towels all of my friends had…the ones sold by the seaside solicitors.  The thin fabric rolls up nicely not just for my beach bag, but also in my suitcase because of the aforementioned running gear. I'm a two-towel girl and I can't help it.  I need one for my lettino and the other to dry off when I come out of the water.  Call me nitpicky, but I just don't like lying down on a wet towel if I can help it.
10. Satiation
Bottled water is super easy to come by. I usually pop into a bar on my way to the beach. Prices aren't steeply marked up like I would expect of an American beach so one bottle usually sets you back one euro (sometimes less), and I try to maximize its coldness by keeping it in the shade. Though it is always nice to have some kind of snack on hand to satisfy any hunger pangs between meals, and I find Hero's Musely bars tend to hit the spot. Obviously, it's better to choose the plain option as anything with a kind of drizzled frosting on top will make for messy eating.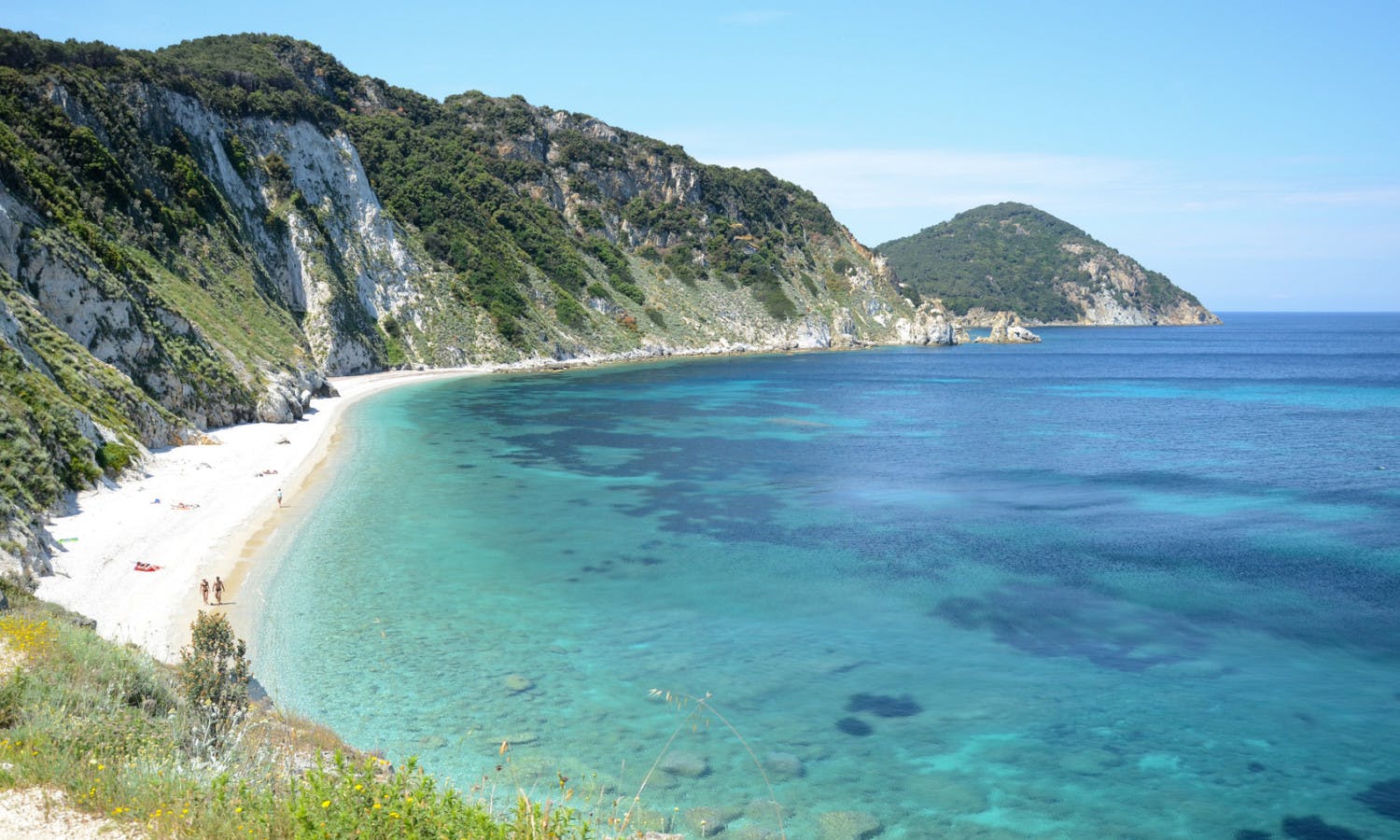 Sansone beach