Berlin is world-renowned for its art scene. Here's a look at 12 of the best galleries and museums worth checking out when you're in town.
In recent years, Berlin has become a hub for young creatives, garnering a reputation as one of the world's leading and most influential cities for art and design. Though the days of Weimar Republic and the Bauhaus movement have passed, Berlin remains at the forefront of contemporary culture. In no particular order, here are some of the most influential–as well as some of the best–art and culture venues Berlin has to offer.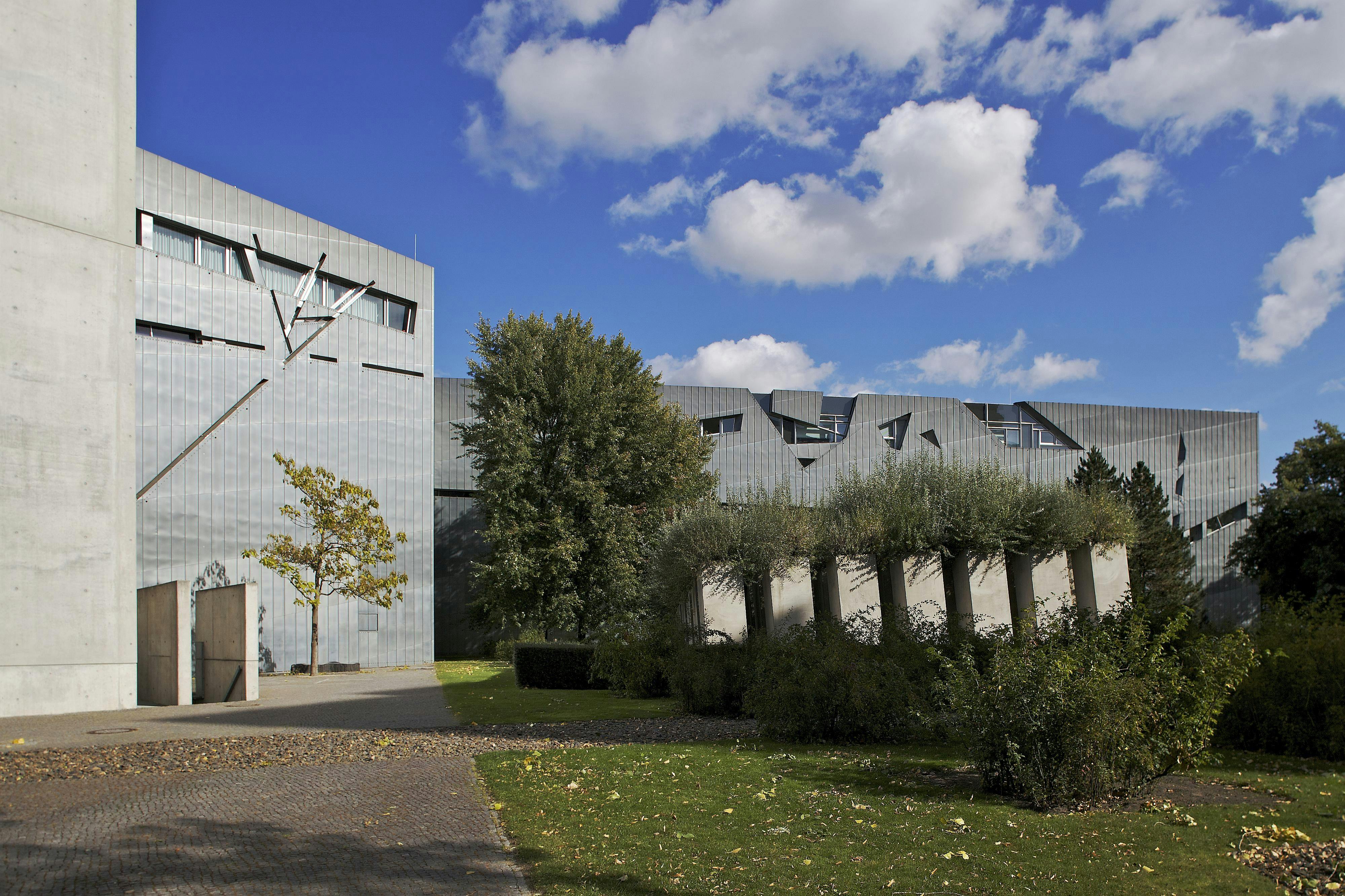 Exterior view of the Jewish Museum Berlin, Libeskind Building, showing the Garden of Exile and the Holocaust Tower © Jewish Museum Berlin, photo: Burkhard Katz
Most influential Art Spaces
Here are some of Berlin's most talked about art spaces, all of which have been catalysts for various discussions.
1. Jewish Museum Berlin
I visited this iconic museum the first time I traveled to Berlin, and I return here every time I have a visitor in town as it is at the top of my list of recommendations. This landmark narrates some of the country's darkest history through both Daniel Libeskind's specific architecture and the thoughtfully curated art installations on display. In addition to the permanent collection, the museum showcases temporary exhibits focused on relevant contemporary topics. (Address: Lindenstraße 9-14, website)
2. Bauhaus Archiv
The Bauhaus movement still resonates in Berlin's present-day aesthetics. Walter Gropius, a pioneer of Modernist architecture, founded the collection with the support of many peers and colleagues. The collection comprises works in progress as well as finished pieces of almost anything and everything regarding Bauhaus architecture, all displayed in chronological order to show how movement progressed. (Klingelhöferstraße 14, website)
3. Hamburger BHF
The building's architectural history and its consistent quality shows make Hamburger BHF a must see! The Neoclassical building dates back to 1846, and was once a train station that set a precedent for the era's subsequent train stations. Set in the only remaining train station from that era, this contemporary art museum is part of Berlin's National Gallery. (Invalidenstraße 50-51, website)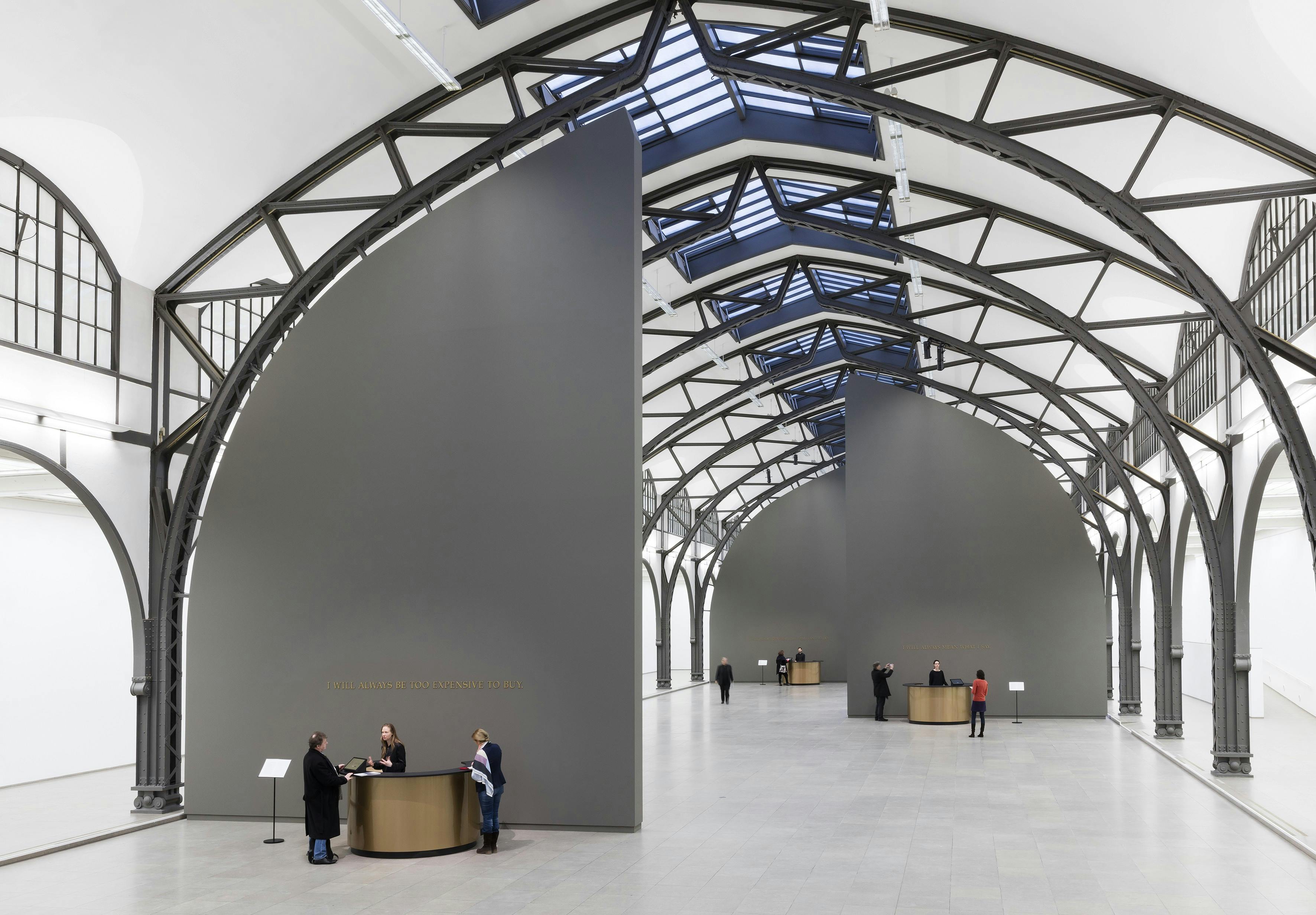 The Probable Trust Registry: The Rules of the Game #1-3, 2013-2017, Nationalgalerie / David von Becker. Sammlung Staatliche Museen zu Berlin, Nationalgalerie. 2016 Schenkung der Freunde der Nationalgalerie. © Adrian Piper Research Archive Foundation Berlin. © APRA Foundation Berlin
4. Museum for Photography / Helmut Newton Foundation,
The museum's permanent exhibition houses a large, varied archive of work from Berlin born fashion photographers. The exhibits tend to highlight Newton or anything fashion-related, so needless to say, this museum is a must see for fashion photography enthusiasts! (Jebensstraße 2, website)
5. Julia Stoschek Collection
The Julia Stoschek Collection opened in summer 2016 inside a communist building that was once East Germany's Czech cultural center. The focal point here is moving image and time-based art from the 1960s to the present. (Leipziger Str. 60, website)
6. KW Institute for Contemporary Art
Although it's one of Berlin's largest art institutions, the self-described "highly flexible" KW Institute doesn't keep a permanent collection. Instead, the venue features a diverse array of programs to address its audience in different ways. KW also takes the lead on the Berlin Biennale as both institutions share a founding director. (Auguststraße 69, website)
7. König Gallery
Located inside what was once St. Agnes church, König Gallery is perfect for a sunny summer day. Take a seat in the adorable little sculpture garden located between the exhibition halls. König is also one of Germany's most influential galleries with its artwork having been placed in major institutions like MoMA and the Guggenheim. (Alexandrinenstraße 118, website)
8. Me Collectors Room
Situated on Auguststrasse, Me Collectors Room is practically next door to the KW institute, Me prides itself on making contemporary art accessible for anyone who is interested in it by showcasing quality, carefully curated exhibitions. The easygoing atmosphere is further enhanced by a cafe located right in the middle of the venue. (Auguststraße 68. website)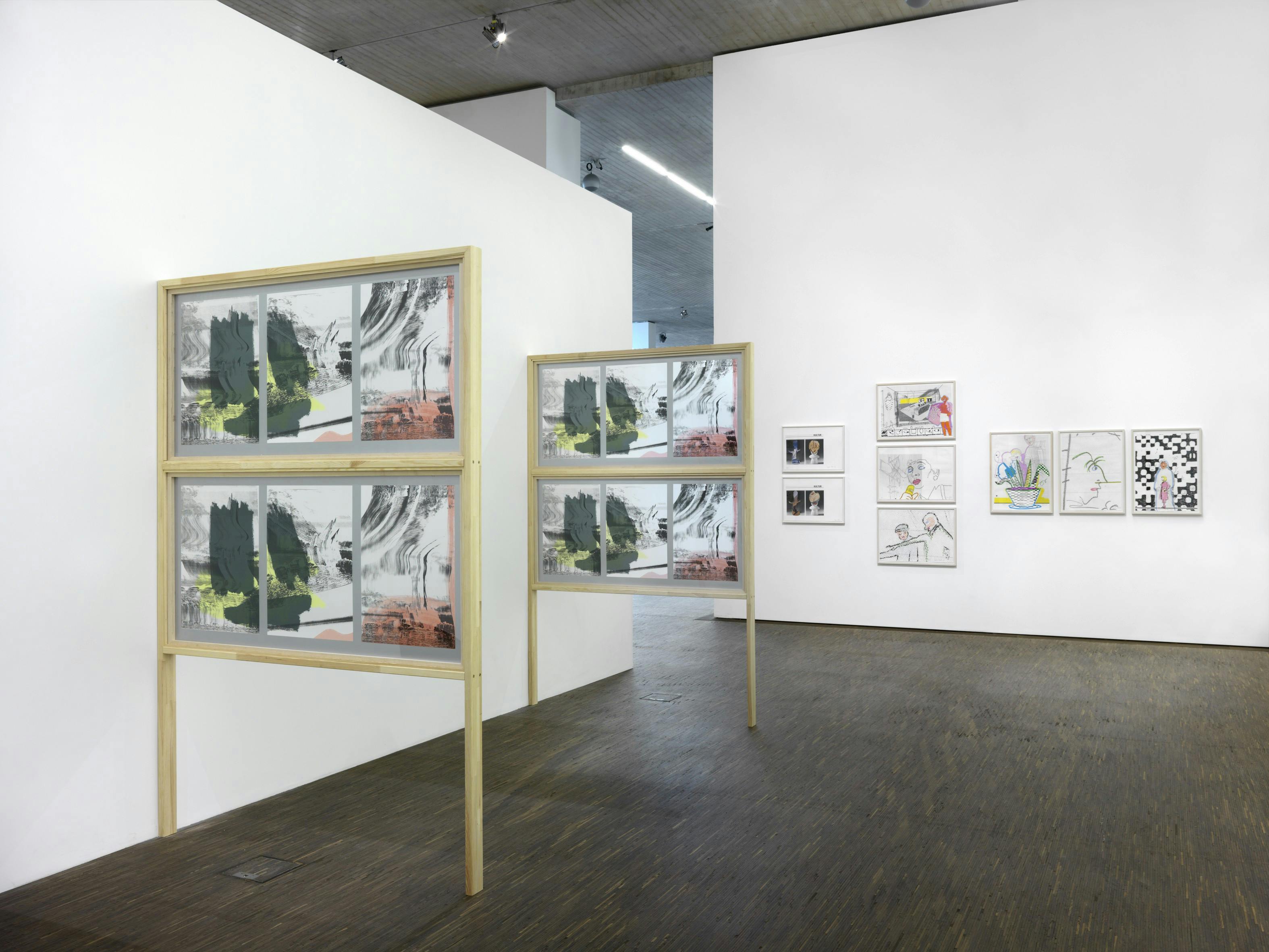 Sigmar Polke Die Editionen Installationsansicht 2017 © me Collectors Room Berlin Photo Bernd Borchardt 4
By hidden spaces, I don't mean that the following art venues are some sort of "secret" as they are just as influential (in some cases even more relevant) than the previously mentioned locales. I refer to them as hidden simply because anyone visiting them for the first time might get discouraged and think they have arrived at the wrong place.
1. Sammlung Boros
I mentioned this bunker-turned-art-gallery in my first Berlin article, and I had to mention it again because there is no other art space quite like it. I have categorized it as a hidden space for the simple reason that you need to book an appointment to visit the collection as far in advance as possible. I recommend booking this as soon as you have booked your flights. (Reinhardtstraße 20, website)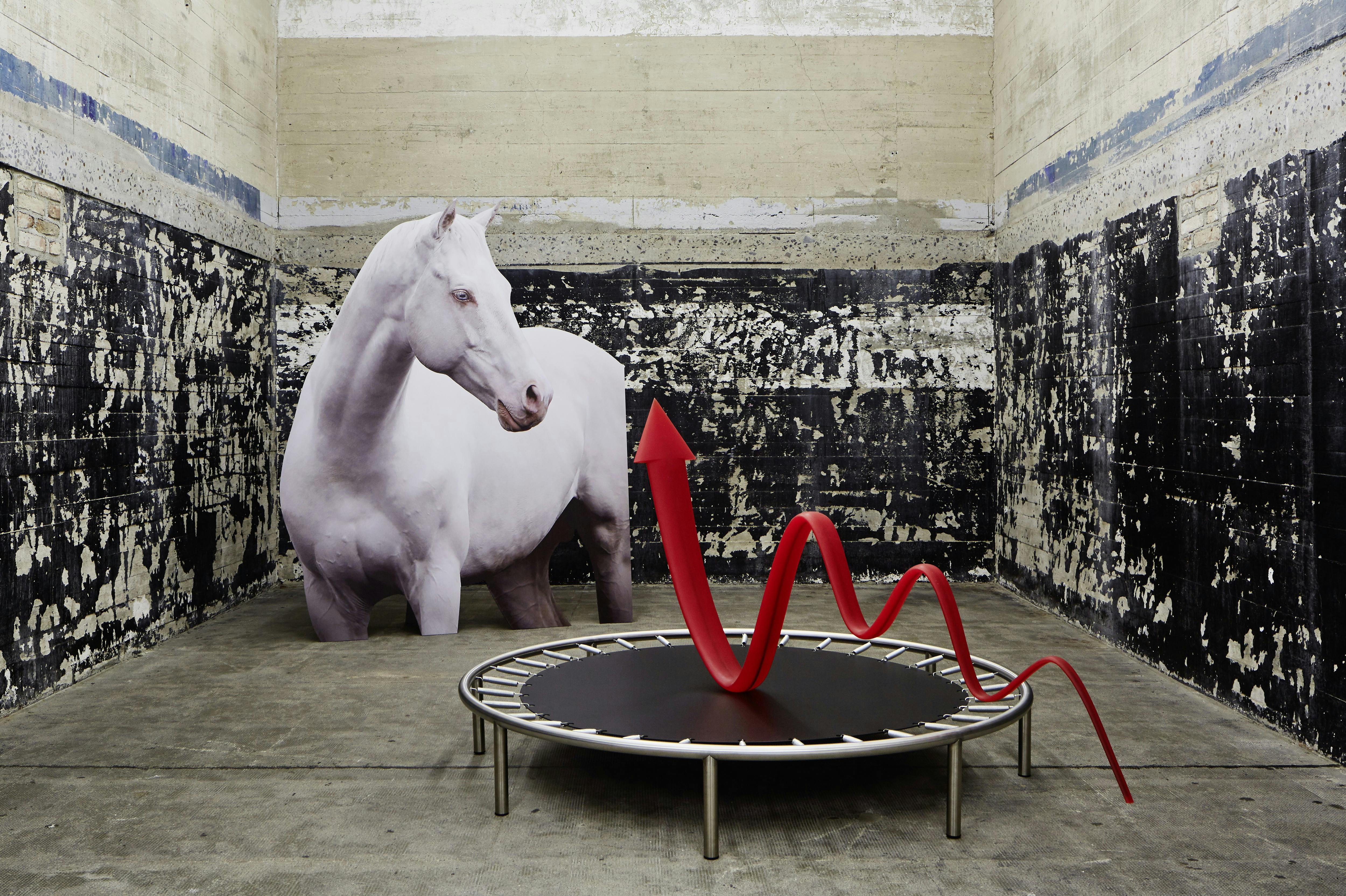 Katja Novitskova Foto: © NOSHE
2. KOW
Located in Berlin's main gallery district, KOW made quite an impression during Gallery Weekend with Candice Breitz, Love Story, 2016 , which spanned the gallery's three narrow levels. One of the timeliest exhibitions I have seen, Love Story features actors Alec Baldwin and Julianne Moore in a seamless narration of several sharp refugee stories. To access the gallery, you need to go through the backyard and climb staircase to the second floor, where you'll find the entrance.  (Brunnenstraße 9, website)
3. Esther Shipper/ Blain Southern
These two galleries are located outside of the standard gallery district. Smaller than most of my other recommendations, these German and British galleries have hosted some of my favorite exhibitions since I've moved here! (Potsdamer Straße 81e, website; Potsdamer Straße 77-87, website)
4. Gallerie Neu
The first time I visited this gallery, I was hesitant to enter, as I had to ring the doorbell and wait to be buzzed into the building. I thought I would be entering a residential area however once I stepped into the courtyard, it became clear that this is in fact an art space…and one of the most playful at that (Linienstraße 119, website)
I have not even covered half of the art spaces this creative city has to offer, however these are a good starting point! I hope you enjoy them as much as I do!