A trip down under wouldn't be complete without a visit to one of country's beautiful beaches. Visit any of these top five sandy spots in Australia and the images in your mind of expansive stretches of white sand and a rolling surf filled with bronzed Aussie surfers will become a reality.
"Slip, slop, slap." These are three words closely connected with my childhood growing up on the sandy shores of Australia's Gold Coast. As well as being the tagline of one of the country's most successful health campaigns in the early 80s (slip on a shirt, slop on some sunscreen, slap on a hat), for me it brings back memories of all the glorious sunny days I spent as a youngster chasing the surf, making sandcastles and getting my hands sticky with a fast-melting ice-cream.
These days, Australia's SunSmart campaign has expanded to about five,  and I don't think anyone really remembers what they're all meant to represent. But what does remain constant is the beauty of the country's beaches, which are still as stunning as ever and no doubt on your itinerary if you're heading down under for an Australian summer.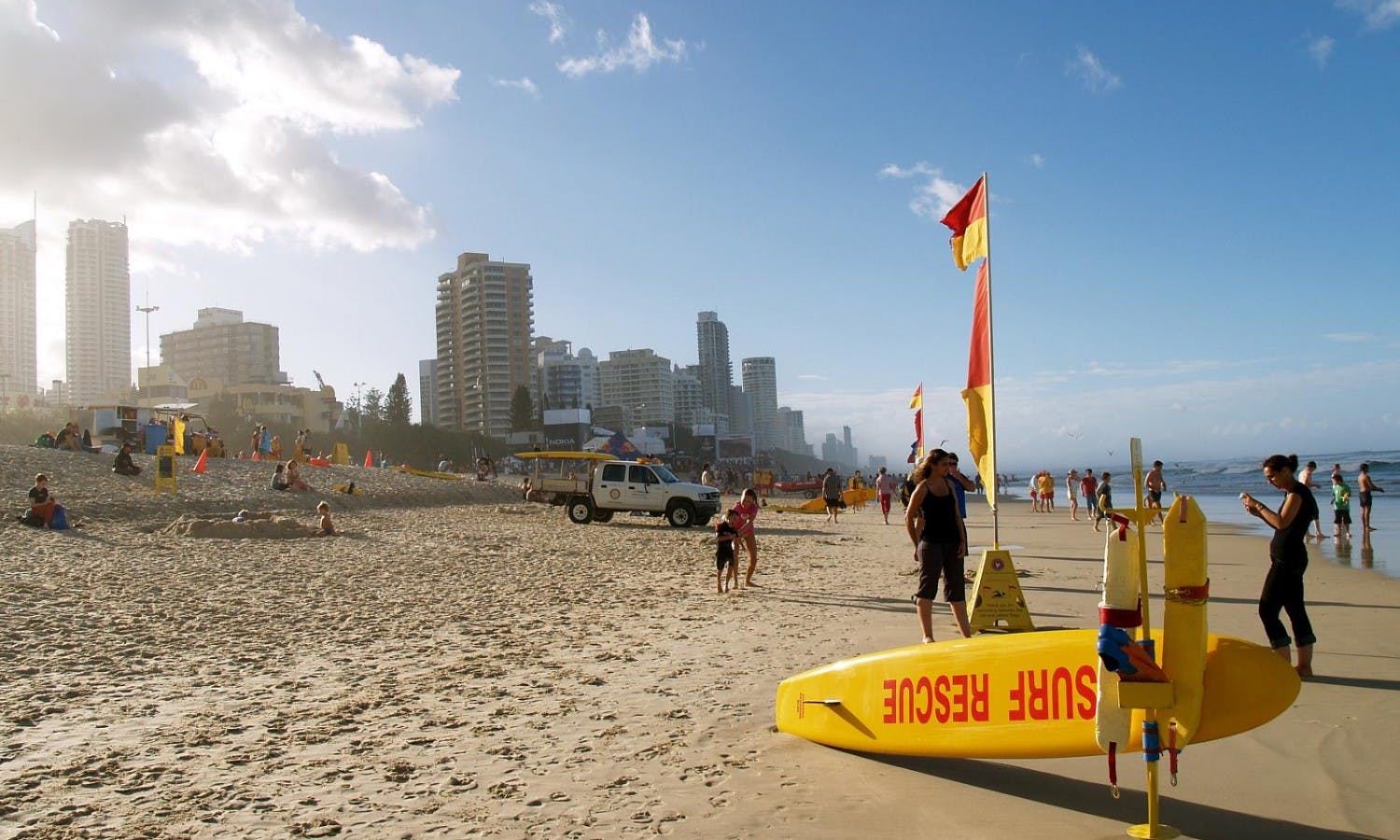 Flags showing where it's safe to swim at the beach, photo credit: o b s k u r a via Visualhunt / CC BY
Some things to keep in mind when you're tackling this list, which is what I claim as Australia's top five beach destinations, are some simple tips such as knowing what color flags you need to swim between as well as understanding the signs that signal danger. Australia often gets a bad rap for its shark attacks and jellyfish stings and while there's no denying their existence, just by heeding the advice of the surf lifesavers on duty at patrolled beaches will keep you safe.
So now if you're wondering where's the best place to don your togs or cozzies (the colloquial terms for your bikini) or the top tip for soaking up the sun and surf in your budgie smugglers (Google it!), then check out these top five beaches to visit in Australia.
1. Rainbow Bay, Gold Coast, Queensland
If you're looking for glitz, glam and a fashion parade of bikini model lookalikes, then Rainbow Bay is NOT the beach for you. Instead, you'll be better off heading to Surfers Paradise beach (also on the Gold Coast) and fighting the crowds for a spot on the sand. But the reason why I like Rainbow Bay is that it has a much calmer and more peaceful atmosphere with its gentle waves and family-friendly vibe stretching out across a beautiful bay.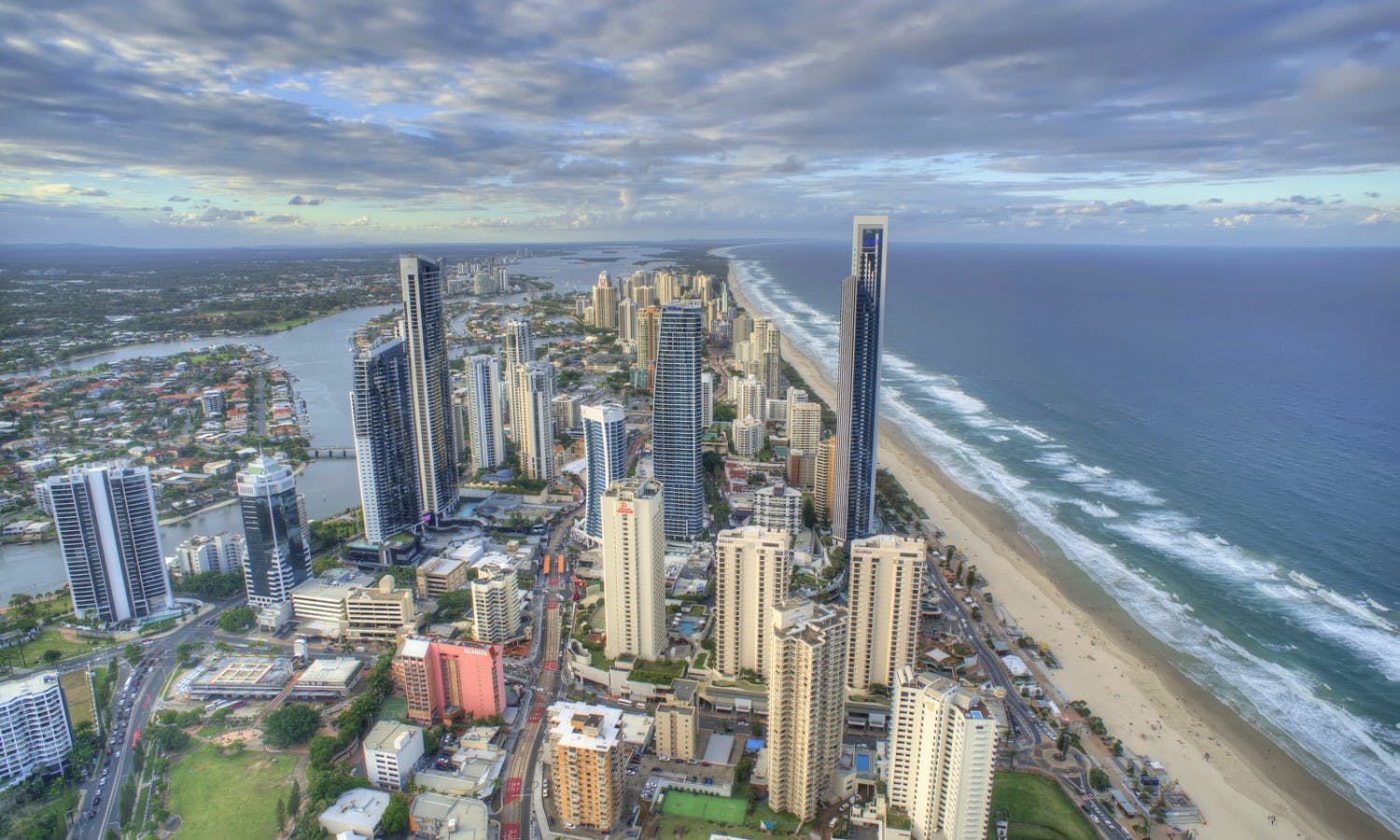 The iconic stretch of beach of Australia's Gold Coast, photo credit: Lenny K Photography via Visualhunt.com / CC BY
2. Main Beach, Byron Bay, New South Wales
While some may consider Main Beach at Byron Bay a bit of a tourist trap, I would argue that there's always a reason why people flock to a certain spot or site. And for Byron Bay, it's the alternative and laid-back atmosphere of the community with creativity and individuality at its roots – attributes firmly held onto by its residents. The beach itself is picturesque and also well-worth a visit is the Cape Byron Lighthouse for vistas over the ocean.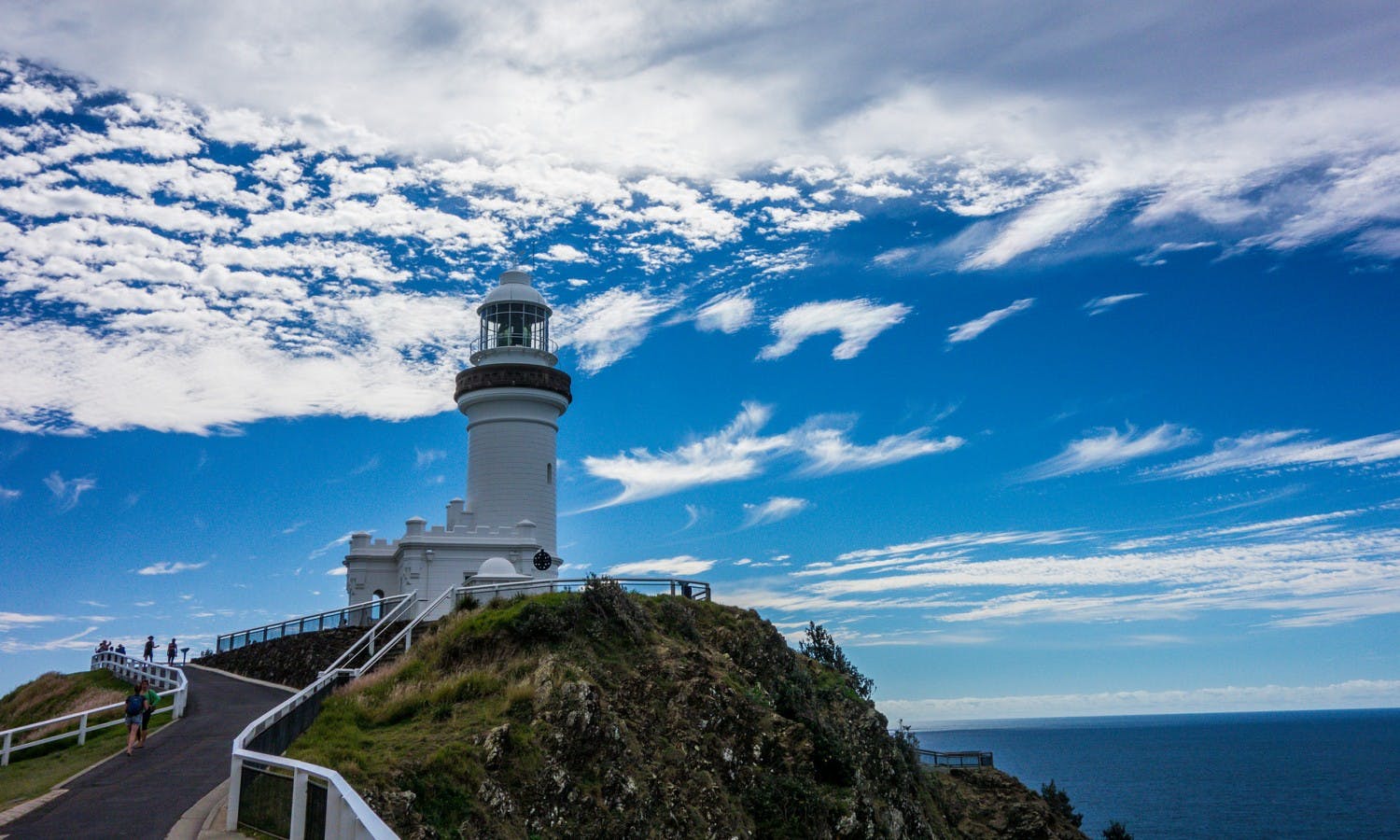 Cape Byron Lighthouse at Byron Bay, photo credit: Visions of Domino via Visualhunt / CC BY
3. Bondi Beach, Bondi, New South Wales
Bondi Beach is one of the country's most well-known beaches. Its glistening white sand and rolling waves have been the backdrop for several television series screened in various countries around the world, such as Bondi Rescue and Bondi Vet. The beach, which is around eight kilometers from Sydney's city center, is well-equipped for visitors with free Wi-Fi as and a nearby strip of cafes, bars and places to stay. There's a great coastal walk you can take from Bondi to a place called Tamarama, which also boasts a fantastic annual exhibition called Sculpture by the Sea.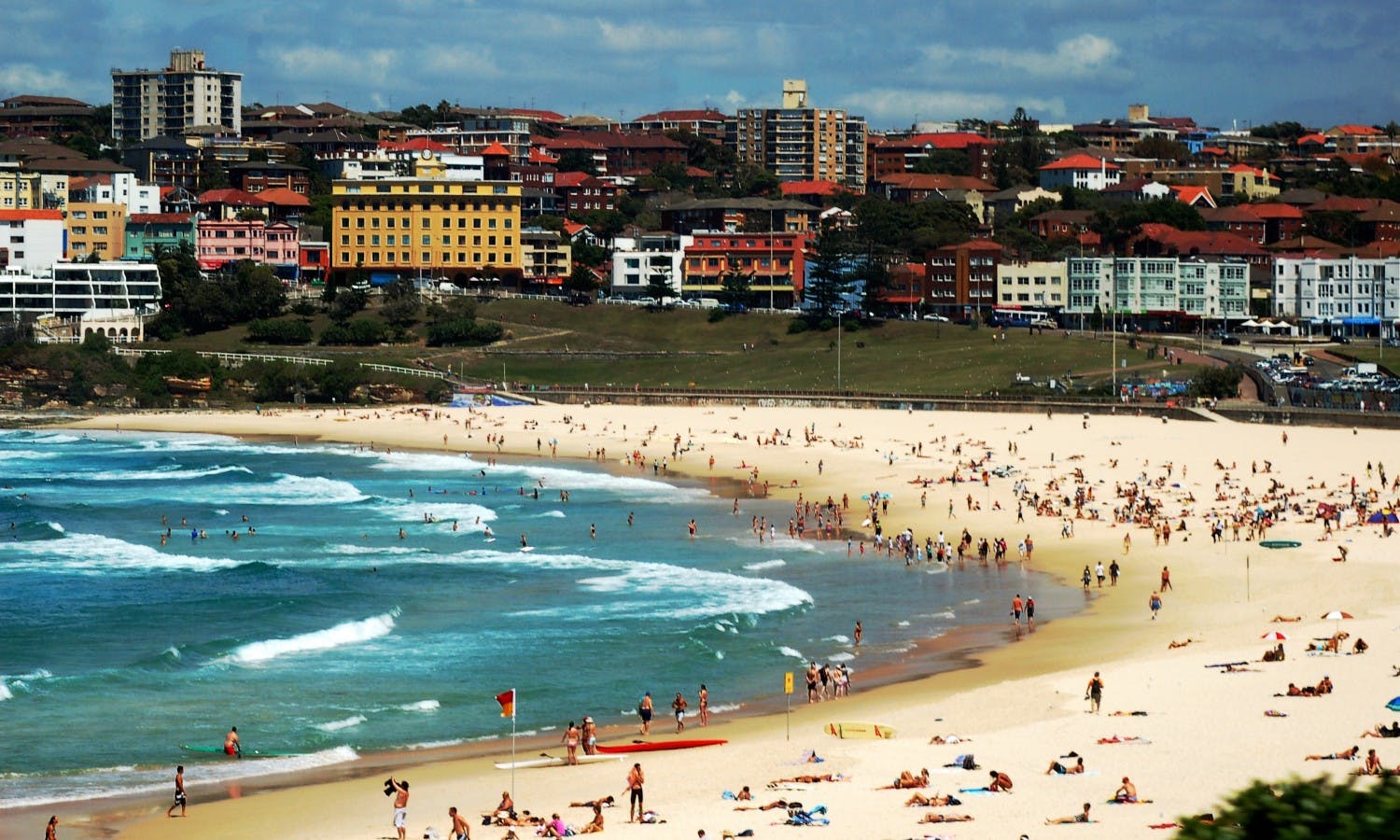 Bondi Beach on a perfect summer day, photo via flok via Visual Hunt
4. St Kilda Beach, Melbourne, Victoria
St Kilda Beach, around seven kilometers from Melbourne's city center, is a great option for its surrounding attractions such as its market-filled esplanade and cute boutique shops, rather than so much for its sand and surf. And you'll be in for a surprise to know that some of the main stars of St Kilda Beach are tiny fairy penguins that come to shore near the pier around dusk to flap their fins and runabout on the rocks. While you're waiting for dusk to fall, you can stretch your legs with a walk (or tram if the distance of around six kilometers is a little too far for you) to Brighton Beach, where you'll spot a strip of brightly colored wooden huts known as the Brighton Bathing Boxes. These iconic structures were built over a century ago for bathers to remain modest when changing into their swimming costumes. They retain their bright colors and prime position on the sand in the present day.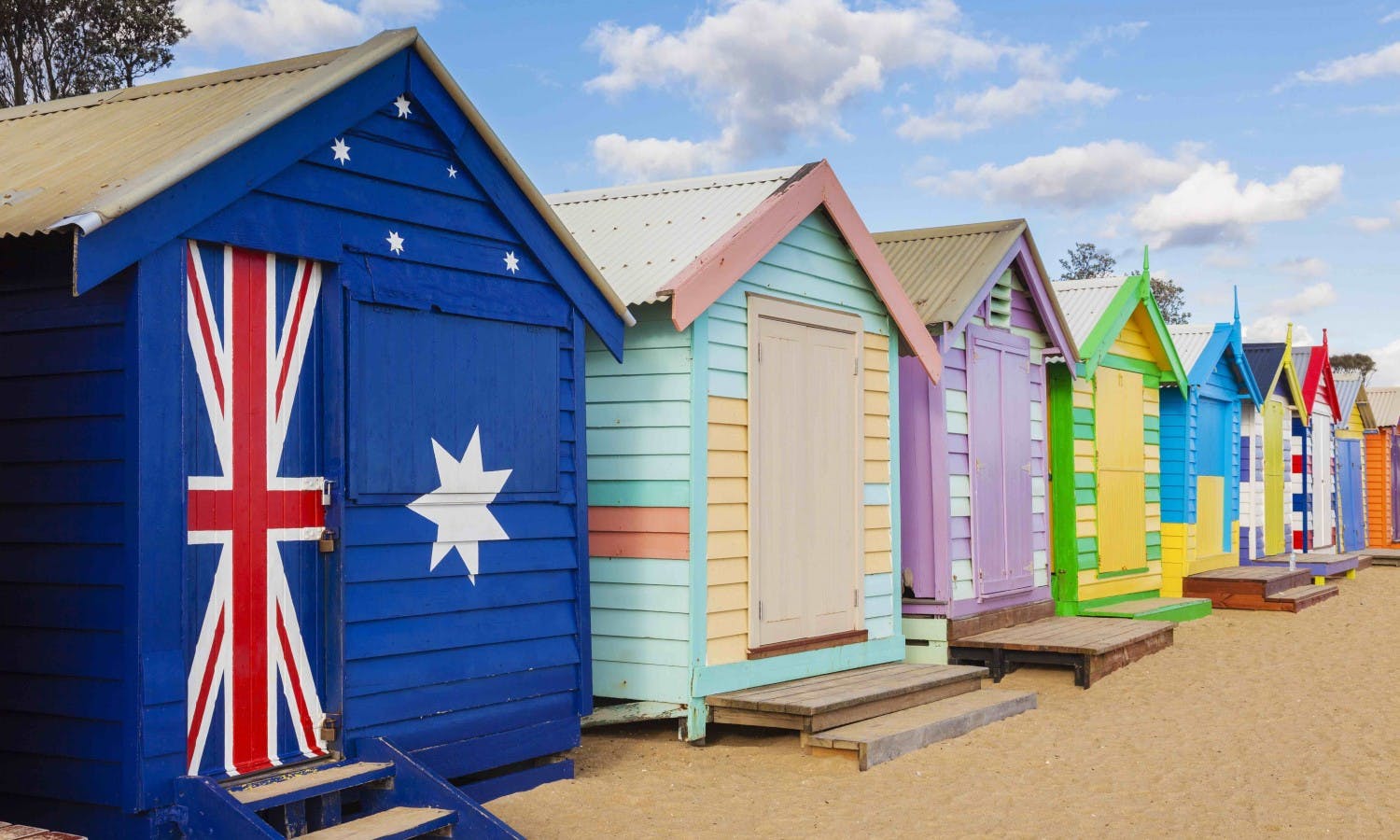 The iconic Brighton Bathing Boxes
5. Cable Beach, Broome, Western Australia
If it's pristine white sands that you're looking for then you must make the trip to Cable Beach, right up near the top of Western Australia. In addition to experiencing jaw-droppingly beautiful sunsets, it's here where you'll find clear and calm water that's perfect for swimming. There's also the option to ride a camel along the sand at either sunrise or sunset if you're interested. I would recommend Cable Beach as an option if you're planning a long trip in Australia or even thinking about road-tripping around the country.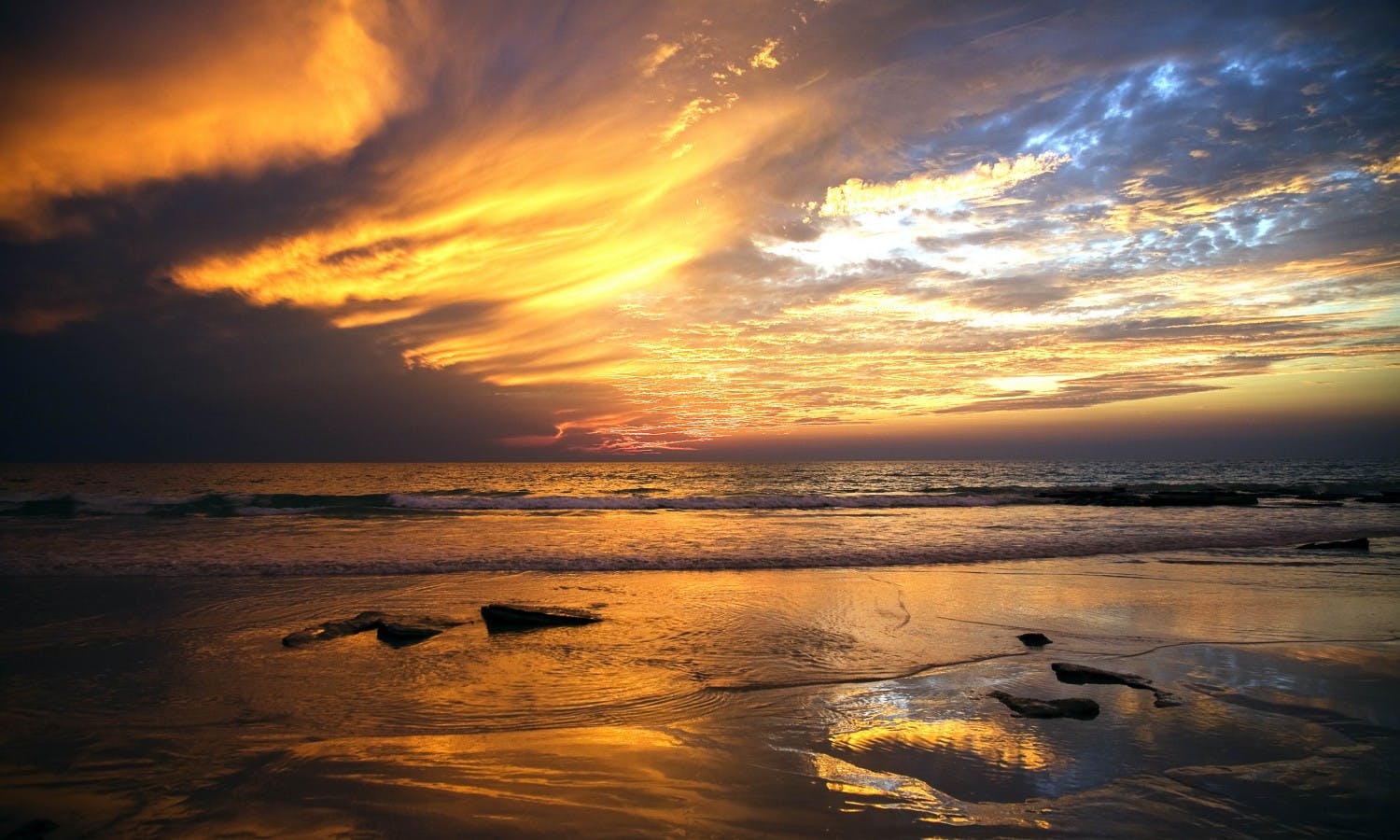 Sunset at Cable Beach, photo credit: piesgardiner via VisualHunt.com / CC BY
Cover Photo by rexboggs5 via Visual Hunt / CC BY-ND