As Turkey Day approaches, Musement takes a look at five of America's most popular Thanksgiving Day Parades.
It's officially November and Americans are getting into the Thanksgiving spirit. Some people look forward to basting their turkeys while others are excited to park themselves in front of the TV for NFL football games while still others plan on binge-watching one of the cinema channels' movie marathons. There are some people, though, who hit the road to wake up early Thursday morning and secure themselves a top viewing spot at one of the country's Thanksgiving Day parades. Here are five of the most popular: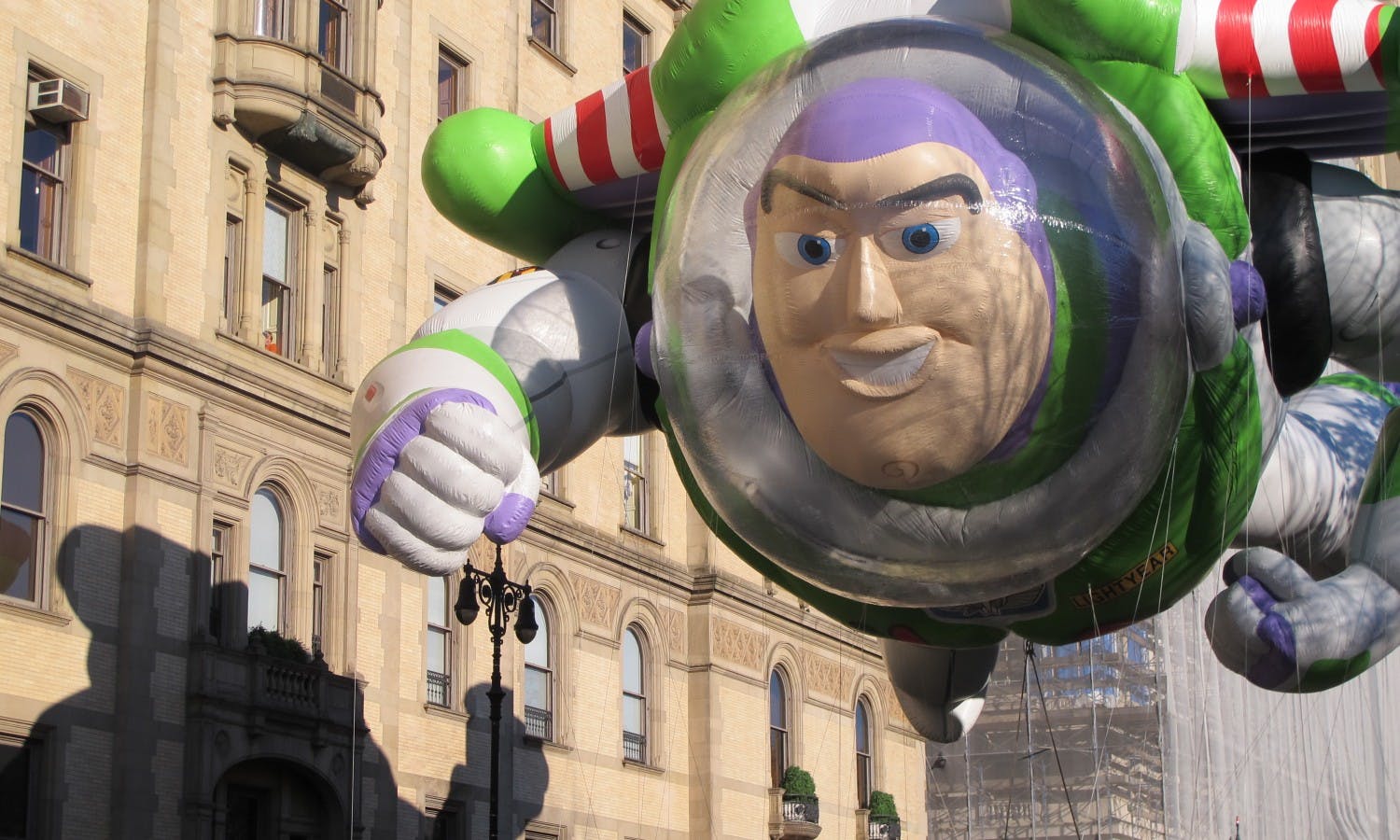 Buzz Lightyear soars over Manhattan at the Macy's Thanksgiving Day Parade in NYC, photo: DrivingtheNortheast
1. New York City, Macy's Thanksgiving Day Parade
Since the Macy's Thanksgiving Day Parade was inaugurated in 1924, spectators can always rely on a cameo from Santa and his sled at the end to officially kick off the Christmas season. His appearance follows an illustrious procession (cartoon character and animal balloons, ornate floats, Broadway performers, marching bands and more) that starts at 77th Street and Central Park West and ends in front of Macy's Herald Square on 34th Street. Spiderman, Kermit the Frog and the Smurf are among the most iconic balloons. The country's second-oldest Thanksgiving Day Parade, the three-hour event kicks off at 9.00am EST and is broadcast nationally.  Those who don't want to brave the early morning cold on Thanksgiving Day can swing by the balloon inflation sight 79th Street and Columbus Avenue from 3.00pm to 10.00pm the day before to watch the characters come to life.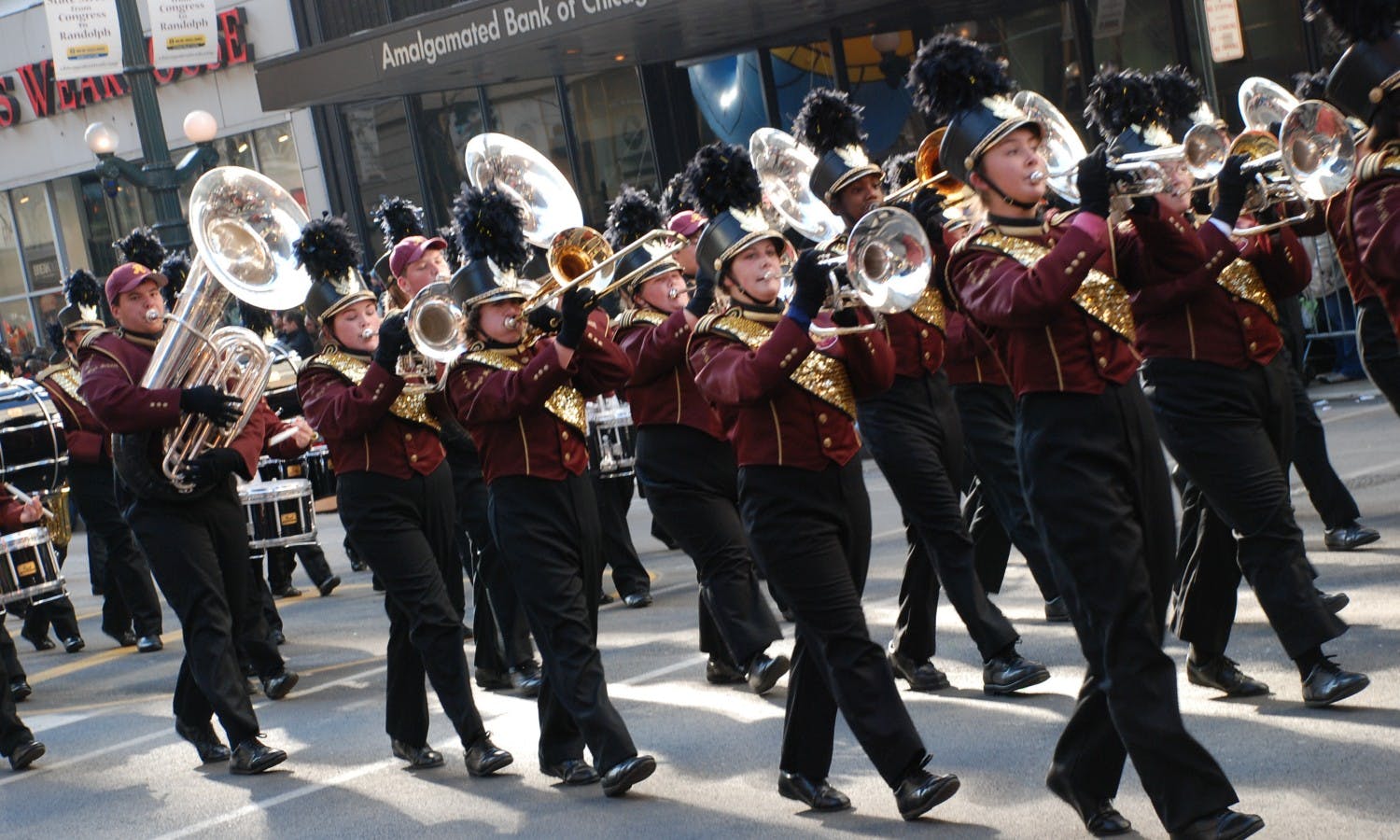 A marching band toots away during the McDonald's Thanksgiving Day Parade in Chicago, photo: Randy Escalada
2. Chicago, McDonald's Thanksgiving Day Parade
 
The Windy City's Thanksgiving Day Parade started as an early December Christmas Parade in 1934 as a way to lift the city's spirits during the Great Depression. It did indeed help boost the economy a bit, and they even plowed through the following year even though circumstances were even direr. The parade took on its current name in 1984 and that same year, its route was changed from State Street to Michigan Avenue only to be reverted back again 15 years later. Expect giant balloons, marching bands and entertainment, but keep an eye out for Teddy Turkey, the parade's mascot. From Garfield to Pac-Man to Tweety, everyone is likely to see an inflated version of their favorite cartoon character and/or toy.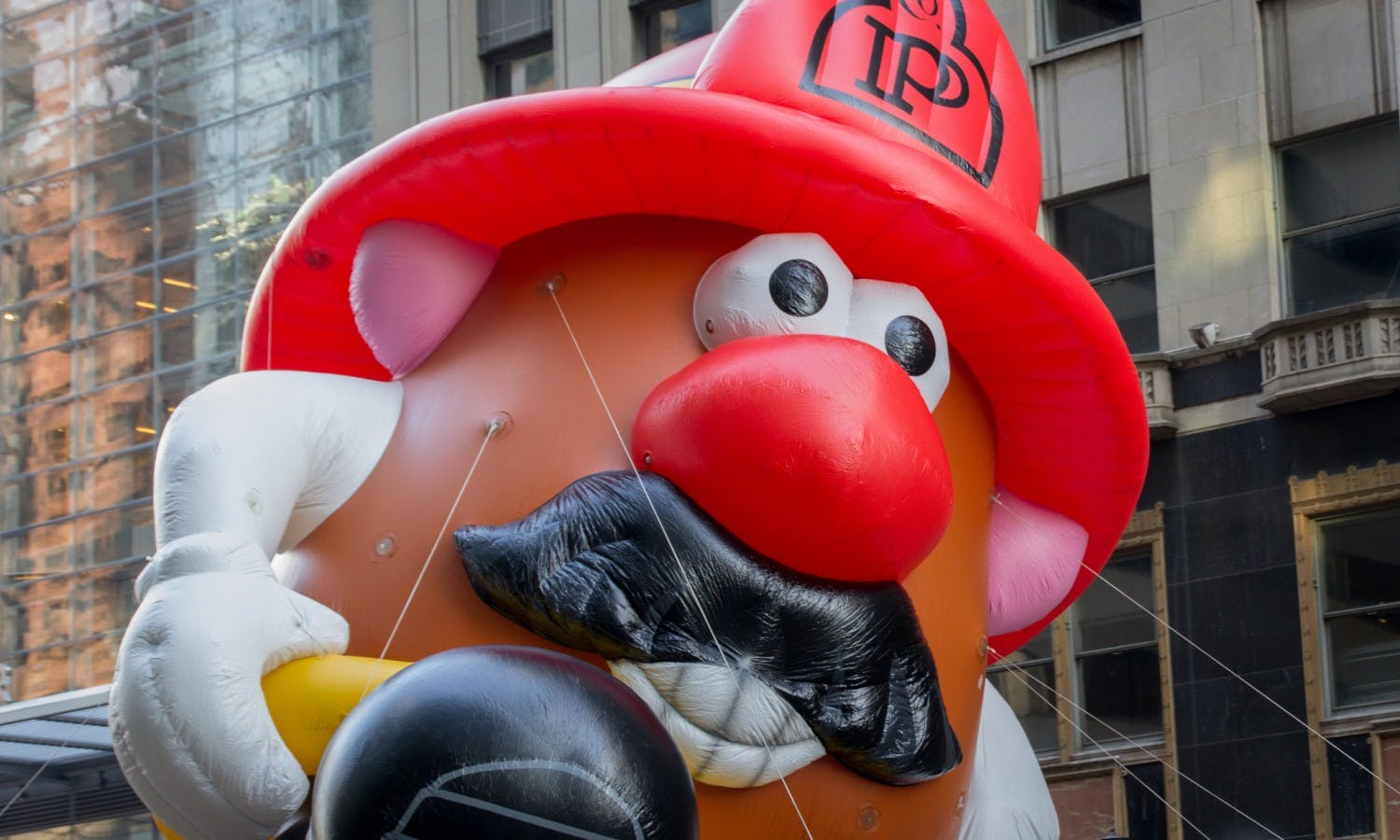 Mr. Potato Head smiles for his close-up at the Dunkin Donuts Thanksgiving Day Parade in Philadelphia, photo: rowens27
3. Philadelphia, Dunkin Donuts Thanksgiving Day Parade
Originating in 1920, the Philadelphia Thanksgiving Day Parade is the oldest in the United States.  The festivities start at 20th Street and JKF Boulevard and carry on for 1.4 miles to conclude at the Philadelphia Art Museum. Its inaugural run was prompted by Ellis Gimbel, who co-founded the iconic department store Gimbels. He instructed his employees to dress in costume and march along the street as a PR campaign of sorts to push Gimbels toy department as the ultimate Christmas shopping destination…and the rest was history! Today's grand spectacle has come a long way in its 97 years, and gigantic balloons and lively entertainment never fail to thrill both children and adults alike. In fact, the Parade was known as the Gimbels Thanksgiving Day Parade until the store shuttered in 1986.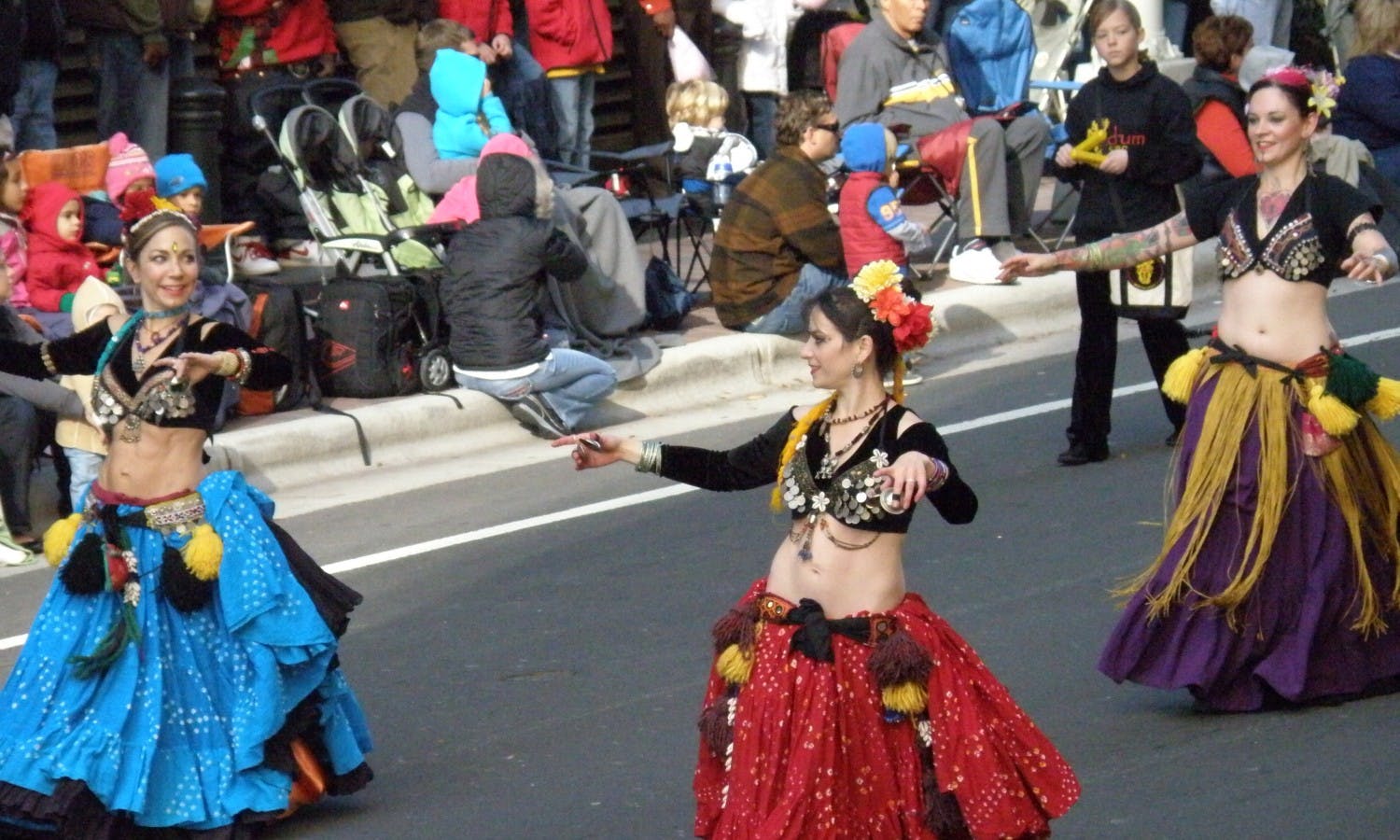 Lively dancers shaking up the Novant Health Thanksgiving Day Parade in Charlotte; photo: Glisten Images
4. Charlotte, Novant Health Thanksgiving Day Parade
Up until fairly recently, this Thanksgiving Day Parade was known as Carolina's Carrousel Parade, and it was created in conjunction with a scholarship for local students. Dating back to 1947, the parade originally took place in the afternoons before being moved to the morning in 2008, and it features an array of floats in different shapes and animals as well as a marching band competition. It took on its current name in 2013 when Novant Health swooped in and saved the day after the Carrousel Parade's lead sponsor was no longer on board. An estimated 100,000 people hit the streets to watch the pageantry, rendering this the fourth largest Thanksgiving Day Parade in the country.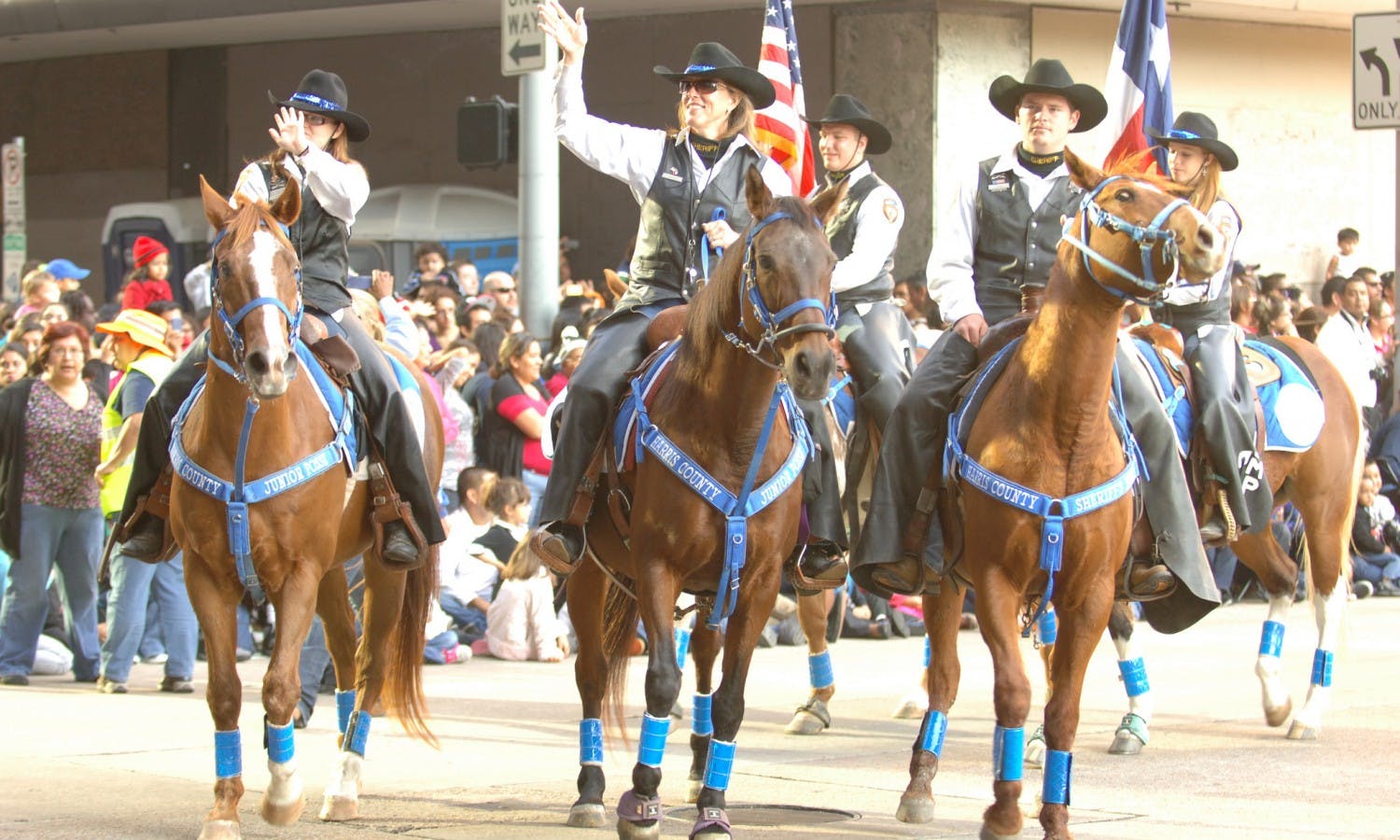 Cowboys and cowgirls at the HEB Thanksgiving Day Parade in Houston, photo: Ed Uthman
5. Houston, H-E-B Thanksgiving Day Parade
What started in 1949 as a Santa sleigh ride from Union Station to downtown, is today a Turkey Day extravaganza complete with holiday-themed floats and balloons, marching bands galore, a myriad of dance teams and even a few cowboys (and girls). The parade definitely holds climate bragging rights as Houston's warm weather makes the spectator experience that's a bit more pleasant than some of its Turkey-Day-Parade-city counterparts.  This year, fresh from their gold medal wins at the Rio Olympics, Simone Biles and Simone Manuel will be the parade's Grand Marshals.  The festivities kick off at 9.00am.
Cover photo: "The 2014 Macy's Thanksgiving Day Parade New York City" by Anthony Quintano is licensed by CC BY 2.0.