A cultural site dedicated to oenology, Bordeaux's La Cité du Vin (Wine City) is an exciting, accessible destination for gastronomy, history and culture enthusiasts.
More fashionable than ever, Bordeaux is one of the hottest tourist destinations of the moment. Over the past few years, the city has reinvented itself.  The Garonne Quays has been redesigned, and there are plenty of new locales that appeal to both locals and travelers alike, including, La Cité du Vin (Wine City), a unique cultural center dedicated entirely to wine. So yes, it's a wine museum! And here are 6 fun facts about this special destination.
1. An Architectural Masterpiece
With its contemporary lines, La Cité du Vin overlooks the Garonne with audacity. The world's largest wine museum disrupts the Bordeaux landscape thanks to an innovative design reminiscent of knotty vineyards, swirling the wine in a glass, or the eddies within the neighboring river.  The whole facade is made of glass and aluminum panels reflecting a different kind of light at different times of the day. Don't forget your camera!
2. A Sensory Journey
Your ticket to Bordeaux's La Cité du Vin is the beginning of a journey into the heart of a vibrant and universal concept. You will be able to move freely through the 20 interactive themed spaces, accompanied by a digital travel companion that will help you understand everything. Discover wine in all its forms: Its uses in different civilizations, its artistic depictions, its legends, its techniques, the evolution of its flavors, and its evolution as a trendy and modern product.  An original and fun journey for the whole family!
3. Wine bar meets Library
The Latitude 20 wine bar, one of the top wine bars in Bordeaux, welcomes you to an astonishing venue with wines from more than 70 countries, representing almost 800 brands and 14,000 bottles from not only Europe and America but also from Syria, Namibia, Peru or Tahiti. A team of sommeliers/cellarmen will guide you through this wonderful sensory catalog and accompany your tasting journey. A snack bar is also at your disposal for lunch or tastings with a pleasant terrace on the banks of the Garonne.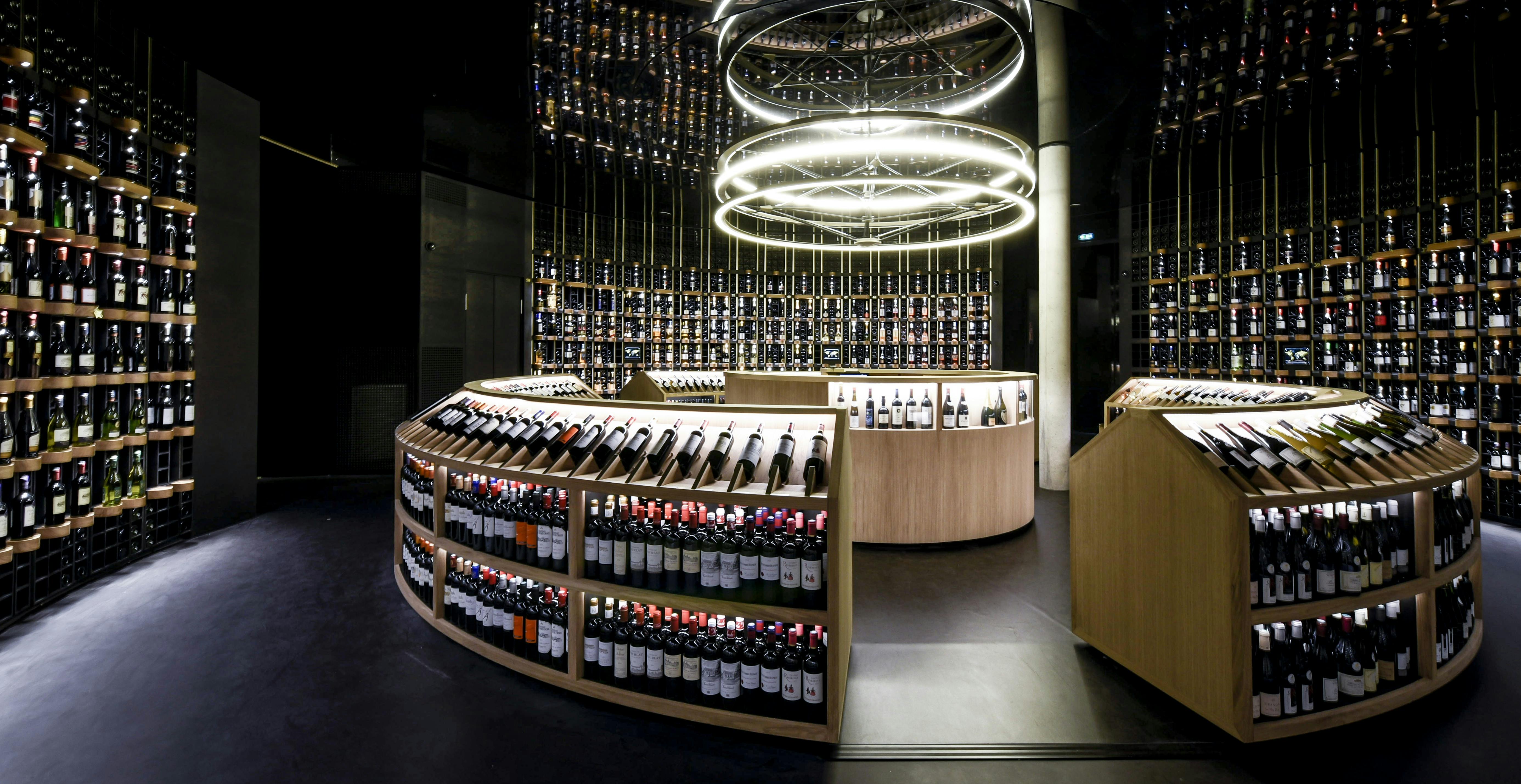 Latitude 20 wine bar
4. Oeno-Cultural Workshops
La Cité du Vin loves to surprise its patrons, and one way of doing so is through the discovery workshops. "Have a drink in the world's markets," offers participants an all-sensory wine experience with blind tastings, fragrance games, and 360-degree pictures.  You can also (re)discover Bordeaux's 'terroir' and vineyards, with wines that have shaped the city's identity and reputation. There's also a workshop that lets you discover wine through literature and poetry, from Antiquity until today. A very enriching adventure.
5. A Restaurant with a View 
Visit the seventh floor to discover a cuisine that couples regional recipes with world flavors. The Le 7 restaurant team creates dishes with local products with respect to the seasons. Accessible without a ticket to the Cité du Vin, and open from 9:30 am to midnight, the restaurant offers tailored menus throughout the day, with cooking classes and wine tastings. And because there's more to this experience than the delicious food on your plate, you can also enjoy an exceptional view of the whole city. Bon appétit!
6. Exhibitions and Shows
Because wine is an inspiring, emotion-stirring product, La Cité du Vin holds conferences, screenings, shows, and exhibitions throughout the year. You can join the debates about health and culture, attend meetings with writers, or simply enjoy theatrical shows that focus on the vast subject of wine. There's also a temporary exhibition hall where you can discover artistic depictions of wine through photography, painting or sculpture.
Book your tickets here!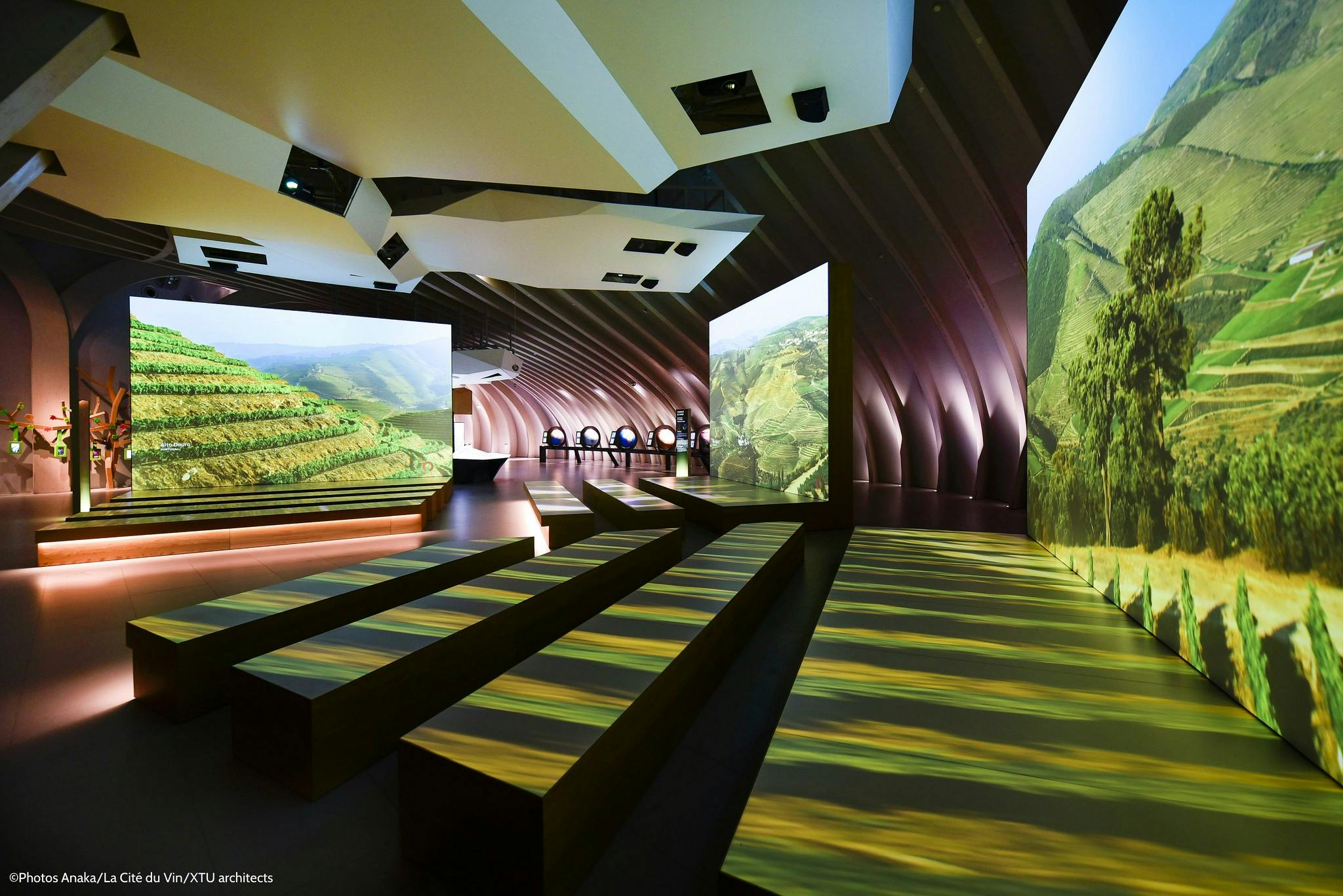 One of the many exhibition spaces at la Cité du Vin
OPENING HOURS
From January 2nd to March 31st, open daily from 10 am to 6 pm except on Mondays (closed on February 1st)
From April 1st to June 30th, open daily from 9.30 am to 7 pm
From July 1st to August 31st, open daily from 9.30 am to 7.30 pm
From November 6th to December 31st, open daily from 10 am to 6 pm except on Mondays (closed on December 25th)
La Cité du Vin is open every Monday during the Christmas holidays.