Entering its 49th year, the Barcolana is a historic regatta that's also a ten-day extravaganza for Trieste.
With more than 25,000 sailors, 300,000 spectators and 2,000 sailboats, the Barcolana in Trieste is one of the international sailing circuit's premier events. The 2017 festivities take place from 29 September to 8 October.
Trieste sits nestled into its namesake gulf on the pristine Adriatic Sea, pretty much isolatd from the rest of Italy. During Barcolana, the city's sparkling azure coastline is studded with 300,000 cheering spectators both along the seafront and perched above in the karst hills. The 15-mile, four-sided race begins at Miramare Castle and concludes at Piazza Unità d'Italia  A series of events, races and exhibitions make for a ten-day extravaganza complete with some good old-fashioned fun leading up to the main event.

Spectators enjoying the regatta. Photo: barcolana.it
As Barcolana's official activities partner, Musement has put together several packages and options, with more to come in the following weeks. Here's a look, and discover more here!
Stay in Trieste for 2 or 3 nights
On the days of the event, those looking to stay in Trieste can choose from 2 to 3 nights in a hotel with breakfast, special aperitivo and useful tips for the city.
Barcolana watching 
Book your sailboat or watch the regatta as a spectator on board a super maxi.
Be a VIP for a day
Treat yourself to a VIP pass for 7 or 8 October, which includes private parking, access to the "VIP Area"  with a max screen, VIP Lounge with an aperitivo and reserved spot for watching.
Watch the race from a helicopter
On 8 October, you can watch the regatta from above in a helicopter. The package includes assistance and delivery documentation, private car hire at Ronchi dei Legionari, safety tests, airport-based helicopter transfer and insurance.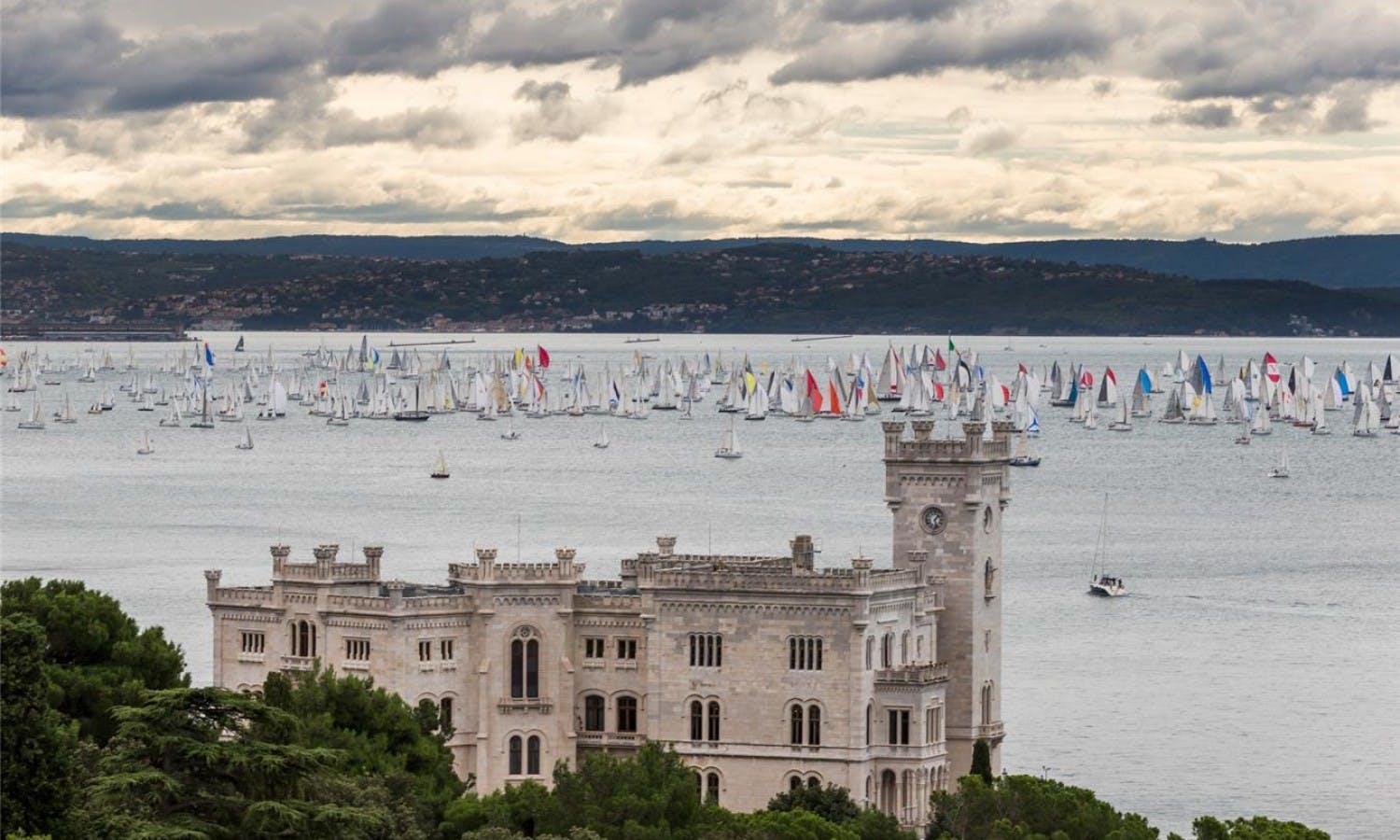 Barcolana from above! Photo: barcolana.it
Barcolana on the terrace
Watch the Barcolana with a gorgeous sea view from Terrazza Ausonia restaurant. The day begins at 10 am with coffee and brioche, followed by a lunch buffet on the terrace accompanied by a large screen to follow the regatta.
Tasty Bus Barcolana
Sport meets cooking during this "coffee break" tour that includes a visit to Grotta delle Torre di Slivia cave and a farm lunch on Saturday, 7 October.
Trieste, Panoramas and Castles
Explore the beauty of Trieste! On 7 or 8 October, take a half-day excursion by private coach with guide to visit Miramare Castle, the city's most beautiful scenic spots, Karst and access to the San Giusto Castle.
Hidden Trieste
Discover Trieste's secrets! On. Saturday, 7 October, you can book this curious guided walk with where you'll learn tales of the city and sample some coffee along the way.