From Earl Grey to Matcha to Bubble Tea. Take a trip around the world with the aromatic infusion drink.
As temperatures continue to drop and we all patiently wait for the time we can pack our suitcases and travel the world, many of us are bundled up on the couch at home reflecting on a cold winter night.
So why not turn the joys of a cup of tea into an opportunity to cross international borders with your senses and dream of yourself away at a distant place through the smell and taste?
For this reason, Musement has created a unique world map with 10 destinations to discover and taste with a cup of tea.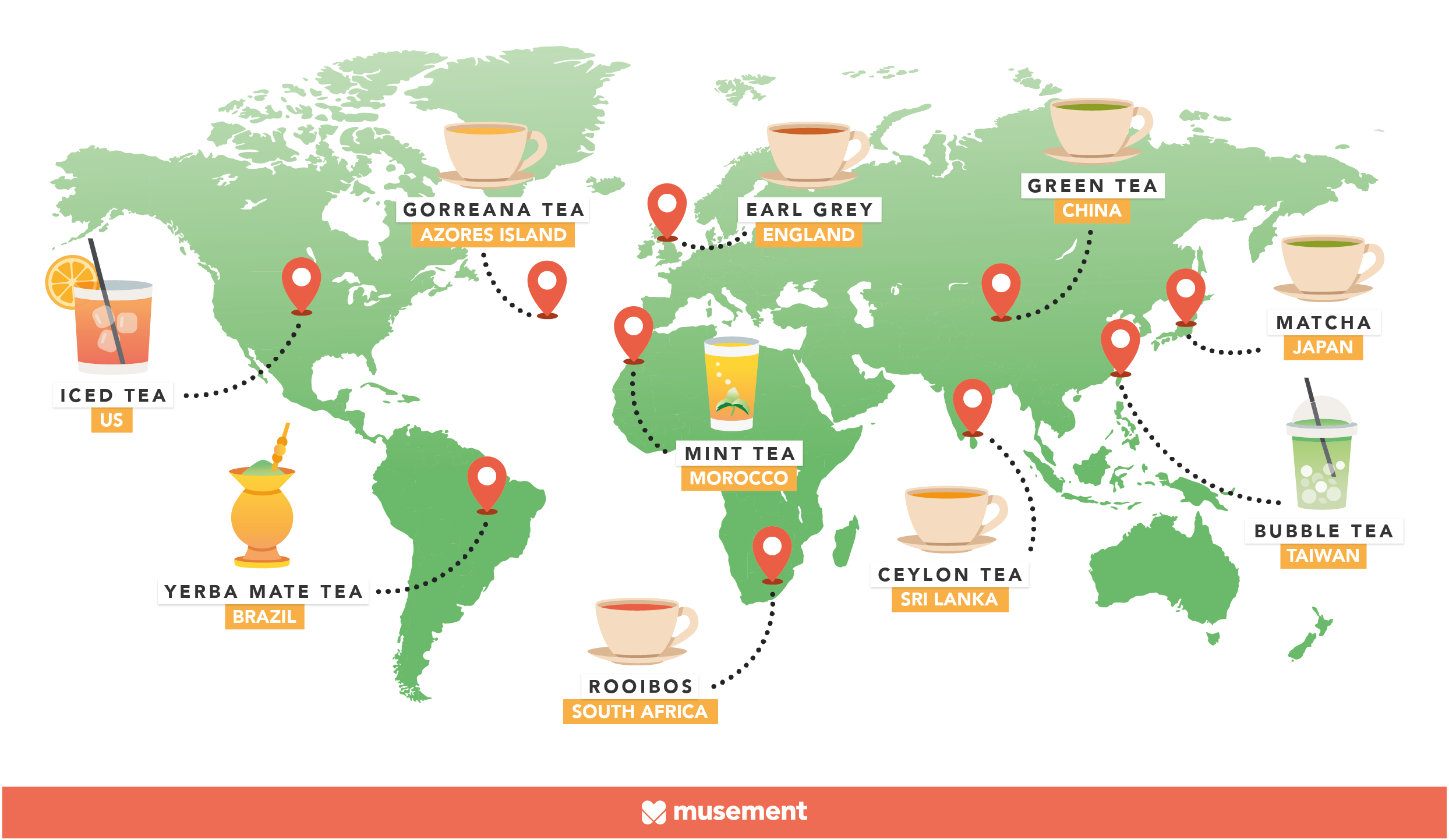 Earl Grey, England
Afternoon tea is most prevalent in London, where 5 p.m. has only one meaning: black tea with milk and a variety of snacks, both sweet and savory. The traditional ritual of afternoon tea was introduced as early as 1840 and was intended as a mini-meal to satisfy one's hunger until dinner. Even today, young, and older generations meet with their friends and family for a small break in the city's most famous tea rooms. Earl Grey, one of the most popular teas, is a blend of black tea flavored with the fruity oil of bergamot.
Bubble Tea, Taiwan
In Taipei and in the rest of the country, tea is much more than a simple drink: it is an authentic form of art, the main subject of a ritual that marks every meal. A true devotion that has taken on different forms and flavors over time…. Right up to bubble tea. This international food trend is a sweet iced tea with edible balls that can be sucked up through a straw. The colorful and tasty drink is an example of how Taiwan knows how to revive old traditions, cleverly combining history and innovation.
Rooibos, South Africa
Sweet and with a refined taste, Rooibos comes from faraway South Africa and its aroma alone brings to mind all the natural elements that characterize one of the most fascinating lands in the world. The infusion, rich in mineral salts and vitamin C, is a real thirst quencher. This drink was always consumed by the Cedar Mountains natives, and is obtained from a small bush whose fiber is broken, ground and left to ferment for about 8 hours. At the end of the process, the product is dried in the sun and air. With a cup of Rooibos, the continent has never been so close.
Green Tea, China
China is the place where the first tea leaf was discovered. Dating back to the 3rd century in the southern part of the country, the drink was originally prepared with steamed leaves, which were pounded in a mortar and then boiled with rice, ginger, salt, orange peel, spices, milk and sometimes onions. Considered the best green tea in the world, Long Jing is known for its fruity flavor and roasted character. An experience, even if lived through closed eyes for now, brings out the peculiarities of a country rich in millenary traditions.
Matcha, Japan
In a country where tea traditions originated in the 12th century, a journey through taste to discover the local ritual in this part of the world is a must. Uji, near Kyoto, is home to some of the oldest matcha producers in the country. The powdered green tea is said to have incredible beneficial properties, and it has even become popular with avid tea drinkers in the West. Take a trip to the land of the rising sun with a cup of matcha tea.
Ceylon Tea, Sri Lanka
The green island in the Indian Ocean is one of the largest tea producers in the world. The temperate and humid climate in the central highlands of the country provides ideal conditions for tea cultivation. One of the most important locations for Ceylon tea production in Sri Lanka is the picturesque Nuwara Eliya, which is about 6,560 feet above sea level. Enjoy a cup of aromatic Ceylon tea and travel by train through the highlands of Sri Lanka through fantastic landscapes and bright green tea plantations.
Yerba Mate Tea, Brazil
Prepared hot or cold, yerba mate tea is rich in caffeine, vitamins, minerals and antioxidants and has a number of health-promoting properties for the body and mind. In southern Brazil and in countries such as Paraguay, Argentina, Uruguay, Bolivia and Chile, maté is traditionally drunk from a hollowed and dried bottle (calabash) with a special sieve drinking straw (bombilla). Maté tea is widely consumed on the beaches of Rio de Janeiro. Enjoyed cold and often with lemon juice, the drink has become part of the city's cultural heritage.
Iced Tea, United States
Iced tea dates back to as early as the mid 19th century in the United States but became a hit during the 1904 World's Fair in St. Louis. The refreshing cold drink accounts for roughly 85% of the tea consumed in America and can be prepared in a number of ways. Tea leaves are steeped in colder temperatures, sometimes overnight, to ensure a richer flavor. Iced tea is generally served unsweetened with a lemon slice so customers can prepare it to their liking, while it is more common to be served already sweetened in southern states. Get creative and add different ingredients.
Gorreana Tea, Azores Islands
On the island of São Miguel, the largest of the Azores Islands, you can find the only tea plantation in Europe. It is said that the first tea seed planted in the Azores came from Brazil in the 19th century. Today, São Miguel produces about 33 tons of black and green tea per year, all organic. A small part of the production remains on the island and the rest is exported to various countries in Europe and South America. This tea seems to be slightly milder in taste compared to tea from other parts of the world.
Mint Tea, Morocco
Moroccan culture and mint tea are inseparable. Everywhere you go, it is offered. And not only is it just team but it is also an expression of hospitality. The preparation of mint tea is a time-consuming ritual, but the result is worth it. To make this hot drink, Chinese green tea is made together with fresh mint leaves and sugar in boiling water in a metal teapot. Afterwards, the tea is poured several times into the glasses and back into the pot before drinking. This very sweet drink will make you feel like you're in North-African spheres.