France's annual Beaujolais Nouveau festival has just kicked off. Musement takes a look at where and how to celebrate this year's harvest of the highly anticipated French red wine made from the Gamay grape.
Every third Thursday of November, the French uncork the first bottles of the year's Beaujolais Nouveau harvest, much to the delight of revelers and oenophiles. Large numbers of curious (and thirsty) visitors fill the streets to discover the newest incarnation of this nectar of the gods made from the gamay grape.
As legendary as Beaujolais Nouveau is in France, it is also greeted with some amazing fanfare beyond our borders. In Asia, especially in Japan and South Korea, the arrival of Beaujolais Nouveau is sometimes celebrated with rather extravagant events.  In France, however, the festival is more traditional with laid back tastings in the streets, bars and restaurants.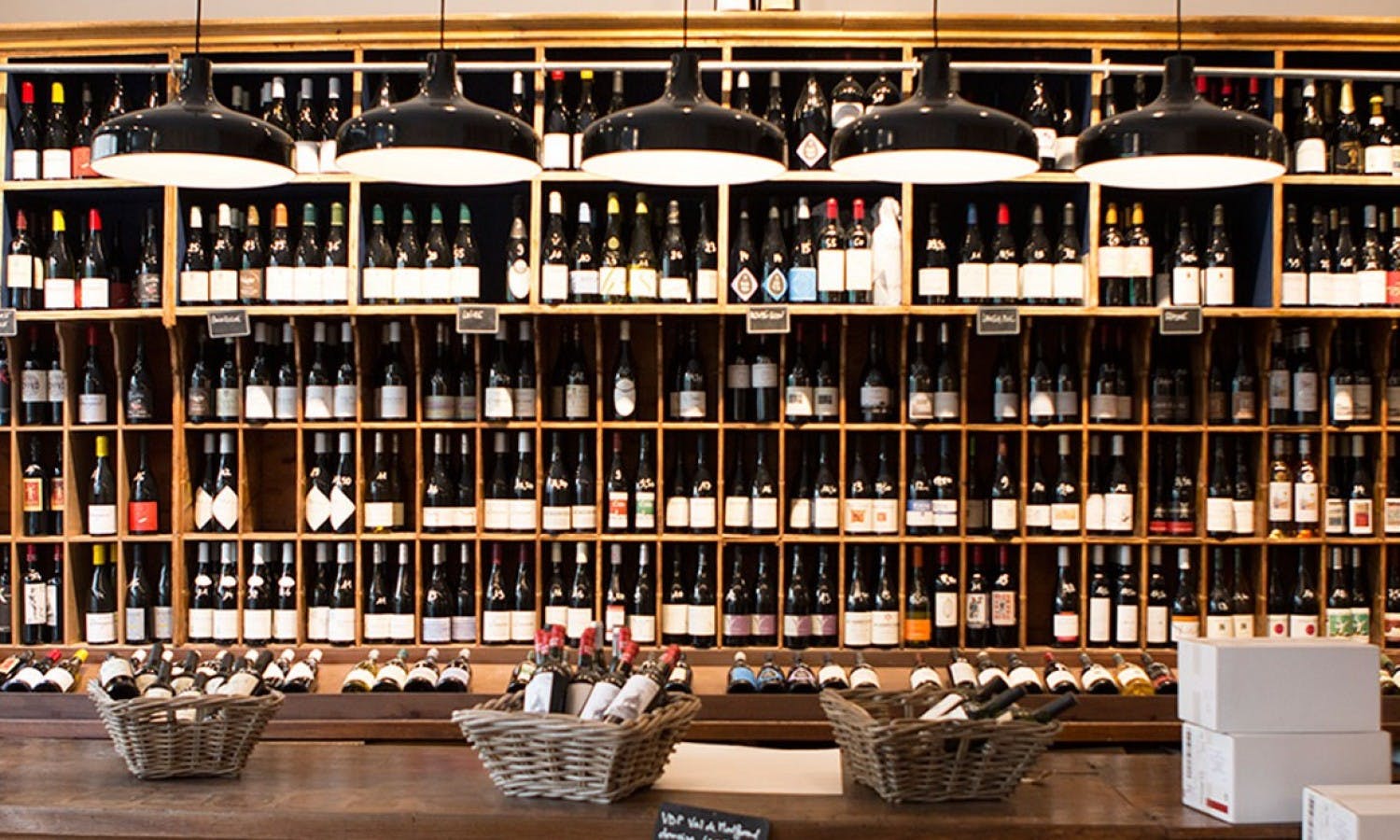 The wine bottle display at La Cave de Belleville
Beaujolais Nouveau in Paris 
La Cave de Belleville is an elegant and thoughtfully executed wine bar and charcuterie shop known for its friendly atmosphere. Large wooden shelves present the different bottles while a wide selection of cheeses and cold meats await patrons on the counter. 51 Rue Belleville, 75019 Paris
Inaro, a small wine bar with wooden décor, is located not too far from Place de la République. With all due respect to Beaujolais Nouveau, Inaro is hosting an alternative party on the night of the wine's launch. Called the Withered Beaujolais, the party celebrates the non-conformist producers of the wine. This year, the owner highlights the wines of Roland Pignard playing with Morgon as a 2012 magnum and 2013 classics. The event kicks off 17 November and the wines are available until supplies last! The bar is located on Rue René Boulanger, which over the past few years has become a key venue for restaurants, bars and bistros. 38 Rue René Boulanger, 75010 Paris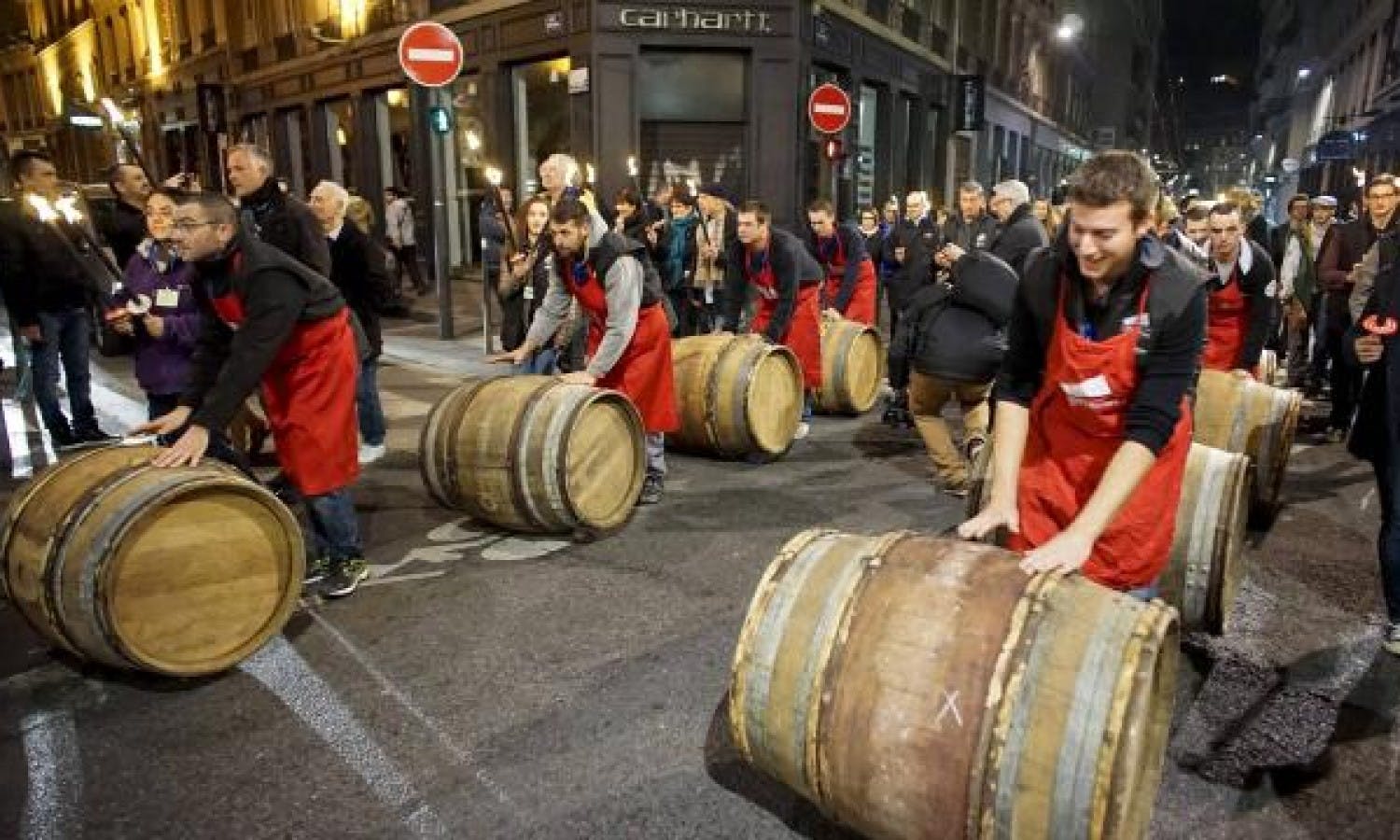 The traditional barrel roll in Lyon during Beaujolais Nouveau festivities
Beaujolais Nouveau in Lyon 
Every third Thursday of November, Lyon becomes the makeshift Beaujolais Nouveau capital for one night only. The best way to join the party is simply to take a stroll through the city. On 16 and 17 November of this year, Place des Terreaux will transform into an open-air wine bar. On the agenda: tastings, concerts and barrel rolling…guaranteed fun!
Rue des Marronniers and Rue Mercière are Lyon's two main gastronomical thoroughfares, home to the city's mythical bouchons. In honor of Beaujolais Nouveau, the streets transform into an al fresco bar for the night where you can sip Beaujalais Nouveau among both old and new friends.
If you want to break away from the cheering crowd and retreat into somewhere off the beaten path, then head La Cave d'à Côté wine bar. A private, confidential address located in a small alley where you can enjoy a nice cheese/charcuterie plate and of course a good bottle of wine. (7 Rue Pleney, 69001 Lyon )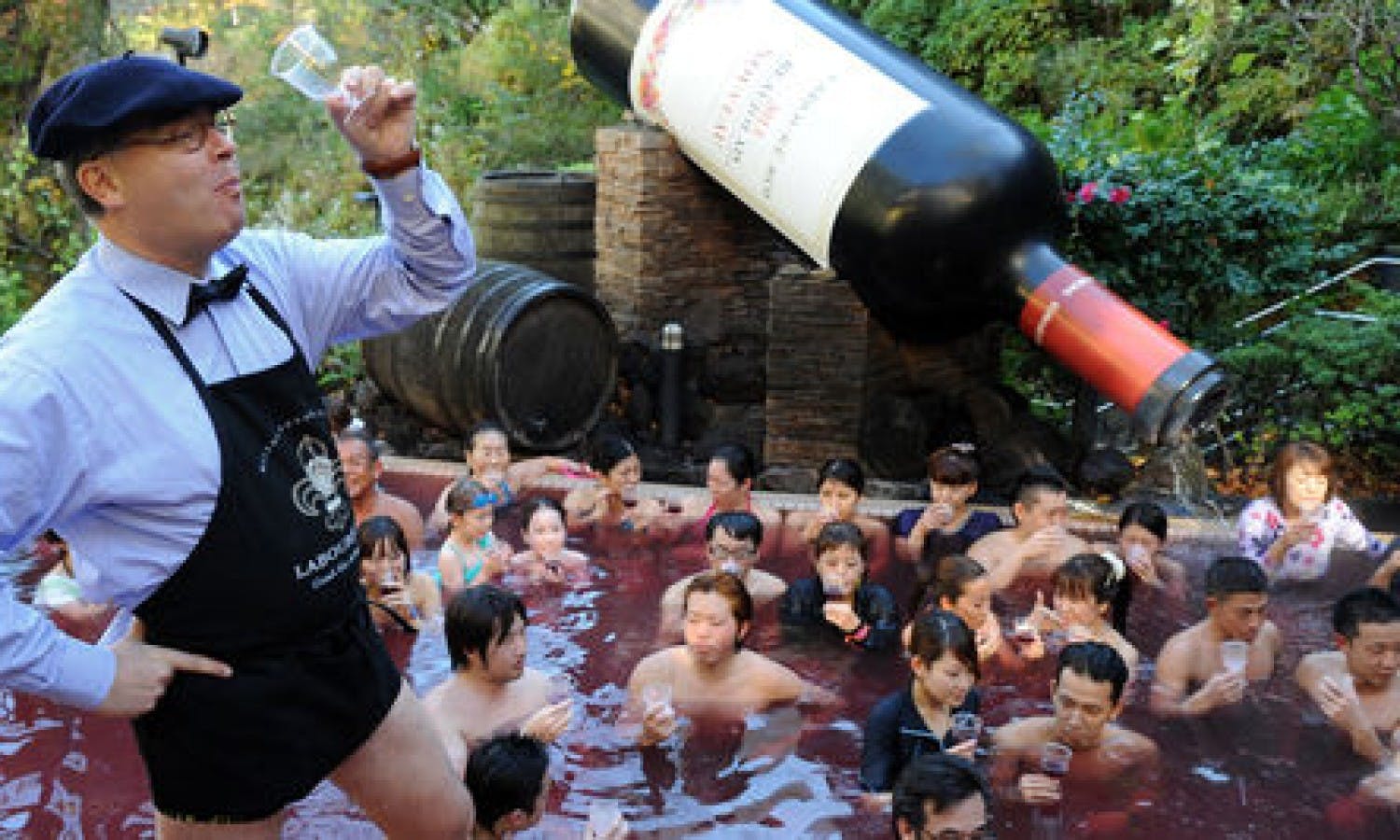 A pool of Beaujolais Nouveau in Japan
Beaujolais Nouveau abroad! 
Fun fact: Beaujolais Nouveau is immensely popular in Asia and its arrival is always celebrated in Japan and South Korea. In Hakone, southwest of Tokyo, the festivities take place in a pool filled with Beaujolais Nouveau!