New York City is a veritable melting pot, especially when it comes to food. Local concierge Amanda Coletta shares the best way to get a taste of everything when you're in the Big Apple.
If I had to pick the number one question guests ask me the most, it's not how to get to the Statue of Liberty or which Broadway show to see (although those are close runners-up), it would be, "what's good to eat?"
In a city like New York where the choices are vast, guests are very well educated on the hottest chefs and new food trends, and they never have enough time to try all the food they've heard about.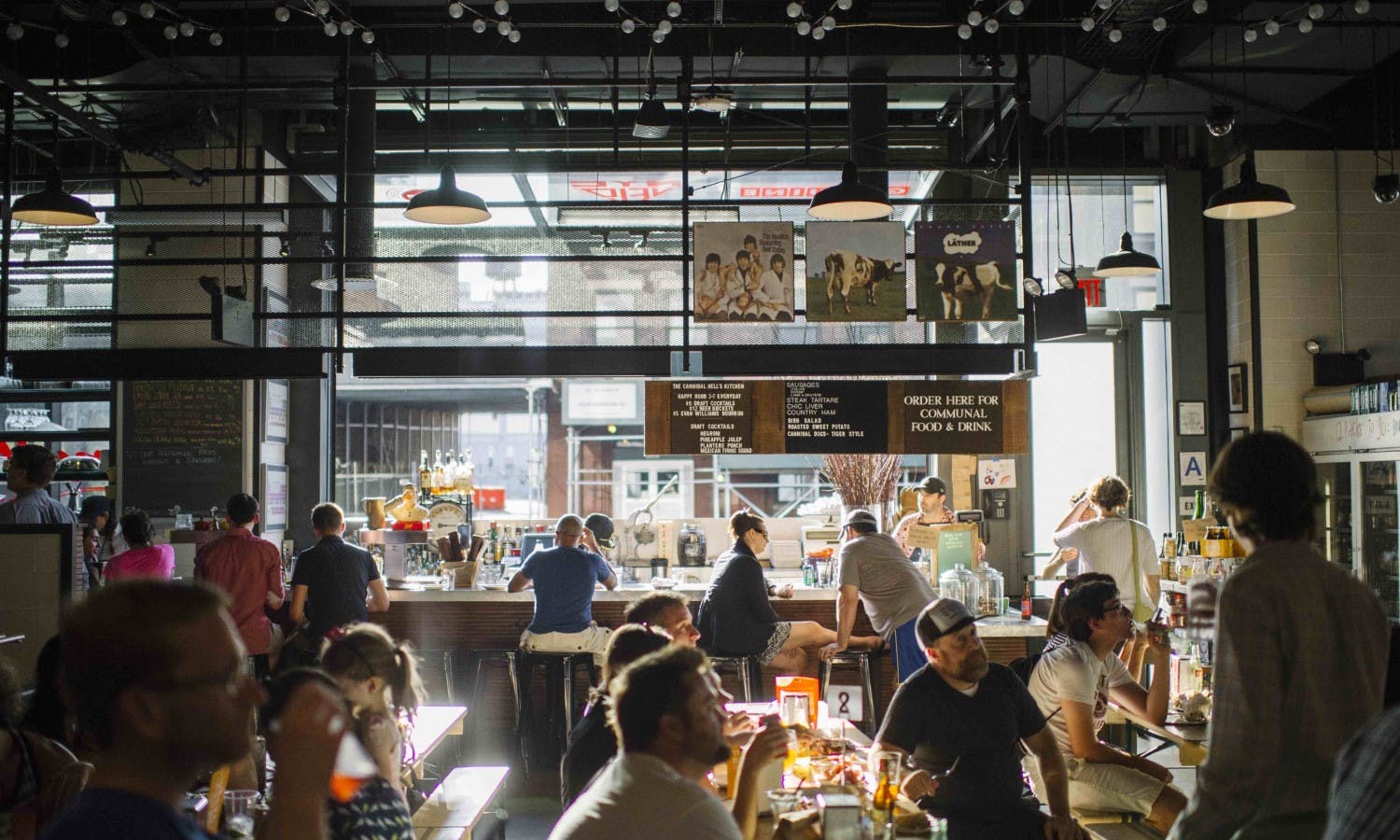 Gotham West Market boasts a myraid of good eats. Photo: Daniel Krieger
A great way to try some of the city's best dining spots all at once is to check out the new "Food Halls" or Markets unite some of the city's best dining options under one roof. There's something for everyone and you can try a little bit of everything! Roberta's is one of Brooklyn's most famous pizza restaurants, but if your trip is short, getting to Brooklyn might not be on the agenda. Now you can go to Urban Space Vanderbilt right near Grand Central and experience one of Roberta's famous pies! Ippudo famously does not offer take out, but you can find Kuro Obi, from the same group, at City Kitchen. Looking for some famous chefs, all under one roof? At Gotham West Market, Seamus Mullen, of Tertulia, serves his classic tapas and sangria at El Comada, and Ivan Orkin, Mr. Ramen himself, serves his world famous ramen at Ivan Ramen Slurp Shop.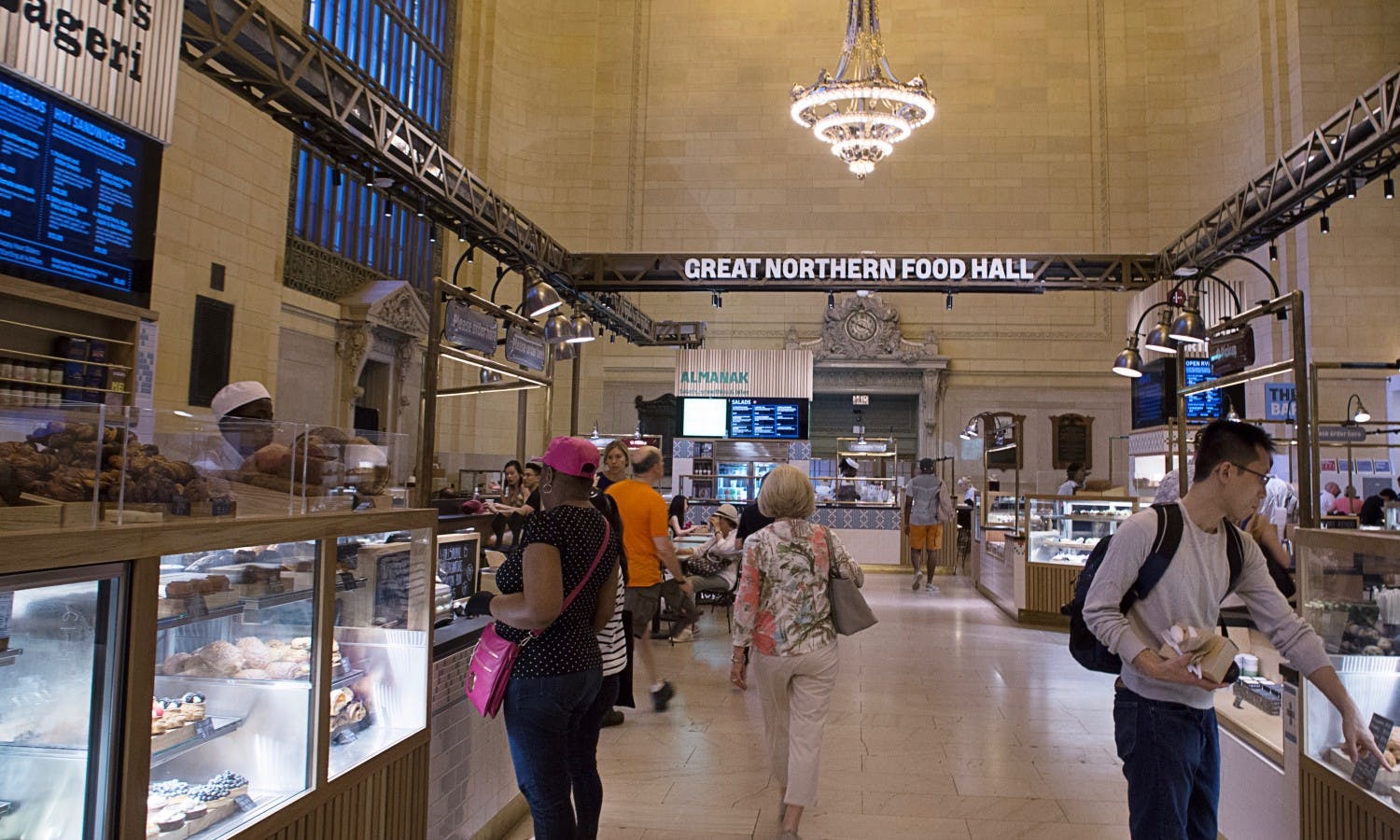 Nordic delights at the Great Northern Food Hall at Grand Central Station, photo: Signe Birck
Speaking of big names in the food world, Claus Meyer, one of the original partners at Copenhagen's world famous Noma restaurant, has opened The Great Northen Food Hall, a tribute to all things Nordic in Vanderbilt Hall. Try the smørrebrød, a traditional open-faced sandwich, or a Danish Dog. At Hudson Eats at Brookfield Place, you can try Mighty Quinn's Barbeque and Montreal style Black Seed Bagels.
Are you catching a train at Penn Station? Then stop by The Pennsy, where you'll find options from more celebrity chefs. Marc Forgione has Lobster Press and Mario Batali has Mario by Mary. Of course, the food hall that started it all, The Plaza Food Hall (at the Plaza hotel) is still a great option, especially for sweets and confectionaries. The Mille Crepe cake from Lady M is heaven, or try chocolate from Francois Payard.

Le Bernardin, photo: Daniel Krieger
On the opposite end of the spectrum are the dining experiences comprised of elaborate tasting menus at some of the world's best restaurants. While these restaurants are phenomenal and worthy of all the praise they have received, dinner at one of them can be an extremely lengthy affair. When you're here for a short time and trying to squeeze in Broadway shows, museums, shopping and other activities, a four-hour dinner might be hard to come by, and one of my favorite options is to have a lunch at some of these top-rated restaurants. While lunch will still be a tasting menu, they are a less expensive option that takes up less ttime, while still letting you enjoy the chef's vision. Reservations are also easier to get at lunch time.
Chef Eric Ripert's Le Bernardin, perhaps the finest restaurant in the city, has a three-course $87 pre-fixed lunch menu that is every bit as exquisite as dinner. For an even better deal, check out the more casual lounge, where a $55 three-course pre fixe lunch is sold; $5 from this menu is donated to City Harvest, a food rescue non-profit.
Del Posto might have one of the best lunch deals in the city: a $49 three-course lunch menu, and the experience is quite similar to dinner. There is no Italian restaurant quite like it in New York; elegant service coupled with elevated Italian cusine that's on a level of its own. Plus, the 100-layer lasagna is legendary.
At Jean-Georges, a two-course meal is $58; the sweeping views of Central Park, the terrace in the summer, and Jean Georges himself often in the kitchen, make for a special meal.