As city parks and squares transform into holidays hotspots, one of the activities on offer in these heartwarming winter wonderlands awakens the child inside us all: ice skating! Musement takes a look at ten of the world's best ice skating rinks.
For urban dwellers or travelers who prefer big city getaways, diving snowboard-first into winter activities isn't always feasible as buildings, roads, and traffic doesn't always make for an idyllic winter wonderland. However, city parks and squares provide the perfect balance, letting you experience winter in the city with one of the most beloved outdoor winter activities of them all: ice skating! Musement takes a look at ten of the world's best outdoor ice skating rinks where you can awaken your inner child this winter.
1) Vienna Ice Dream
Located in front of Vienna's City Hall, Vienna Ice Dream is the most popular of the Austrian capital's seasonal ice skating rinks. Glide past the majestic neo-Gothic City Hall building and if you're skating at night, you will be among the dancing illuminations of a spectacular light show. Reservations are a must! Once done, make your way to the Christmas market to continue the festivities.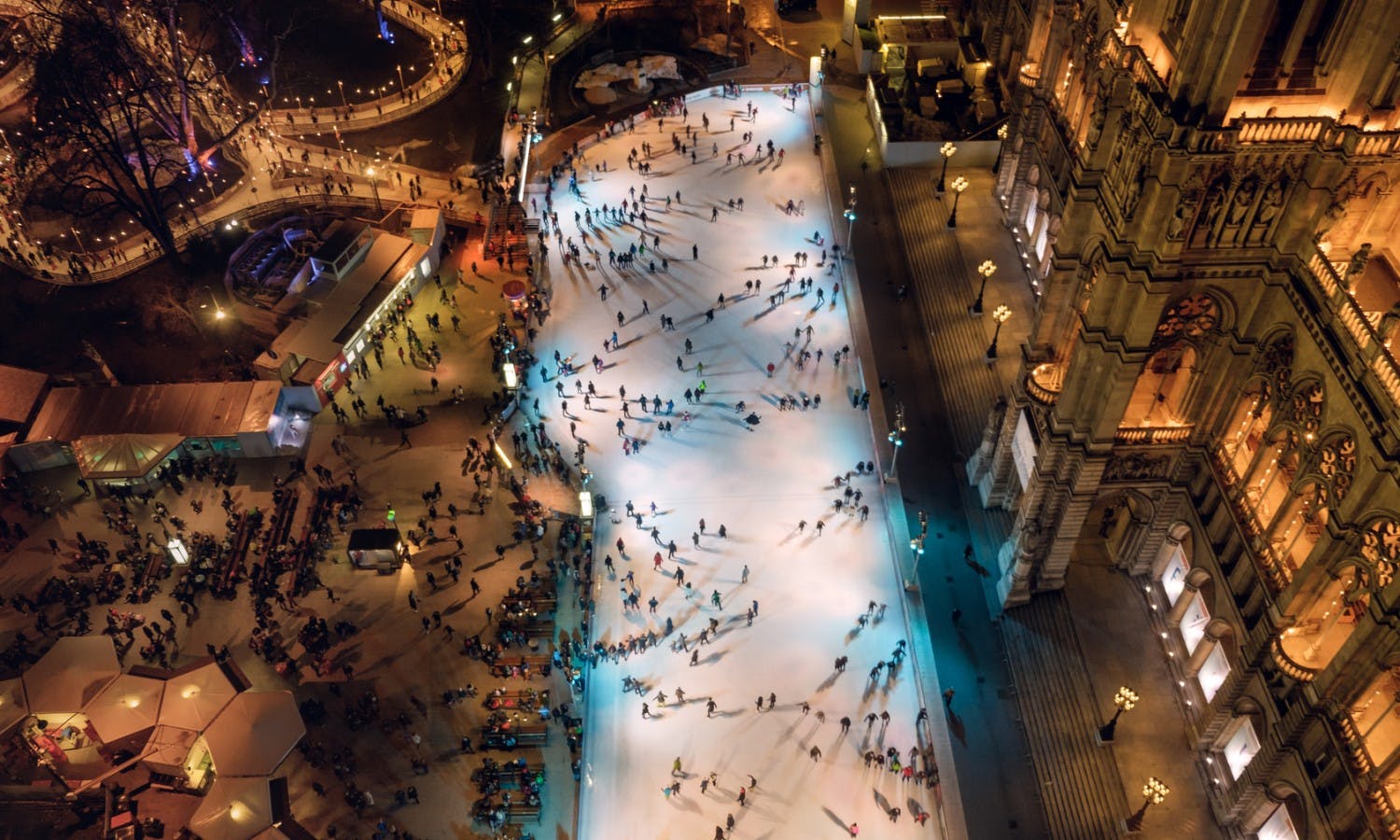 Vienna Ice Dream
2) Bryant Park, New York City
We know Rockefeller Center might seem like the more obvious choice, but we suggest heading to the ice skating rink at Bryant Park instead. You'll still have the opportunity to skate your heart out under the shadow of a gorgeous Christmas tree and New York City's skyscrapers, but Bryant Park has a more intimate, cozy vibe despite its crowds. Plus, you don't want to miss the annual Christmas markets, various stands and shops.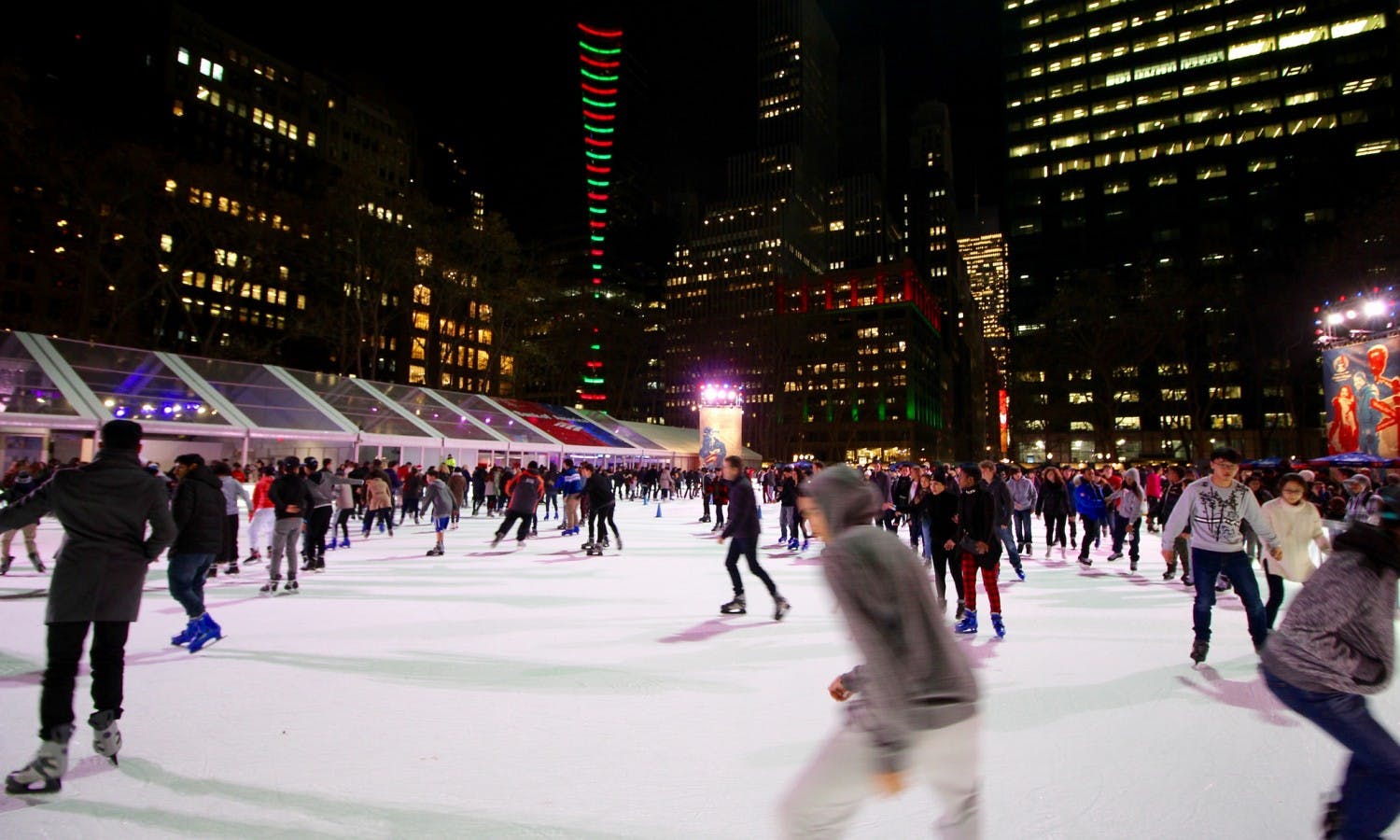 "Bank of America Winter Village at Bryant Park" by Shinya Suzuki is licensed by CC BY-ND 2.0
3) Red Square or Gorky Park, Moscow
Come winter, there are two amazing places to skate al fresco in Moscow, one of the world's coldest cities. There's a massive rink in Red Square where you can enjoy the seasonal ambiance with St. Basil Cathedral and the Kremlin in sight, otherwise, and the rink at Gorky Park, which is smaller, but just as fun. Bundle up and skate away!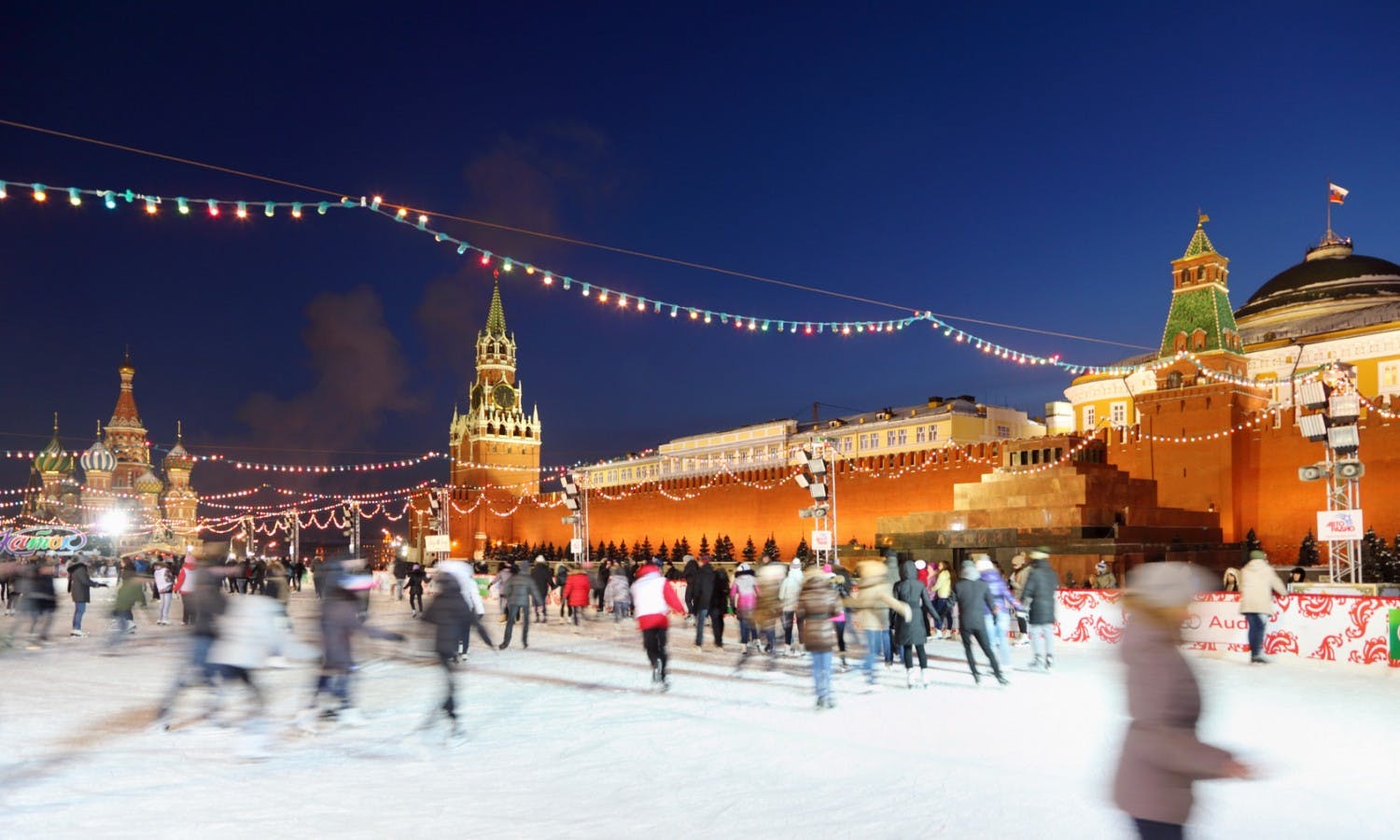 Ice skaters in Moscow's Red Square
4) Kungsträdgården, Stockholm
When in Stockholm, do as the Stockholmers do and lace-up to make some laps around Kungsträdgården Square, a gathering hole for ice skaters since 1962. The centrally located rink is popular among both locals and visitors alike, and makes for a magical atmosphere–especially when it snows.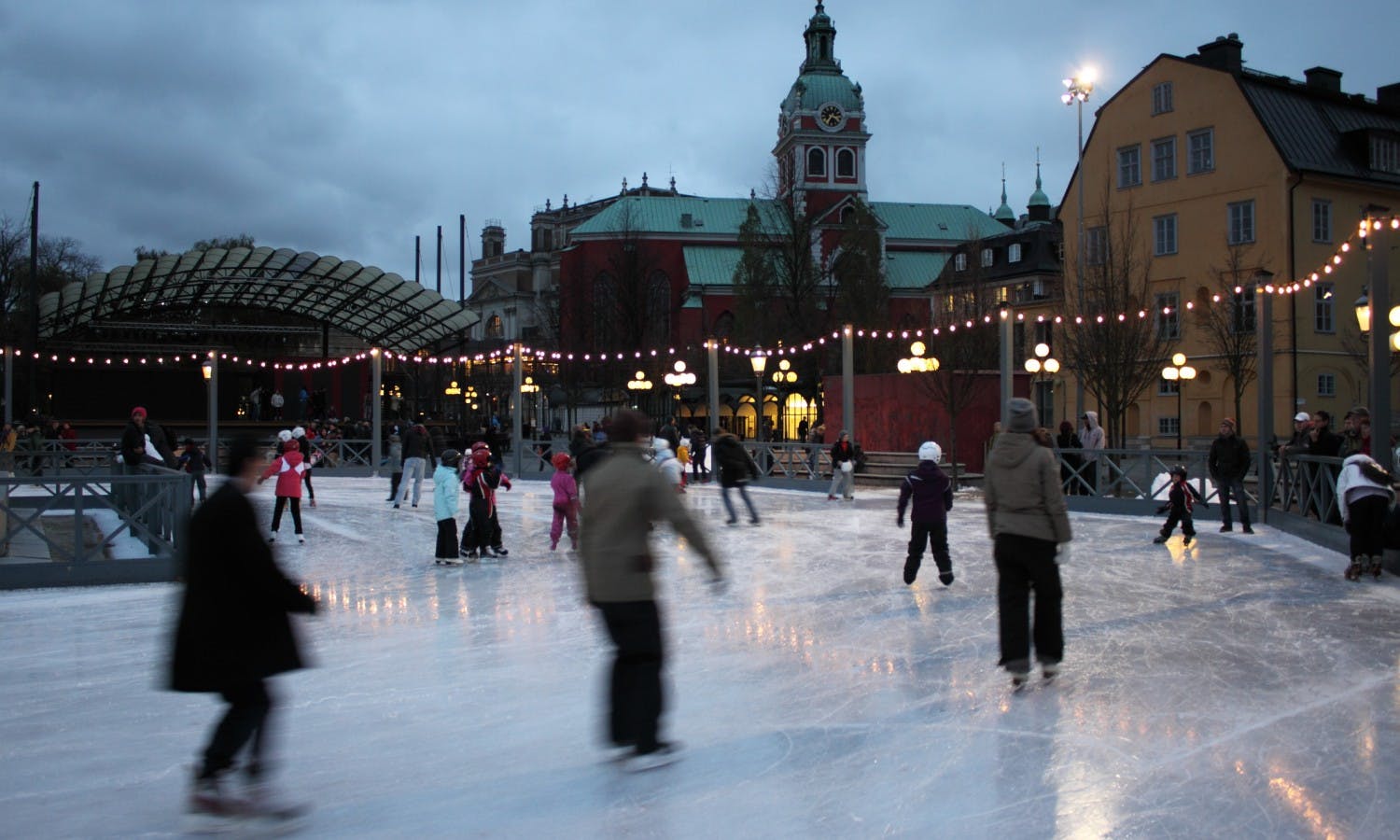 "Ice skating rink in Kungsträdgården" by Solis Invicti is licensed by CC BY 2.0
5) Millennium Park, Chicago
Skate against the backdrop of Chicago's iconic skyscrapers and illuminated trees at the McCormick Tribune ice skating rink in Millennium Park, and stop for a selfie as you approach Anish Kapoor's famous Cloud Gate sculpture, also known as "the bean." If you need to refuel, you can enjoy hot drinks and snacks nearby.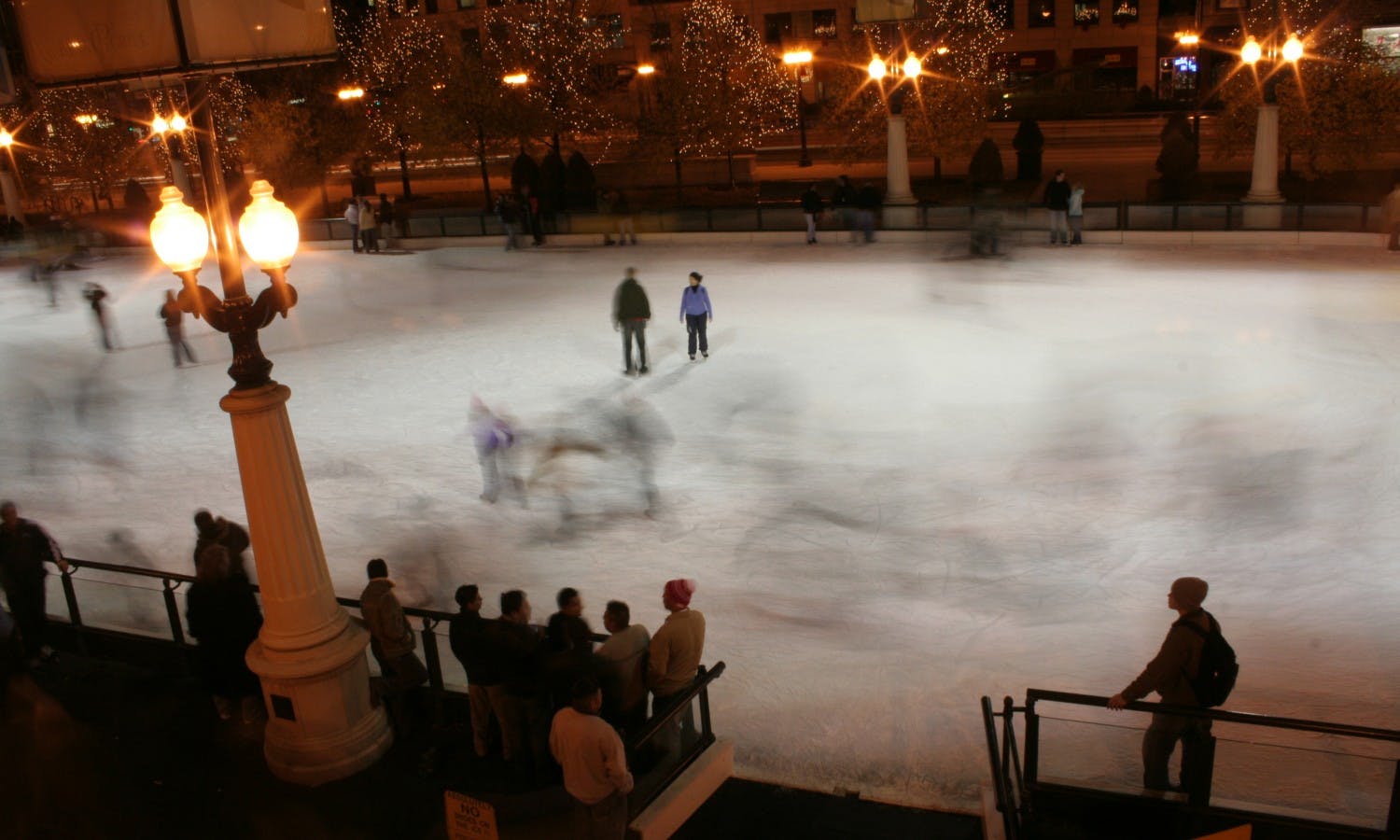 "Millennium Park – Ice Rink" by Tony Webster is licensed by CC BY 2.0
6) Somerset House, London
During winter, the grounds of this former Tudor Palace are home to what is arguably London's most gorgeous ice skating rink. You can skate by day and even take lessons if you're looking to perfect your figure eights, or make a night out of it and skate in good company to a soundtrack spun by one of the guest DJs. Fortnum's Christmas Arcade is a rinkside pop-up holiday shop where you can find gifts, decorations, edibles, and more.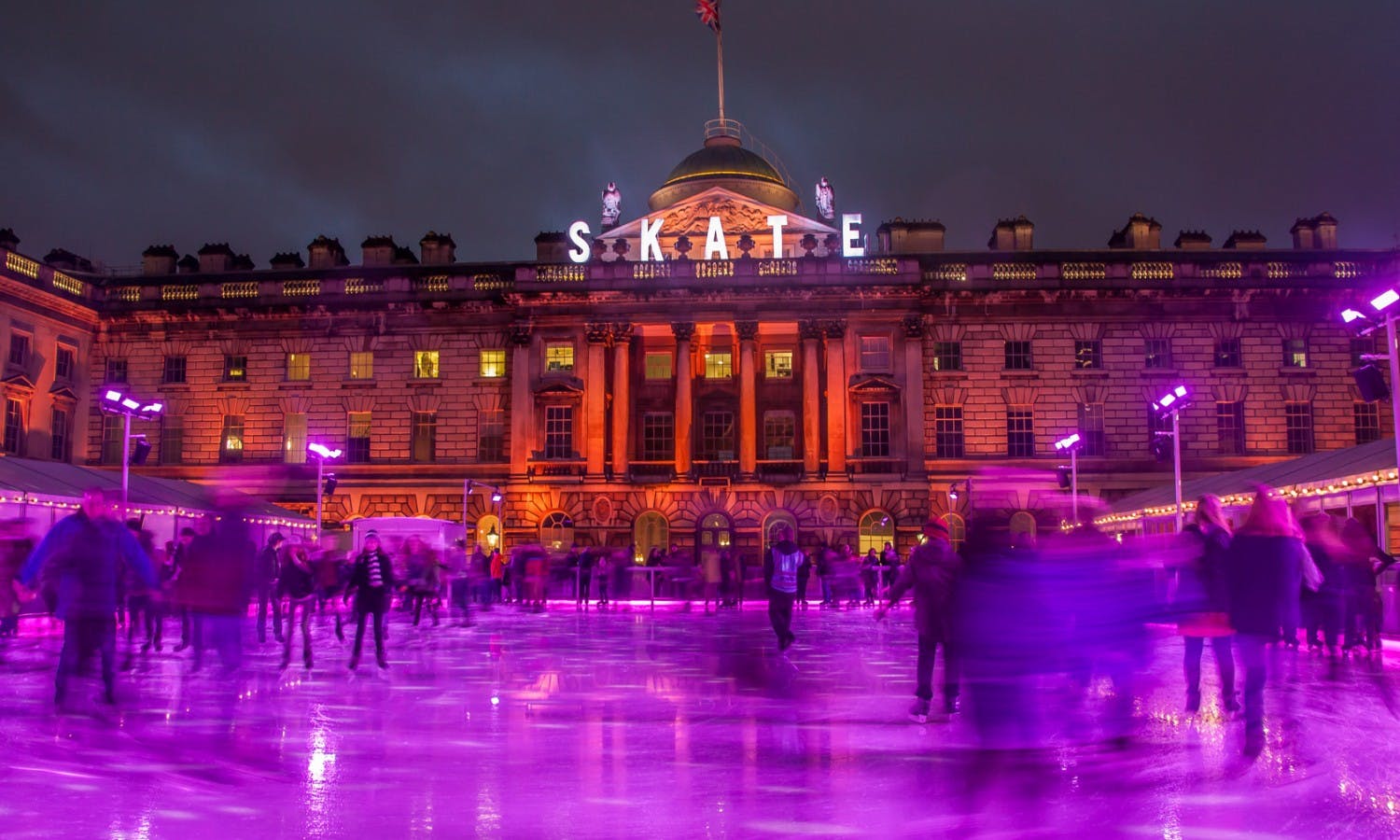 Ice skating at Somerset House in London
7) Hôtel de Ville, Paris
Yes, you can most certainly opt to skate under the guard of the Eiffel Tower, but be prepared for the crowds. Rather, we suggest ice skating at the Hôtel de Ville in Paris, which is very popular among the locals. The conviviality is like no other as you glide by the historic fourteenth-century City Hall building, and is complete with enchanting illuminations at night.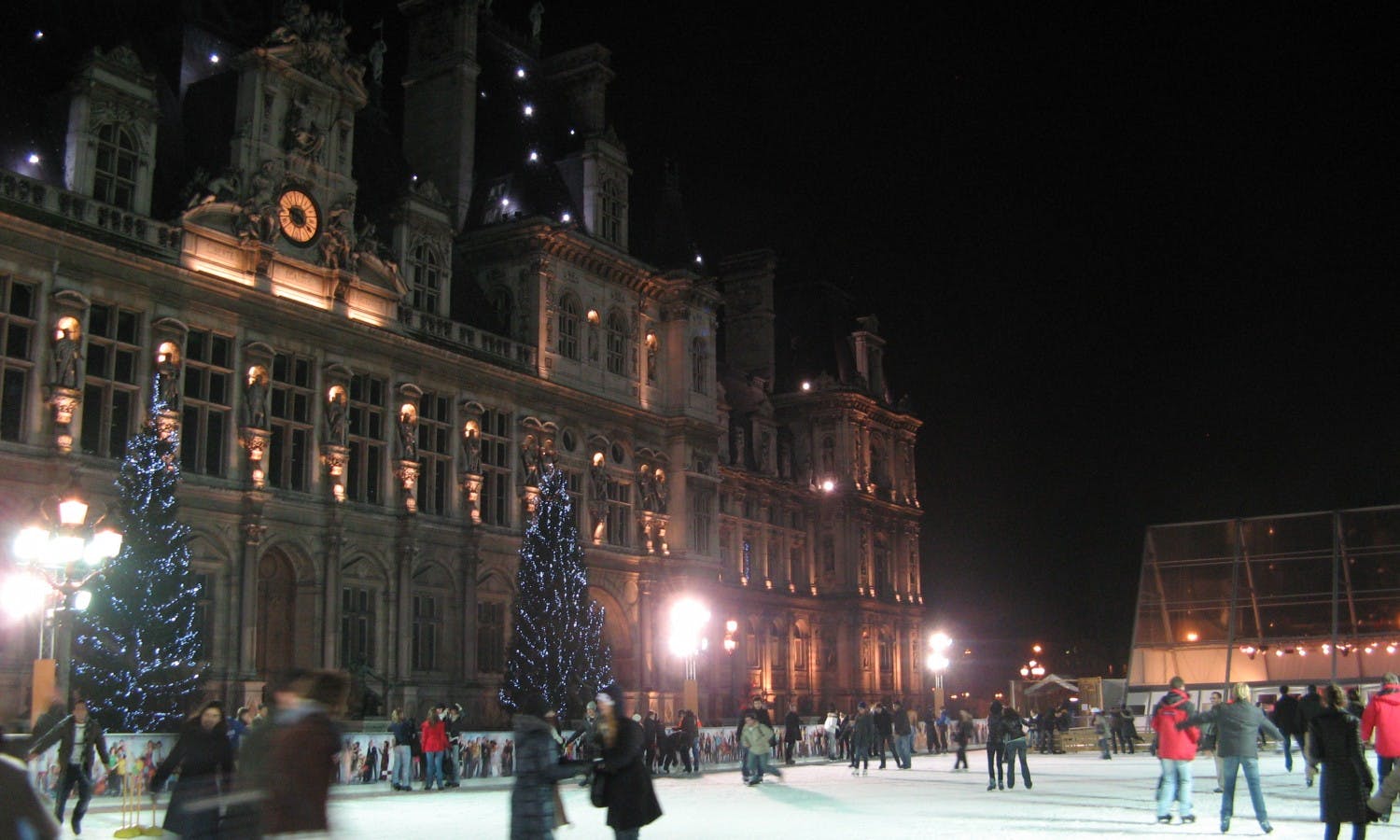 "Hôtel de Ville (ice skating)" by Olivier Bruchez is licensed by CC BY-SA 2.0
8) Bonsecours Basin, Montreal
Located near the old port in Montreal's old town, Bonsecours Basin is the ice skating rink to see and be seen once winter has arrived. Its prices are a little higher than the city's other skating locales, but the special themed nights and unparalleled ambiance are worth it.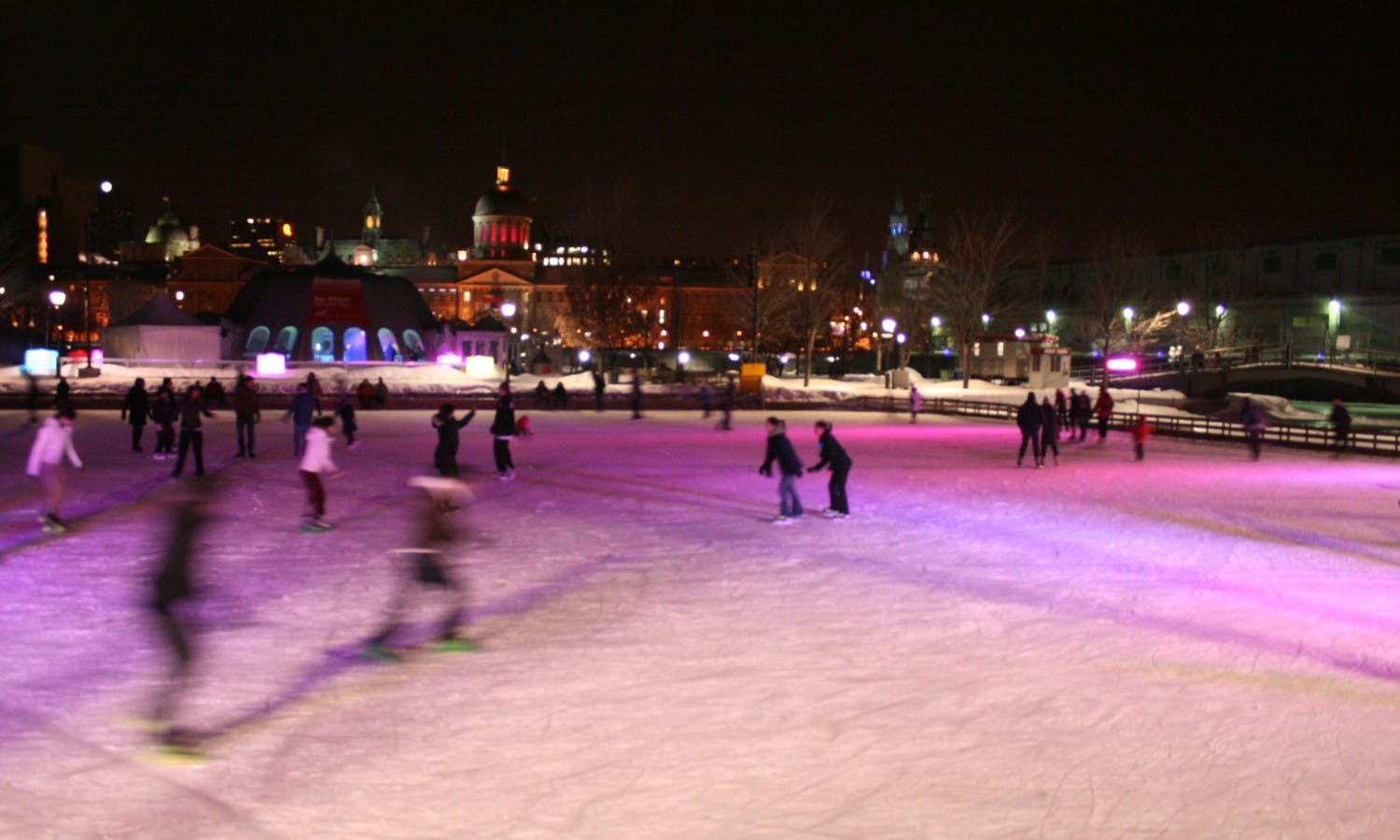 Bonsecours Basin, Montreal "Ice Skating" by Craig More is licensed by CC BY-ND 2.0
9) St. Andrew's Square, Edinburgh
From the Street of Light to Festival Square Theater's performances to the tree perched on top of The Mound, Edinburgh transforms into quite a delightful wonderland complete with an inviting Christmas market. Over in the new town, don't miss the elliptical skating rink that surrounds Melville Monument in St. Andrew's Square.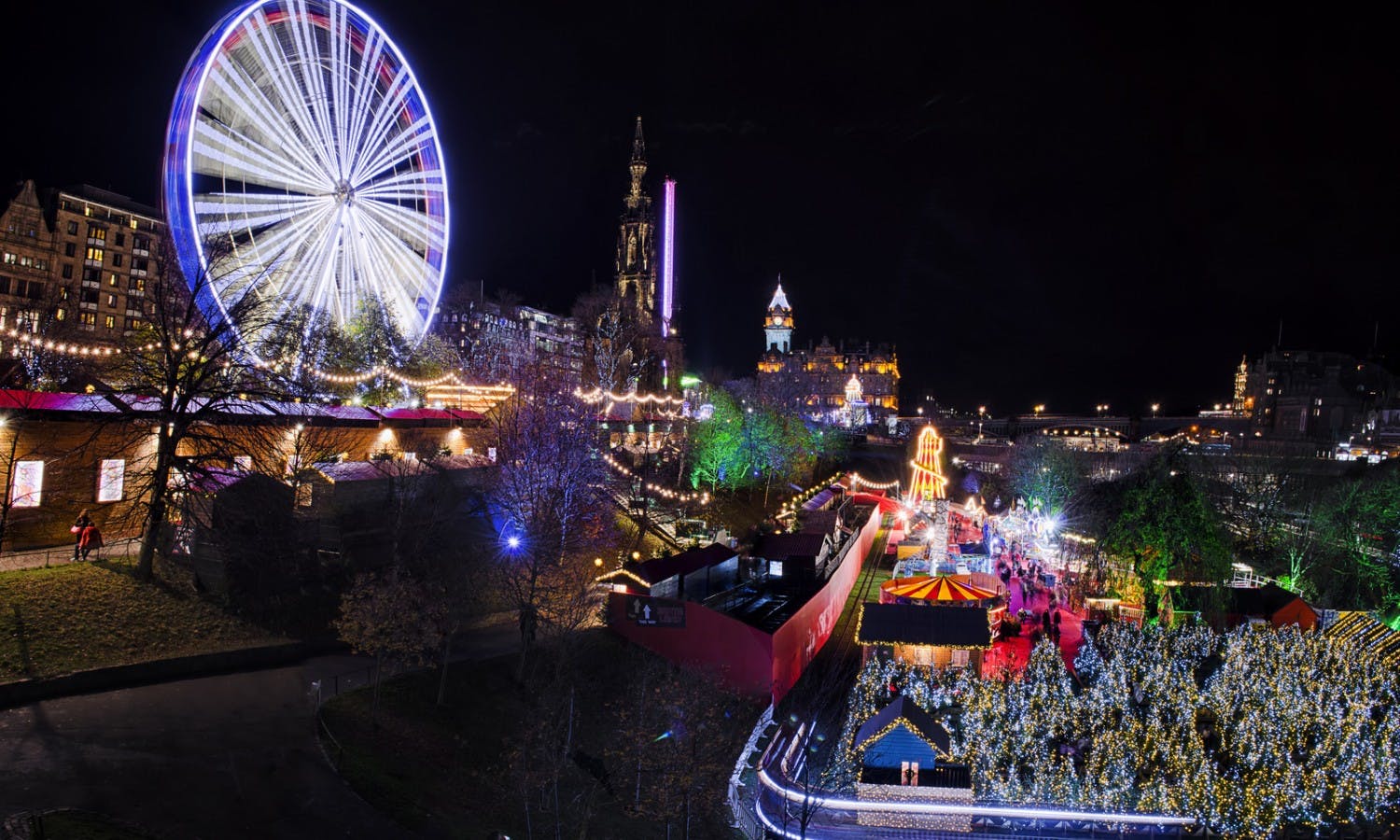 Edinburgh all decked out for Christmas
10) Weihnachtzeit, Berlin
Of Berlin's sixty plus Christmas markets, Weihnachtzeit evokes a heartwarming old world charm. You'll find a ferris wheel, small wooden stalls, and more, as well as an ice skating rink built around the historic Neptunbrunnen sculpture.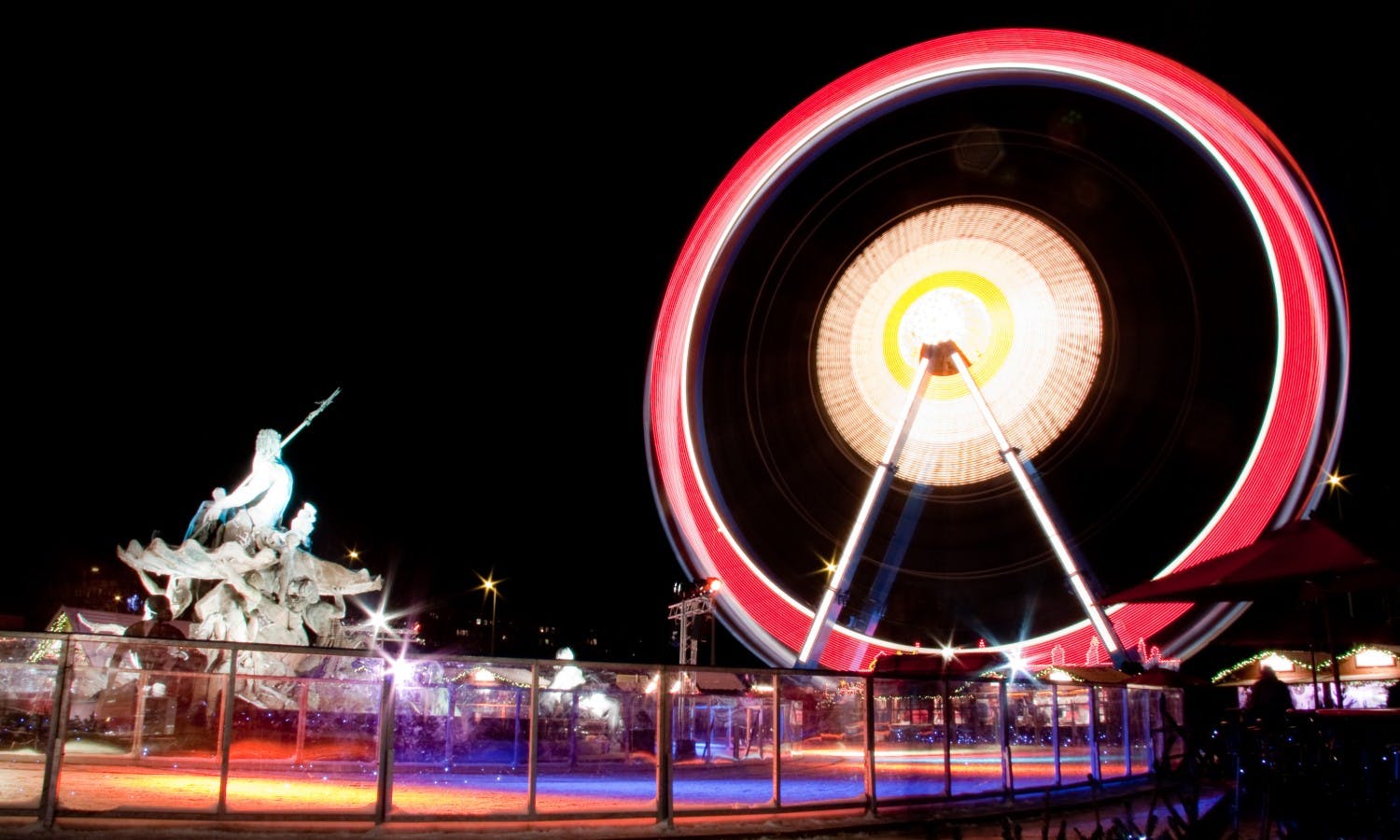 Weihnachtzeit, Berlin "Christmas Market Fun Fair" by Christian Cable is licensed by CC BY 2.0