And the wonders of Utah just keep coming. The rock is mostly red and the air is mostly dry, but everywhere you go has a spirit of adventure and discovery. Just when you think you've seen everything geology can do, there's another park that demands to be hiked and photographed. Here are some more . . .
Torrey
Driving north out of Boulder, you eventually come to the small town of Torrey. This place feels like a frontier town in the middle of nowhere, but it has shops, restaurants and a few places to stay so you can sleep in a real bed and stock up for the next part of the trip. If feel like a bit of luxury, book a room at the Torrey Schoolhouse, where you'll experience some old-world charm in this converted nineteenth-century school. Torrey is a good location to explore . . .
Capitol Reef National Park
Capitol Reef is a long and thin park with a road through the middle. If you don't want to walk, just drive through and park at some of the many stopping places to take pictures of the weird geological formations. There are peaks, cliffs, canyons and arches eroded from the otherworldly (almost Martian) red rock, as well as some very unusual white-rock formations – see the giant whipped-cream shape of Capitol Dome.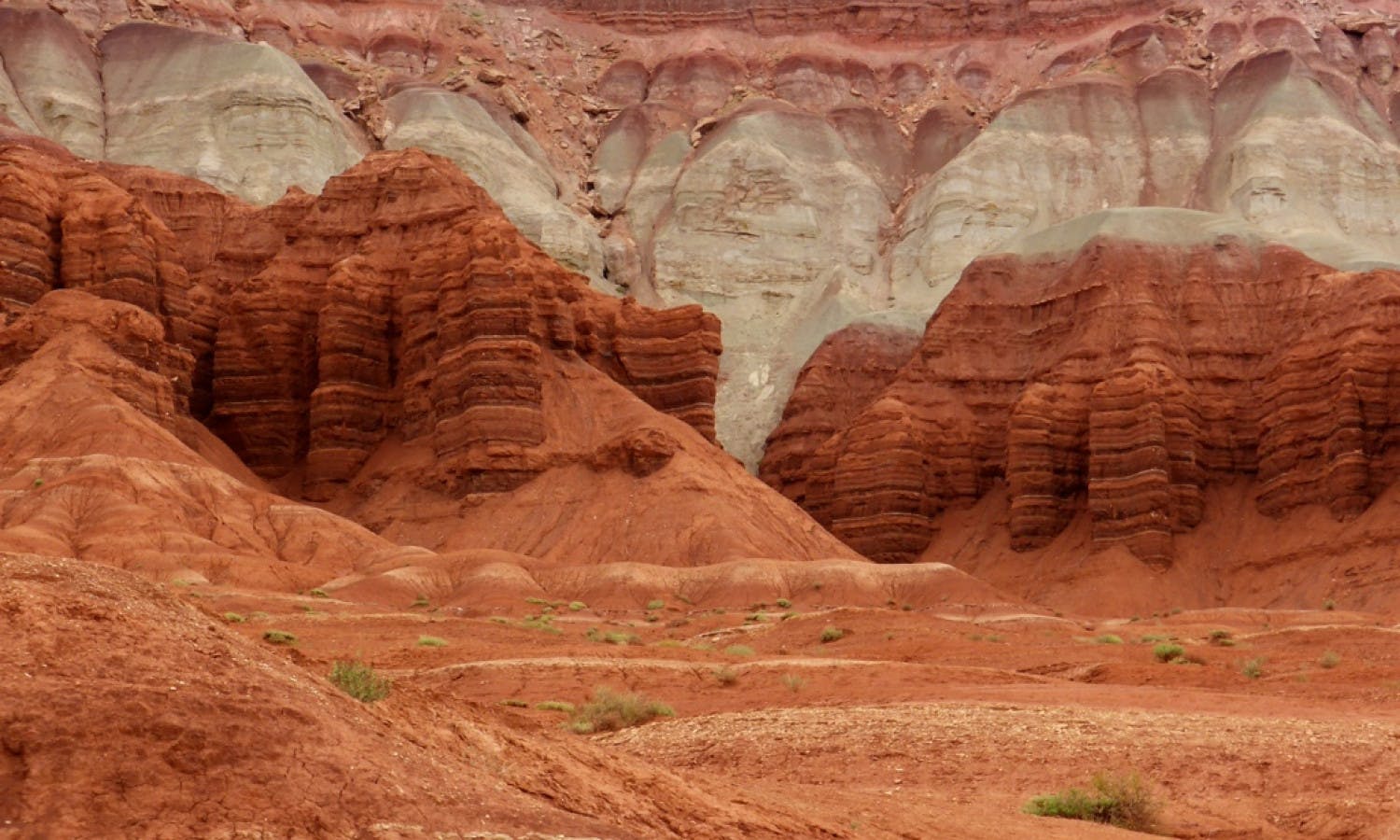 Capitol Reef landscape
There are many short walks and day hikes available at Capitol Reef. Get a map from the visitor center and you'll be able to escape from the road to the silence of the gulches and canyons. Here, you'll find more amazing views and even some hidden Native American petroglyphs. If you're a more serious trekker, there are also a few backcountry routes, but you'll need a permit and some preparation. The elevation and location of this park mean the weather can change quickly and become extreme almost without warning.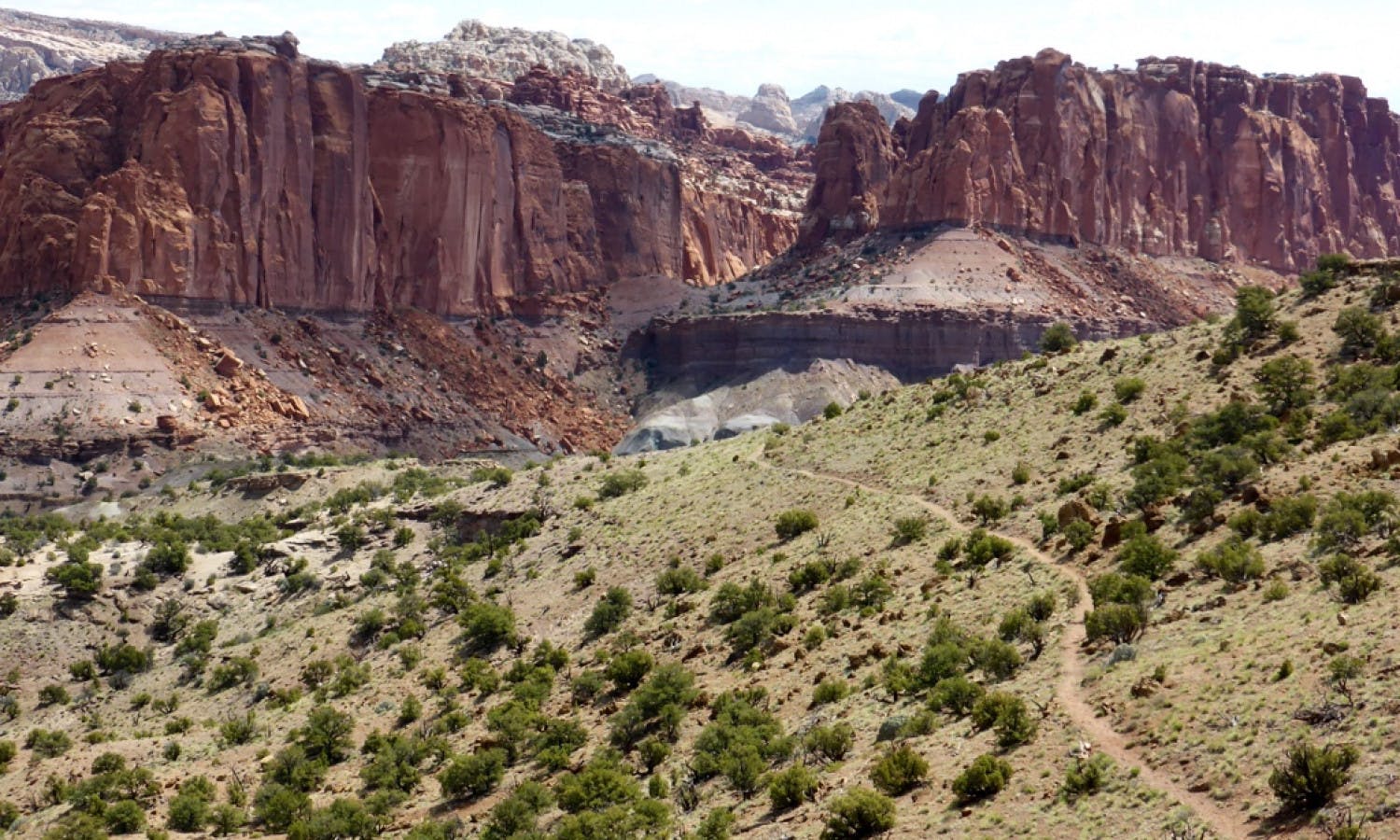 A short walk at Capital Reef
Dead Horse Point National Park
The drive from Capitol Reef to Dead Horse is spectacular, weaving through silver-grey moonscapes and huge eroded cliffs amid scenery unlike anything you've seen before. As for Dead Horse Point, the strange name comes from an old story about cowboys who were rounding up wild horses and keeping them on a small patch of land surrounded by cliffs on three sides. When they'd selected the best horses, the Cowboys just left the rest to die as they gazed down at the Colorado River. Sad Story.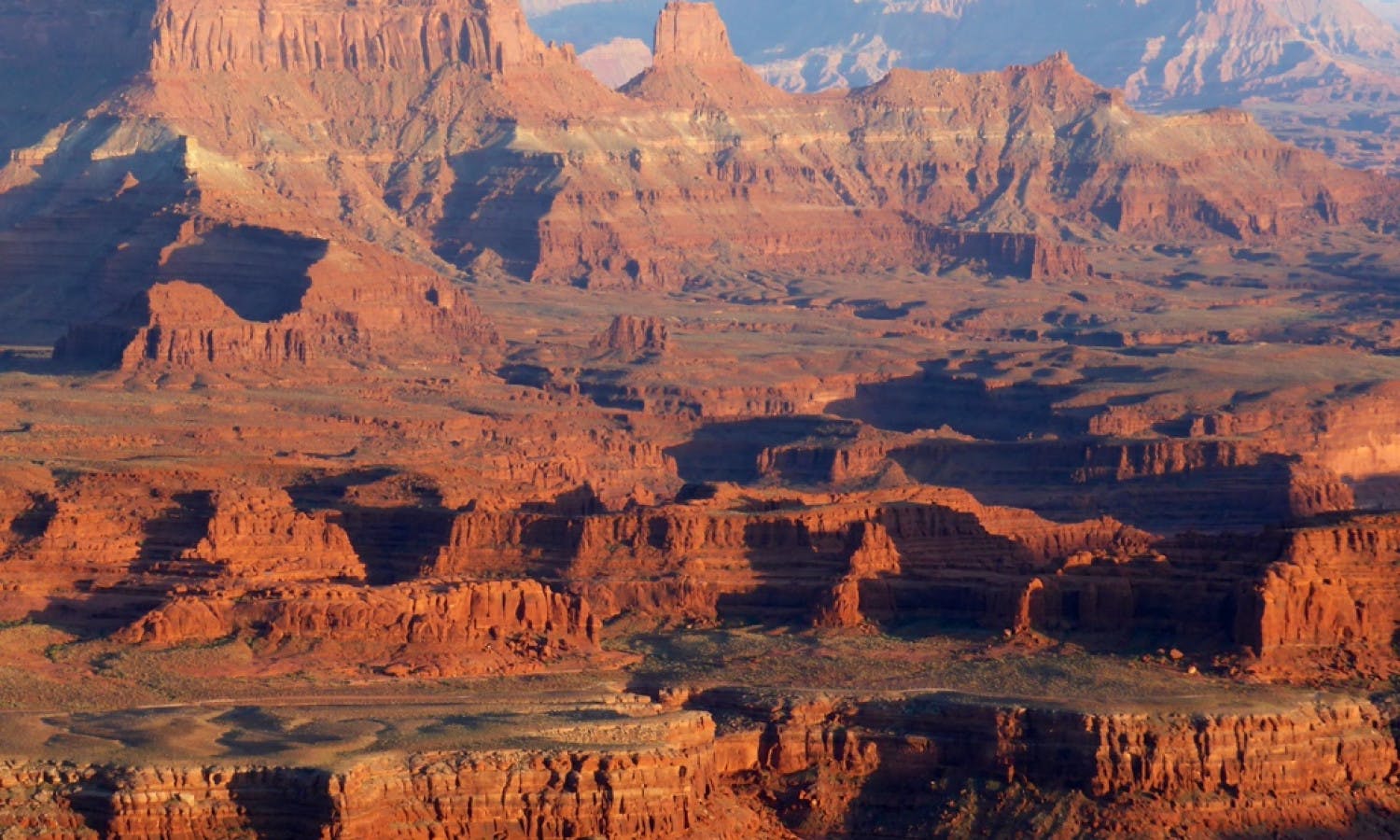 View from Dead Horse Point
Today, it's a state park with campsites and some great hiking trails. The place looks just like the Grand Canyon (but on a smaller scale) and has been used by Hollywood to represent the more famous park. It's also where Tom Cruise filmed the climbing scenes at the beginning of Mission Impossible II. The unreal blue lake you can see down in the valley is artificially dyed with cobalt and is used by a private mining company to aid evaporation of the water to obtain potash. If you don't fancy camping, you can stay in Moab, which is also a great base for the nearby attractions of Canyonlands National Park and Arches National Park (see part nine).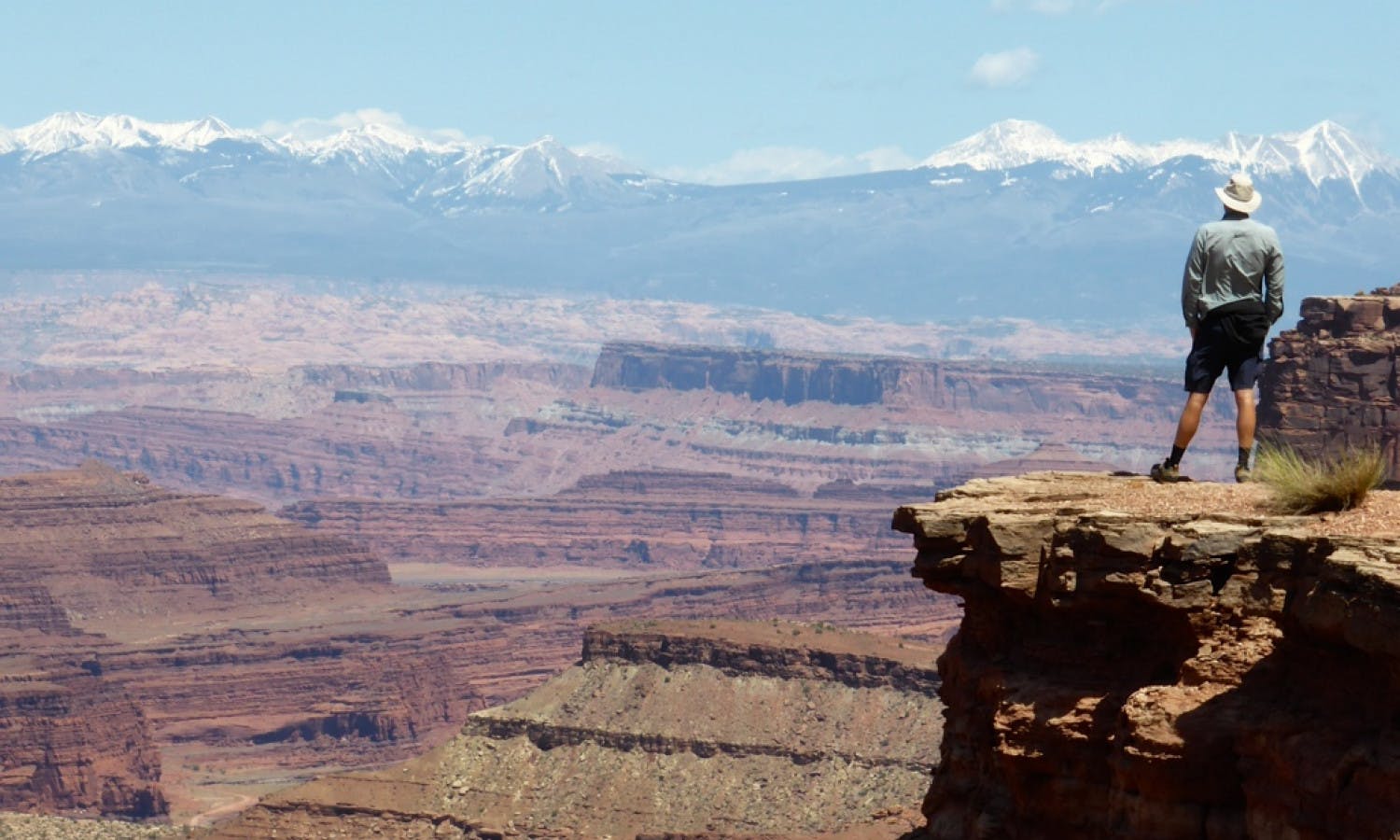 Dead Horse Point view
Moab
The little town of Moab has a real Wild West feel and is a great place for some home comforts. Here, you'll find restaurants, cafes, shops, gas stations, a laundry and even a car wash. The Love Muffin café does a great western breakfast, and the Moon Flower organic shop is fantastic for stocking up on a few food luxuries.