Natchitoches is a good base to explore the grand plantation houses of old Louisiana before moving on to the big-city pleasures (food!) of New Orleans and the scenic coast road ever eastwards.
Plantation houses
Louisiana's historical slave-economy is well documented. Thousands of black people were forced to work in the cotton and sugar-cane fields as prisoners of their rich, white 'owners'. Today, we see the legacy of this time in the grand houses owned by the slave-owning families: beautiful old buildings in picturesque settings, but with dark and shameful histories.
The nineteenth-century Oakland (Prud'homme) Plantation house is run by the National Parks Service and it's definitely worth taking a guided tour (free). Inside, you'll see how the rich used to live and learn about how the house was built to manage the high temperatures and humidity of a Louisiana summer. You'll see some rooms decorated from the 1800s and others in a 1950s style when the family finally left the house. There's also the old post office and store, seemingly unchanged from the past.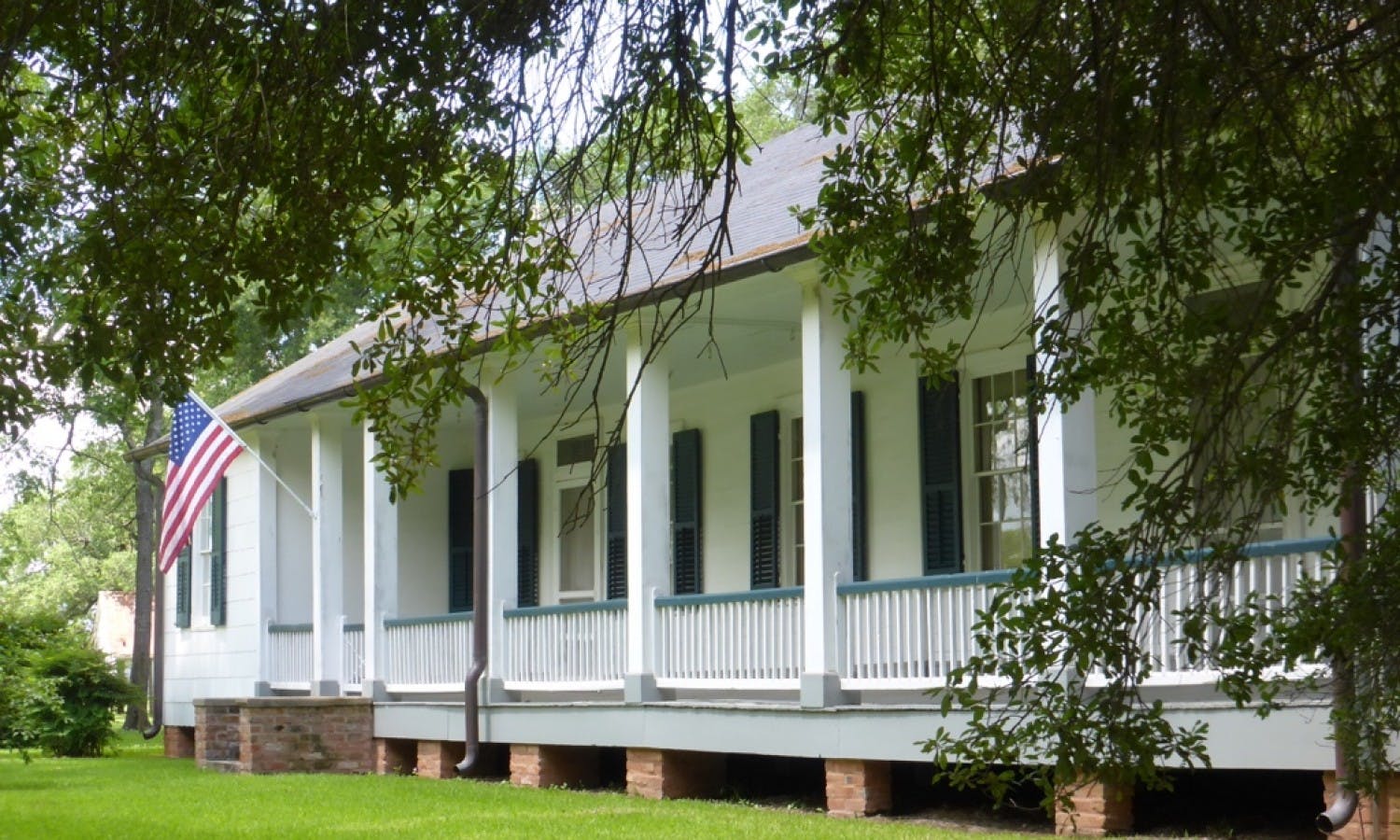 Oakland Plantation House
A little further down the road is the Melrose Plantation. Here, the house is still occupied and not open to the public, but you can pay a small fee to walk around the perfumed gardens and enjoy the shade of huge old trees. There are many outbuildings with their original farming implements so you can get an idea of what life and work were like.
The Magnolia Plantation has a preserved old store and offers guided walks around its large gardens so that you can see where the slaves and their overseers lived and worked. It's a calm and beautiful location, but with constant reminders of how the money was made. Here, too, the main house is privately owned and occupied.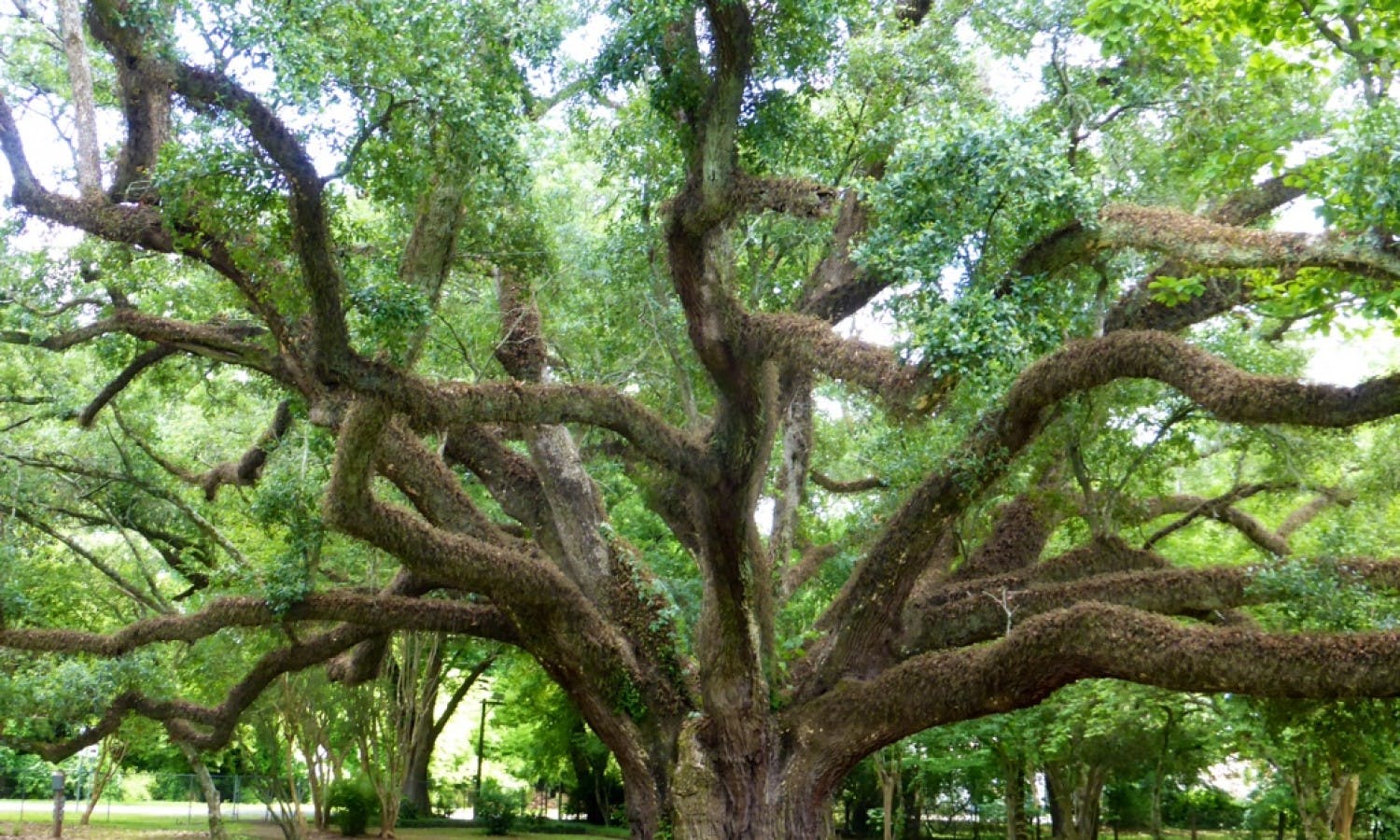 Melrose Plantation
New Orleans
Heading south-east through Alexandria towards Lafayette, you have the opportunity to take the back roads and enjoy the Louisiana countryside. On highway 71 just beyond Alexandria, you'll find the tiny town of Lecompte and its old-fashioned diner: Lea's Pies. This is the place to stop for a slice of delicious homemade apple or peach or coconut meringue pie with a cup of coffee so strong and bitter it should be illegal. On the interstate near Lafayette, we saw a giant billboard proclaiming "Lust drags you down to Hell" and a phone number to call for help.
When you finally drive into New Orleans, you feel you've left America and arrived in Old France. The streets and buildings look like no other American city. Trees line the narrow streets and balconies with wrought-iron railings hang over you. This is a town to visit for a number of reasons: the architecture, the music, the nightlife and the food.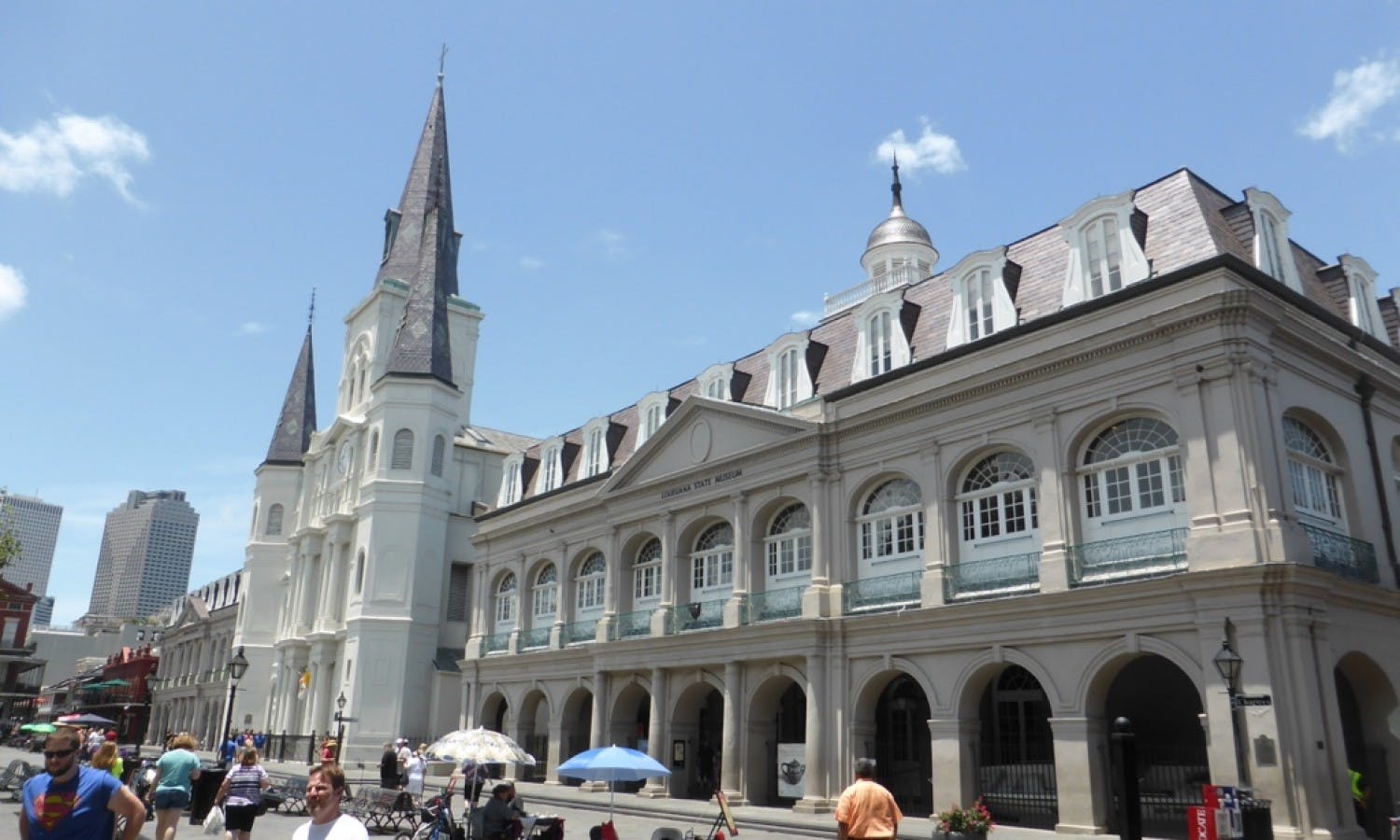 Europe or USA?
Ah yes, the food. New Orleans is the place to eat a po' boy sandwich, rice and beans, sausage and turnip greens, gumbo, jambalaya and boudin sausage. A popular city restaurant is Mother's: a no-nonsense place where you can eat all of the regional classics until you can barely move. For dessert, you might want to go to the famous Café du Monde, where you can get a coffee and a bag of the traditional beignets (small doughnuts) in a bed of powdered sugar. Also highly recommended is Cochon Butcher, where you can get as much hot, salty pork products as you can eat. Try the regional specialty of muffaletta: a sandwich crammed with hot, sliced meats and other good things.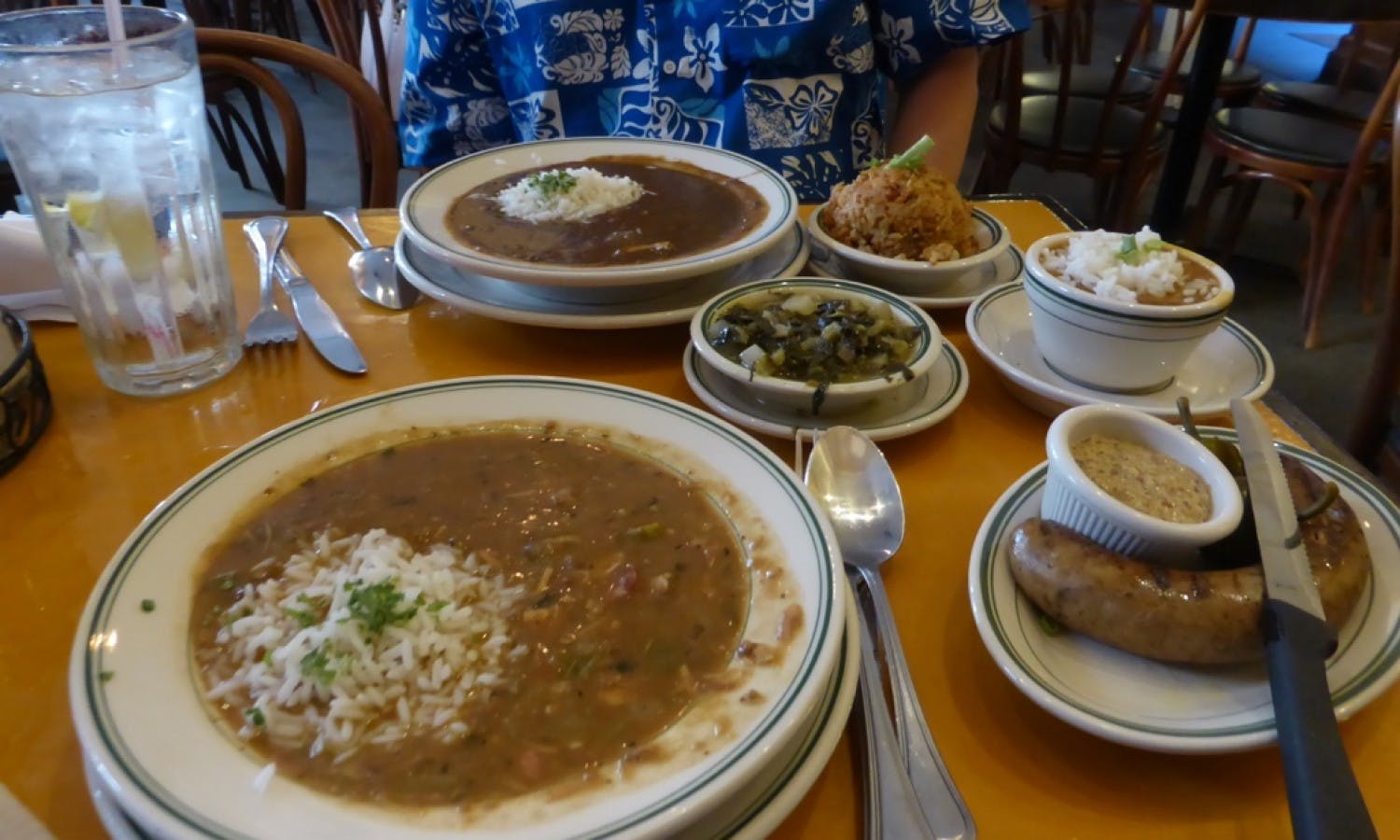 New Orleans food
Another New Orleans pleasure is just strolling the streets and squares to look at the buildings and the people. You might meet an evangelistic drunk, an amazing busker or an impromptu street band as you get lost amid the twisting avenues. Magazine Street is a lovely place to stroll among chi-chi stores and period houses. Inevitably, you'll also find yourself on Bourbon Street in heart of the French Quarter: the infamous good-time strip, which seems seedy and grubby during the day and ominously raucous after dark. Like Austin or Nashville, New Orleans has a great reputation for live music (especially blues and jazz) so check out what's on while you're in town.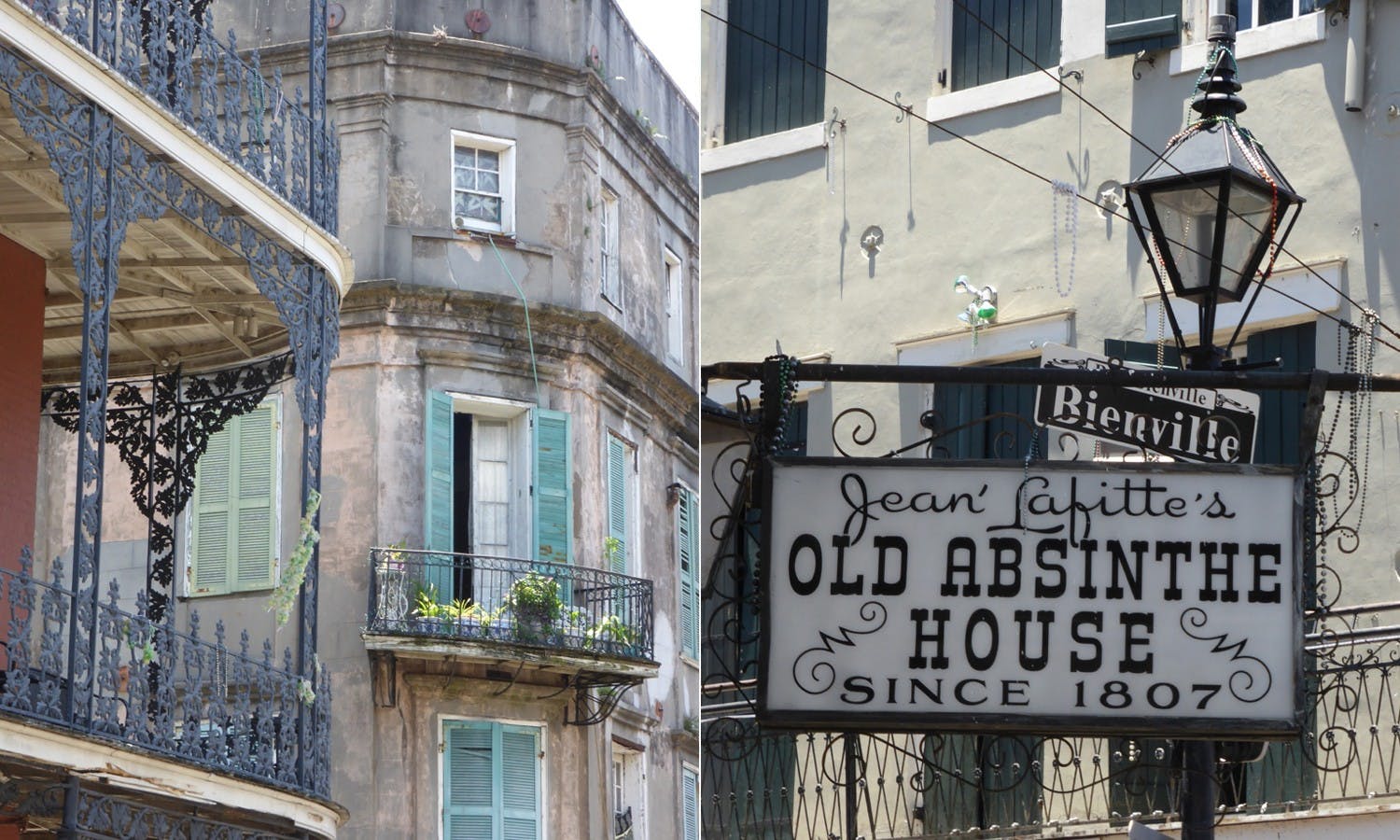 City style
Heading along the gulf coast east from New Orleans, you have a choice of roads. Take Interstate 10 if you want to blast your way through Alabama towards Florida, or highway 90 if you want to drive through small towns with the water right beside you. A nice place to stop is Pass Christian, a town that was virtually destroyed by Hurricane Katrina but which today has some great seafood places. Try Shaggy's, right on the coast, for a nice gumbo or shrimp basket.