There's a lot to see between these two big cities, starting with one of the country's most beautiful national parks: Yosemite. From here, you can stop at King's Canyon and Sequoia national parks on your way to the incredibly diverse scenery of Death Valley.
Yosemite National Park
If you were able to create your own perfect landscape using all possible options, you might create something like Yosemite. Its forests, peaks, rivers, lakes, waterfalls and many paths seemed designed to take your breath away, as if nature is actually showing off. Everywhere you look seems to be a postcard.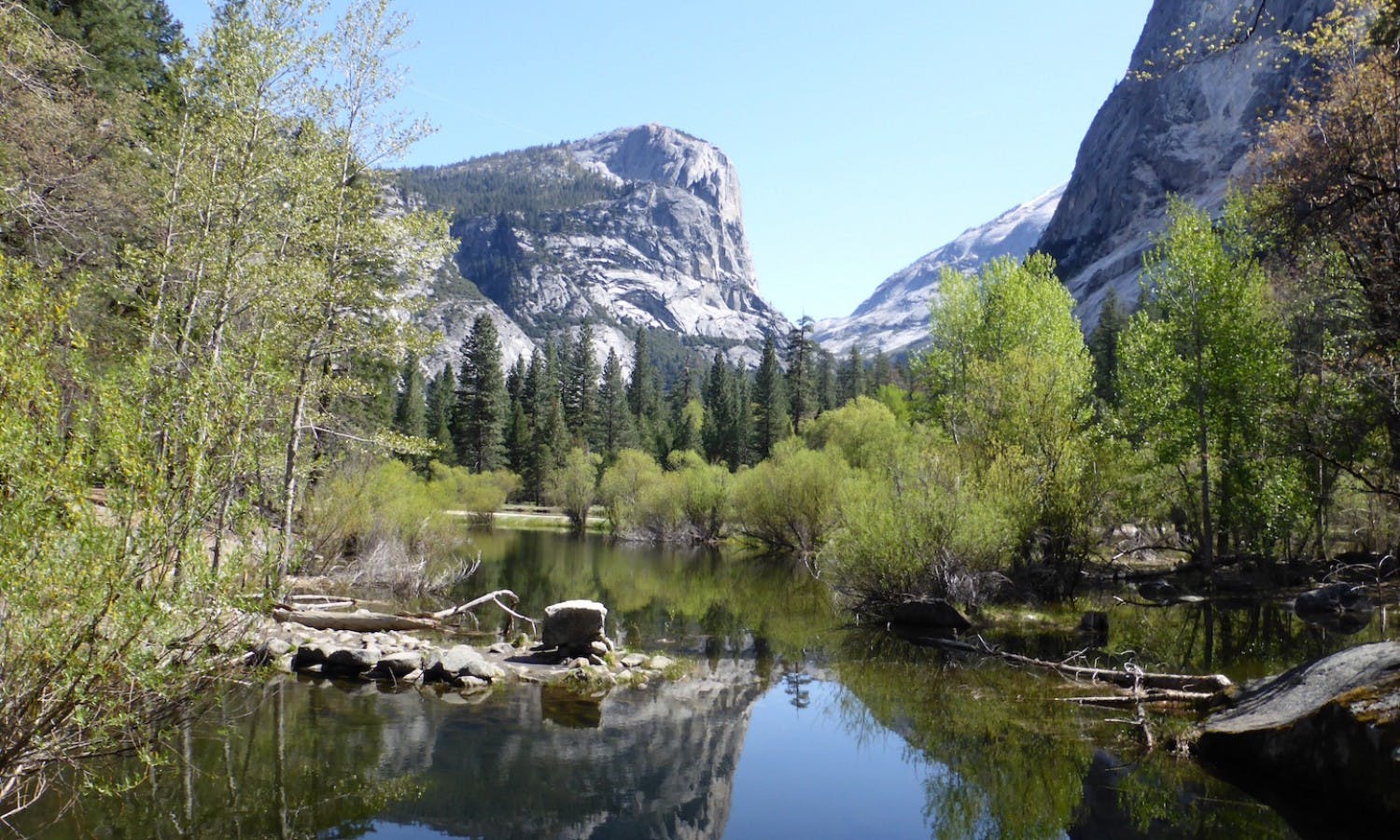 Yosemite postcard view
You need at least two full days to enjoy the park's wonders, but campsites are often booked months in advance, even out of season. You'll need to get online to ensure your place. Once there, you should definitely see the best waterfalls: Vernal, Nevada, and Yosemite.  The views from Glacier Point are also amazing, and you'll pass Tunnel View on the way. El Capital and half-Dome peaks are visible from almost everywhere, but best seen from the John Muir Trail.
Don't forget to stop at the traditional Buck Meadows diner on the way out of Yosemite. It's a great place for breakfast!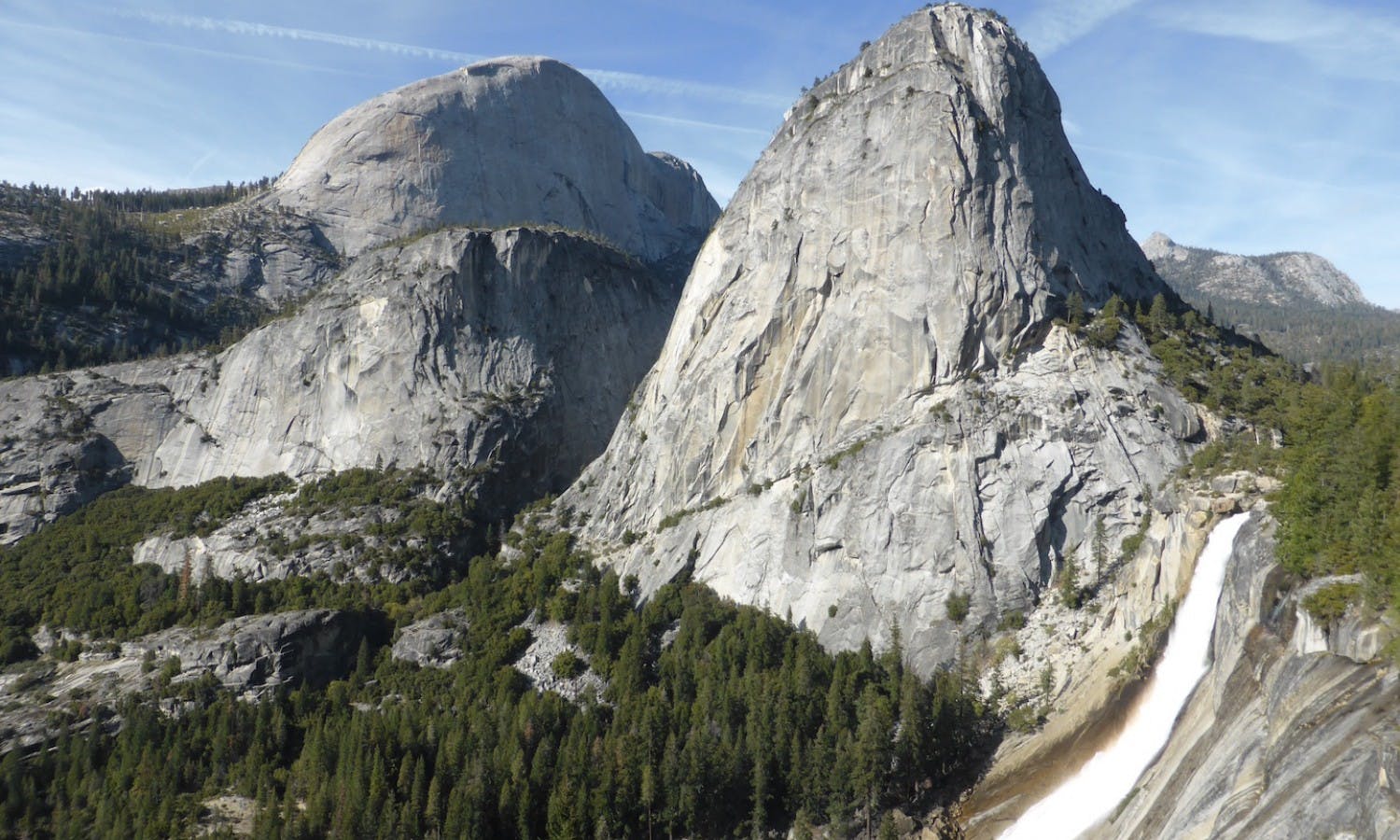 Yosemite Peaks from John Muir trail
King's Canyon / Sequoia National Park
Impressive King's Canyon often remains closed in early spring due to snow, but Sequoia is a good stop on the way to Las Vegas if you want to camp among some of the biggest trees on earth, including The General Sherman and General Grant. Thousands of feet above sea level, the park is really wild. In fact, you'll have to keep your food in special bear-proof lockers overnight if you don't want your car destroyed. There are many scenic tracks, such as the epic Panorama ridge walk with views over the Sierra Nevada, but the greatest pleasure is simply camping in a beautiful setting where frogs sing you to sleep and woodpeckers wake you.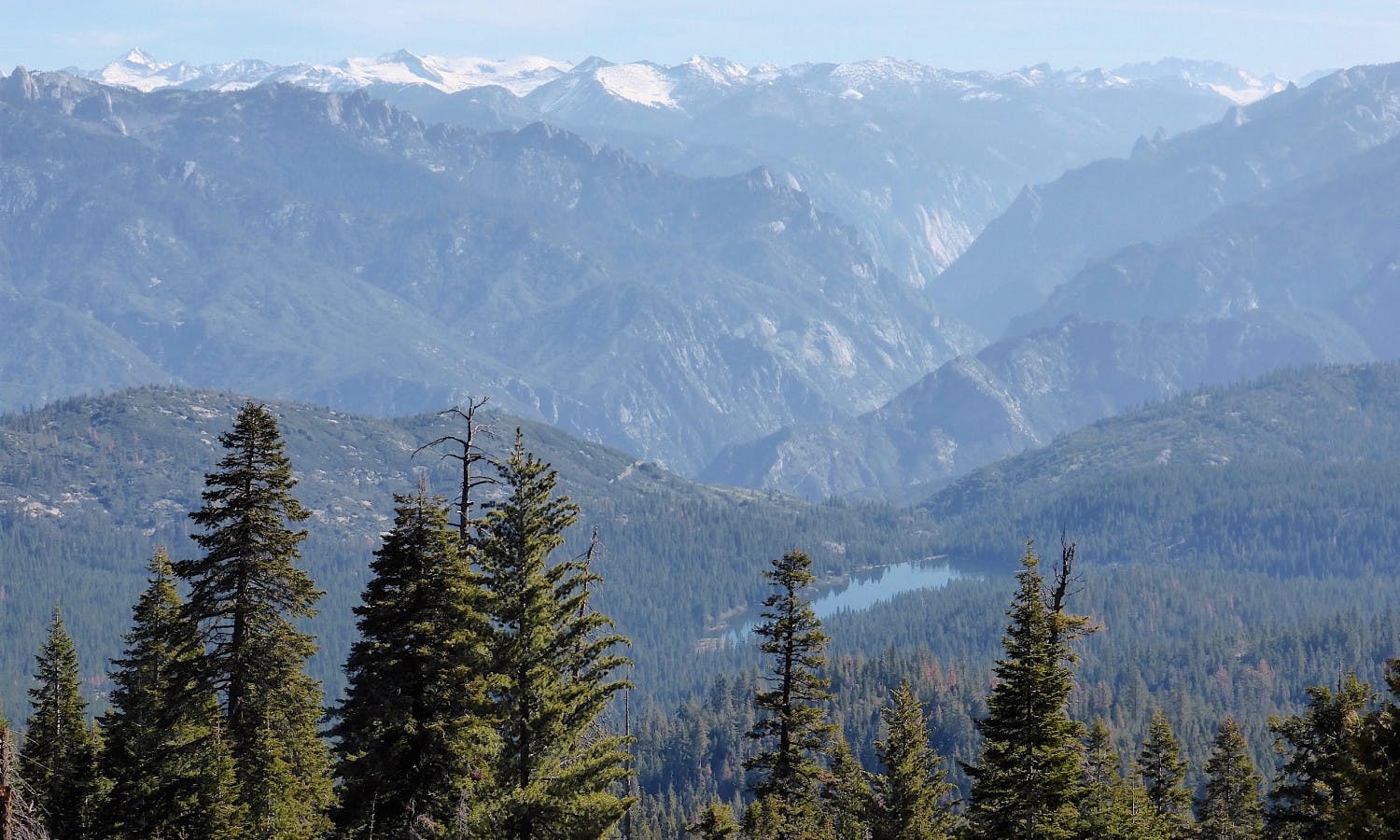 Sequoia – view from Panorama track
Death Valley
The name is not very appealing, but this park is the biggest and one of the most varied in America. If you love the desert, this is the daddy of them all. There are plenty of camping places in early spring and the best to choose is probably Furnace Creek, close to the amenities and information center. There's also a museum illustrating how bauxite used to be mined here.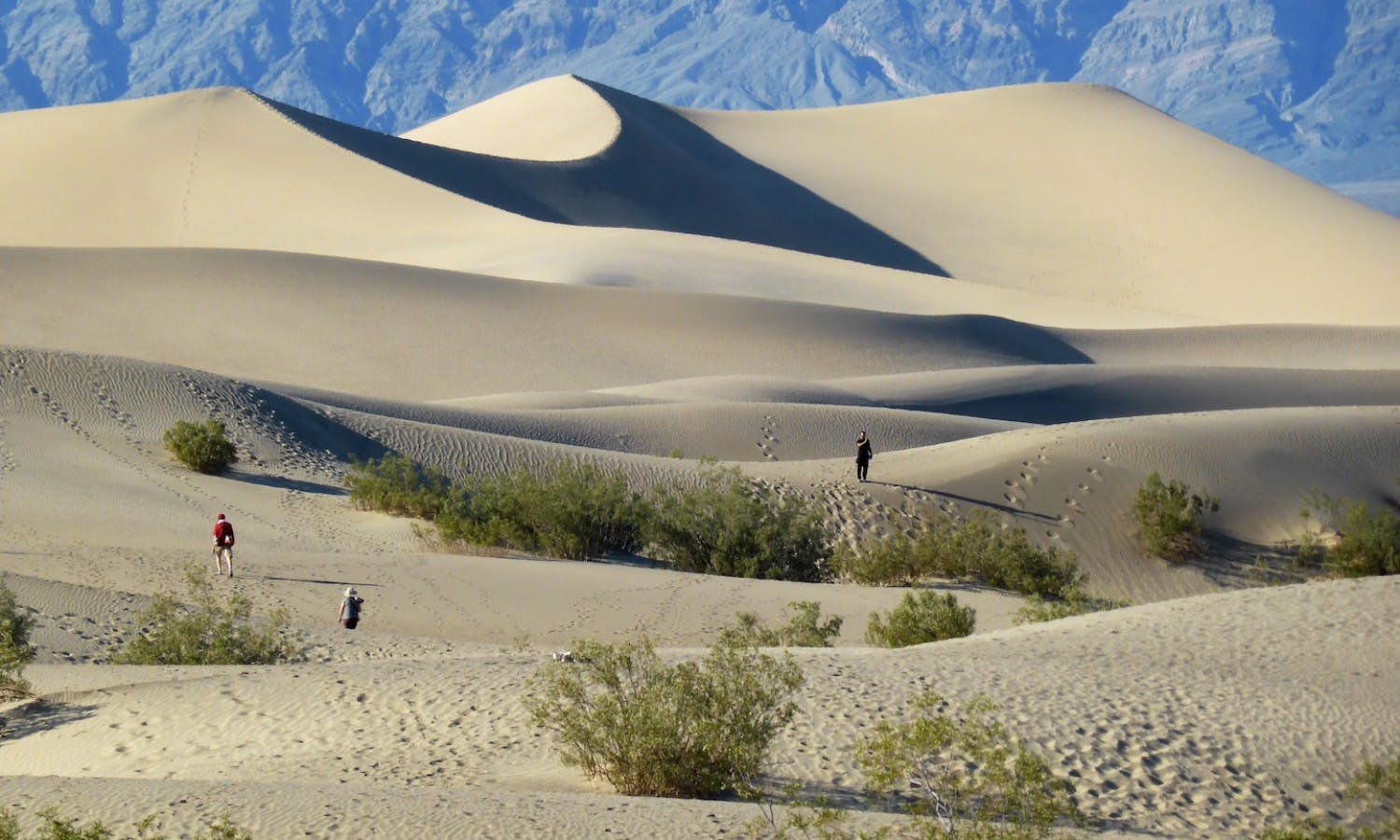 Mesquite Dunes, Death Valley
There's so much to see in Death Valley, from volcanic craters to salt flats and from multi-colored cliffs to twisting canyons. To see the best, you'll need about three days. Don't miss: Mesquite Dunes, Titus Canyon, Ubehebe Crater, Zabriskie Point, Artist's Palette, the Devil's Golf Course, Golden Canyon and the Gower Gulch loop through eroded badlands. Death Valley is also home to the lowest point below sea level in the USA.
You also need to be aware that this place can be dangerous even in cooler months. You can quickly become dehydrated without noticing and people have died here. Make sure you always carry water and drink it regularly, especially if walking away from camp.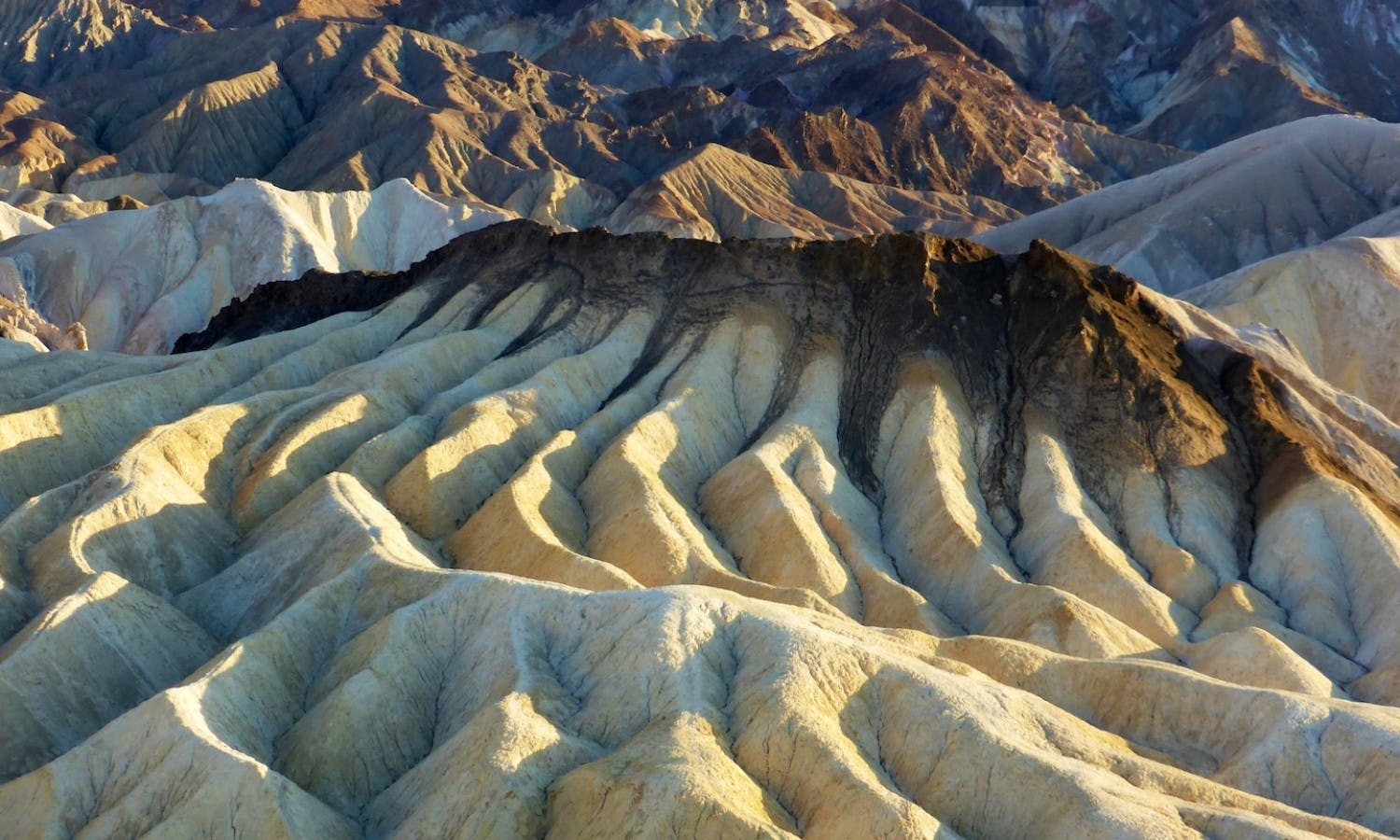 View from Zabriskie Point
NOTE: if you took the Joshua Tree route, you can still head north to Death Valley and Las Vegas on smaller roads, discovering some of the towns along the way. If you have less time, you could also do these first four sections as a loop.