There are two more places worth seeing before you leave Utah. Using Moab as your base, or booking park sites in advance, you'll be able to spend a few days experiencing yet more astounding landscapes. Get ready for some of the world's most photographed desert scenery . . .
Canyonlands National Park
Canyonlands, as the name suggests, is about the canyons. The mighty Colorado River has carved a gigantic labyrinth of deep gorges, needles and buttes out of the rock, leaving a dramatic landscape of stratified cliffs. You can follow some of the many trails around the rim, enjoying vertigo-inducing views, or you can take tracks down to river level. This is an outdoor activities paradise, with climbing, mountain biking, 4×4 driving, boating, horse-riding, hiking and backcountry trekking. It's so huge, you don't have to try too hard to escape the crowds and find yourself alone with the desert.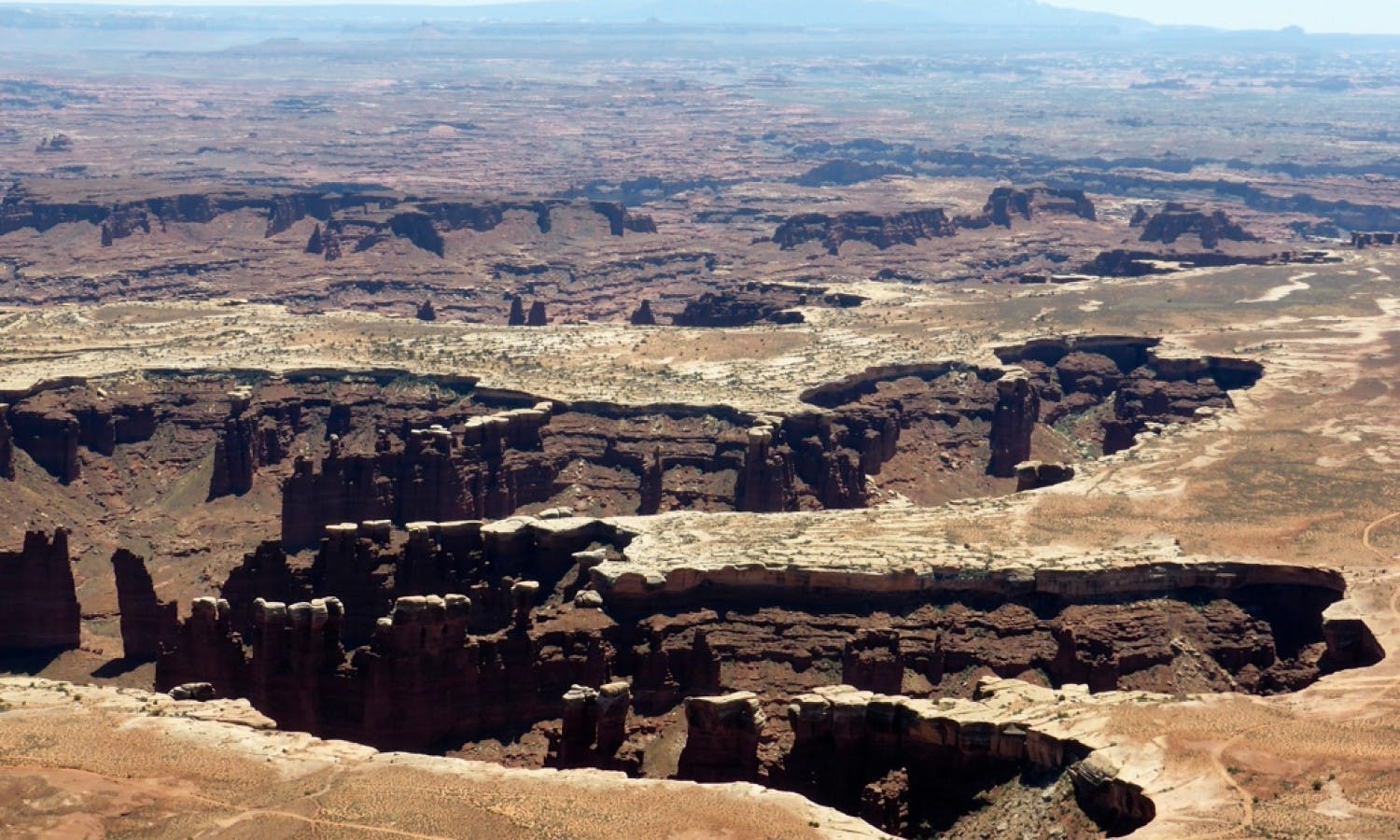 Canyonlands landscape
Arches National Park
If you've ever seen a photo of an amazing natural stone arch against a blue sky, it was probably taken at Arches. Part of Indiana Jones and the Last Crusade was filmed here at the site of a rare double-arch formation. You might think that you've seen everything Utah geography has to offer, but Arches will change your mind with some the strangest and most fantastical rock shapes. Best of all, the park is just a very short drive from Moab, so you can arrive early and spend a whole day enjoying the walks.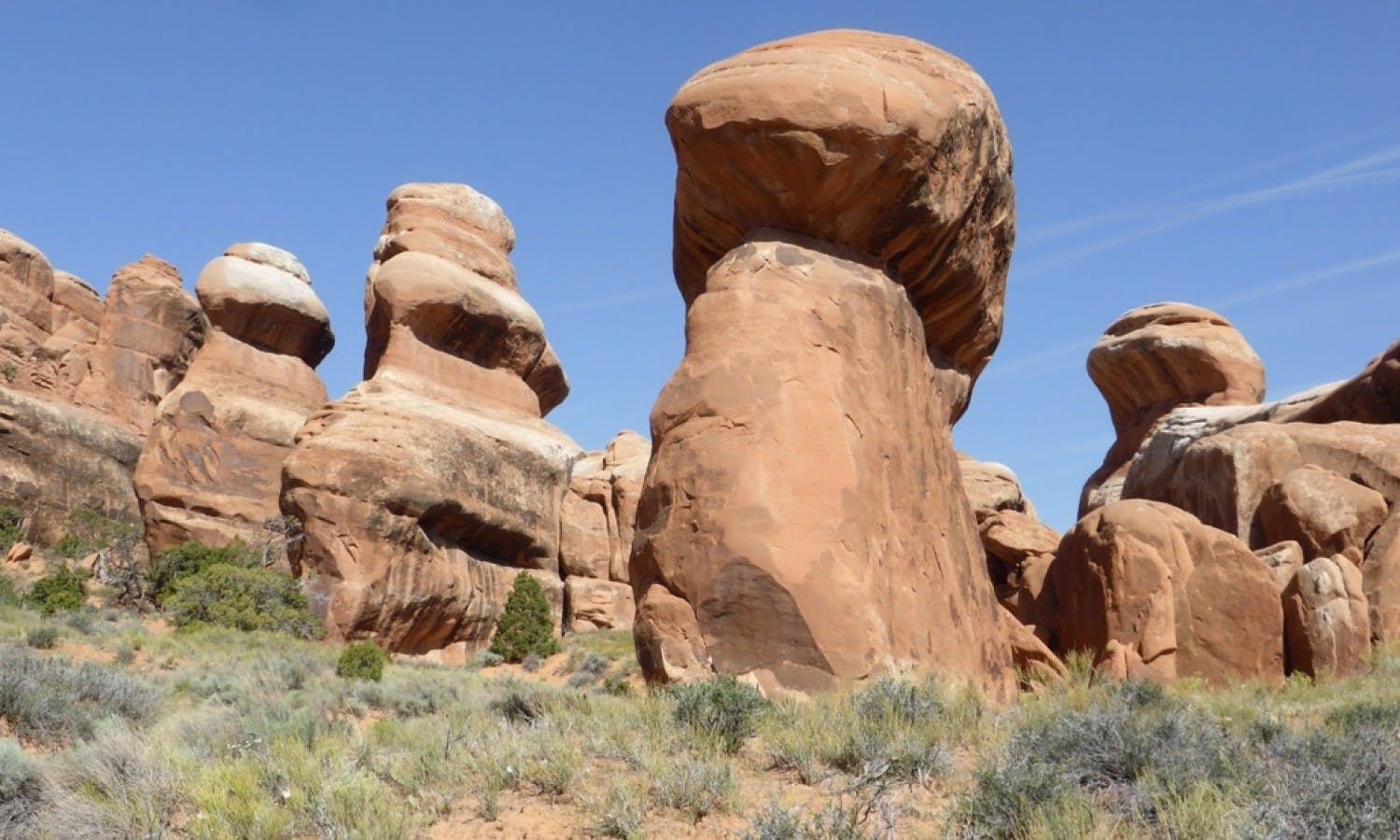 Arches National Park
As usual in America's national parks, there's a variety of walks graded from easy to strenuous. Any relatively fit person will be able to do all of them. The Devil's Garden walk takes you among the bizarre shapes of red-gold megaliths, while the Primitive track starts on and sand and invites you to scramble up smooth rock to discover a selection of hidden arches. You'll see fairytale shapes and desertscapes like fish gills stretching into the distance. You'll walk along narrow stone fins, through narrow green gulches, and into vast amphitheaters of rock. The arches themselves appear around corners without any warning – broad, short, thick or fine. No two are similar. It's like a place out of a cartoon.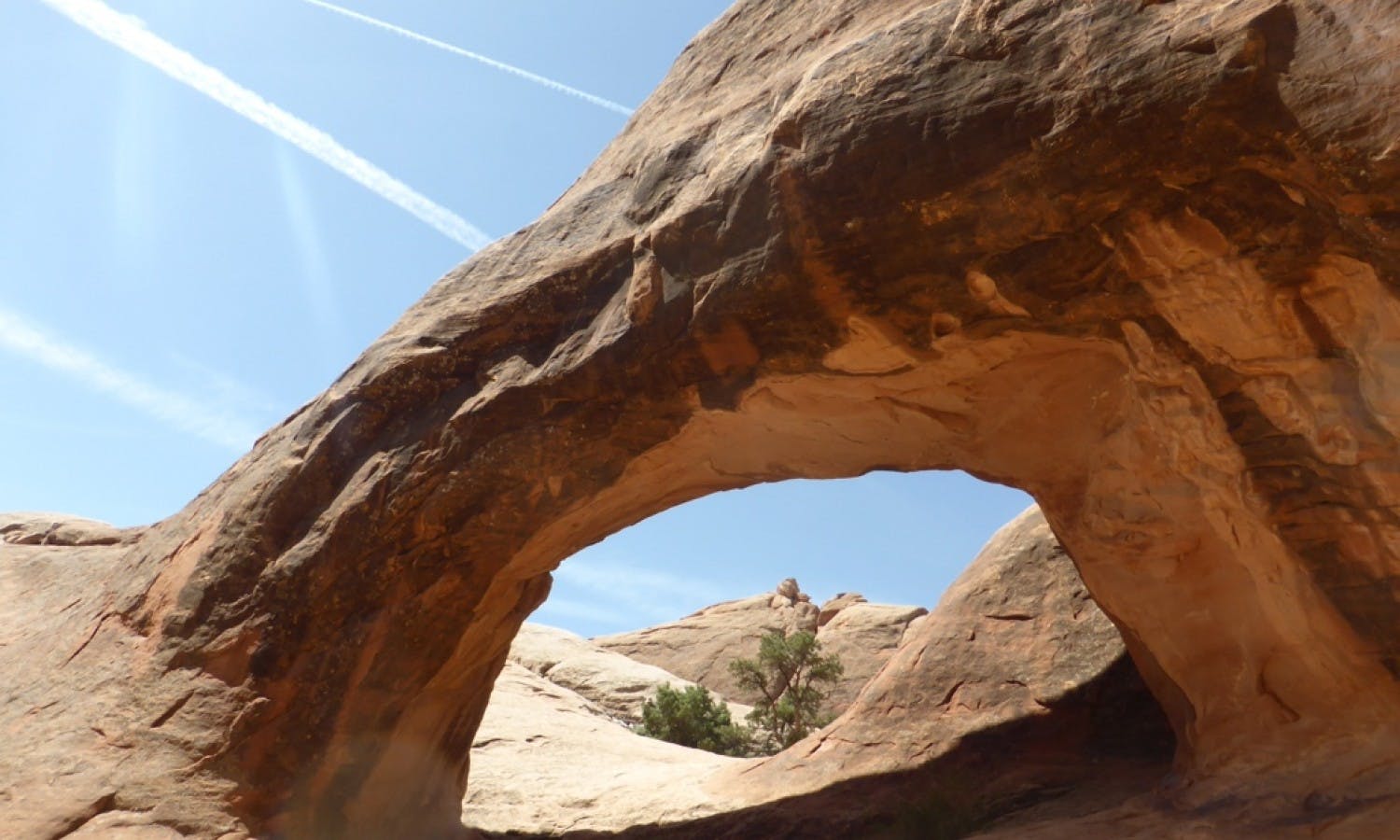 Hidden arch, Primitive track
Heading south: Monticello
After the Utah loop, it's time to move on to the rest of America – not necessarily in a straight line. One of the easiest ways south towards Arizona and the Grand Canyon is highway 191/163, and a nice place to stop is the small town of Monticello. Here, you'll find motels, shops and some home comforts after so many days camping. It's a typical 'nowhere' town where you can experience a side of America you don't get in the big cities. Try the Peace Tree Juice Café for a great coffee or juice, and treat yourself to a graceful night's sleep at the Grist Mill Inn.