Moving along the gulf coast and into Florida, there are plenty of places to stop and enjoy the beaches or the little towns where locals go. This is the final stretch of the road trip before leaving the car in Orlando and flying to New York. It's been a great journey . . .
Lillian, Alabama
There are beaches all along the coast after Mobile Bay, but we drove inland to see a different side of Alabama. At Lillian, we found a great campsite on the shores of Perdido Bay – a really beautiful spot to camp, light a campfire and have a picnic. The sunsets and sunrises here can be amazing in summer, although the temperature and humidity can be off the scale. Someone in the tent next to ours had brought a portable air-conditioning unit with them that kept them cool during the night… and everyone else awake with its incessant wheezing. Thanks for that!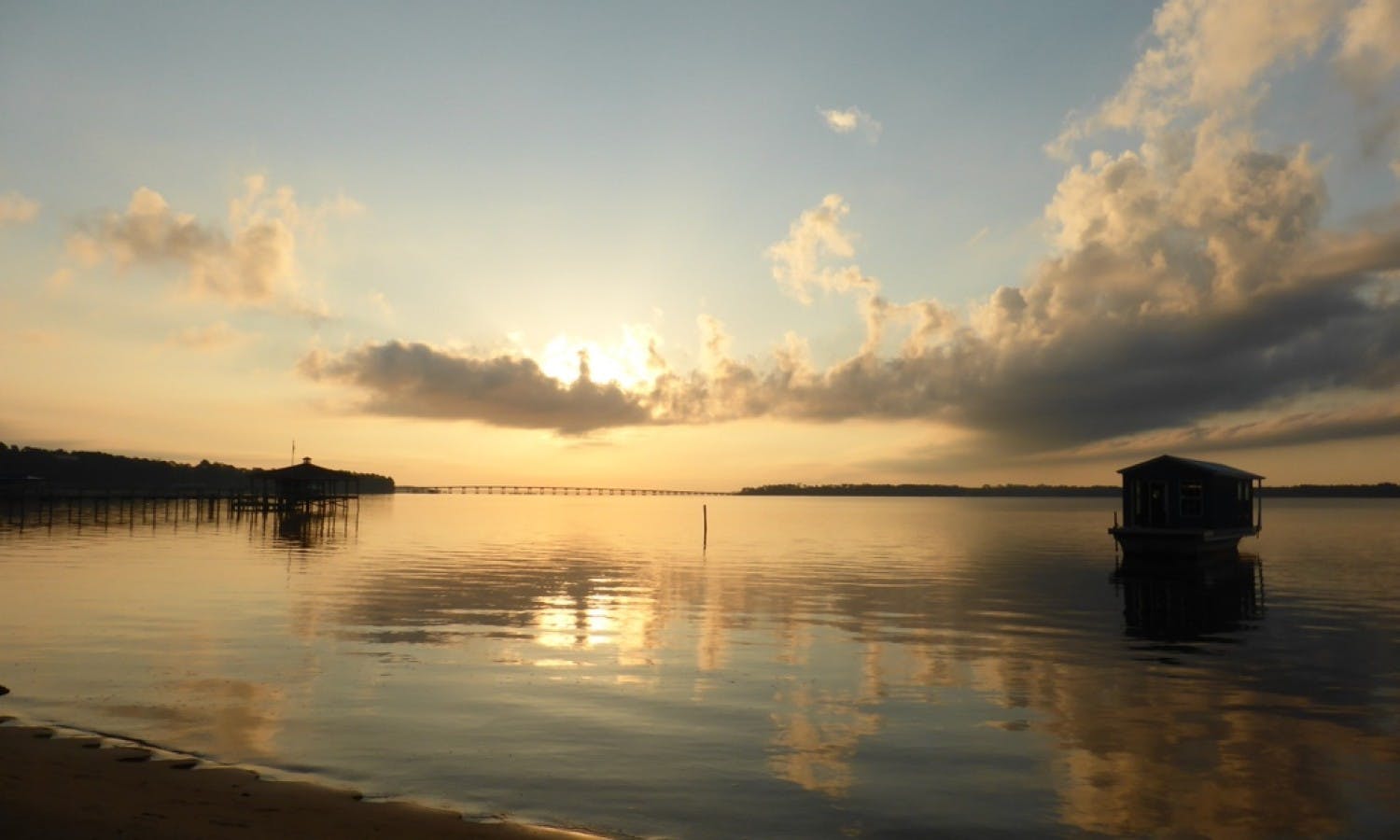 Perdido Bay, Alabama
Lake City, Florida
Sometimes you stop in a place just because you're tired and need a place to sleep. Such places are not always in guidebooks and not always the kinds of places you'd choose to visit. Gallup in Arizona was one, and Carlsbad in New Mexico. So, too, was Lake City, which sits between two massive interstates and has plenty of motels.
When we checked in to the Day's Inn, the woman in front of us in the queue had just had a car crash and was in shock. Two policemen were helping her book a room because her car was too destroyed to drive. Fortunately for us, there was a Huddle House grill just a short walk from the motel and we were able to order a few styrofoam boxes of exceptionally unhealthy deep-fried food. The other people eating in there that evening seemed delighted they'd never met a vegetable or piece of fruit.
Cocoa Beach
We'd left the car at a hotel on the outskirts of Orlando and got a lift to stay with friends at Cocoa Beach because we weren't interested in theme parks, shopping malls or mass tourism. Cocoa used to be an exclusive beach resort with a pier and a coastline of hotels but has in recent decades lost some of its glitz (according to some locals we spoke to). These days, it's a pleasant enough place to stroll along the beach, get some sun and spend a few days unwinding after driving 8,500 miles from Los Angeles.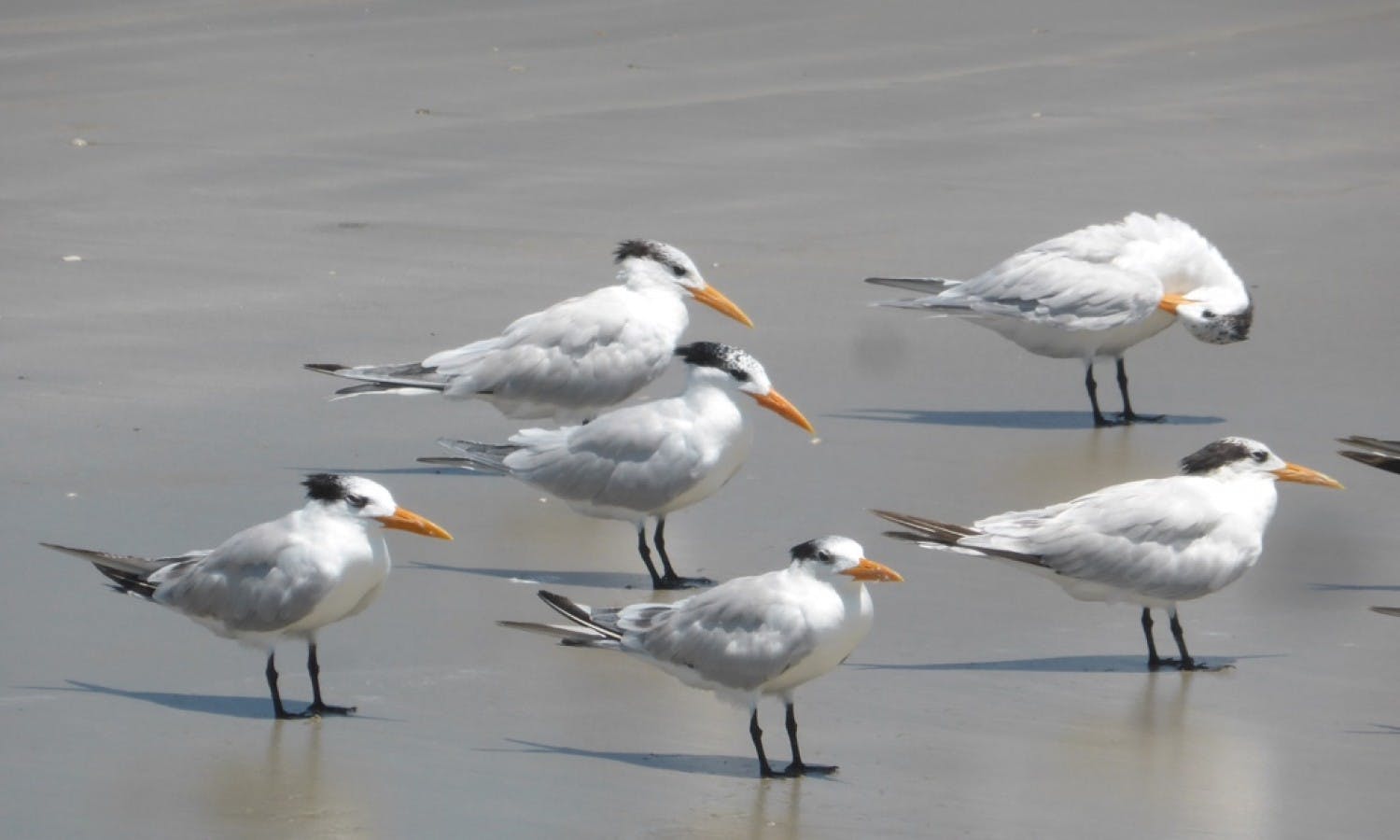 Seabirds on Cocoa Beach, FL
The 'strip' that runs through Cocoa Beach north to south has various things to offer. In 'Old Cocoa' in the south, you'll find cool cafes and some great BBQ restaurants such as Low & Slow or Madd Jacks. In the middle of town, you'll find Cocoa's most famous brand: the Ron Jon Surf Shop, where you must buy a T-shirt and browse the crazy collection of surfwear. Towards the north end of the peninsula is Port Canaveral and the fish restaurants. Eat here if you want to experience a fantastic selection of fish and seafood fresh from the ocean. If you're lucky, you might also see a rocket go up from Cape Canaveral just over the inlet (from where the Apollo moon missions were launched).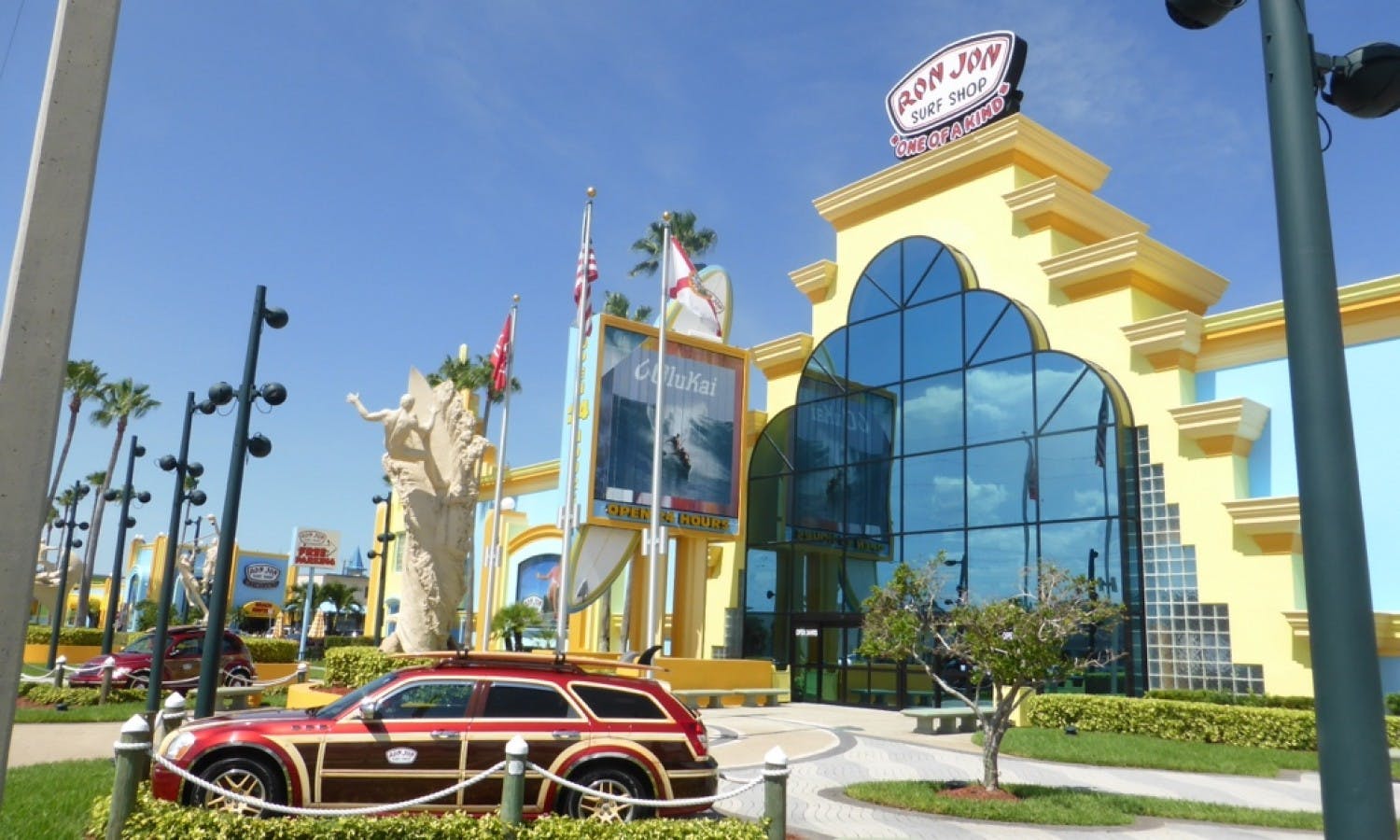 Ron Jon Surf Shop
And there we have it: a road trip from coast to coast, through big cities and small towns, through deserts and snow, poor places and rich places. It's a fantastic country to explore, and it ends in New York…