The Grand Wine Tour brings together the most prestigious Italian wineries to provide visitors with unforgettable experiences and to promote the discovery of the territory as well as Italian art and culture through great wines.
Sublime landscapes between the Alps and the Apennines, green blossoming fields in Tuscany and magical mountains in Piedmont. Blue horizons over a crystal sea surrounded by cliffs of the beautiful south. Florence, the "Cradle of the Renaissance," with spectacular works by famous artists scattered throughout the city and Rome, whose ancient glory is within hand's reach in every corner of the city.
All these and more attract thousands of travelers to Italy every year, and these were the elements that were the source of the determination belonging to the young seventeenth- and eighteenth-century European aristocrats who undertook a long and dangerous journey across Italy: the Grand Tour, an initiatory journey to discover different places to expand their knowledge, improve their cultural understanding and prepare them for adult life.
And this is exactly the concept behind The Grand Wine Tour, a project that aims to discover the country's culture and beauty through one of the most cherished Italian products: wine.
Wine stands for conviviality and excellence, and the Grand Wine Tour brings together the most prestigious Italian wineries, known for excellent wine and top-notch hospitality.
Thanks to an innovative communication strategy, the Grand Wine Tour focuses not only on wine and the location where it was produced but also on the surrounding areas such as Italian art and culture, therefore attracting a vast audience and a wide variety of interests. Wineries become "monuments to the palate," charming and often ancient places where you can discover vibrant flavors and taste exceptional Italian wines while observing the wine-making process itself.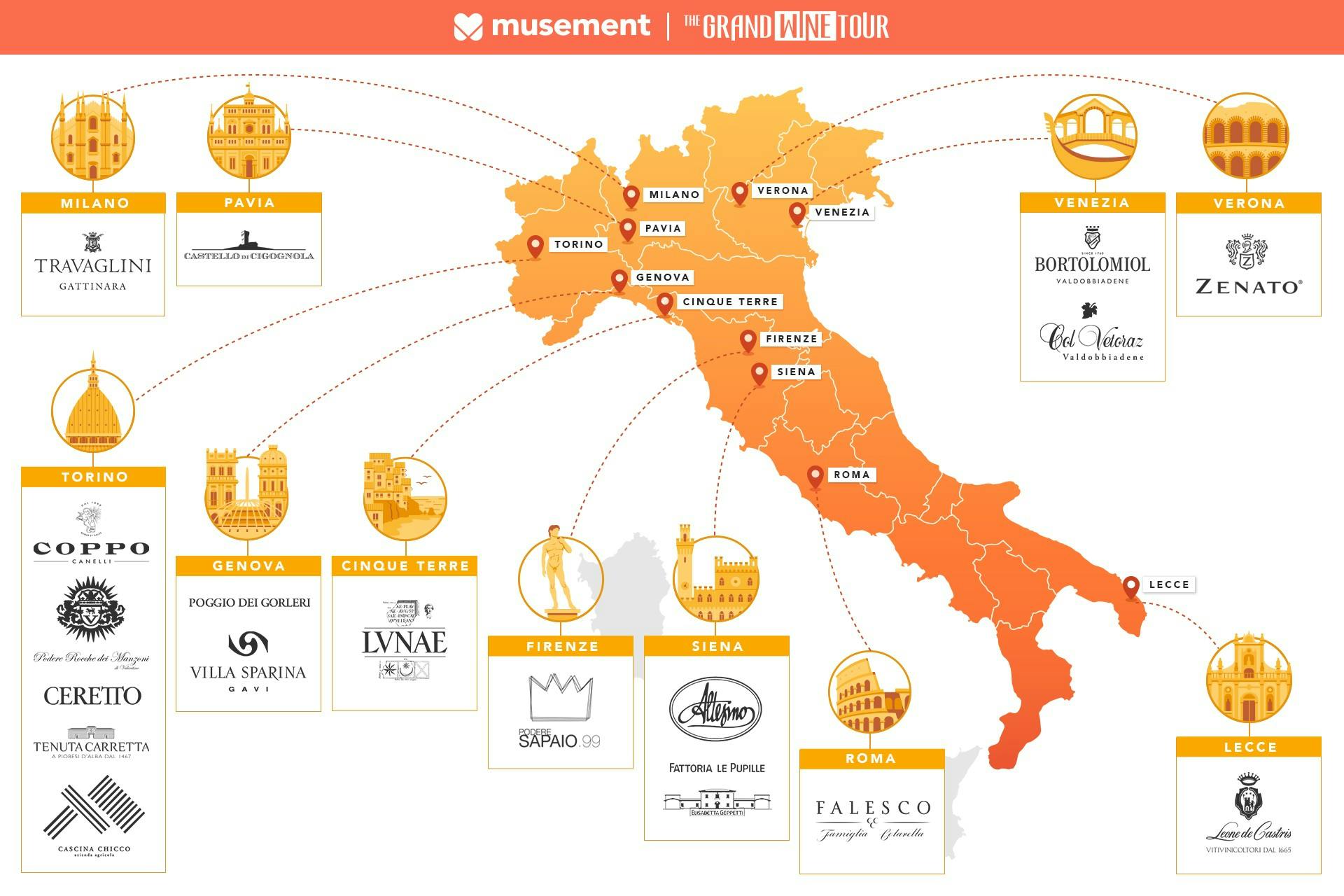 Magnificent monuments and prestigious wineries with The Grand Wine Tour