A former New Yorker reflects on the city she used to call home and how she came to love it all over again.
I have known New York City my entire life. Unlike most people who have grown up outside the city, I can't remember being amazed by the neon lights and large billboards of Times Square for the first time, or the sensation of feeling so small in front of the towering skyscrapers because they were always just there. I remember when I moved to Hell's Kitchen in 2004 and how, at that time, I was the happiest I had ever been, but over the years, my love for New York eventually turned to hate than to love-hate and now, it's gone full circle and returned to love.
Now, I'm not dying to move back there, but the more I return to New York to visit my family, the more I have really grown to love the city again.  I think it's because I know I'm leaving since I love the bejeezus out of Milan.
The city has changed so much both during the time I lived there and since I have left, and I swear I shed a tear every time I pass where the Lincoln Square Barnes & Noble once stood. That store was my refuge, where I needed to go to get lost for a few hours and wander around and escape the city for a few hours, if only in my mind. I'd always leave with books to add to my ever and still growing, (now both actual and digital) piles. I still love The Strand bookstore, a blessing and a curse, because I want to buy everything there for my bookshelves…especially the $1 books. I can browse their selection for hours but books are among the trickiest items to bring back to Italy with me as their heft takes up lots of valuable luggage weight. I usually wind up packing my empty backpack in my suitcase  and filling it with books to carry on the plane back with me, a mix of some both new acquisitions, those that have been collecting dust on my bookshelf at my parents' house for years
I was never one of those in-the-know New Yorkers when it came to the in-the-moment locale for everything. I can't tell you about some hidden art space in a Nolita back alley, however, I did manage to scratch beneath the surface of the food and theater worlds.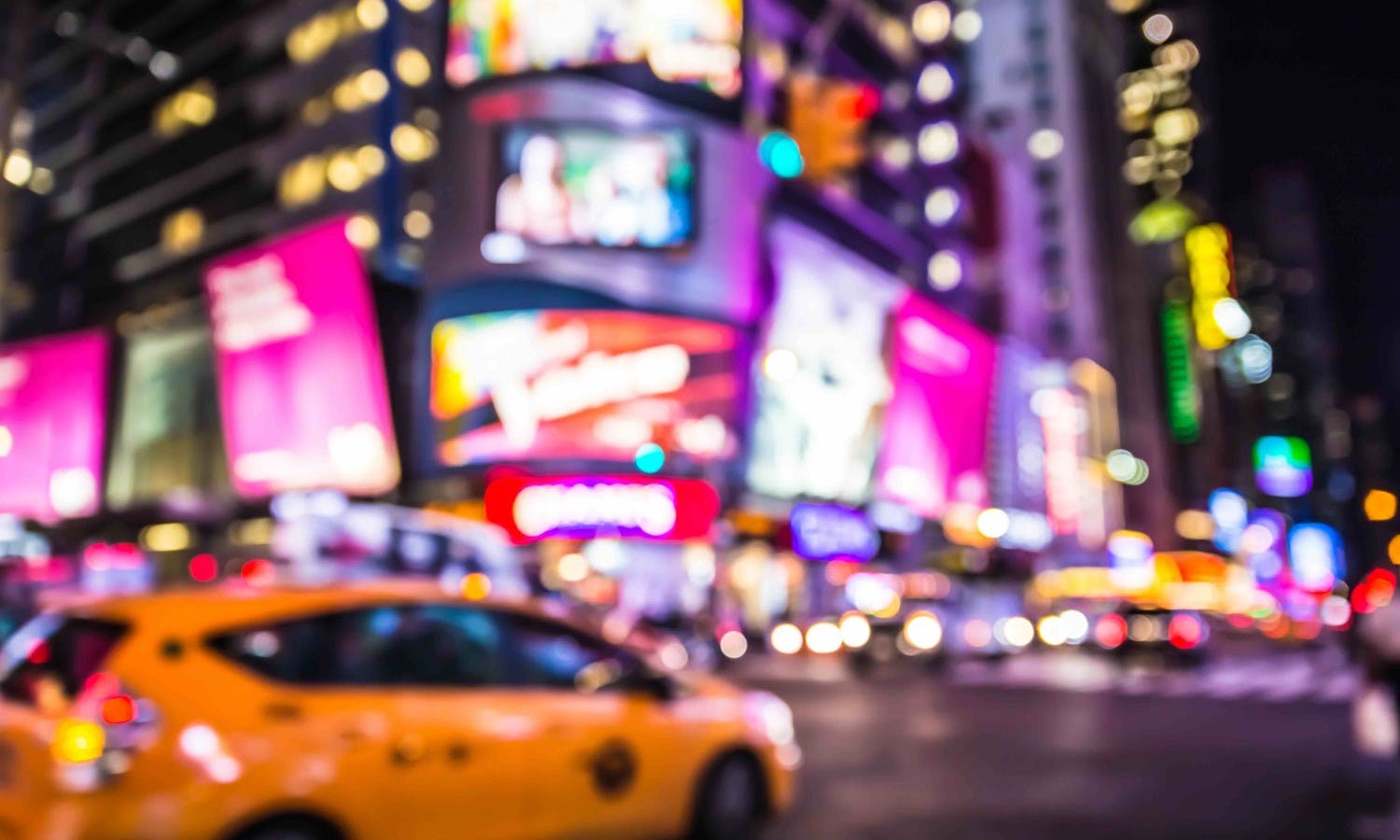 Times Square
When I see Times Square, the heart of the theater district, and the tourists and bridge-and-tunnel crowds who come in for the day to see a Broadway show, all I can think about was what most excited me about moving to New York: I could see a show without having to "make a day out of it." I didn't have to kill time after obtaining discounted or rush tickets; I could just go home and leave my apartment 15 minutes before curtain, however, the worry wart in me always allotted more time. I think of all the shows I've seen, how some like Wicked and Chicago are still going strong and how Hamilton is the new mainstay while others like School of Rock are doing well, but who knows if they will still be running at this time next year?
Then there's, of course, the food! The ever-reliable Shake Shack holds its own in Madison Square Park and I make it a point to go there at least thrice every time I'm home. As much as I love Milan, a Shack Burger and cheese fries are difficult to come by. I think of my old Hell's Kitchen neighborhood with WonDee Siam still holding down the fort on Ninth Avenue as well as Kashaval, Casellula, and Restaurant Row alongside all the newcomers I don't know, except for that Shake Shack outpost.
I can still get tacos at the back of Tehuitzingo Mexican deli on Tenth Avenue. Empellon has expanded since I left and Cosme further upped the city's Mexican cuisine ante. Chinatown will always be great for Chinese food, however, New Yorkers know you can't beat Flushing, Queens for the best Chinese food in town. New York is still one of the best cities to eat pasta, and Arthur Avenue in the Bronx will always be the "Real Little Italy."
It was strange to walk through Grand Central Terminal and see that the Christmas market is just on one side of Vanderbilt Hall as the Great Northern Food Hall is a permanent fixture on the other.
Last, but certainly not least, there's magical Central Park, which will always be near and dear to my heart. I used to kick off my morning with a run around its reservoir, I trained for two New York marathons on its paths, I used to cut across it all the time to get from the east side to the west side or vice versa, and I passed many a weekend on a blanket in Sheep's Meadow.
New York has shaped me and it will always be a part of me as it set the bar high. Since I left, I have been in countless situations during which I say to myself something along the lines of how this would never have happened in New York.  But I don't huff and puff about it because it's not my home anymore. And I like it that way because I love it all over again.