An airfare deal with a budget airline can be an instant pick-me-up. That is until you start thinking about your suitcase, add-on fees, logistics, etc. To avoid the extra baggage fee, we are often forced to fit all of our stuff in 56 x 45 x 25cm of space, and the entire process is certainly not rainbows and unicorns. Here's how one traveler has learned how to pack her carry on the hard way.
One of the best parts of living in Italy is how easy it is to pack up for a quick getaway and disembark in a strange land after just a couple of hours sans the jet lag.  As an American who did the bulk of my European traveling during extended trips rather than compact getaways, I never mastered the art of packing a carry-on bag. I always flew airlines that didn't charge me extra to check my luggage and took advantage of the one free checked bag included in my airfare price. Who wouldn't? Especially for a city like Paris when I wanted to have a plethora of clothes and shoes from which I could take my pick.
Then I moved to Italy, and along came the budget airlines, and I quickly learned to exercise caution with them. Sure, the airfare is extremely economical, but there's a ton of extra add-ons that I had always taken for granted with the transatlantic carriers, like seat selection and checked baggage, as well as standard add-ons like seats with more leg room and priority boarding. When you start piling on the add-ons, the deal doesn't seem so sweet after all and you find yourself back at square one. So, I eventually learned how to accommodate my wallet and get by with my carry-on only, and I am quite proud of how far I came.
However, I must say, that easyJet is the trickiest. I learned the hard way the first time I flew them that I wasn't allowed to hold a purse in addition to my carry-on unless I was a holder of the easyJet plus membership card that not only lets you bring another smaller bag on board (a purse or a tote) but gives your priority boarding and seat selection perks at the time of booking at no additional charge, yet the annual membership costs £170, which seems to me like some incarnation of an "additional charge".
My maiden easyJet voyage was a flight to Copenhagen to catch my connection to the Faroe Islands (super cold), then I was going to spend a few days in Copenhagen (less cold) so my suitcase was stuffed to the brim with bulky and less bulky clothing suited to both cities.  It was, quite simply, a nightmare of epic proportions. I vowed I would never fly easyJet again, even if I had to pay double, they were never getting another dollar from me.
But fly them again I did….and again and again and again. I have since eaten my own words many times over because the fares are so reasonable that in the long run, it seemed almost silly to pay double.  Now several flights later, I can declare that I have officially mastered the art of easyJet packing. Naturally, the summer is much simpler because summer clothes have less bulk, but the cooler months that prove a bit of a challenge, particularly for Paris. So here's how I attempt to fit everything (including my purse, laptop, running attire, and tons of toiletries) into a meager 56 x 45 x 25cm of space.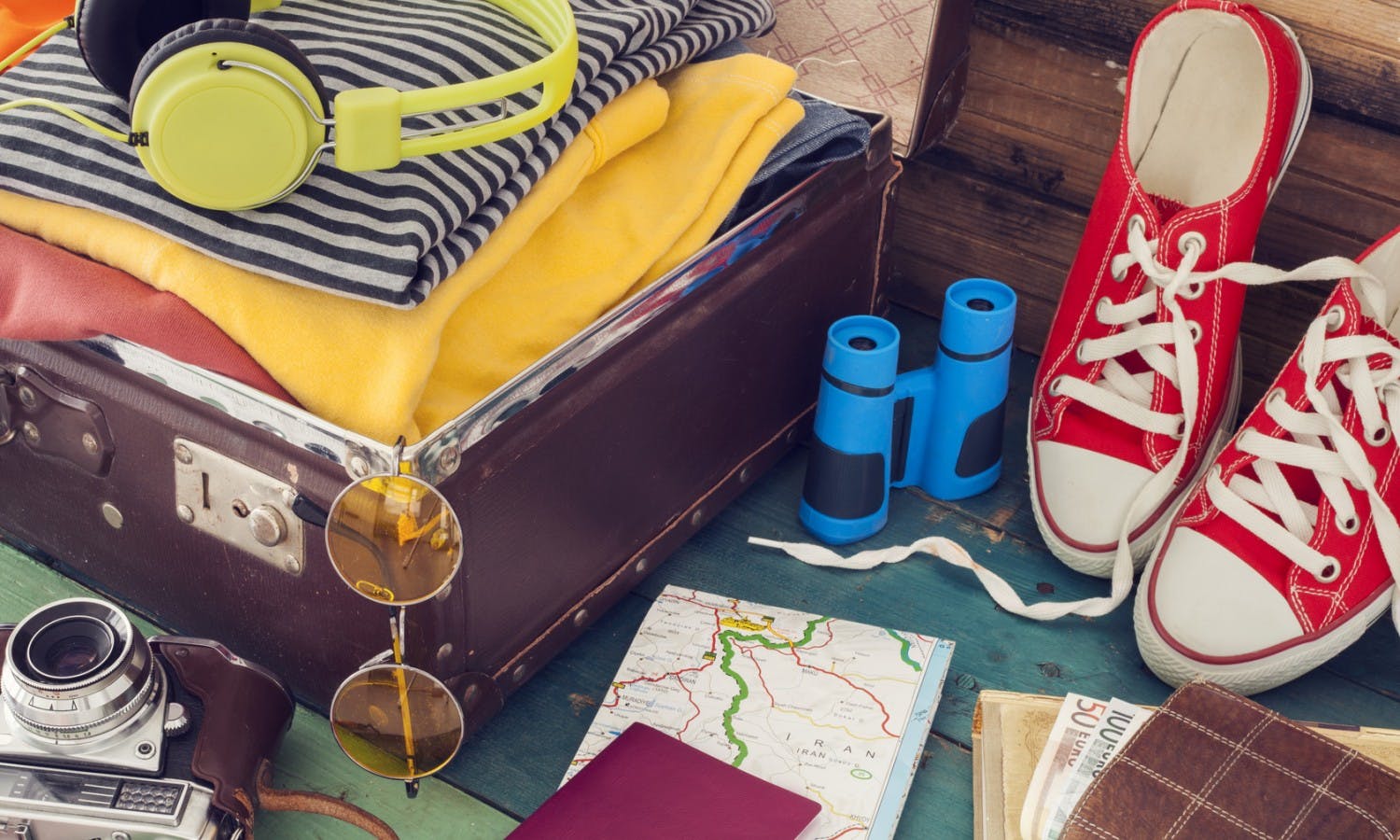 Budget airline or not, packing is always daunting.
I place my laptop, phone, travel docs, and toiletries in a canvas tote which makes the whole security process flow a little smoother. Once I'm through security, the toiletries go in my carry-on. When time comes to board, I then stuff the tote in my carry-on (yes, I also sit on my bag at the airport to close it and on certain occasions, people have actually helped me), slide my phone into my back pocket and keep my iPad mini with my boarding pass in one hand and bottled water in the other. Once on the plane, I remove the tote and place it under the seat in front of me before storing my suitcase overhead (thankfully, at this point, no sitting on the bag is necessary to re-close it).  I don't know if this is breaking the "rules" or not, but I've never had a problem.
EasyJet does permit a duty free shopping bag (in addition to your carry-on bag) so I try to pick up water/snack/magazine in the duty free shops, so I'm able to keep some of the stuff I need on hand for the flight, sometimes foregoing the canvas tote tactic altogether (unless I need to use my laptop).
My all black Converse All-Stars are the most versatile footwear. They're comfortable for walking around during the day and they look smart…you can even get away with them for certain evening occasions.  Plus they're light, not bulky and fit easily into my carry on.
I wear my heaviest/bulkiest shoes on the plane, which is either a pair of heeled boots or my running sneakers. (So American of me, I know. Nothing screams American like wearing sneakers for non-work-out purposes, but sneakers take up some valuable carry-on space.)
For me, rolling my clothes is the most efficient packing method. Firstly, I have terrible fine motor skills so folding is not my forte. In fact, I usually keep my clothes on hangers rather than drawers, and I iron constantly, so the rolling helps to keep the garments as wrinkle free as possible.
The perfume atomizer has changed my life. Another reason I loved checking my bag is that I had no other alternative for my bottle of Chloe. However, this nifty perfume atomizer lets me pump my perfume right into it and slips neatly into my liquids/toiletries bag.
My purse that flattens best is a teal leather bag I bought at the market in Florence. I lay it flat on top of everything just before I sit on the bag to zip it shut.
We've all done this when we travel and if you deny it, you're lying: we get multiple uses out of our shirts or sweaters before washing them. Fitted undershirts that don't bulk me up are super helpful and Nudy Patooty makes thin, lightweight women's undershirts that eliminate sweat and funky odors, so I get multiple wears without feeling self conscious.
I always try to keep up my running routine when I'm on the road and the attire for the colder months is obviously a bit heavier than the warmer months. I bring up to two running outfits depending on the length of my trip. They will usually suffice and if I have to, I try to do a load of laundry. (Note: I usually book through Airbnb and deliberately select an apartment with a washing machine.)
Depending on how you look at it, the following easyJet policy can be a perk or a drawback (for me, it's the latter): If a flight is full, they ask passengers to "volunteer" to check their luggage at no additional charge and/or require everyone to check their bag after a certain point. I personally loathe this because you go through the hassle of squeezing everything into your bag to avoid the baggage fee only to ultimately check it? Then you have to wait to retrieve it at baggage claim, which could throw a potential wrench into your travel plans. So as daunting as this is, I usually line up as soon as I arrive at the gate or I take a seat and wait until I notice the line growing longer. I could splurge for an "extra leg-room" or "up-front" seat for "Speedy Boarding", but those come with a price tag. However, it could be worth it in order to avoid standing in the same place for an unnecessarily long period of time altogether as waiting for an assigned seat is just ludicrous. But in all honestly, it's just one tedious component of an already nightmarish boarding process comprised of a lot of standing around and waiting; stopping and going; and hoarding. Sometimes, I don't know if I should say "moo" or "baa."
Low-cost airlines will always throw you some kind of curveball (delays, super late gate announcements, etc.), and I always wind up huffing and puffing, and Tweeting about how I'm never flying with them again…a promise I only keep up until my next getaway. I've actually stopped with the Tweets because I think they now look at my I'm-never-flying-this-airline-again "threats" as calling wolf.
Getting through the flight is the tough part, but once I'm out of the airport I ask myself, "Was that really so bad after all?" Perhaps the I'm-in-a-new-destination euphoria that mollifies the daunting journey of getting there…