Heading to Venice for the marathon? Or just because? Musement shares five places where you can get your pasta fix in Venice whether or not you have 26.2 miles to conquer.
Training for a marathon has several perks. In addition to feeling like you're in optimal shape as you sprinkle energy and vigor everywhere you go, there's something else: the sky is pretty much the limit on your carbohydrate intake, particularly during your taper, the few weeks before race day where you scale back on running and up your carb and sodium intake. Then, of course, there's the night before the race during which you should carb up so that you can hit the ground running (literally) in the morning.
The Venice marathon is going into its 30th year and the 26.2 mile race starts at the Riviera del Brenta and stretches along the banks of the Giudecca Canal to cross the storied Grand Canal on the Bridge of Boats, a floating structure almost 170 meters long that is set up specifically for the event, before crossing the finish line in the majestic Piazza San Marco and near the legendary Doge's Palace.
We know you might be staying closer to the start line as you might not want to start the big day with a 25 km schlep to Stra first thing in the morning, but a high carb intake is super important not just the night before but in the days leading up. Here are five places in Venice where you can carb up before this year's marathon…or whenever you want just because you're in town.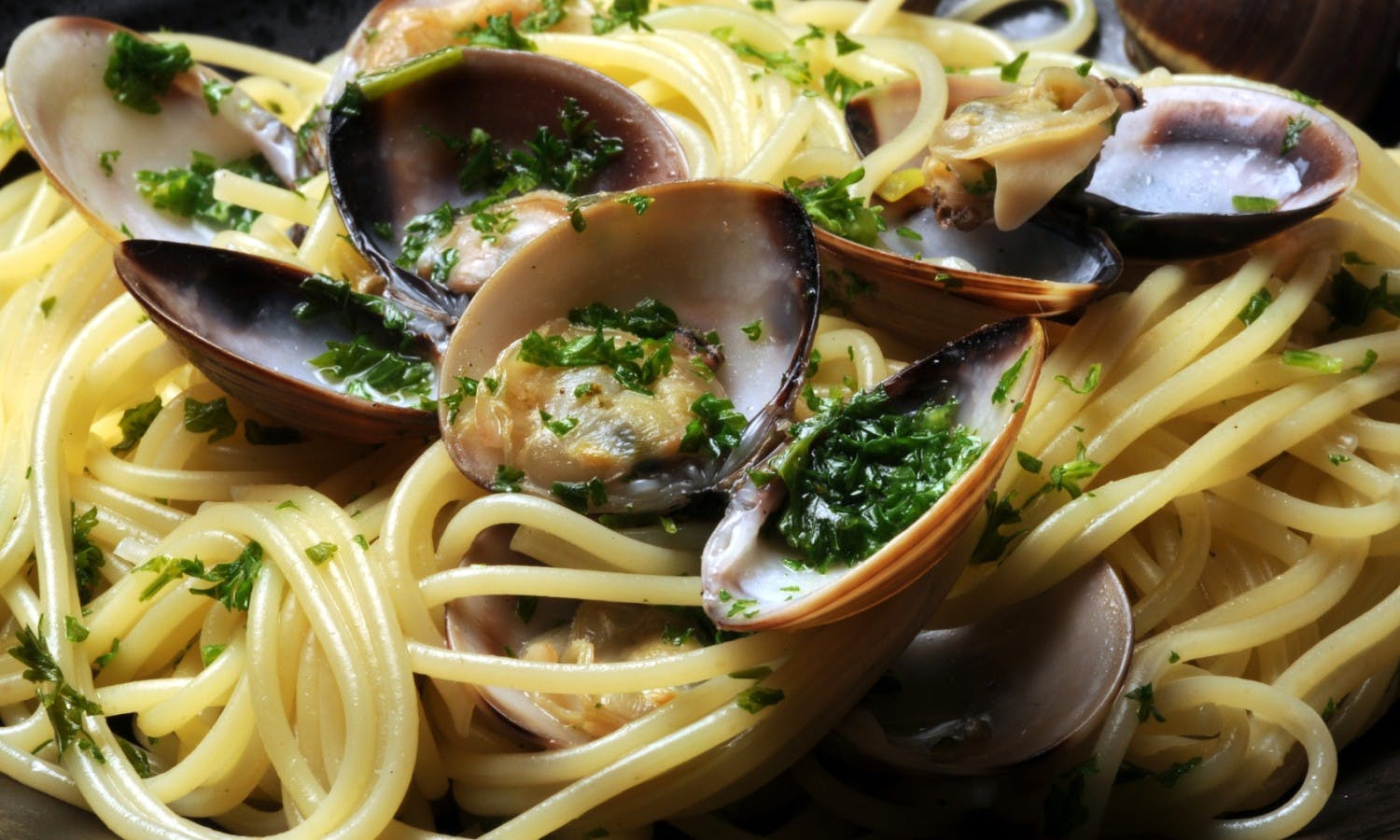 Spaghetti with clam sauce, a dish that's just as quintessentially Venetian as gondolas
Antiche Carampane
This is hands down one of the best restaurants for authentic Venetian cuisine. Seafood is of optimal quality and on the pasta front, you'll find some of the true Venetian seafood preparations featuring the lagoon's best: spaghetti with local clams, tagliolini with spider crab and mezzo paccheri with smoked swordfish. Note: The restaurant is difficult to find and you most likely will get lost on the way there. But don't give up!  And take to care to reserve. There would be nothing worse than bursting your I-actually-made-it-here bubble then getting turned away because they don't have a table for you.
San Polo, 1911 30125
+39 041 – 5240165
Tuesday – Saturday: 12.30pm – 2.30pm and 7.30pm – 11.pm
Closed Sunday and Monday
Website (complete with a specific map for where to find the restaurant)
Osteria La Zucca
Osteria La Zucca isn't your typical Venice restaurant as it's most celebrated famous its top-notch vegetarian fare, though the restaurant isn't exclusively vegetarian. With a name like La Zucca, it shouldn't be a surprise that its signature dish is a pumpkin flan appetizer. Tack your pick from various tagliatelle preparations like with pear, pistachio and gorgonzola; lamb ragu; and pomodoro and ricotta among other inventive, delicious options.
Santa Croce, 1762
+39 041 52 41 570
Monday – Saturday: 12.30pm – 2.30pm and 7.00pm – 10.30pm
Reservations highly recommended for dinner. They have two booking times: 7.00/7.30pm and 9.00/9.30pm
Website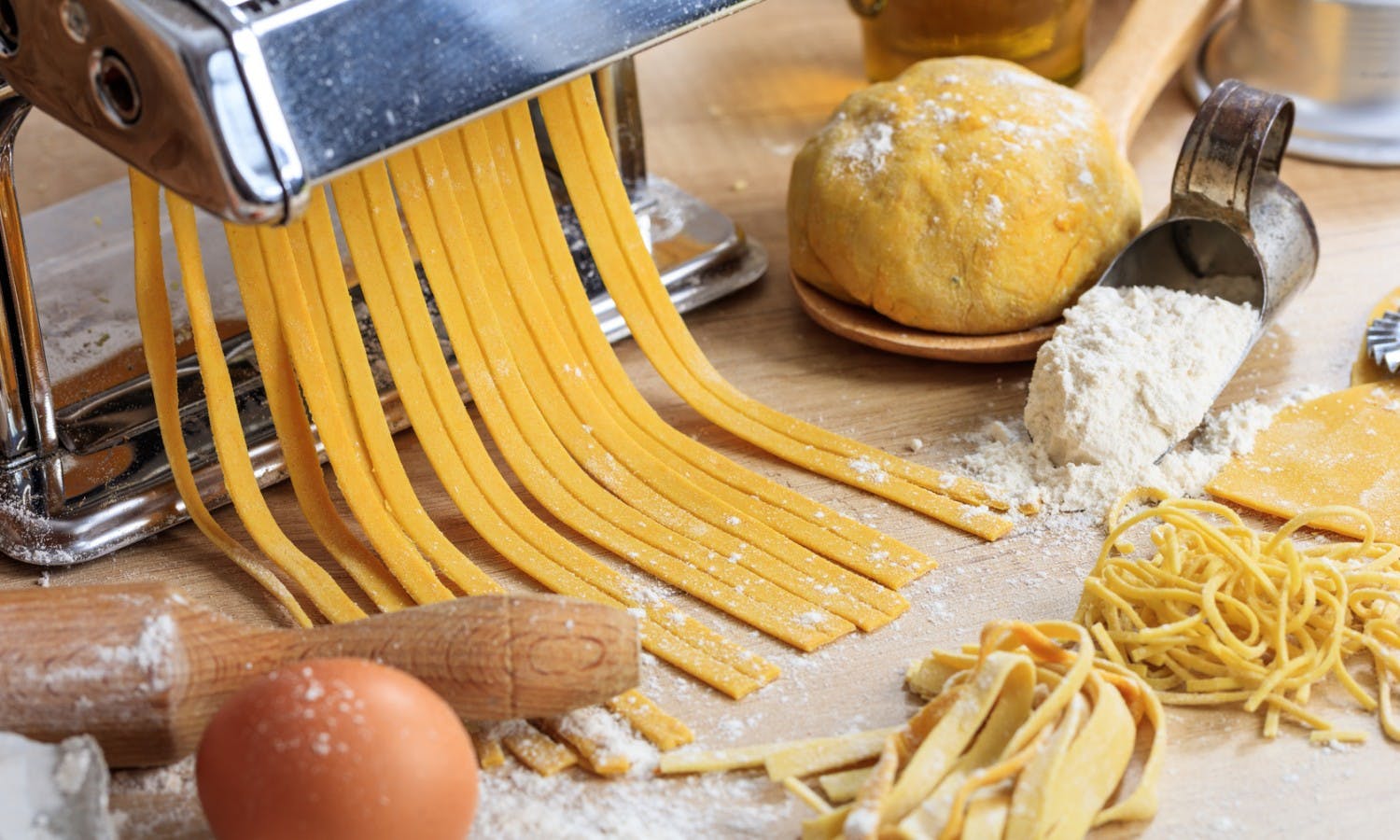 Pasta is a beautiful thing.
Dal Moro
If you're staying close to the start line and want an early night the evening before race day, head to Dal Moro, known for its fresh pasta to go served in Chinese-food style boxes. Everything is made to order and you get to choose from an array of homemade pastas and sauces. Don't let the Alfredo sauce scare you, there are other genuinely Italian options like cacio e pepe, pesto and carbonara. There's no area to sit down so you can eat as you stroll or look for a bench.
Monday – Saturday: 12pm – 8.30pm
Closed Sunday
Calle de l'Angelo, 5324
Website
Osteria al Mascaron
This osteria in the Castello neighborhood is certainly not lacking in charm. Many of their pastas are double portions to share and among them, you'll find preparations showcasing the bounty of the Venetian lagoon like spaghetti with shellfish or spider crab. For the non-fish-eaters, there's usually an option with a meat Ragu sauce thrown in for good measure. They also serve typical Venetian staples like baccalà mantecato and sarde e saor (sweet and sour sardines) with polenta.  Friendly staff and a cozy convivial vibe add to the experience.
Castello, 5225
+39 041 522 5995
Monday – Saturday: 12.00pm – 3.00pm; 7.00pm – 11.00pm
Closed Sunday
Website
Osteria Bentigodi da Andrea
Domenico Iacuzio hails from Calabria and at Osteria Bentigodi da Andrea he's cooking up some traditional Venetian fare with touches of his hometown and its southern Italy surroundings. Enjoy spaghetti many ways: frutti di mare; lobster; tuna and tomatoes or in a Parmesan bowl with herbs. As some unexpected flavors emerge on your taste buds, you'll realize this is not your typical Venice osteria.
Calesele, 1423
+ 39 : 041 822 3714
Wednesday – Monday: 9.00am – 12.00am
Website