Perched in the hills north of Verona, Zýmē produces some of the finest wines in Italy's Valpolicella region.
"My uncle always says that when we are not clean outside, we are not clean inside," said the charming Marco Quintarelli. We were overlooking the pristine cellar at Zýmē, an innovative winery founded by Marco's uncle Celestino Gaspari.
Whether it's our homes, workplace or any and every personal or professional relationship in our lives, this insightful adage can apply to pretty much anything under the sun. In this particular instance,  Marco was referring to Zýmē's  wine-aging cellar. Sprawled below us was a spotless floor topped with long symmetrical tidy rows of botti–large oak barrels for wine aging. The vast pristine cellar–along with every other room at the winery–was neatly arranged and sparkling clean, radiating good vibes.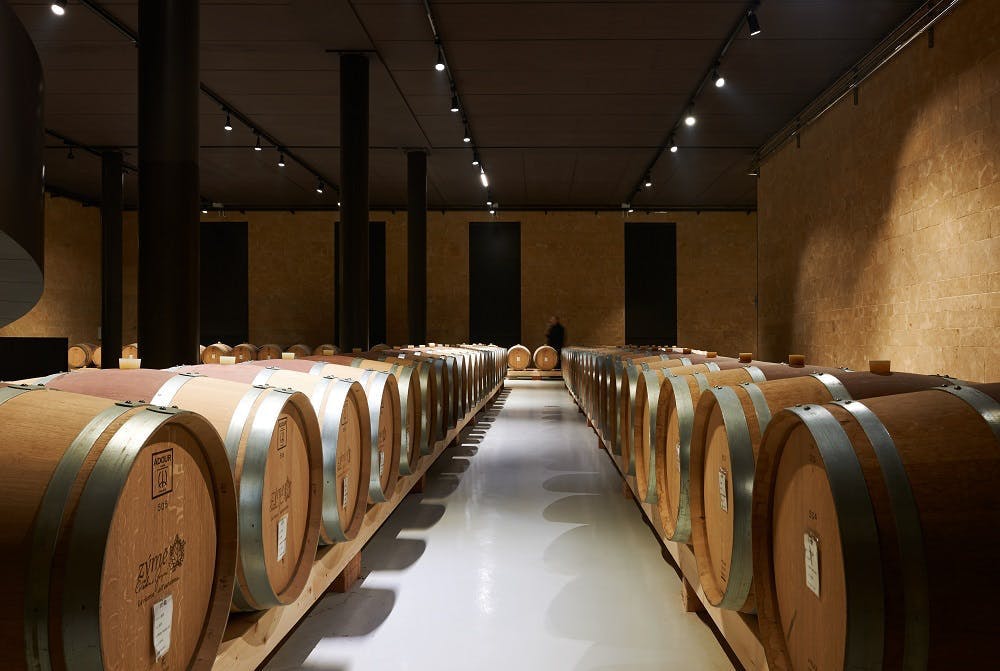 The pristine cellars of Zýmē winery
Marco is pretty much genetically wired for the wine business. His grandfather, winemaking legend Giuseppe Quintarelli, was a pioneer who spearheaded the transformation of Valpolicella wines. His deliberate, quality-over-quantity mentality elevated the region's wines from seemingly mass-produced, one-dimensional reds to distinct celebrated blends of genius. Many of the savviest wine connoisseurs considered Quintarellis Amarone to be the best around.
Located in the hills north of Verona, Valpolicella is the second most important Italian red wine after Chianti. Made from the Corvina, Rondinella and Molinara grapes, the region's main wines are Valpolicella DOC, Valpolicella Classico DOC, Amarone della Valpolicella DOCG and Recioto della Valpolicella DOCG. In general, the Valpolicella terroir is characterized by limestone and granite. The reds tend to be fruity with some herbs and traces of black pepper, and Zýmē's are all outstanding.
Gaspari founded Zýmē in 1999 and named the winery for the Greek word for yeast–an integral part of the winemaking process. Spanning 30 hectares, Zýmē produces 100,000 bottles annually of 11 different wines. The three whites and eight reds are made from sustainable wine production methods.  Redesigned by Padova-based designer Moreno Zurlo over a five-year period, the winery's distinct aesthetic depicts the synthesis between nature and man.
Partially exposed limestone walls are juxtaposed against the sleek contemporary interiors.  From the wine storage shelves to the shape of the cantina itself, pentagons factor into the design.  There's a reason for this…a pentagon is outlined on Zýmē's's five-sided grape leaf logo to symbolize the five components that make wine: Water, terroir, grapes, sun and men/women. The cantina is built atop a former sandstone quarry that dates back to the fifteenth century and includes parts of the original sandstone wall. On the lower level, a subterranean Karst cavern collects both rain and natural water, soothing background music from Mother Nature herself.
Marco thoroughly explained all the gadgets and odds and ends that go into Zýmē's intricate winemaking process as we strolled through the winery From partially exposed limestone walls to the aforementioned aging room to the actual winemaking room, everything about the winery's layout was exquisite and purposeful.
Then, it was on to the tasting…
Valpolicella: (Corvina, Rondinella and Molinara)
Valpolicella Reverie: Loved this! It's an excellent sipping wine with cherry, raspberry and strawberry flavors coupled with some black pepper and a slight herbal touch.  I imagined myself sipping this slightly chilled on a hot summer evening.
Valpolicella Classico Superiore:  A little bit of oseletta is added to the three standard Valpolicella grapes. The cherry and black pepper notes were much more pronounced than the Reverie, and it had a longer finish and packed just a bit more punch.
Amarone Classico della Valpolicella  Made from partially dry grapes, the Amarone Classico has traces of preserved fruit as well as black pepper and chocolate notes. It's only made the years the grapes are optimal! It's pure loveliness.
The White
From Black to White: (IGP Bianco Veneto made from 60% Rondinella Bianca, 15% Gold Traminer, 15% Kerner, and10% Incrocio Manzoni) This reminded me a bit of Gewurztraminer….I don't love Gewurztraminer, yet I enjoyed this refreshing white immensely. It tasted of melons, roses and white peach with a touch of mineral. Fun fact: It's sealed with a glass cork!
Other reds: 
602020 Cabernet This IGP Veneto Rosso was a rich beauty made from 60% cabernet sauvignon, 20% cabernet franc and 20% merlot. As one could expect from a cabernet, the full-bodied wine had lovely notes of red fruit and herbs as well as lots of tannins.
Oseletta Made completely from the eponymous grape, this tannic red tasted of fruit and herbs, and was balanced with some pronounced acidity.
Experimental Wines (IGP Veneto Rosso):
Kairos: Made from 15 grape varieties–four white and 11 red,–Kairos means "opportune, at the right moment"  in Ancient Greek. Marco compared the taste of Kairos to "a fish you can't catch." This complex wine had much happening in the best possible way, from spices like cinnamon and nutmeg to fruit flavors to earthiness and more, evolving with each and every sip!
Harlequin: Like Kairos, the Harlequin is an experimental wine made from 15 grapes. The maturation process involves 30 months in barriques, French oak barrels, and two years in the bottle. Believe it or not, this wine is even more complex than the Kairos, containing many of the same flavors and aromas, but even more pronounced. It was the wine that kept on giving and it was simply glorious, and praise from many of the world's top critics–including James Suckling–are a testament to this.
Book your visit to Zýmē for a tour and Valpolicella wine tasting here.