In honor of Marzipan Day, Musement takes you around the world to discover some of the most ancient and particular traditions of this celebrated confection.
Marzipan is a preparation of sugar or honey mixed with ground almonds that results in a delicious soft loaf that practically melts in your mouth. It's both super sweet while having the typical pungent almond aftertaste. All around the world many traditions and different uses are associated with the cake, which takes a plethora of fun shapes and sizes. It comprises desserts like German Stollen; is served on special occasions such as at Greek weddings or on the Day of the Dead in Spain, and can be covered with a chocolate fondant.
So here are five traditions associated with marzipan.
1) The Fruit of Martorana, Sicily
When we think of Sicily, our mind immediately turns to the bright colors of its luxuriant nature, kissed by the sun and the wind: juicy yellow lemons, scented oranges, silvery fish and carts full of food and fresh vegetables in the streets of Palermo. Sicily is also famous for its production of delicious confectionery, which is characterized by intense, enveloping flavors and a pageantry of shapes and colors. The Martorana Fruit embodies all of these characteristics: This marzipan cake represents fruits and vegetables typical of Sicily's terroir, and it is as colorful and inviting as all Sicilian pastries. It is said that these sweets were born in the monastery of Martorana where the nuns made the marzipan fruits after eating the fruits grown on their garden trees, in order to impress the Pope who was visiting the monastery.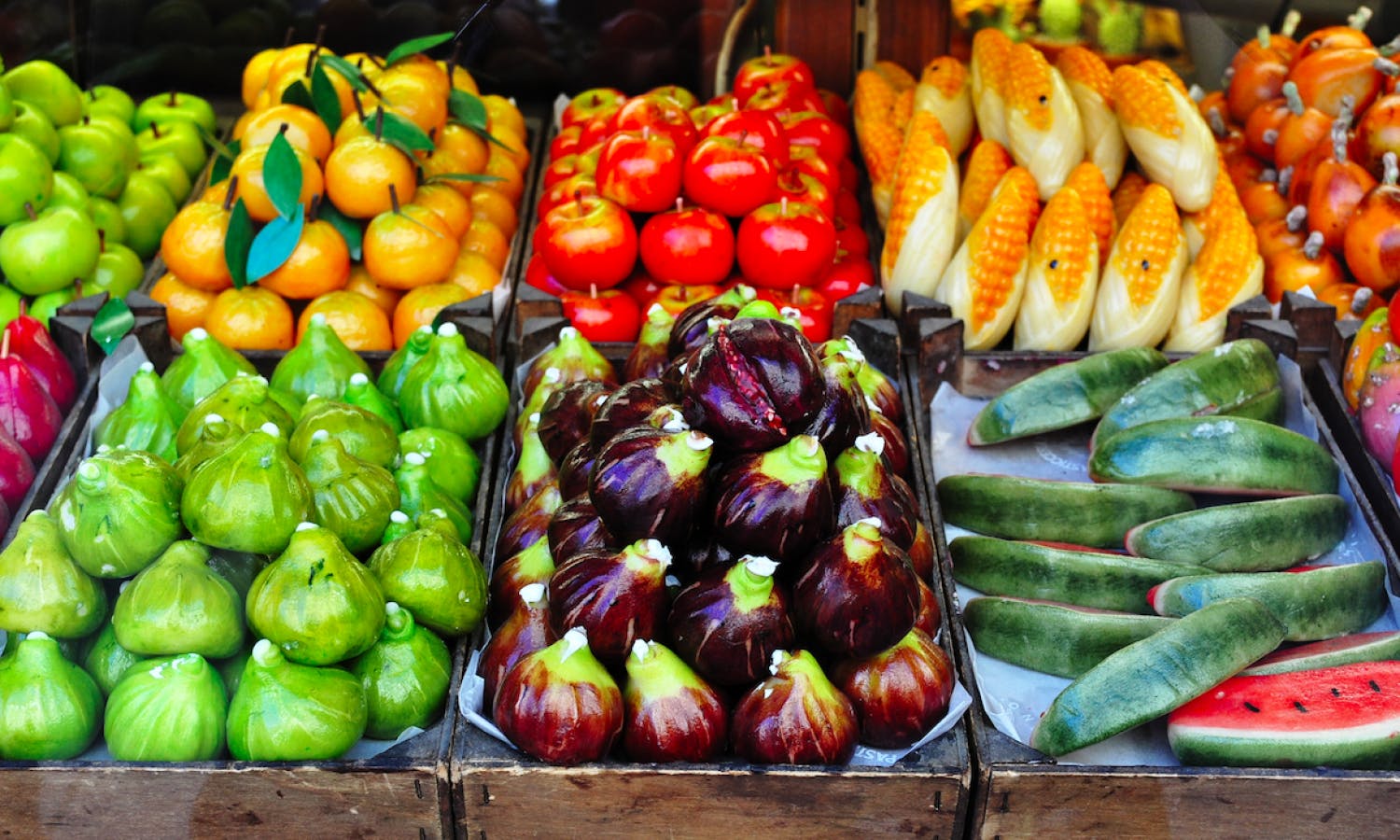 The delicious and colorful Fruit of Martorana, made of marzipan
2) The Mozartkugel, the Mozart balls
This cake was created in 1890 in Salzburg at the hands of the confectioner Paul Fürst who wanted to honor composer Wolfgang Amadeus Mozart a century after his death. These delicious bonbons are still sold in the same shop and are prepared with the traditional recipe: A spherical center of pistachio marzipan covered with hazelnut cream, in turn, covered by a layer of dark chocolate. We are certain that such a delight would have inspired Mozart himself to compose even more sublime works!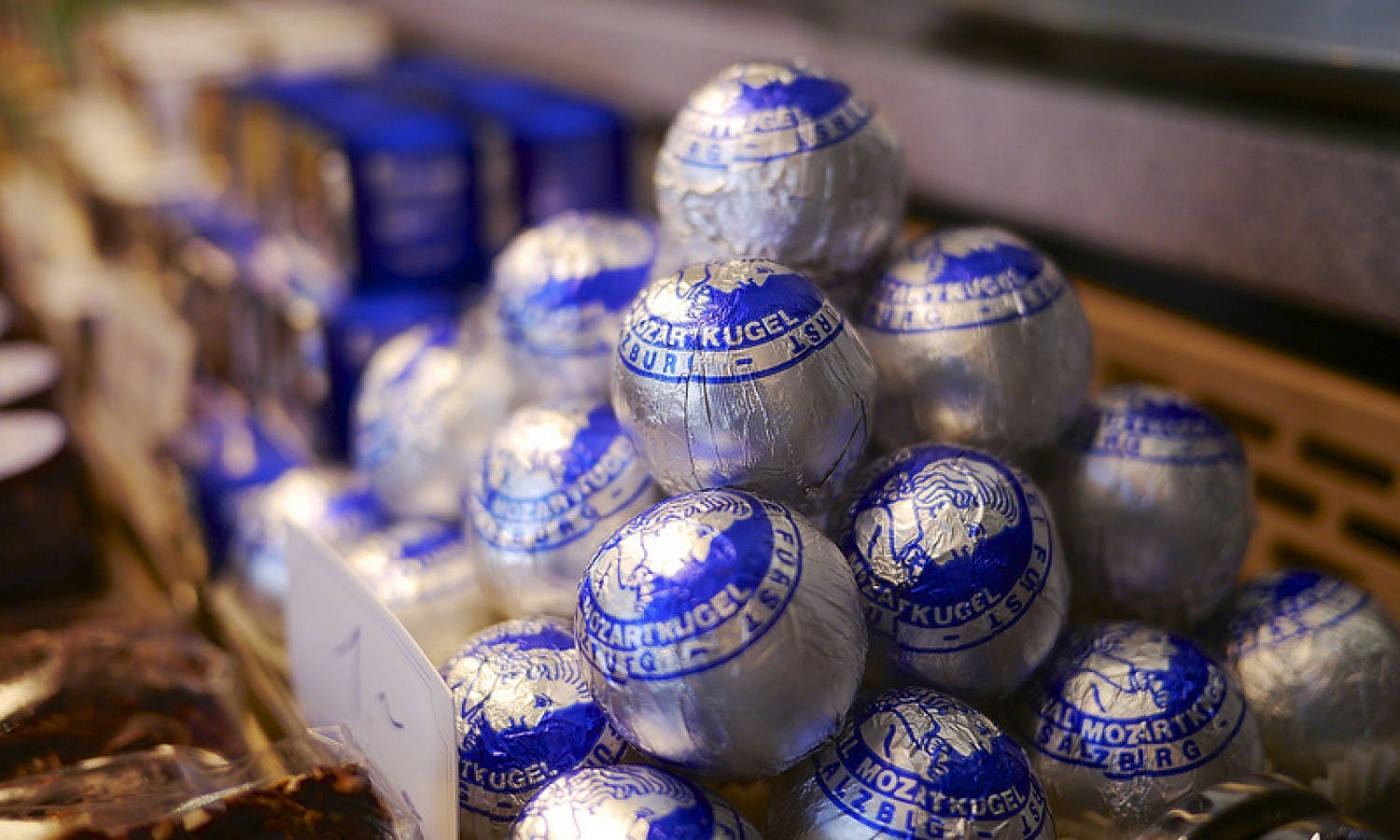 The Mozartkugel with its distinct blue and silver foil wrapping. Photo credit: Janitors via Visualhunt / CC BY
The Marzipan of Toledo
Toledo marzipan production tradition is attributed to the nuns of San Clemente Convent. After a devastating famine, the nuns prepared a dough with the only ingredients that were left in their pantry: almonds and sugar. Marzipan of Toledo is made with only three almond varieties: Marcona, largeta and planeta, and it is used to manufacture various pastries, stuffed with pumpkin jam or chocolate, Christmas cakes or saint bones for Day of the Dead.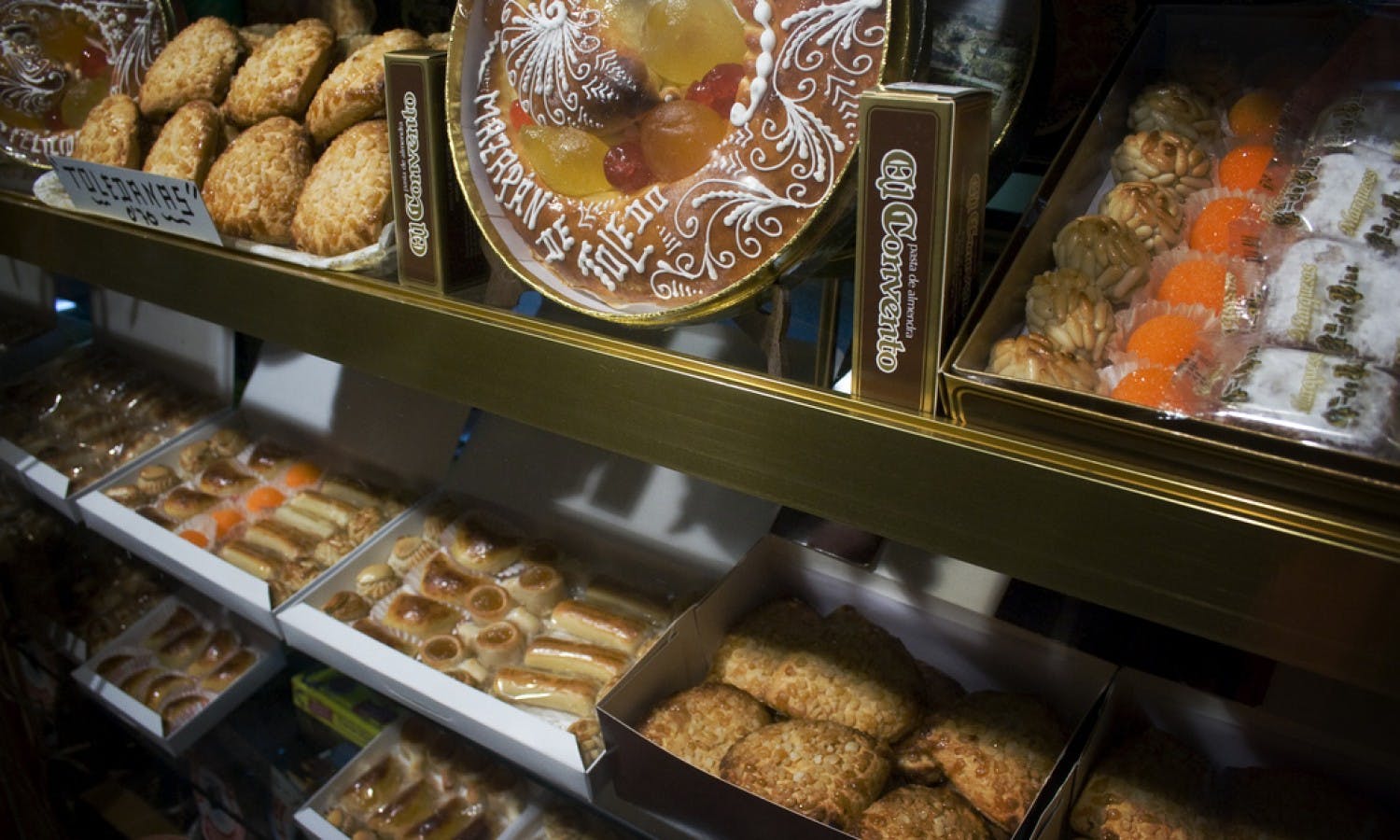 A typical marzipan shop in Toledo, photo: weldonwk via Visual hunt / CC BY
The Persians Tut for the Norouz holidays
In exotic Persia, marzipan takes fascinating shapes and amazing flavors. The typical sweets of this land are called Tut, which means "mulberry" in Farsi and, they are, in fact, mulberry shaped. These small cakes are made with cardamom- or rose-water-flavored marzipan and then stuffed with pistachios. These sweet delicacies are prepared to celebrate Norouz, the Middle Eastern New Year, which falls on the day of the vernal equinox.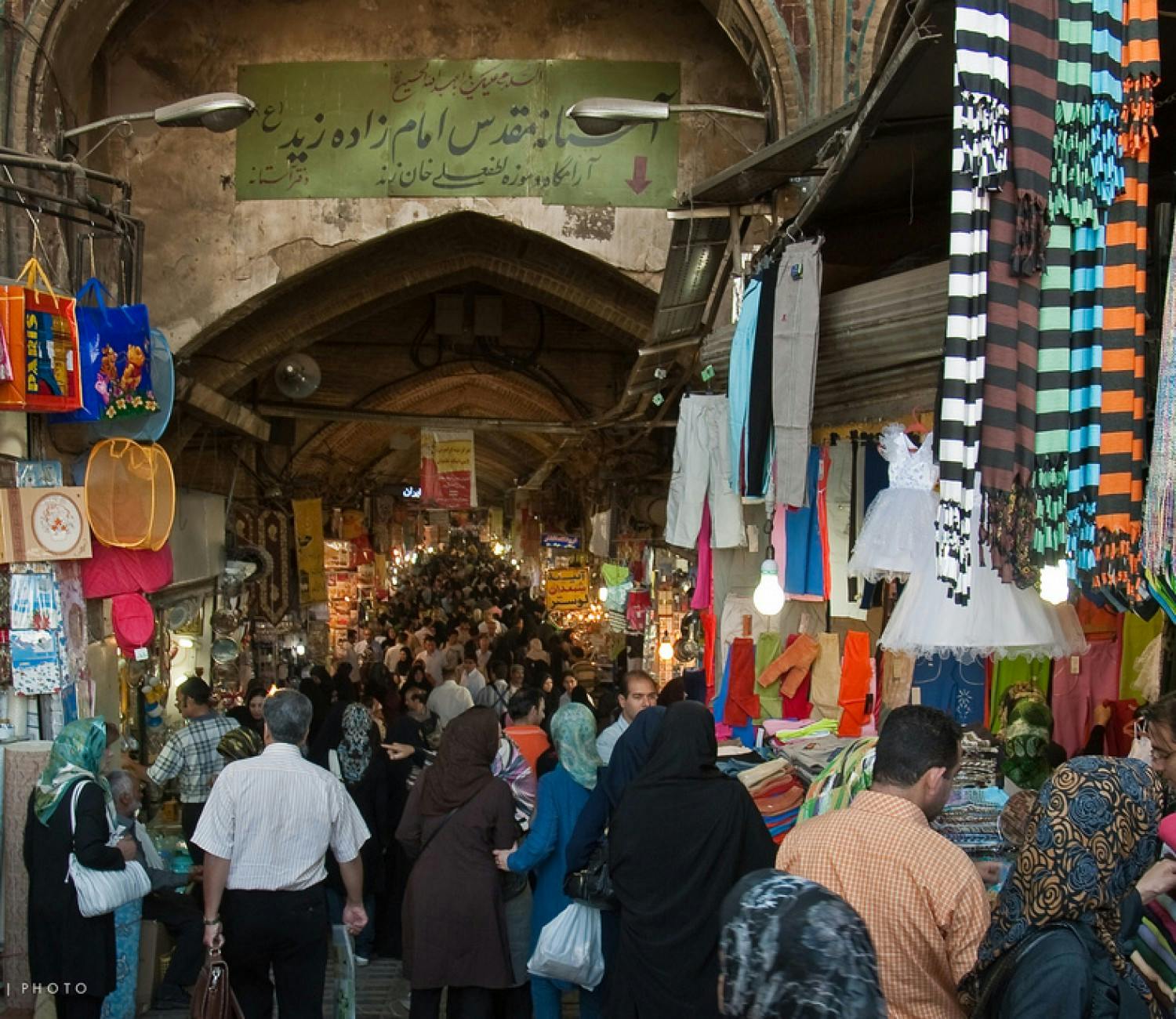 The entrance to the Bazaar of Tehran, Iran; photo: juliamaudlin via Visual hunt / CC BY
Marzipan in Estonia
The shops in Estonia tell stories of traditions, craftsmanship and… marzipan! Marzipan is indeed one of the most popular local products that were invented by a pharmacy student in Tallin, where you'll find the Kalev Marzipan Museum Room. In addition to the marzipan, you can admire the gingerbread cookie assortment and also have the pleasure of tasting some.

Tallin, Estonia. Photo credit: archer10 (Dennis) 86M Views via VisualHunt.com / CC BY-SA