When in Argentina, head northwest from Salta into the Andes' ancient Altiplano plateau that reaches into Peru, Bolivia and Chile to discover breath-taking, unexpected scenery ranging from colorful valleys to desolate salt flats.
Argentina is a vast country that offers something for everyone: urban centers like Cordoba and Buenos Aires; tropical natural wonders like Iguazu Falls; the otherworldly vistas and glaciers of Patagonia; verdant winelands of Mendoza; beaches on Mar de la Plata and vast desert expanses. If you head northwest towards the Chilean and Bolivian borders, you will find the Salta Province, a microcosmic reflection of Argentina's varied beauty complete with wineries in Cafayate, Salt Flats similar to those found in Bolivia, rocky red desert like the Atacama in Chile, pre-Christian ruins that attest to Peru's pre-Inca past, and colonial constructions akin to Uruguay's Colonia, among others.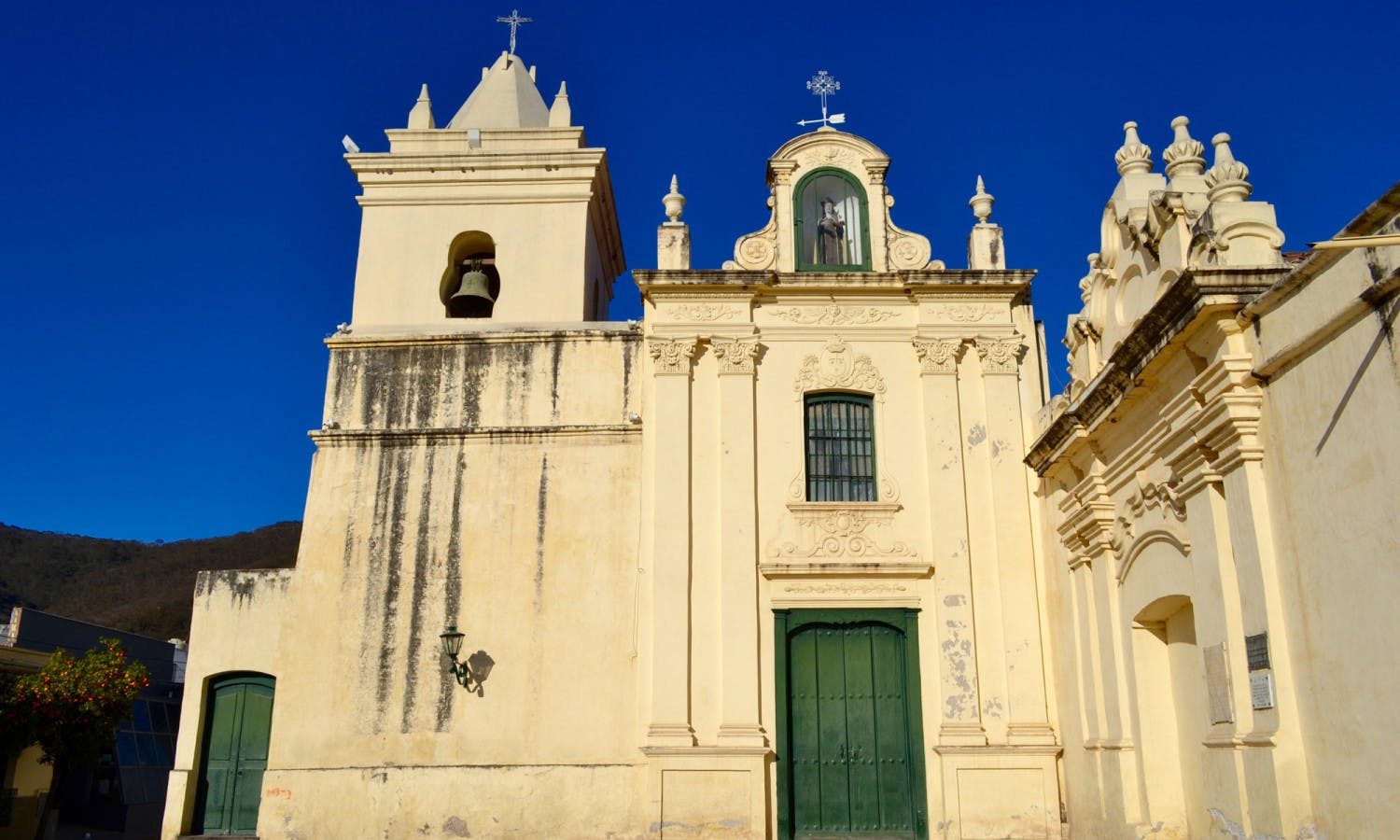 The town of Salta in Argentina, photo by Federico Bellani
The best time to visit Salta is during the Austral Winter when the weather is sunny and dry, but not stifling hot, which—as I did my Argentina research—catapulted the Salta Province all the way to the top of my bucket list. The best way to visit the area is to choose Salta as a base (it has an airport) and then explore what the region has to offer. We set aside five days, three of which were taken up by a two-night tour around Tolar Grande, and then another one-and-a-half-day trip to the Quebrada de Purmamarca and Salinas Grandes. Here's a tried and tested itinerary for a comprehensive yet lightning fast visit to the Salta Province.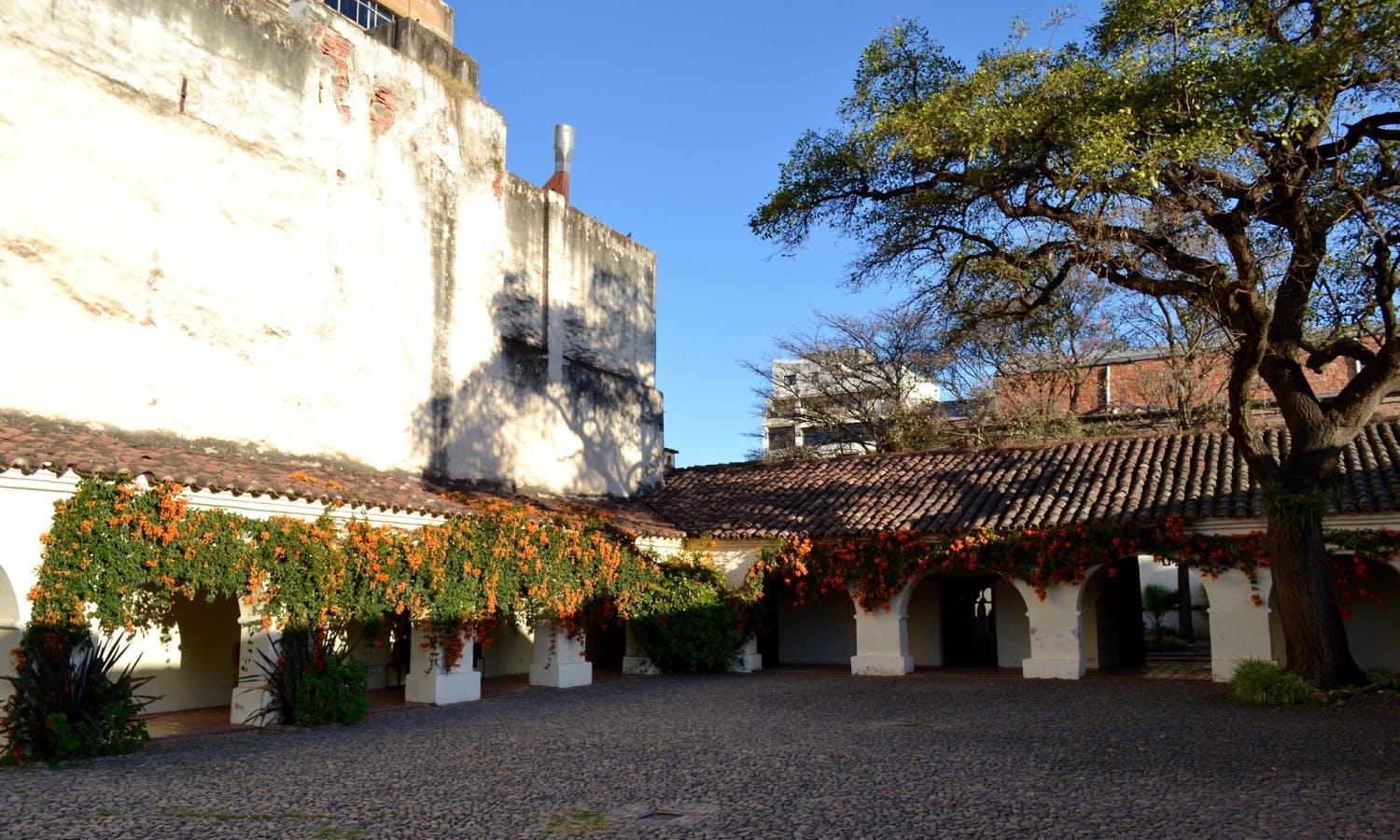 Eighteenth-century cabildo in Salta, photo by Federico Bellani
Salta la Linda With its airport only 15 minutes from the center (essential for visitors to Argentina who are short on time), Salta is scattered with boutique hotels, making it the perfect base for exploring the region. Nicknamed Salta la Linda (Salta the beautiful), the city was founded in 1582 and provides discerning tourists with a wide array of attractions that combine culture, nature and design. Here, you can set out to visit the quebradas (ravines) or just enjoy a welcome respite from a multi-day adventure tour. The central square features the grand cathedral and is characterized by charming colonial architecture, including a stunning eighteenth-century cabildo with a verdant garden in the center framed by orange trees. Chock-a-block with bars and cafes, the plaza comes alive at dusk as locals take a stroll and sip wines in the cafes. Multi-colored, two-story colonial houses radiate from the square, gleaming in the sunlight. Salta is situated in the Lerma Valley, 1,152 meters above sea level, at the foothills of the Andes Mountains, and blue skies and dry air make for picture perfect scenery as you sightsee. But nothing can prepare you for what lies outside the city.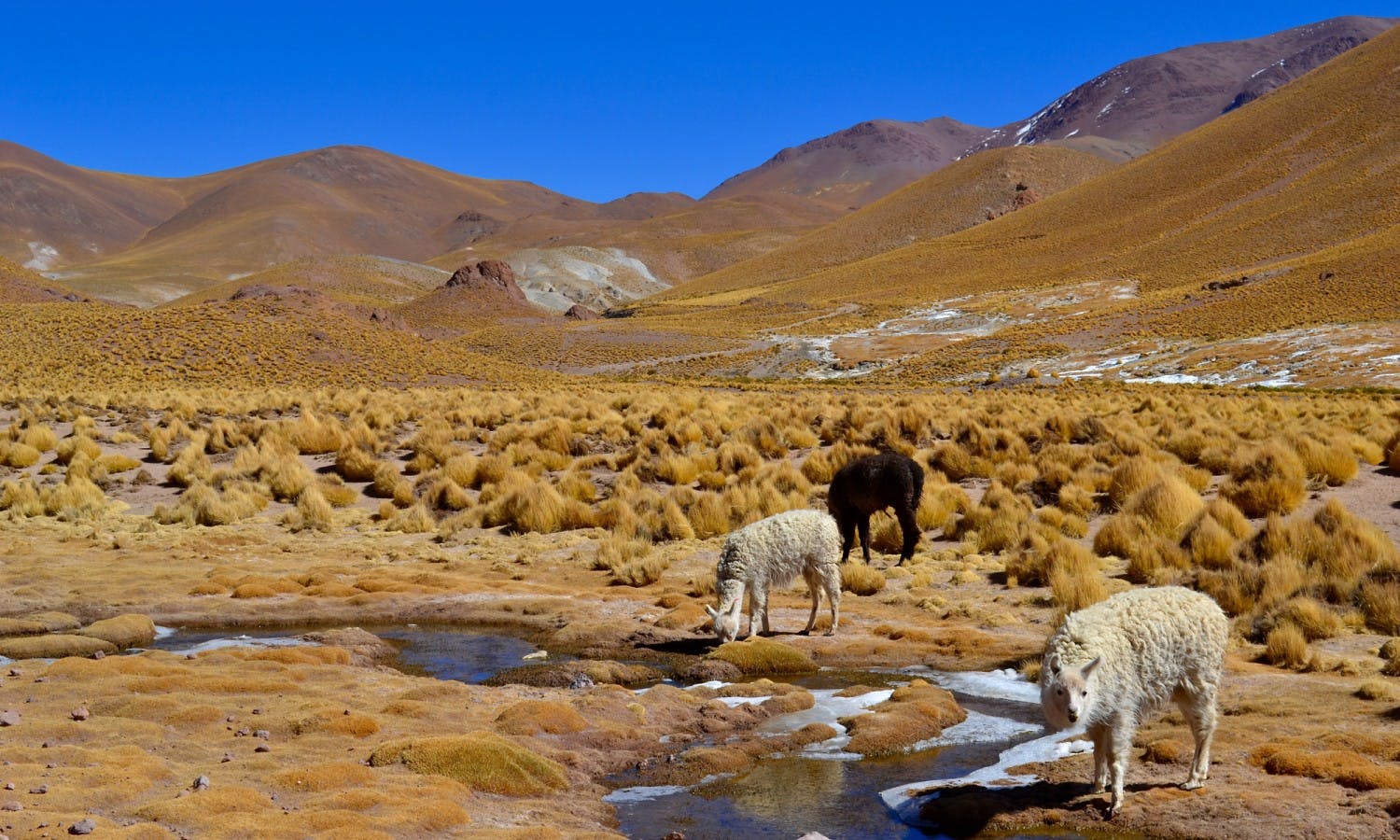 Puna, Argentina; photo by Federico Bellani
Altiplano, Puna and Tolar Grande Though a long way away from the comfort of Salta, if you're in this part of the world, you shouldn't pass on visiting the small village of Tolar Grande and exploring the Altiplano, Puna de Atacama and salars (salt flats) along the way. If heading to Tolar Grande (the base for a three-day, two-night trip into the Andes from Salta), it's best to entrust yourselves to a professional tour guide as the territory is complicated and potentially dangerous. An entire day's drive from Salta, the 4,630-meter-high Abra de Gallo, feels like another world. Cacti-filled, llama-studded gray mountains give way to the Puna de Atacama, part of the Altiplano which occupies parts of northern Chile and Argentina, western Bolivia and southern Peru with an average height of 3,750 meters. Tufts of green and yellow grass sway eerily in the chilly wind. In fact, the only things that move at this altitude (besides your 4×4) are the wind, small herds of wild vicuña in the distance and the horizon. As the hours pass, the sun shines on the ancient mountains, lending them new life in color and shades, all against the brightest blue sky I have ever seen. Listing all the natural wonders encountered on the ten-hour drive is practically impossible, but the changing landscape from the Puna to Los Colorados (a rocky red mountain range which is crossed by a road that ascends making 7 bends, or 7 curvas), the Desierto del Diablo with its blood-red tinge and the equally spectacular Salar del Diablo make for an unforgettable journey.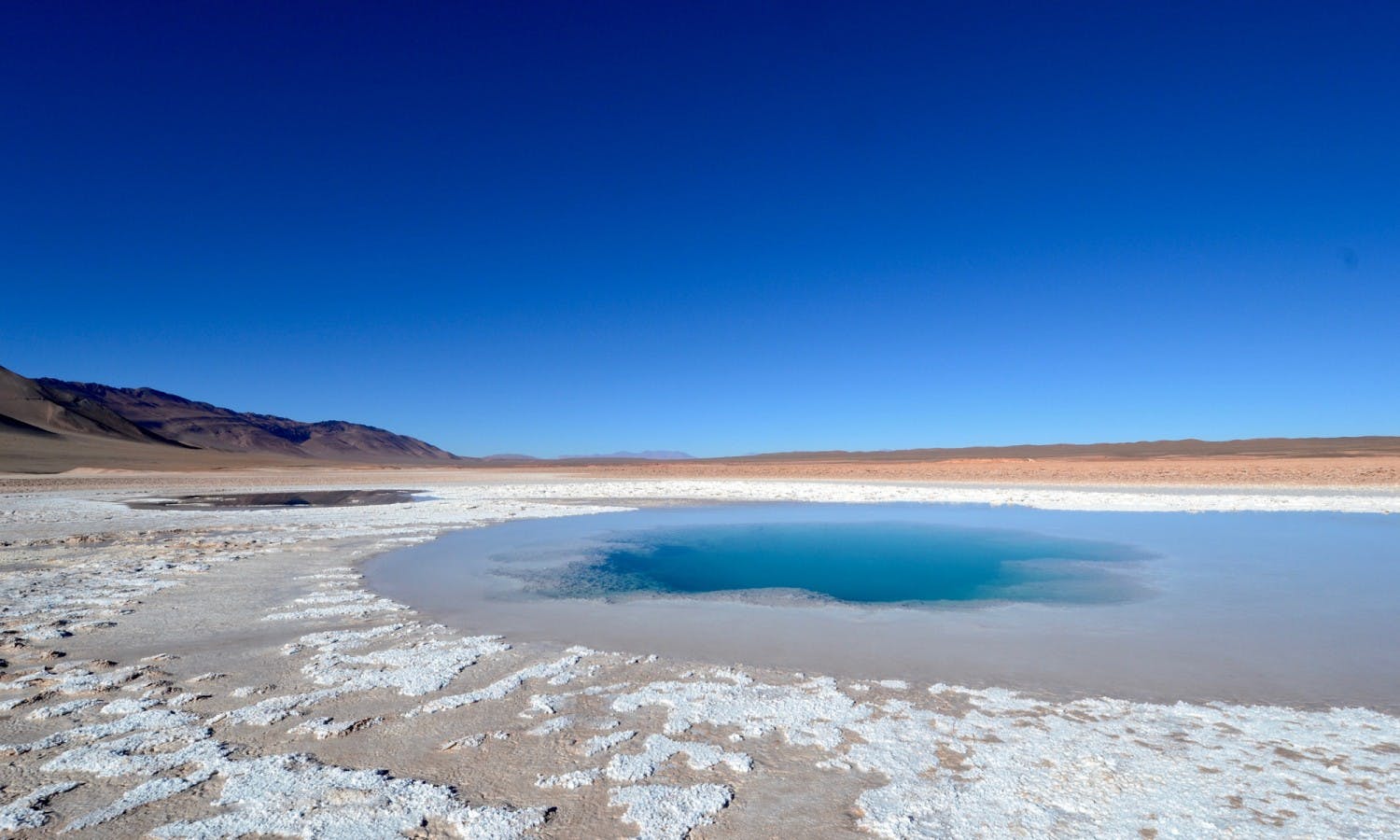 Ojas del Mar, Argentina; photo by Federico Bellani
After spending the night in Tolar Grande, the next day offers more unusual sightseeing where you move from a Martian landscape to a lunar one, so to speak. The day begins with a trip to the Ojos del Mar, six small saltwater lakes located in a white salt flat area just outside the village. In addition to creating a distinct spectacle, the lagoons are also home to stromatolites, calcareous mounds made of lime-secreting cyanobacteria and trapped sediment layers reputed as the earliest known fossils. From here you head to the Salar de Arizaro (the world's sixth largest salt flat) where you can admire the Cono de Arita, a spooky cone-like volcano that rises in the middle of the salt flat, as magnificent as it is unexpected.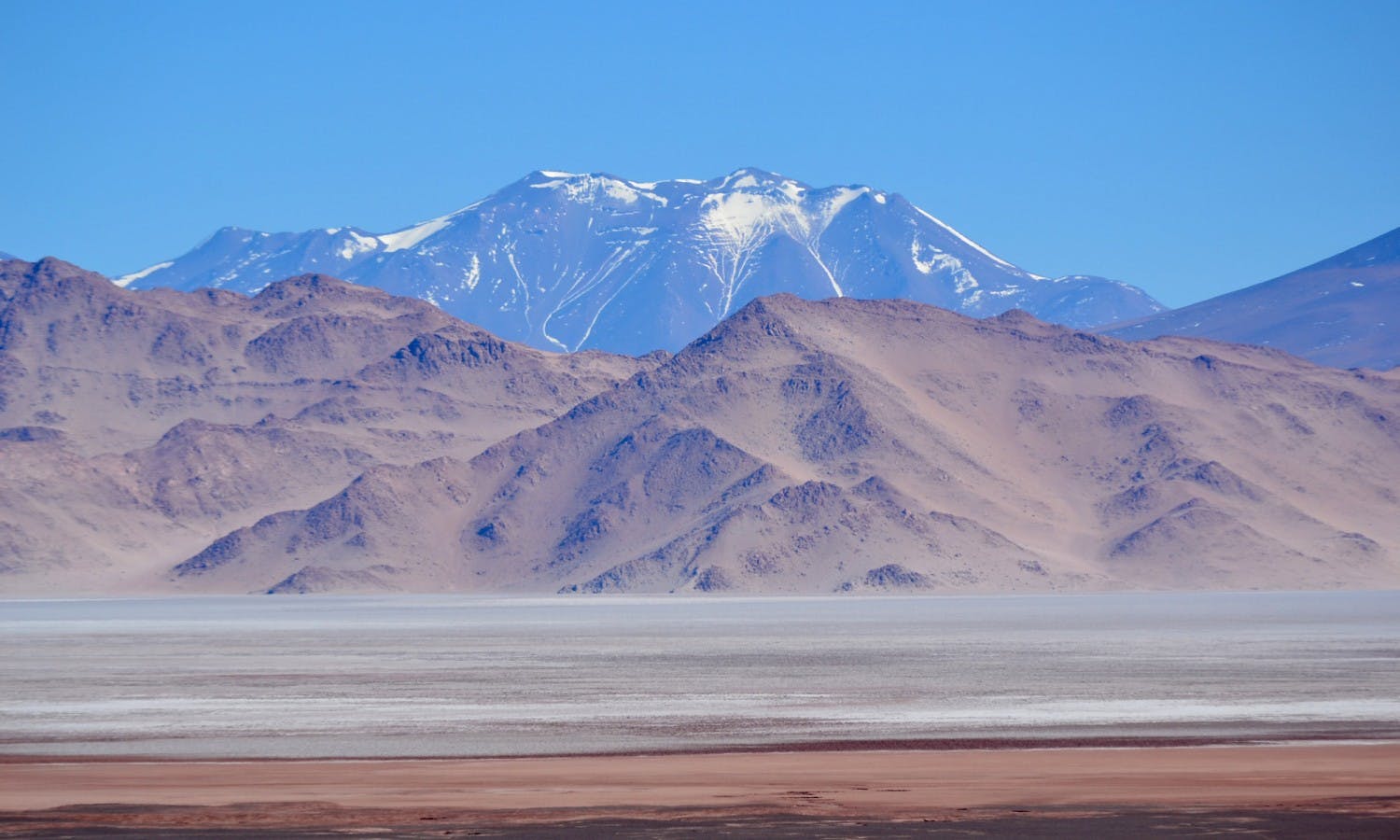 Vulcano Lullaillaco; photo by Federico Bellani
On the way from Salta to Tolar Grande you will drive through the Quebrada del Toro into San Antonio de los Cobres, an ugly, dusty village for which a stop is almost obligatory, and not just because it truly is the gateway to the Puna. The Tren a las Nubes (Train to the Clouds), now a train service that connects northwest Argentina with the Chilean border in the Andes mountain range at over 4,220 meters above sea level, is the fifth highest railway in the world. Originally built for economic and social reasons, it was the main trade line between Argentina and Chile. If you don't have much time to dedicate to the area, then choose a tour which includes the train ride out from Salta to San Antonio and then a return by bus, passing by the Salinas Grandes.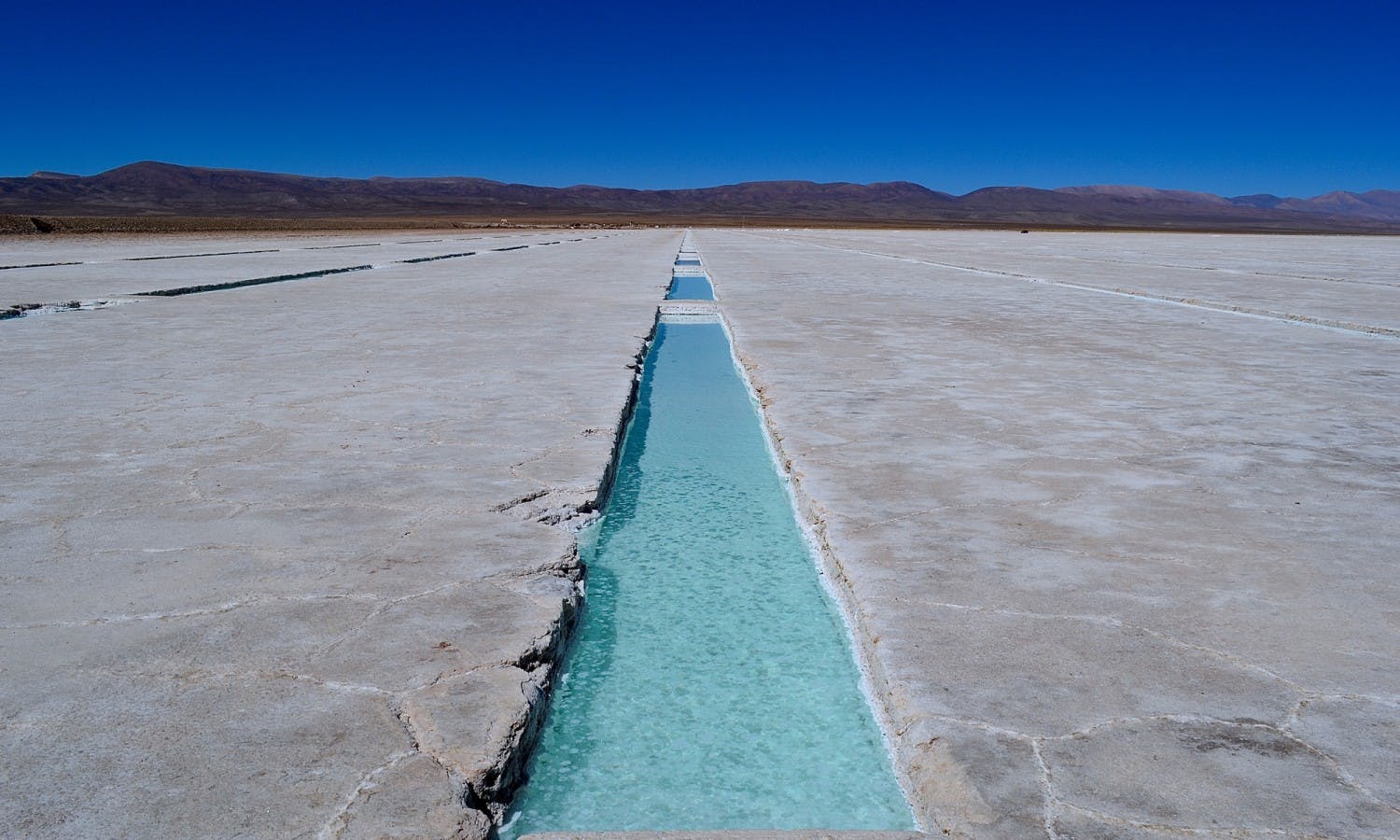 Salinas Grandes, Argentina; photo by Federico Bellani
Venturing into Jujuy: Salinas Grandes, Purmamarca With a private tour, you can head from San Antonio de los Cobres (upon returning from Tolar Grande) directly to Salinas Grandes and then Purmamarca into the region of Jujuy. Though this was our original plan, we had unexpected car trouble and ended up returning to Salta and then set out directly to Jujuy the next morning. Regardless of how you get there, the Salinas Grandes, at an average altitude of 3450 meters above sea level and covering an area of 212 km2 are desolately beautiful. The flat white surface and the uninterrupted horizon provide countless opportunities for fun photographic effects and a memorable photo shoot. While definitely worth seeing the Salinas, it's the Quebrada de Purmamarca, part of the truly spectacular Quebrada de Humahuaca (a UNESCO World Heritage Site since 2003). The Cerro de los Siete Colores (Hill of the Seven Colors) surrounds the town of Purmamarca, making it a truly singular experience. While the town itself is very touristy with cafes, handicraft shops and some of the best empanadas we ate on the trip, it makes for a welcome break from the previous days' isolation, even though it lacked some authenticity.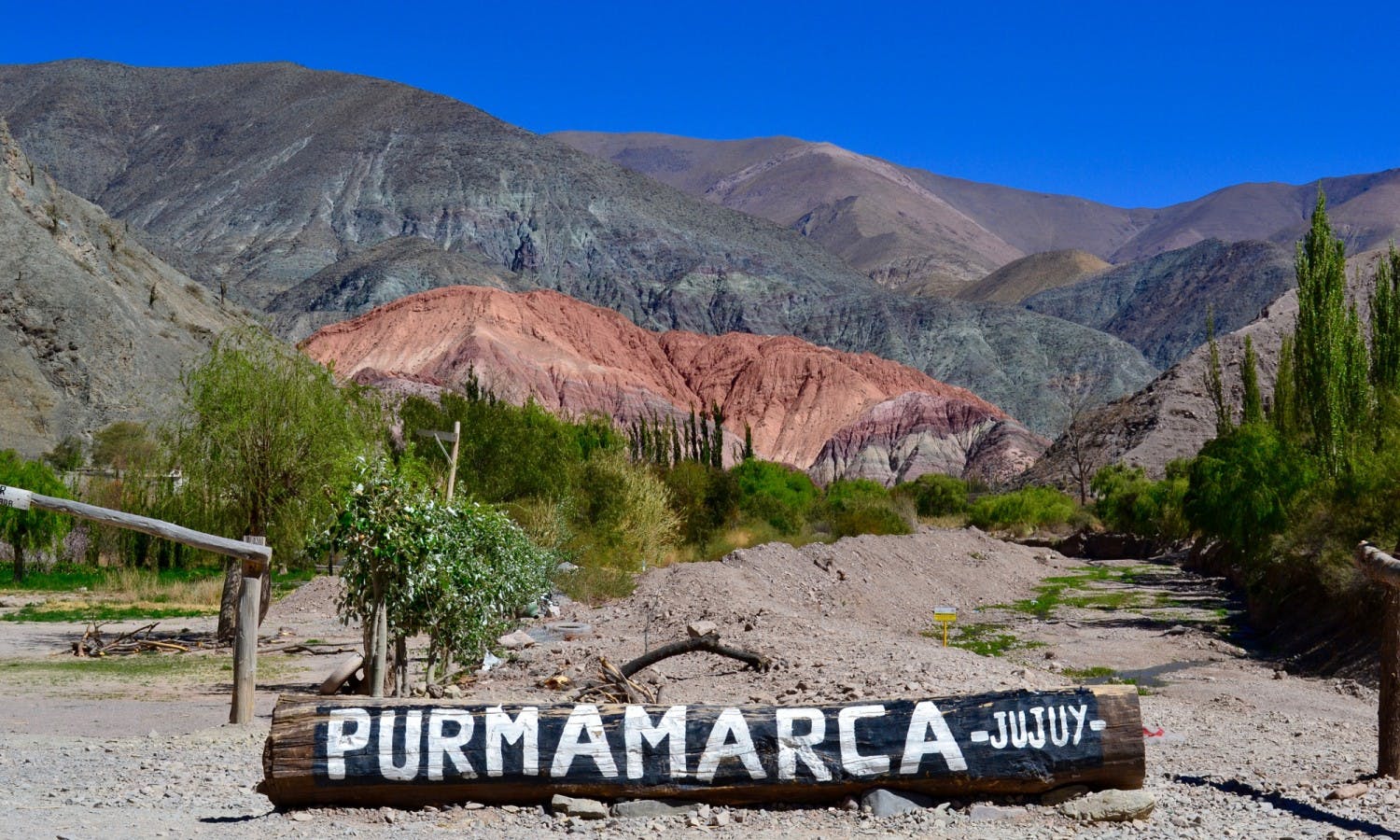 The Cerro de los Siete Colores (Hill of the Seven Colors); photo by Federico Bellani
Tips, addresses and delicacies While the real purpose of the trip is to venture into Puna and deserts, we all need a little bit of sustenance and entertainment. In Salta, you're spoiled for choice when it comes to lovely boutique hotels. Just outside the town the elegantly named (if I do say so myself) Finca Valentina is a paradigm of gaucho culture cum design, all seasoned with some good old Italian charm (the owners are Italian). In the town's center, the Balcon de la Plaza, literally a couple of steps from the main square, has pretty rooms decorated with just a hint of local handicrafts giving it a modern yet cozy feel.  The stunning Legado Mitico is a more luxurious option, but well worth splashing out on, especially for their master suite with a four poster bed, romantic terrace and palatial bathrooms (yes, it has two). Like most of Argentina, food in Salta is meat-centric and the portions are LARGE. While a parilla and empanadas (the ones hailing from Salta are oven cooked and not fried) are always safe options, it's definitely worth experimenting with Tamales, corn husks wrapped and tied up to look like sweets with a delicious corn-based dough filled with ground beef, potatoes, spices and salt and pepper. More difficult to source, yet delicious, is Locro, a stew from the Andean culinary tradition. While not vegetarian, it's a little lighter on the meat side than typical main dishes, though it is prepared with corn, beans, chorizo, pieces of beef and pork and other vegetables like onion or pepper.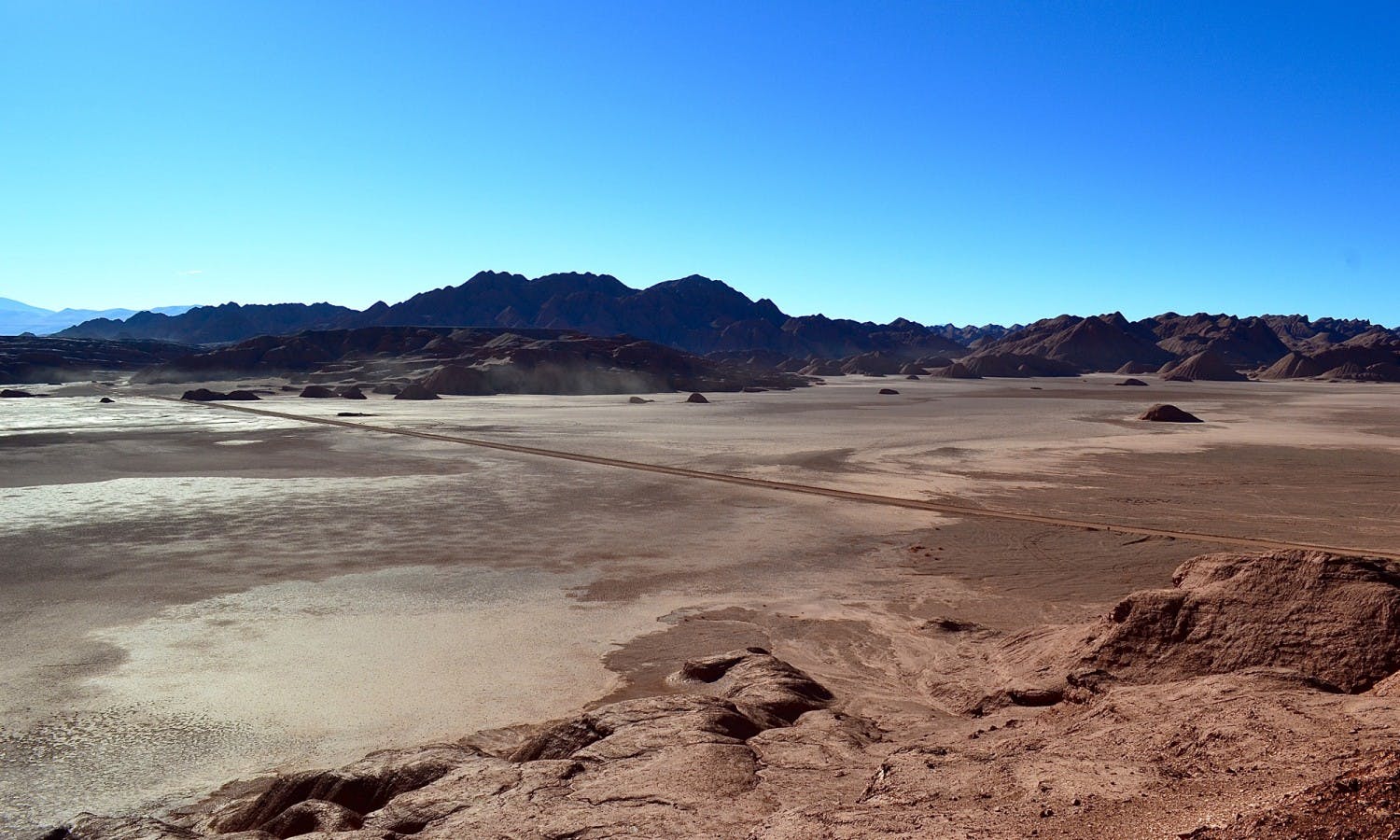 The Devil's Desert, Argentina; photo by Federico Bellani
Of course, there's plenty regional wine to drink, from Malbec to local grapes. Take note of the Torrontes grape, grown only in Salta, which produces a light, sweet white wine. Cider is also a local specialty. In Salta skip the Quilmes and try some local artisanal beers, especially the colorfully named "me echo la burra" (literally translated as "the donkey's kick").
For an evening of entertainment, make sure to head to one of Salta's many peñas, traditional folk music halls where locals bring guitars and take turns playing and singing as bystanders clap along and dance. Though touristy, head to the La Vieja Estacion or any other venue that takes your fancy on Balcarce, an entire road dedicated to nightlife. One piece of advice: the dancers tend to involve the audience, so if you're a bit of a wallflower, choose a table far from the stage.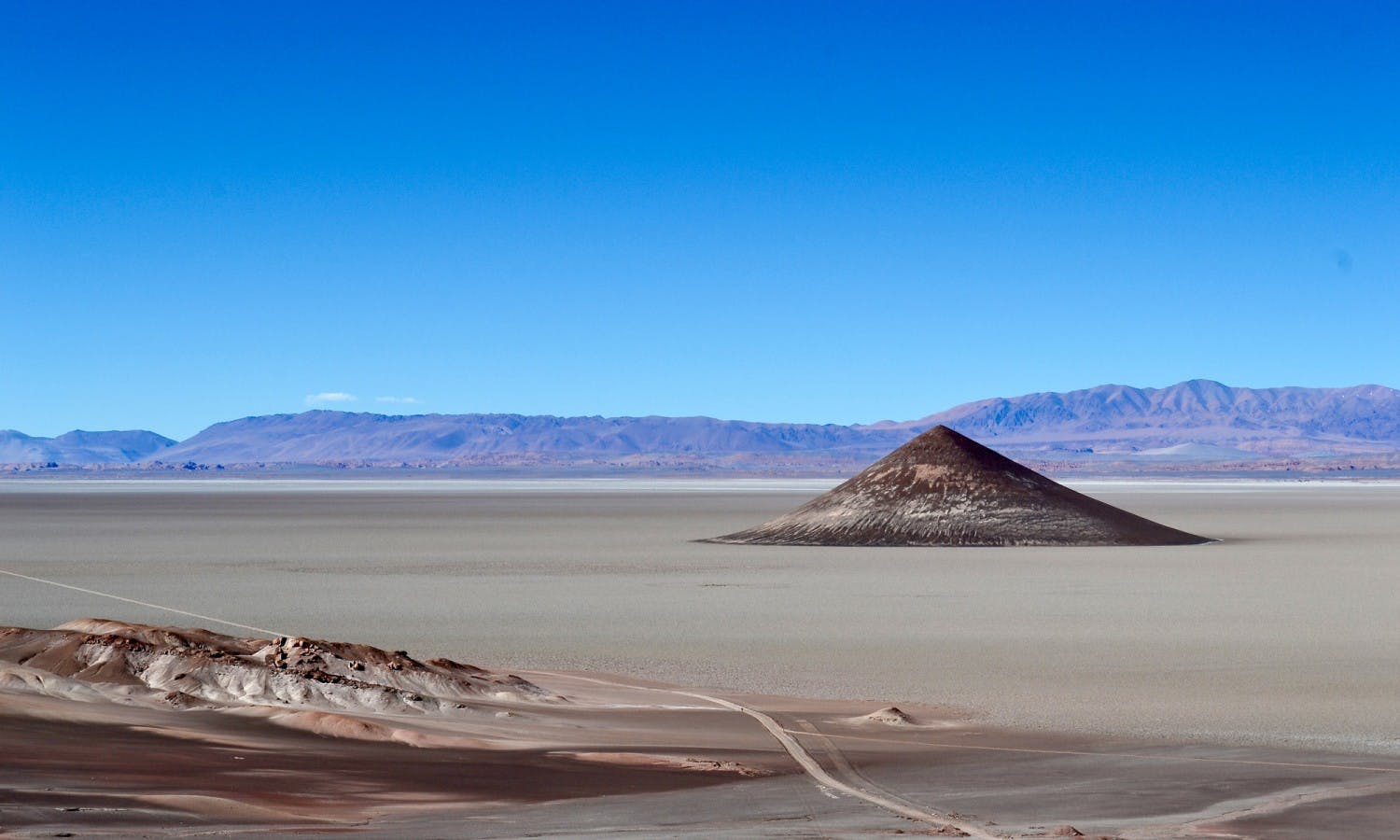 Cono de Arita, Argentina; photo by Federico Bellani