Whether you're holidaying, honeymooning, or hoping to get a few moments alone on a family vacation, here's how to see the romantic side of Venice.

Sunset in Venice
Forget those iconic images of couples meeting, making up or proposing marriage atop the Empire State Building or Eiffel Tower. Venice's monuments may not be featured as prominently in classic films, but this "floating city" is still undoubtedly one of the most romantic places in the world. Whether you're holidaying with that special someone, honeymooning, or just hoping to get a few moments alone on the family vacation, here's how to see the best sides of romantic Venice.
Gondola rides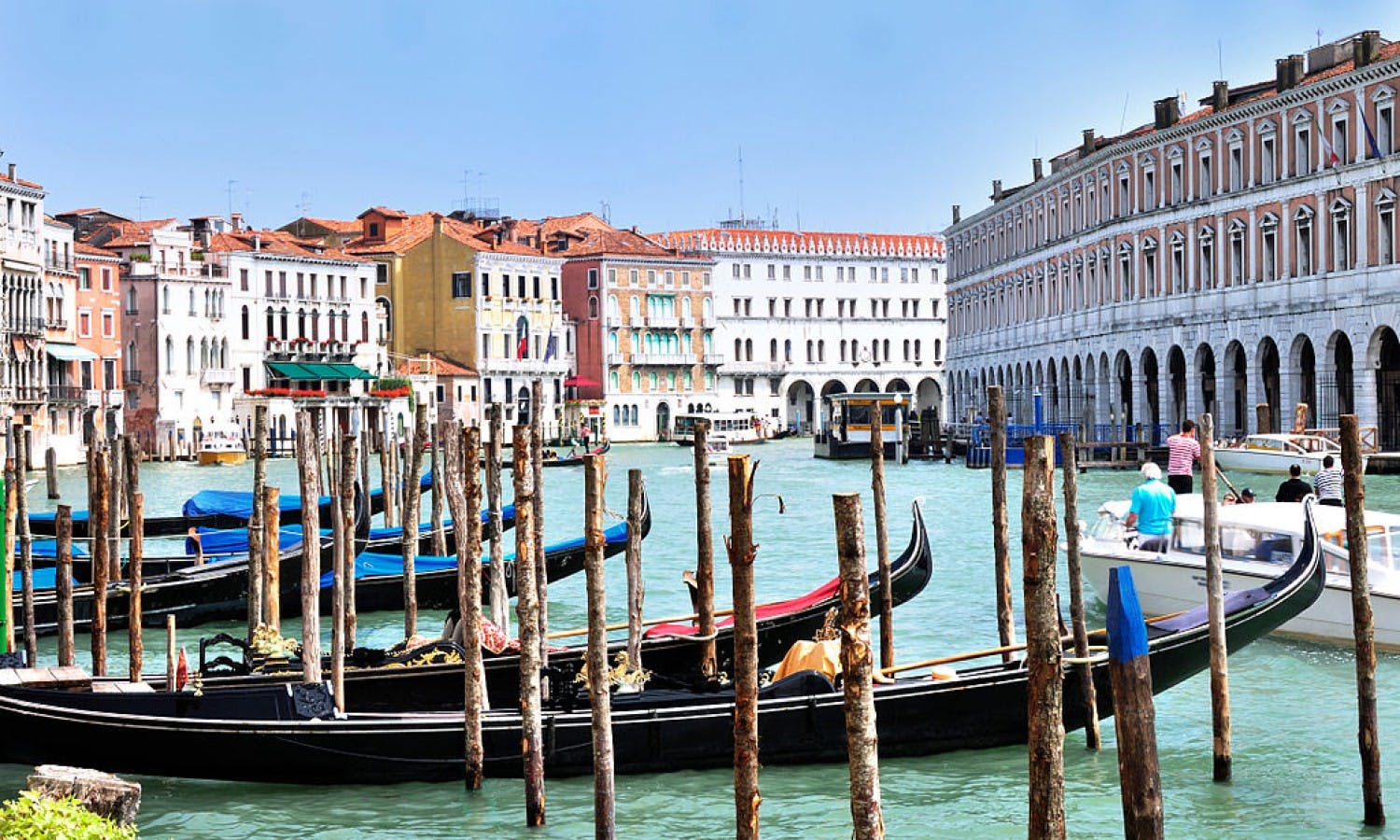 Venice gondola
Gondolas are the long and flat-bottomed boats that once served as the city's main mode of transportation. One of the most famous symbols of Venice, they're still functioning these days, but are used more by couples than commuters! Adding a gondola ride to your Venetian itinerary is a must. If you're really feeling mushy, taking it in the moonlight is practically mandatory. Venice by night is striking enough just walking around, but seeing the city by boat from its back canals is another experience entirely. Musement offers "Secret Venice," a walking tour of Venice that includes a gondola ride. Going on this tour will take you off the beaten path to Dorsoduro, a vibrant district rarely explored by most visitors.  The walking portion of the tour will give you some solid background on Venetian history, local characters and fantastical folklore of the region. After exploring the old stomping grounds of illustrious expats like Peggy Guggenheim and Ernest Hemingway, you'll listen to the legends of Ca'Dario, the reportedly haunted house whose owners have always met untimely deaths. Just before the stories get too scary, though, it'll be time to take the gondola ride and curl up next to someone special.  An expert gondolier will guide you through the quieter, less-touristy waterways. With a maximum of only six people per boat, the ride is guaranteed to be relaxing and romantic, not cramped and stressful. There's no commentary on this section of the tour, so you can simply sit back and soak up the beauty of the city. No guide will be jabbering you to sleep, but we can't promise that your gondolier won't want to serenade you—and we'd advise you to oblige him. It's a memory you and your significant other will share for years.
Bridges and backstreets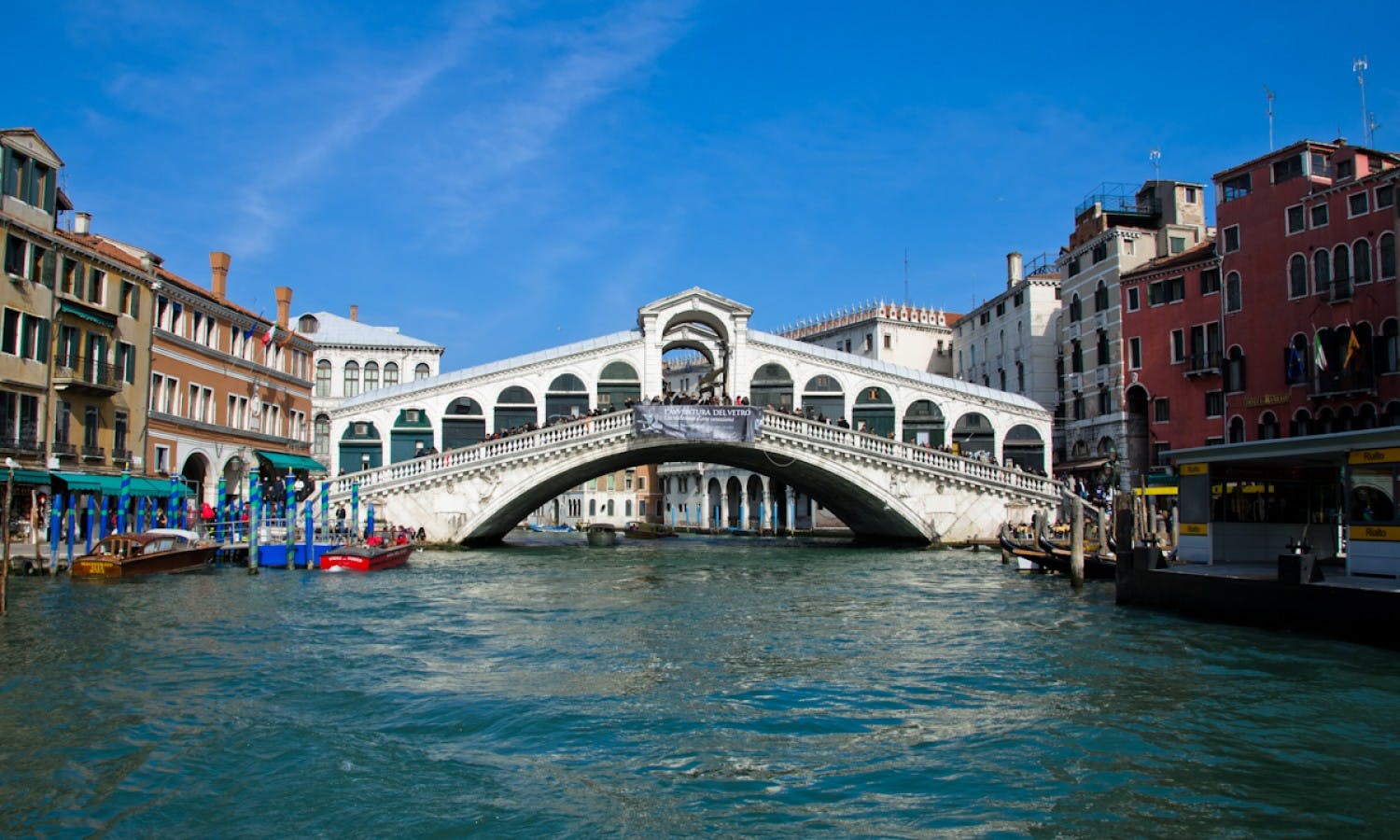 Rialto bridge
Beyond gliding along the waterways by gondola, the most romantic things to do in Venice involve getting lost with your loved one on the city's labyrinthine streets, meandering through moonlit piazzas or enjoying the VIP views of the city from its famous bridges.  Don't fret if you can't fork over a fistful for an extravagant dinner—you don't need to! With so many beautiful bridges spread throughout the city, an evening stroll is one of the most intimate—and inexpensive!—ways to enjoy exploring the city. The Rialto Bridge and Accademia Bridge are two of Venice's most famous, and they're two of the four that actually span the entirety of the Grand Canal. When you wander over either of those, you'll get to take in a magical, almost glittering view of the city—the only issue, of course, is that everyone's pretty much in on the "secret," so you may bump into a crowd or even a public proposal! If you'd rather head somewhere a little quieter without ever sacrificing stunning views, wander over to the Tre Archi bridge on the lagoon end of the Cannaregio Canal. Before taking your evening walk, you can get a good orientation of the city with one of Musement's  "Best of Venice" walking tours, which will take you to the Rialto Bridge and give you the chance to skip the long lines at St. Mark's Basilica. The fairy-tale piazza surrounding the church is one of the most fantastic, awe-inspiring spots in Venice, and an unbeatable place to watch the sunset—the perfect starting point for lovebirds on their nighttime strolls. It's not every day you're in Venice, so make the most of these opportunities for romance in one of the world's most beautiful cities!