Located on the top floor of the Brian & Barry Building, Asola offers an inventive, deliciously tailored menu complete with a breathtaking view of Milan. Musement chats with Asola's chef Matteo Torretta about the restaurant, Milan and his recent experience on "Top Chef Italia."
A little more than two years ago, a rather unusually named restaurant opened in Milan: Asola, which is the Italian word for the slot that a button passes through to close a jacket or a shirt–a nod to the world of tailoring and fabric, not to that of food. But if we tell you that Asola is located on the tenth floor of the Brian&Barry building,  a pillar of sartorial excellence on via Durini, the name suddenly makes sense.
The restaurant's chef Matteo Torretta, who is now in the limelight thanks to his participation in the Italian edition of Top Chef, has an impressive curriculum: he has worked alongside Italian master chefs Gualtiero Marchesi, Carlo Cracco, Antonio Cannavacciuolo and Ernico Crippa, and at just 27 years-old, has been entrusted with relaunching Savini, one of Milan's most historic restaurants.
Asola serves a highly inventive menu replete with personality, but true to tradition. Its cuisine aims to be "tailored", that is "made to measure", an excellent option for demanding and curious palates. Given Asola's success, we can dare say that he has reached his goal.
Here, Musement chats with chef Matteo Torretta, who tells us about his Milan, his new "Top Chef Italia" adventure and, of course, Asola.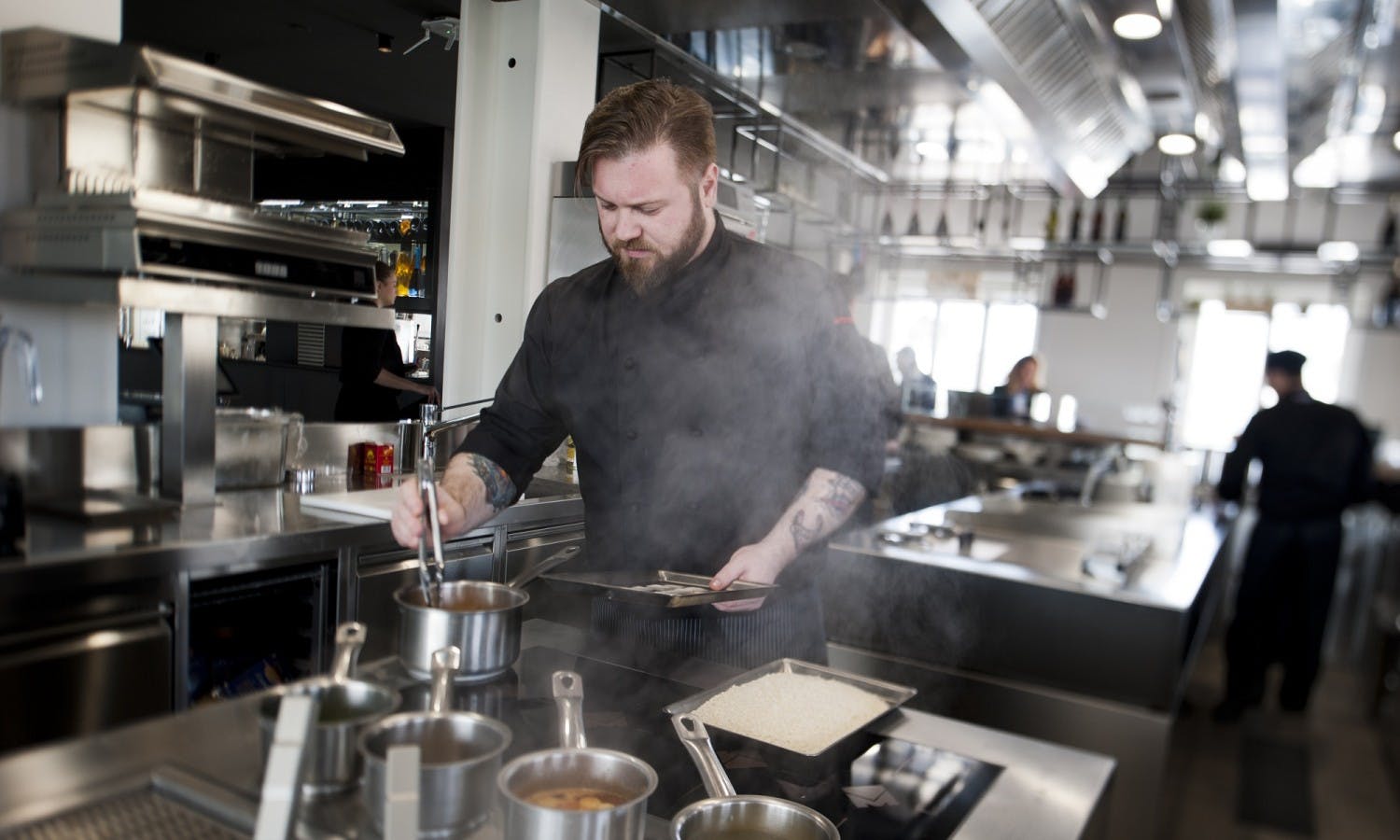 Matteo Torretta, photo credit: Paolo Picciotto
Firstly, let's talk Milan, your Milan. In your opinion, if someone just has one day in your city, what must they absolutely not miss?
Surely the Duomo and Galleria, also known as Milan's living room; the Columns of San Lorenzo; the Brera, which is the creative heart of the city with its historical shops, art workshops and galleries; and the part of Navigli that has all the local and quaint restaurants, antique shops and old washerwomen houses. I personally prefer the "old Milan" to the skyscrapers of new Milan.
What are your favorite spots in the city and why?
Surely the Wagner Square Municipal Market because I have very strong memories of this place; then via Casale, where there's the Bar Tango Milano, my "old" bar where I've been going for a lifetime; and finally the part of the city that stretches from Via Larga to Largo Augusto. There is no particular reason, but it is an area where I love to walk.
Tell us about Asola.
Asola was born three years ago with the idea of showing how it actually plays the work of a chef, to show what is "behind" the preparation and the birth of a dish. Asola, in fact, is a kitchen surrounded by a restaurant. The kitchen is open on three sides, completely exposed, breaking down the barriers between the chef and his guests. For those sitting at the bar, it's like watching a live cooking show and participating in the creation of the dish with the chef.
As for the menu, I wanted to have a cosmopolitan and international flair – just like how Milan is international and cosmopolitan. I like to try products from all around the world, experiment and play with flavors and textures. My cuisine is recognizable, balanced and clean.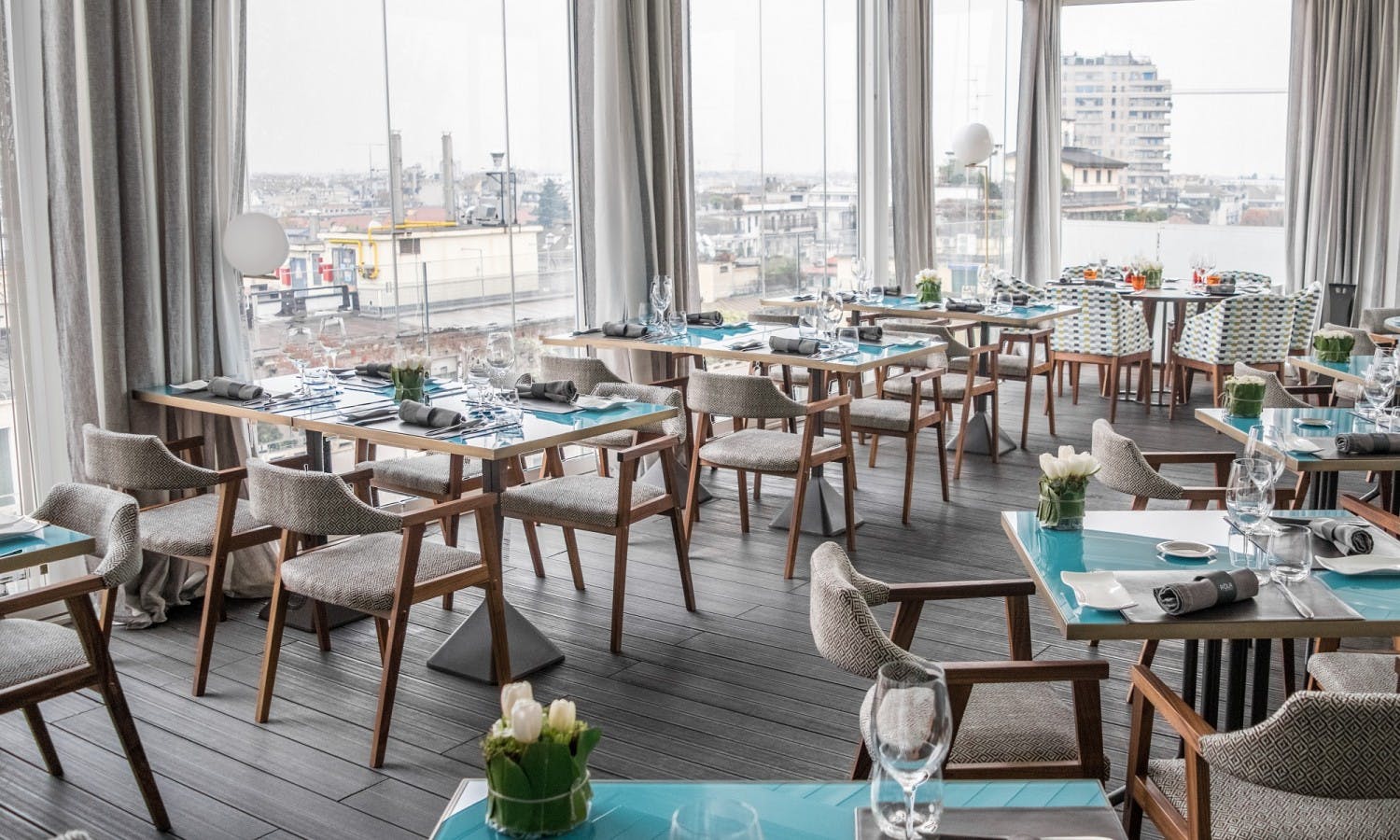 Asola restaurant on the rooftop of the Brian&Barry Building, photo credits: Francesco Pede
What can you tell us about your experience with Top Chef? What did it teach you? Some tricks or ideas for a new dish? Would you do it again?
It was an absolutely positive experience that has strengthened the team spirit within me. It has taught me to believe in myself more while at the same time – though I know this might seem counter-intuitive – has resized my ego. It was very difficult to compare myself to others and that comparison is what gave me the strength and the will to continue. Each test was a challenge, and there was no time to think: in a few seconds, I had to make a decision. So it was important to let myself be guided by instinct and intuition. And that is the beauty of it, right? And yes, I would definitely do it again.
Which dish is absolutely mandatory if you are in Milan, and why?
Without a doubt, Milan's veal cutlet [cotoletta alla milanese]. It should be thick and pink on the inside. It's the dish that I think best represents Milan.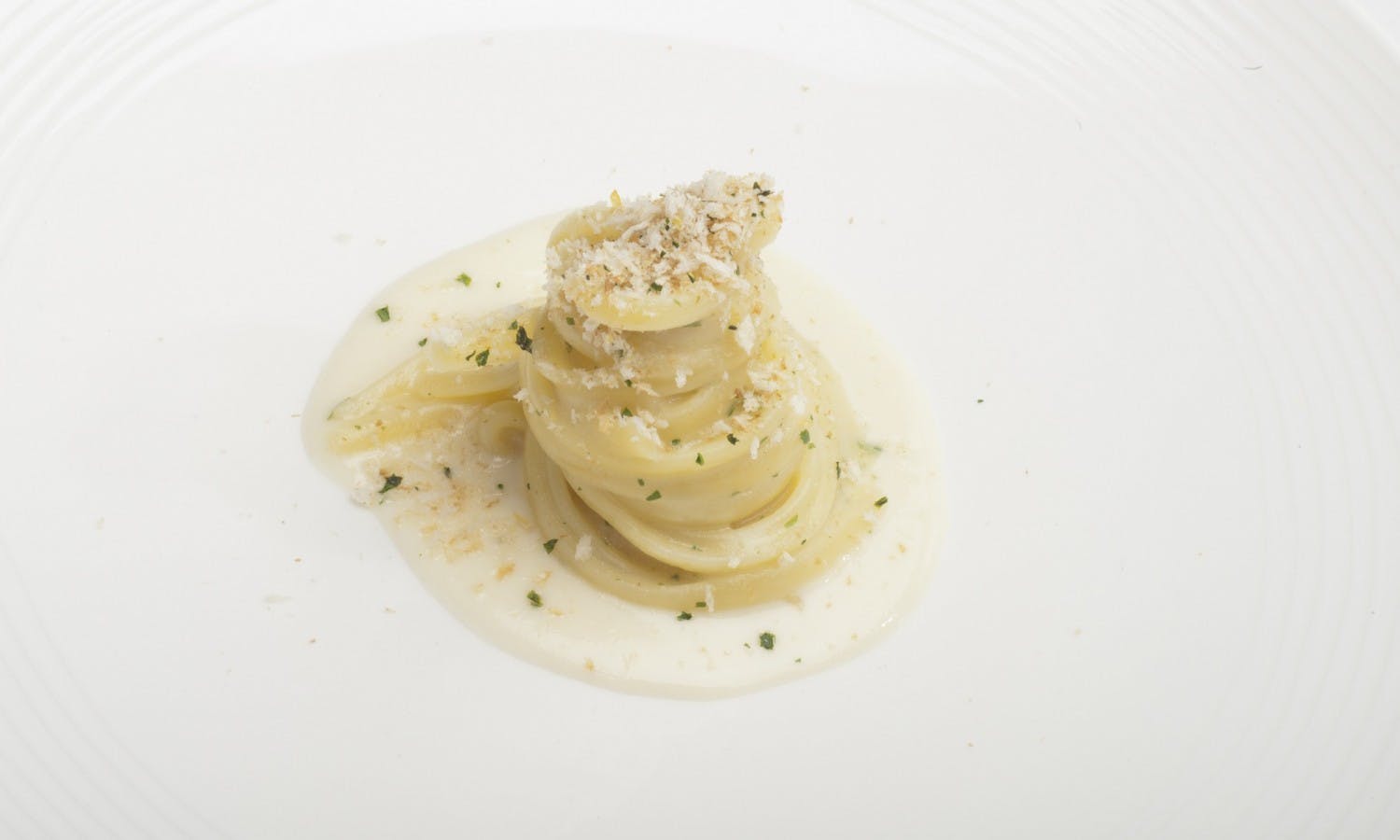 Linguine di Gragnano with garlic, olive oil, peperoncino and a fonduta of parmesan cheese at Asola. Just as exquisite as the Milanese veal cutlet! Photo: Paolo Picciotto