Aaah, Naples.. its narrow cobblestone streets in the old city center, its beautiful countryside, spectacular waterfront and rich history! In our opinion, those who have never been to Naples can't say they've experienced the south of Italy. Here's our top five things to see and do in Naples without upsetting your wallet.
1. Waterfront walk and Castel dell'Ovo
When in Naples, do like the Neapolitans. After lunch, in the afternoon, after dinner, and late at night, the locals love to go for a walk, or passeggiata, on the waterfront, also called via Caracciolo. Breathe in the fresh air from the sea, catch a glimpse of mount Vesuvius watching over the city in the distance, or visit the impressive Castel dell'Ovo. Legend has it that a magical, mystical egg lies hidden in its foundations and keeps the city safe.
2. The historical center around Spaccanapoli
The best way to get a glimpse of old Naples is to just get lost in its myriad of streets, churches, squares, arches, and courtyards. The street's an open-air museum, full of loud neighbors chatting on the threshold, laundry hanging from balconies, artists and street vendors trying to make a few bucks, and street markets. Fresh fruits, local artifacts, colorful pasta, and souvenirs are everywhere, such as the red lucky charm in the shape of a horn, the corno, or the Pulcinella figurines. Compared to its big sisters in the north, Naples can seem uncivilized, polluted and hectic, but it is also full of character – exuberant, yet secretive and passionate. Keep your eyes wide open and let the city win you over.
We recommend
From Piazza del Gesù, wander in via Benedetto Croce, Piazza della Carità, Via dei Iribunali, Piazzetta Nilo, Via San Biagio dei Librai, via degli Orefici, via San Gregorio Armeno, and piazza San Domenico Maggiore.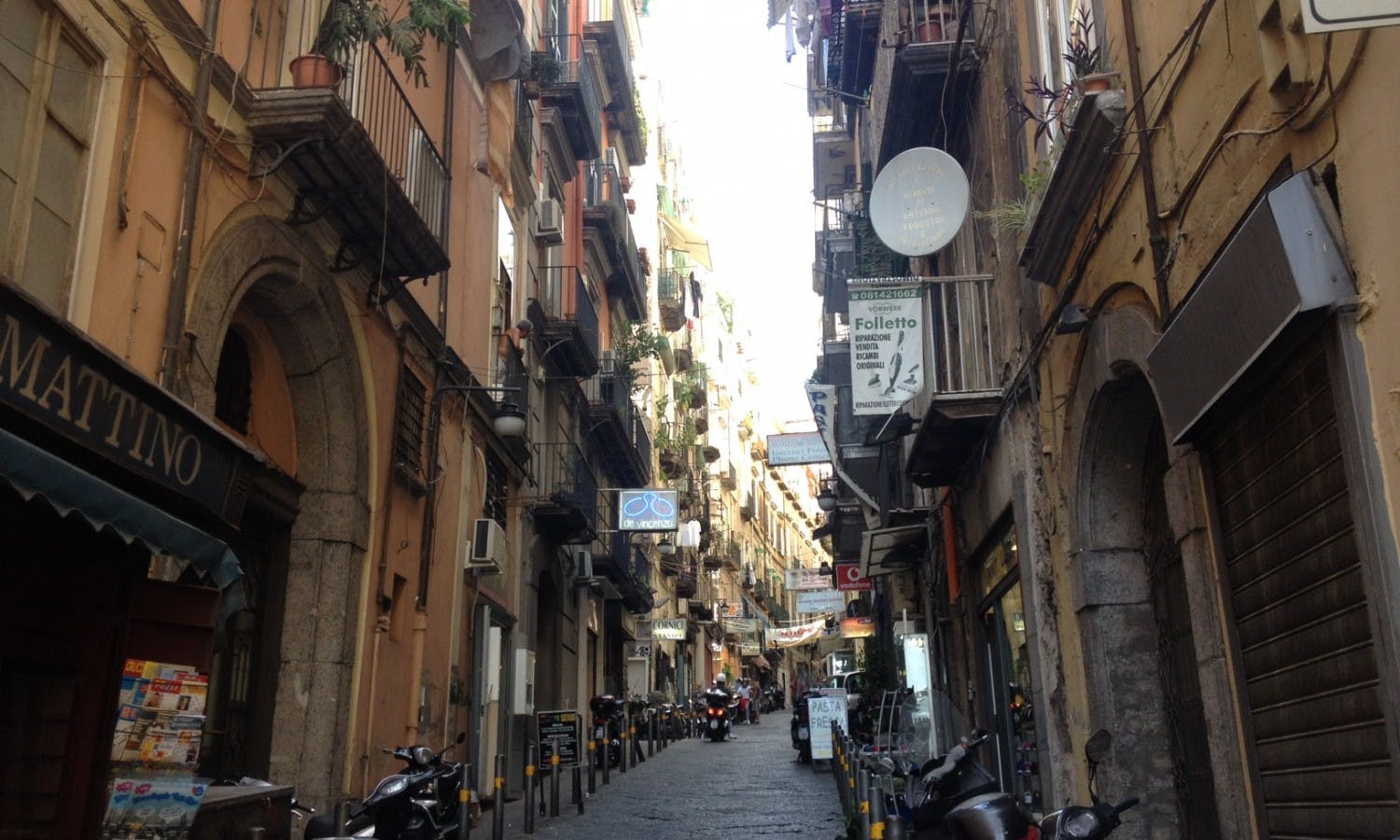 Streets of Naples – CK Golf
3. Naples by air: take the funicular
Like many sea towns in the south of Italy, Naples was built on the volcanic ground, uphill, and offers many wonderful panoramic views of the sea and Mount Vesuvius. Just hop in one of the four funiculars leaving the city center and effortlessly shoot up to one of the many splendid viewpoints. Just walk down through the maze of backstreets from the Funicolare Centrale, ascend to the up-and-coming Vomero neighborhood for a trendy aperitivo with the Funicolare di Chiaia, or explore the real Naples in the working-class Pignasecca neighborhood with the Funicolare di Montesanto. Finally, the Funicolare di Mergellina takes you out of the city center and up to the Posillipo hill through elegant gardens and green parks. We recommend strolling up and down the via Orazio and via Petrarca for a stunning postcard-like panorama.
4. A journey back in time and history
Roman thermal baths, Greek temples, Medieval castles, Gothic churches, Baroque cloisters, Bourbon palaces, Spanish villas – Naples has very often been considered a melting-pot of cultures, architectures and traditions. Its mystical origins are still very present above the ground as well as under it, for example at Napoli Sotterranea (entrance in Piazza San Gaetano). Layers of history lay buried in a formidable time machine just a few meters under the chaotic streets of the city. Ancient Roman pillars, Greek foundations, a maze of tunnels, caves and cavities will take you back in time.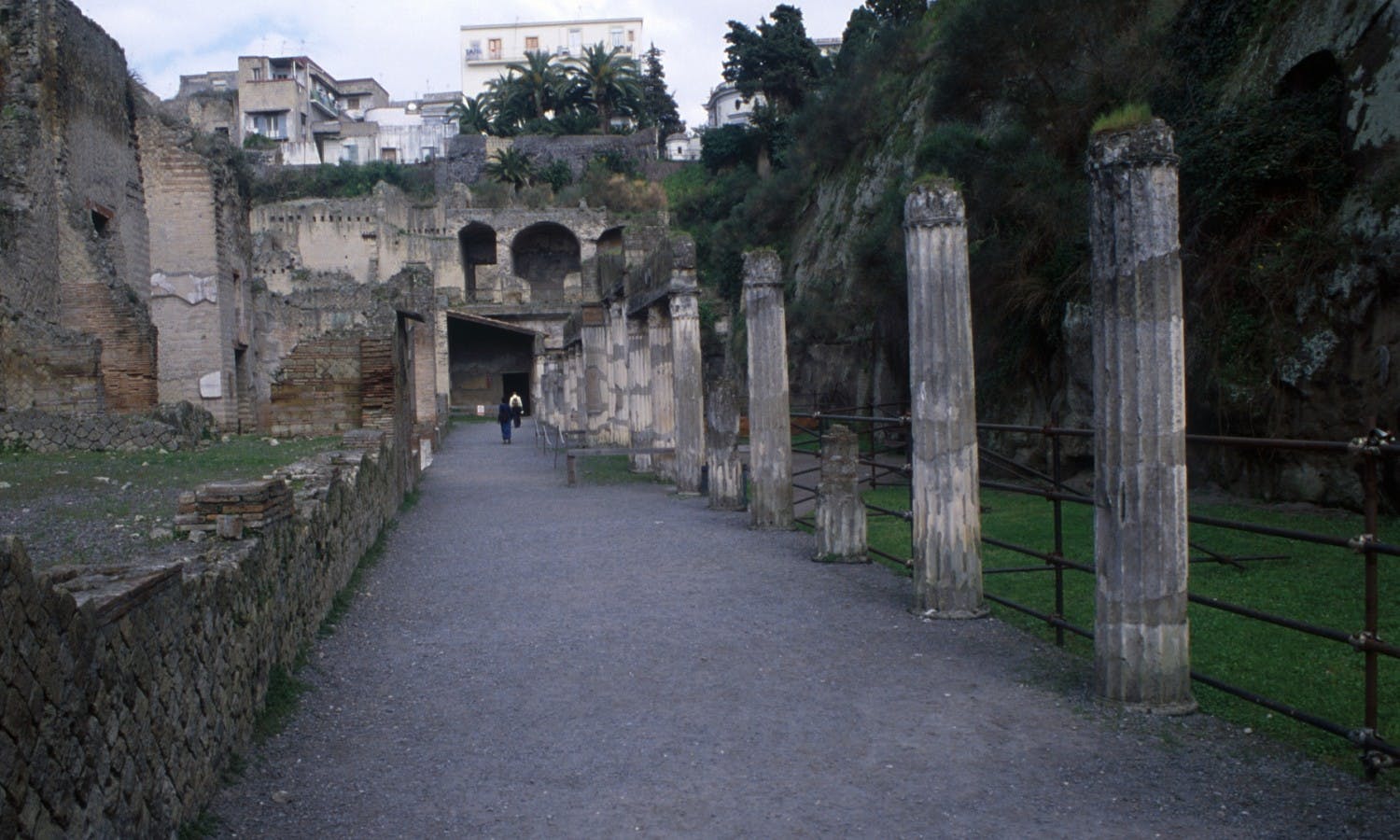 Ruins of Naples – Tyler Bell
5. Naples underground: artsy subway stations
And that's not all! In an effort to freshen up Naples' urban landscape, some of the city's subway stations have been turned into real art galleries, making it one of Europe's most praised and creative underground systems. Modern frescoes, artistic graffiti, impressive floor-to-ceiling paintings and other sorts of street art will make you want to miss your train. The Toledo underground station, for example, seems to be straight out of a psychedelic Milky Way-ish portal to another dimension. You'll find other surprises at subway stations Dante, Università and Salvator Rosa, to name but a few spectacular art pieces by artists such as Anish Kapoor, Gae Aulenti, Karim Rashid or Sol LeWitt.
What's the bottom line? With a city as old and rich as Naples, you don't really need to lock yourself up in museums or to take part in over-priced organized tours. The city is yours for the taking and it will certainly make an impression on you . . . and not the one you'd expect.