If you have a soft spot for a bit of old fashioned romance then you're in for a treat if you happen to be in Barcelona at the end of April. All thanks to the legend of a courageous saint named Jordi, you'll find yourself caught up in crowds of young lovers while walking along rose-filled streets.
Of all the days dedicated to saints in Catalonia, Spain (and believe me, there are many of them), my absolute favorite would have to be Sant Jordi's Day on 23 April. Call me old-fashioned or a hopeless romantic or whatever you like, but a day where lovers gift each other with beautiful red roses and the latest novels by great authors is one that's right up my alley.
Dedicated to Catalonia's patron saint, Sant Jordi's Day – or Dia de San Jorge in Spanish – is a time where you'll find the streets of Barcelona bursting with red roses and chocked full of market stalls offering the latest paperbacks. Literary events are also in abundance, with many venues throughout the city hosting author readings and signings as well as book exchanges and meets. But just a stroll down any of the city's main streets at this time of the year, such as Las Ramblas, Passeig de Gràcia and Rambla de Catalunya, is a sightseeing experience in itself.
Perhaps you're wondering how a saint came to be celebrated with books and roses? There are several versions of the story but the legend among many residents in Catalonia stems from a small town in the south known as Montblanc. The town were battling with a dragon that was terrifyingly taking the lives of the town's residents. One day a princess was next in line for the horrible ordeal but was saved by a solider named Jordi, who killed the beast by slashing it in its neck. A rose bush grew at the spot where the dragon's blood fell hence the symbolism of roses given to lovers today. And as for the books as part of the celebration of Jordi, it was introduced in the early 1930s to remember the famous author Miguel de Cervantes, who died on the same day in 1616. And then in the 1990s, UNESCO also declared April 23 the International Day of the Book to celebrate literature and honor other significant authors, such as Shakespeare.

Photo credit: francesc_2000 via flickr / CC BY 2.0
Back to the present day and as with so many other legends, the fable lives on through a very commercialized means but its underlying premise of romance stands strong. Just ask any Catalan and they'll tell you that Sant Jordi's Day is one of their favorite days of the year with the combination of romance, roses and great reads generating a gushy feel of love across the city.
And while it isn't a state public holiday, there are still crowds-a-plenty around Barcelona soaking up the atmosphere. So if you happen to be in town on 23 April, here are some suggestions for you to experience Sant Jordi's day like a local.
Plaça Catalunya: Sant Jordi's Day is a time where the pigeons temporarily move out of Plaça Catalunya to make way for book and rose seller stalls. The book sellers are often accompanied by the authors themselves to take part in readings, signings and also interviews with the media.
Las Ramblas: While I normally find Las Ramblas a bit of a tourist trap with overpriced sangria and frozen paella, I really do enjoy the festivities at special times throughout the year. Sant Jordi's Day doesn't disappoint with its seemingly endless rows of book and rose sellers stretching all the way down the rambla.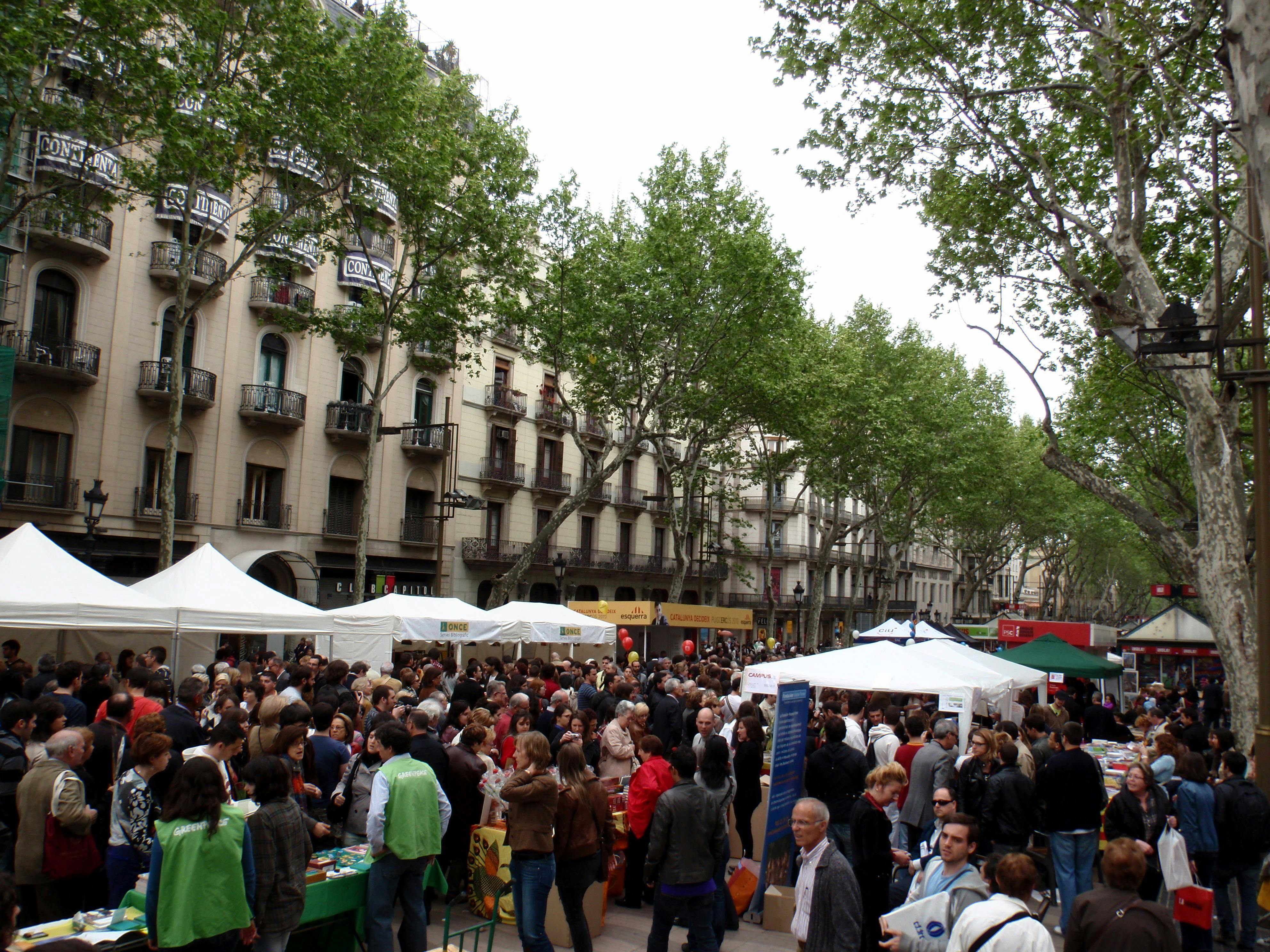 Photo credit: oh-barcelona via flickr / CC BY 2.0
Passeig de Gràcia: In addition to the rose and book stalls along Passeig de Gràcia, the sight to see along this famous stretch in Barcelona is Gaudi's Casa Batlló. The myth of the dragon in the story of Sant Jordi comes to life with roses weaved into the dragon facade on the building's exterior ­– in fact, Gaudi's masterpiece was inspired by the story of Sant Jordi.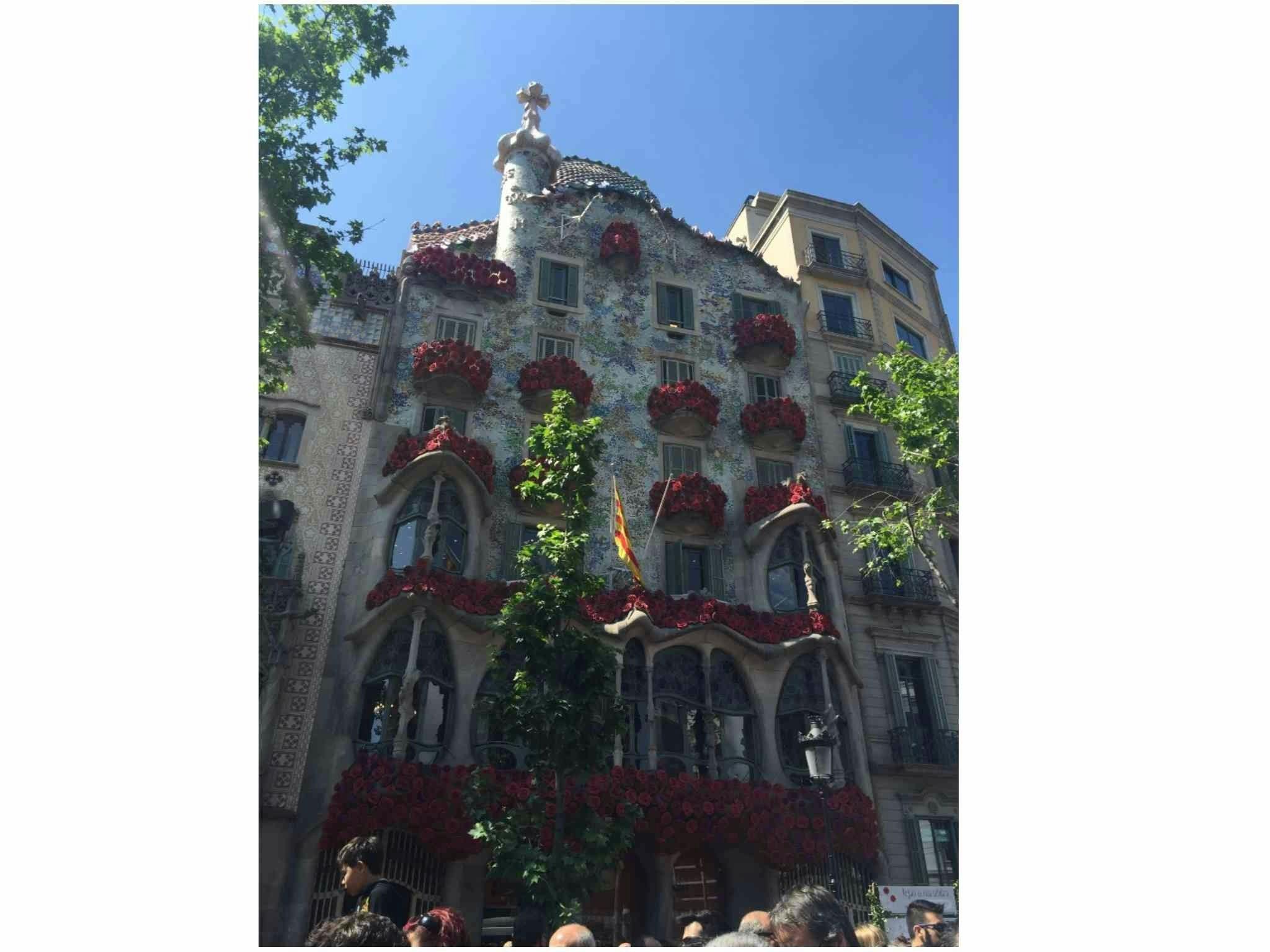 Photo credit: Casa Batllo, by Karen Matthews
Rambla de Catalunya: This is one of my favourite ramblas in Barcelona as I find it much more authentic and relaxed than Las Ramblas. Here you'll also find scores of rose and book sellers – and the crowds to match.
Plaça Sant Jaume: If you've had enough of books and roses, then another option is to head to Plaça Sant Jaume in the early evening, to experience some traditional Catalan dancing, known as the Sardana.
Casa de la Ciutat: There's only a few times during the year when the Casa de la Ciutat (Barcelona City Hall) is opened to the public to explore for free. Sant Jordi's Day is one of them, giving you an opportunity to take a closer look at the inner workings of the city in this building located in Plaça Sant Jaume.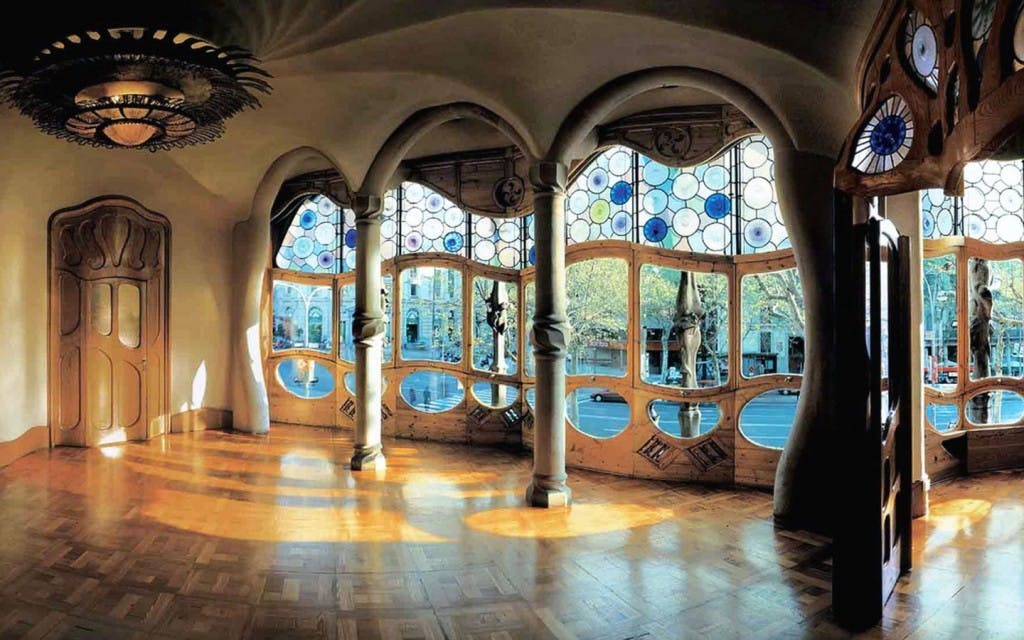 Casa Batllo, Barcelona
Cover Photo credit: Stanley Wood via flickr / CC BY 2.0