Musement takes a look at 10 of the states in America with the most Christmas spirit
"It's the most wonderful time of the year!" With Thanksgiving and Black Friday in the rearview mirror, all focus has shifted onto Christmas, that is if you enjoy the holiday and everything that comes with it. Children begin to make their lists for Santa, radio stations play Christmas songs nonstop, and houses turn into winter wonderlands decked out in lights and decorations.
Americans love the Christmas spirit; some states just celebrate more than others. For that reason, Musement, the digital discovery and booking platform for travel activities and experiences around the world, created a ranking to find out which states had the most Christmas spirit.
Based on the results, these are the top 10 states that Christmas lovers should travel to for the holidays to get in the Christmas spirit because these states sure love showing it: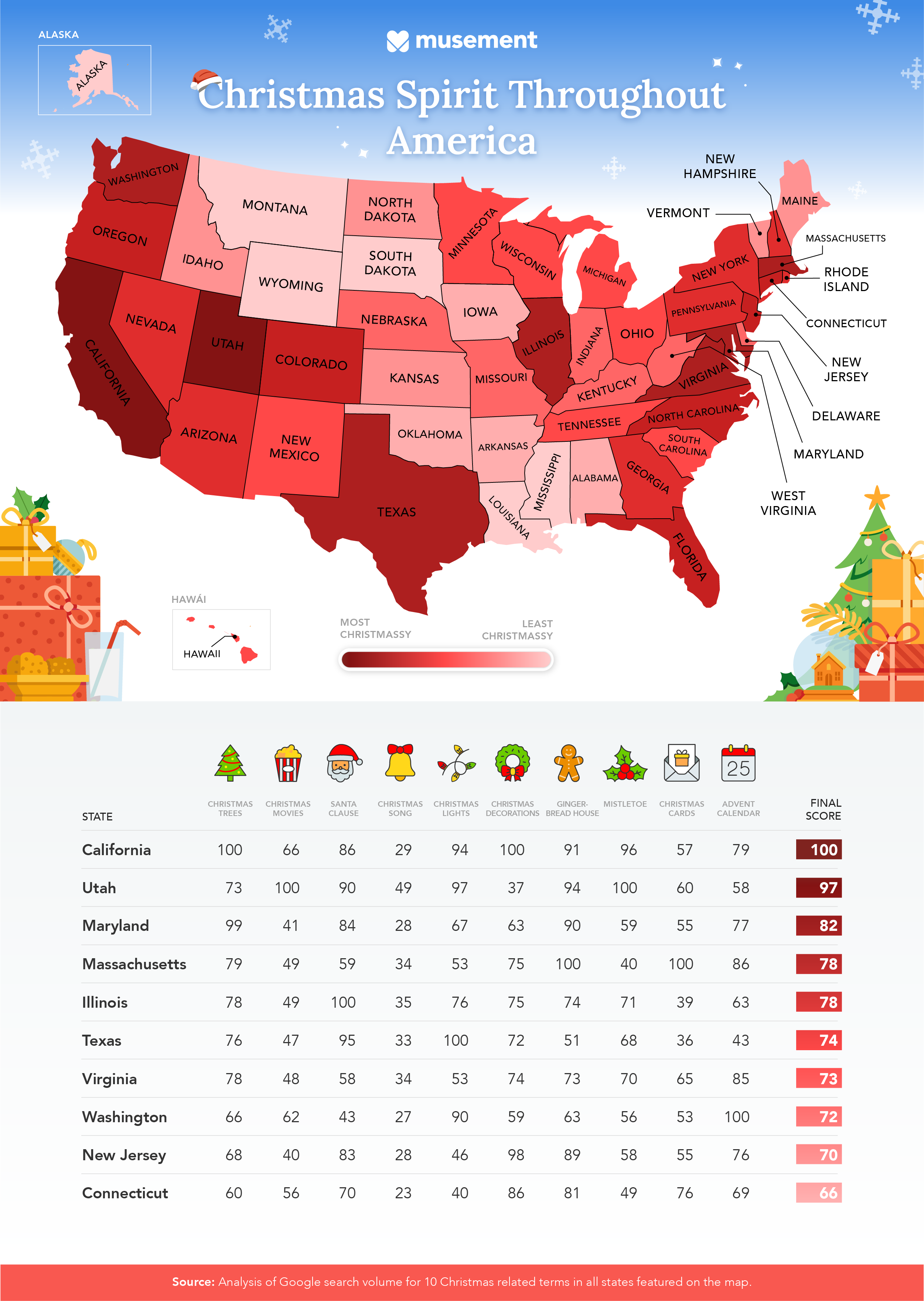 California
Christmas and California go hand in hand. The state finished at the top of the rankings with a score of 100. Although winters are warm in most parts of the Golden State, that doesn't take away from the festivities. Visitors going to San Diego have the luxury of ice-skating with views of the beach. Others who want to see a white Christmas, a visit to Yosemite National Park or Lake Tahoe are your best bets. Have you ever thought about making a "sand snowman" or seeing Santa surfing? Well, both are possibilities during the holiday season in California!
View this post on Instagram
Utah
Utah is another state not to miss if you want to fully enjoy the Christmas spirit. With frigid temperatures this time of the year, it comes as no surprise that people prefer staying in all cozied up and watching Christmas movies. If you have the courage, bundle up and head to Temple Square, in Salt Lake City, to check out the millions of lights and winter wonderland the city turns into. Make sure you give the "funeral potatoes" a try on your visit. This dish, basically a potato casserole, is typical of Utah and will most likely be served at everyone's dinner table for the holiday.
View this post on Instagram
Maryland
Looking for more Christmassy states in America? Then don't miss out on stopping in Maryland. Each year, the city of Baltimore hosts the Christmas Village, which is an authentic German Christmas market. Fun fact: Germany hosts some of the best Christmas markets in Europe. To continue the festivities after spending time at the market, paying a visit to the Miracle on 34th Street in the Hampden neighborhood is a must. Every house on this street is decked out in lights and even some crazy decorations, like a Christmas tree made from hubcaps. Southern Marylanders enjoy eating stuffed ham, while those near the eastern shore will stick to their famed seafood dishes.
View this post on Instagram
Massachusetts
That tradition of taking pictures with your siblings and Santa at the big department store? Yeah, that started in Brockton, Massachusetts back in 1890 at Edgar's Department Store. Nowadays, about every mall across America has a Santa who will take pictures with ecstatic, and sometimes sad, children. Another fun fact about Christmas traditions in Massachusetts is the first-ever American Christmas card marker started creating and selling cards in Roxbury. A tradition that began in London soon became a phenomenon among Americans that still runs strong today.
View this post on Instagram
Illinois
Illinois ranked at the top spot for arguably the most important part of Christmas, Santa Claus. It will not be long before jolly old St. Nicholas will be riding on his sleigh, led by Rudolph of course, to give gifts to all the good boys and girls! Especially in Chicago, the vibrant neighborhoods turn into a magical wonderland filled with markets, lights, and iceskating. If you are lucky enough, you can hop aboard one of the decorated holiday trains!
View this post on Instagram
Texas
The Christmas spirit can be felt in Texas, after all everything is bigger in Texas. Houses in The Lone Star State are decorated with lights that can be noticed from outer space and celebrations are aplenty. And the Thanksgiving traditions seem to roll over to Christmas. Turkey (fried or smoked) finds its way on the table during Christmas dinner. For dessert, fruitcake. Other Christmas favorites for Texans include planting poinsettias outside of homes and hanging barbed wire wreaths, showing off their cowboy pride.
View this post on Instagram
Virginia
Honoring the heritage of the city and its Scottish founders, an annual Scottish Christmas Walk parades through the city of Alexandria. Dancers, drummers, and pipers make their way through the city as the streets fill with onlookers. Don't miss out on the 100 Miles of Lights, the light shows that passes through 7 cities, running from Richmond to Virginia Beach. Another Christmas tradition in Virginia is celebrating with fireworks. One would think that they were at a 4th of July celebration, fireworks lighting up the skies.
View this post on Instagram
Washington
Grab your jacket and bundle up. Christmas in Washington is cold, but the hot chocolates and mulled wine will warm you right up. The Christmas spirit here is undeniable. Hop aboard the Polar Express in Mt. Rainer and bring the Christmas magic to life. The ride lasts 90 minutes and when guests reach the North Pole, Santa will board the train and gift all children a silver bell. Admire the decorated boats in Seattle, or make a trip to downtown Bellevue to catch the Snowflake Lane parade. Talk about walking in a winter wonderland!
View this post on Instagram
New Jersey
Christmas in New Jersey should not be missed. Cape May, in the southern part of Jersey, decorates its Victorian houses with garland and wreaths while Mrs. Claus awaits you on the trolley to bring you to appreciate the town's lights. Downtown Morristown always captures the Christmas spirit with its market and lights on full display. New York City is right next door so driving to see the famed holiday windows and Christmas tree at Rockefeller Center is rather easy.
View this post on Instagram
Connecticut
Connecticut knows how to put holiday cheer in all of its visitors. Head to Hartford and drive through the 200 acres at Goodwin Park for the Holiday Lights Fantasia or meet Santa and his reindeer at the Greenwich Reindeer Festival. If you really want to top off the Christmas joy, visit a Christmas Tree farm and cut your own spruce or fir down. There's nothing more Christmassy than the scent of a fresh Christmas tree.
View this post on Instagram
Methodology: The results are based on the Google search volume for 10 Christmas terms that were analyzed by each state (average monthly searches from October-December 2020 were used). The search terms used: Christmas trees, Christmas movies, Santa Claus, Christmas songs, Christmas lights, Christmas decorations, Gingerbread house, Mistletoe, Christmas cards, and Advent calendar. To refine the results, we divided the average number of monthly searches by the number of inhabitants in each state and then calculated the search volume per 100,000 inhabitants. Finally, each state was given a score from 0 to 100 for each of the search terms, using the normalization formula: Score = (x-min(x))/(max(x)-min(x)) *100.