Musement takes a look at 10 of the most Christmassy countries throughout Europe
December is here and cities across Europe are transforming into winter wonderlands with towering fir trees, lights and decorations, carol singers and markets filled with rows of toys, mulled wine and gifts.
Whilst many Christmas traditions are shared throughout Europe, each country has its own traditions unique to them. But which European country loves Christmas the most? To find this out, Musement, the digital booking platform for travel activities worldwide, conducted a study to understand which country searches the most for festive terms*.
Check out our map below to see the results and keep reading to find out more about the Christmas traditions in the ten most Christmassy countries throughout Europe.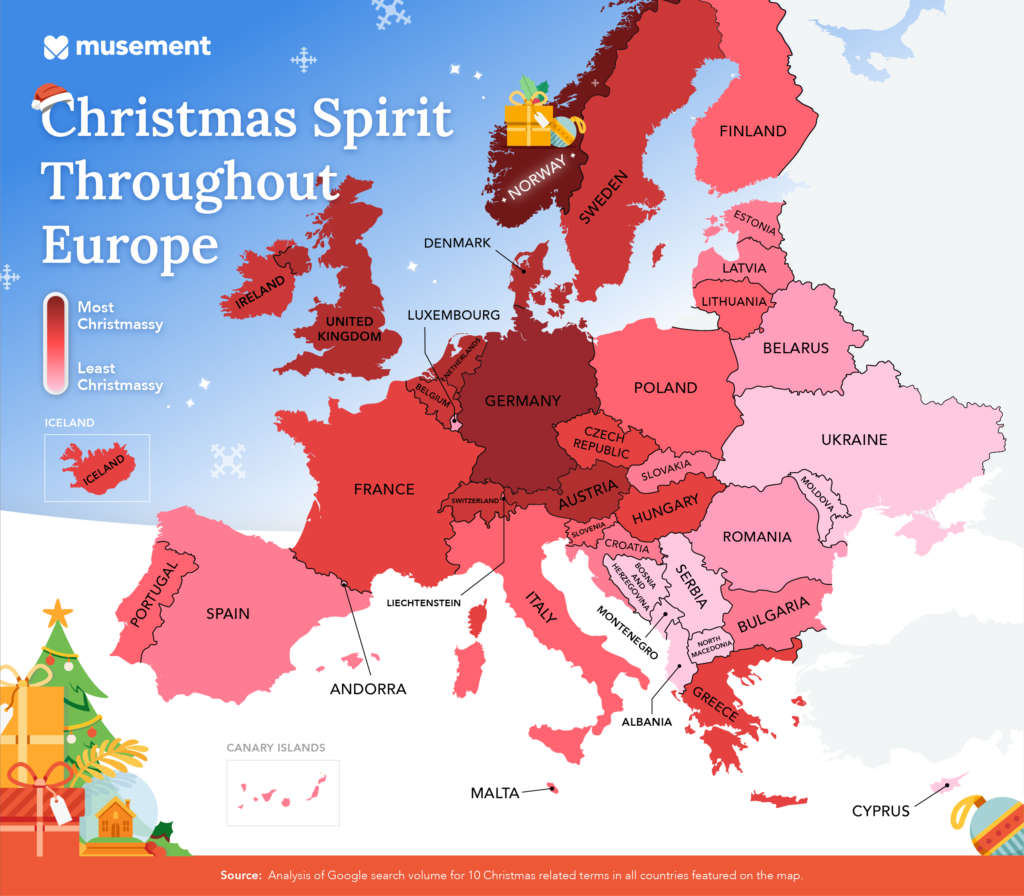 1. Norway
Norway tops the list as the European country with the most Christmas spirit. The Christmas season here is characterized by cold mornings, crystal clear landscapes, reindeer, lots of snow and cookies.
The main Christmas celebration takes place on December 24th and is known as Julaften. On this evening, the whole family gathers for dinner and exchanges gifts. And believe it or not, Santa Claus is not the most famous Christmas figure here, but Julenisse, a gnome with a white beard. Another fun fact is that in most Norwegian homes the Christmas tree is not decorated until December 23rd. This day is dedicated to decorating the tree and baking the famous Christmas cookies.
View this post on Instagram
2. Germany
Germany not only has many traditional dishes, gifts and decorations, but also some special Christmas traditions! The Advent calendar is particularly important to Germans. Its origins date back to the mid-19th century, when German families drew 24 pinstripes on the wall or door, erasing one a day until Christmas. It is therefore no wonder that the facade of the town hall in the picturesque German town of Gengenbach features the largest Advent calendar in the world. And there is also the Advent wreath, consisting of pinecones, berries, dried flowers and candles.
View this post on Instagram
3. Austria
In Austria, it is not Santa Claus who brings the gifts, but Baby Jesus. And there are also two other very important figures in the Austrian Christmas celebrations: St. Nicholas and Krampus. While the former is a friendly figure who brings gifts and sweets to good children, the latter is the evil Christmas demon, who appears to admonish children who have misbehaved.
View this post on Instagram
4. United Kingdom
From their very own Christmas dessert to the Queen's Christmas Day Message, there are a whole host of Christmas traditions unique to Britain. On the run up to Christmas, going to the theatre to watch a pantomime has long been a tradition in the UK. Often fairy tale inspired, a pantomime includes songs, slapstick comedy and dancing.
When it comes to food, 'mince pies' made from dried fruit and wintery spices are a common occurrence throughout December. And don't forget the iconic Christmas pudding, usually made six weeks ahead of the big day, the dish itself is made with dried fruit, breadcrumbs, dark sugars and brandy. You can read more about the UK's Christmas traditions here.
View this post on Instagram
5. Denmark
The main Christmas dinner in Denmark, as in many other countries in Europe, is celebrated on December 24th, and is quite an event. In addition to eating lots of delicious dishes, no home can be without the risalamande, a rice pudding with cherry sauce and an almond inside. Tradition says that the person who finds it will receive an extra gift or prize. Gifts are also opened on the 24th, but before doing so, it is customary to hold hands and dance around the tree singing Christmas carols.
View this post on Instagram
6. The Netherlands
The festivities in the Netherlands start on December 5th, the evening before Sinterklaas' birthday. This evening is dominated by presents that Sinterklaas brings to all children. It is a tradition for many families to put up the Christmas tree as soon as Sinterklaas has left the country. This usually happens in the days after December 6th.
In the Netherlands, the rustic decorations are especially popular, with pine branches, pine cones, warm lights, beautiful Christmas balls and large candles. You will also see many Christmas wreaths hanging on the doors. Christmas dinners are very extensive and the Christmas stollen should not be missing at breakfast.
View this post on Instagram
7. Ireland
Ireland's Christmas celebrations are similar to that of the UK, but it does have a few festive traditions and customs of its own. Placing a candle in the window on Christmas Eve is a widespread tradition across Ireland. A symbolic gesture to those in need of shelter, it signifies a welcome to Mary and Joseph. And whilst Americans are known to leave milk and cookies out for Santa Claus, Ireland does this tradition a little differently. Irish families will put out a pint of their beloved Guinness to make Santa's night a little jollier.
Another historic Irish tradition is the Wren Boys Parade that takes place on Boxing Day. Dating back to ancient times, the tradition consists of hunting a wren (now a fake one) and putting it on top of a decorated pole. The crowds, all dressed in straw suits, celebrate the wren and parade around the town.
View this post on Instagram
8. Belgium
In Belgium, it's not just Santa Claus who counts, the country also pays homage to Saint-Nicolas on December 6th. This traditional Belgian celebration is just as important as Christmas and is especially aimed at children. On the eve of Saint Nicholas' Day, just before going to bed, the children prepare a large glass of milk with cookies for Saint Nicholas and a carrot for his horse. If they have been good throughout the year, children will have the joy of receiving small toys and treats when they wake up.
Belgians usually spend Christmas Eve and Christmas Day with their family. The traditional meal usually consists of game, roast or seafood. For dessert, the Christmas log is the winner. After the hearty meal, Belgians like to exchange gifts, which usually takes place on Christmas Eve, around midnight. However, many homes continue to follow the American tradition, and open their gifts on December 25th.
View this post on Instagram
9. Switzerland
As in the Netherlands and Belgium, several Swiss cantons celebrate Saint Nicholas Day on December 6th. Saint-Nicolas rewards good behaviour with sweets and oranges, while his companion, Father Fouettard, is responsible for punishing the children who have been unruly during the year.
As for the menu, there is no traditional meal in Switzerland. Even if salmon, turkey and foie gras remain popular dishes, it is meat fondue that wins the table of many families during the Christmas meal. Usually, children open their gifts on the evening of December 24th or the morning of December 25th.
View this post on Instagram
10. Sweden
The last country to make the top ten is also Scandinavian. The country has many special Christmas traditions, the first of which starts on the first Sunday of Advent. On this Sunday, the first of four candles is lit on the Advent wreath and the countdown to Christmas begins.
In Sweden, decorations are often subtle and rustic and a lot of time is spent decorating the Christmas tree. The Christmas dinner will take place on December 24th. During this dinner, people often eat a smörgåsbord, also called Julbord for the occasion. This is presented as a buffet containing potatoes, salad, Swedish meatballs, smoked salmon, herring and raisin bread.
View this post on Instagram
See the ranking for the top 10 most Christmassy countries below: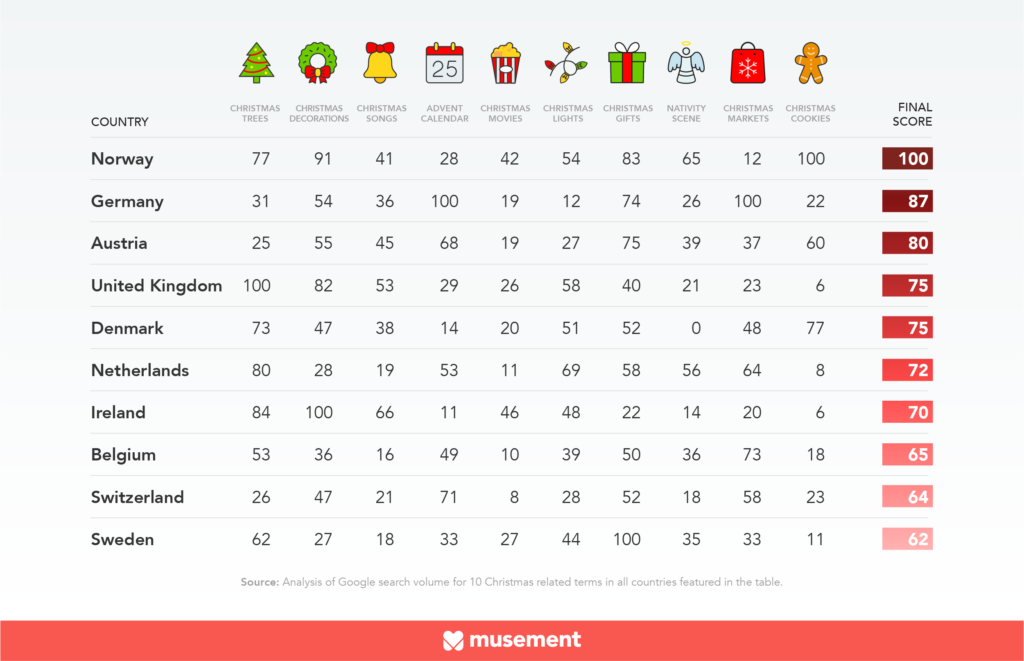 Methodology 
Christmas terms in 41 European countries were analysed (average monthly searches in October, November and December 2020**). The following search terms were used: Christmas trees, Christmas decorations, Christmas carols, Advent calendar, Christmas movies, Christmas lights, Christmas gifts, Nativity scene, Christmas markets and Christmas cookies.  
To refine the results, the average monthly searches were divided by the number of inhabitants in each country, and the search volume per 100,000 inhabitants was subsequently calculated. Finally, to standardise the results, each country was given a score from 0 to 100 for each of the search terms, using the normalization formula: Score = (x-min (x)) / (max (x) -min (x)) * 100 
** For the term "Christmas markets" the average monthly searches for October, November and December 2019 were analysed, since many events were cancelled in 2020 due to the global pandemic.