From its start in 1970, Art Basel was a success. The three gallerists, Ernst Beyeler, of the Beyeler Foundation; Trudi Bruckner; and Balz Hilt started with the idea of creating an international art fair. More than 16,000 people from across the world came to the first fair, which showcased art from 90 galleries in 10 different countries.
Five years later, the number of galleries showing increased to approximately 300, which is about the fair's current size.  Art Basel hosts many varied platforms for galleries within itself now. Offshoots include Art Basel Unlimited, the Design Fair, and its sister fairs in Miami and Hong Kong. The focus of these spaces and locations are pinpointed with certain audiences in mind. Naturally, the fair has ties all over the world. Demand and excitement about the fair were strong enough to open its doors and set up shop.
Art Basel has launched the careers of unknown artists into international icons over the years. Such names include Mariko Mori, Peter Fischli and David Weiss, William Kentridge, Ernesto Neto, Kara Walker, and Pipilotti Rist, to name just a few.
The open-plan of the Unlimited section moves away from the typical booth format and towards creating a space that feels more like a temporary museum that allows for innovative mediums like installation, video, and performance.
In 2002, Art Basel Miami was inaugurated and kicked off exhibiting in shipping containers moved to the beach. In 2013, Hong Kong Art Basel opened for the first time connecting the art scenes of the West and the new international art of the East, in typical Swiss diplomacy.
Art Talks are part of the program with interviews and discussions with artists, curators, museum directors, architects, art critics, and prominent art collectors.
Various projects have extended from the Art Basel Fair, notably in 2009 Hans Ulrich Obrist, Swiss Curator of the UK's Serpentine gallery collaborated with Albanian artist Anri Sala as well as artists Phillipe Parreno, and Rirkrit Tiravanija to create an "opera".  It was made in collaboration with Foundation Beyeler and Theater Basel.
Now the fair takes over the whole city with the introduction of the Parcours sector. This initiative brings artworks curated by Samuel Leuenberger.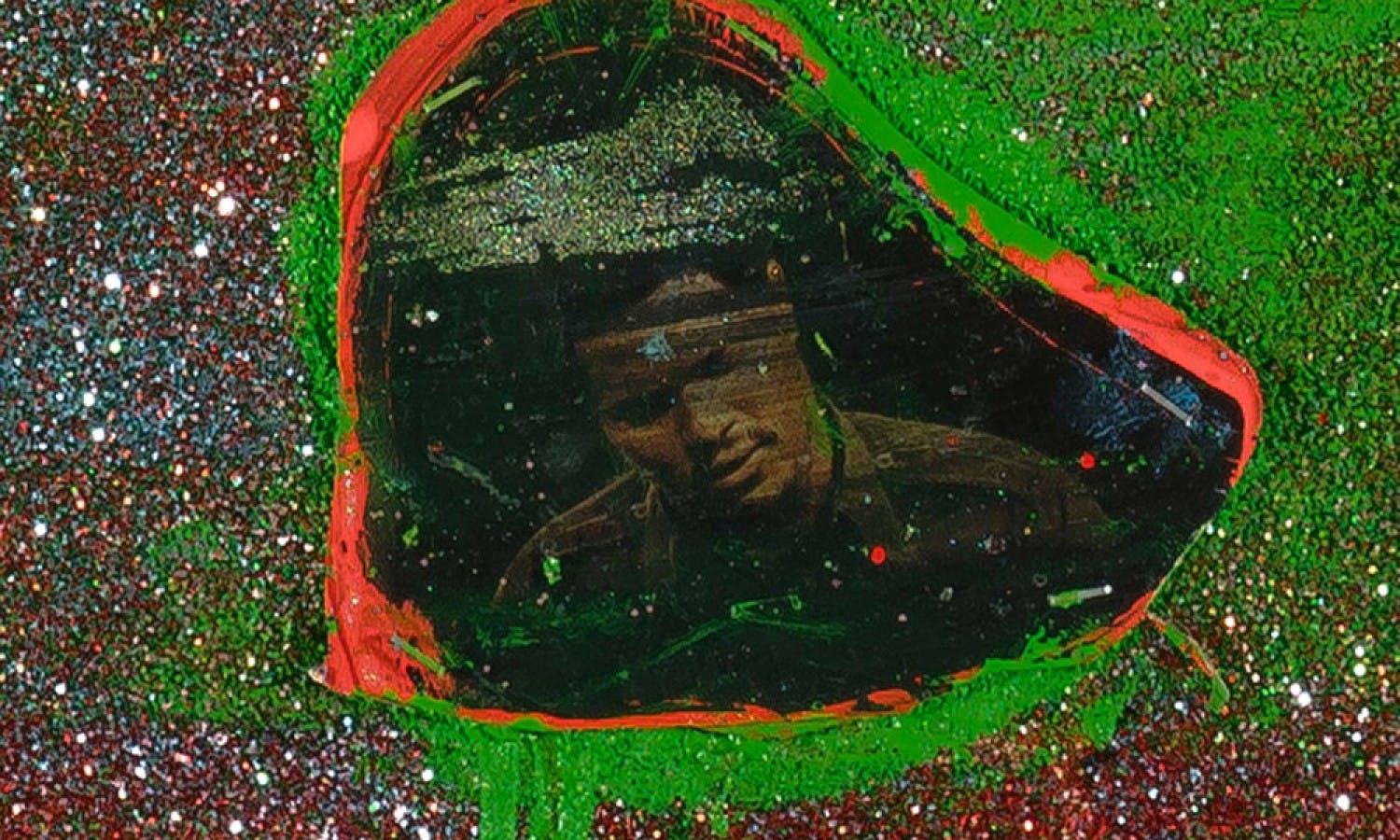 Untitled, Chris Martin (2016)
The 47th edition of Art Basel is about to kick off and it is bigger than ever. Art Basel is undoubtedly the most prestigious art fair in the world. Galleries can wait years to just be on the waitlist and never get in. Four additional galleries have been added and eight first time exhibitors will show at in the official gallery section.
Notably new to the fair are New York's Pace and Mexico City's joségarcía. There is always a lot of hype and drama around Art Basel. This year is no different. The list of galleries who get included or not is notoriously ruthless. This year Mark Müller gallery publically complained on ArtNet of receiving a standard rejection letter to "make room for new younger galleries" after exhibiting with the fair for many years.
Buyers and art lovers alike gather in the little industrial city of Basel for a few days of parties, discussions, and large financial transactions that make up the substance of the commercial art world on a global scale. That is not to say that the art is not good, but the atmosphere created is inherently commercial and competitive. This is not the environment for a quiet reflection on life. Rather, life is exuberantly unfolding as a performance of fashion and politics. It could be argued that this is a better place for people watching than talking about Baudrillard or reflecting on the intricacies of an Alexander Calder.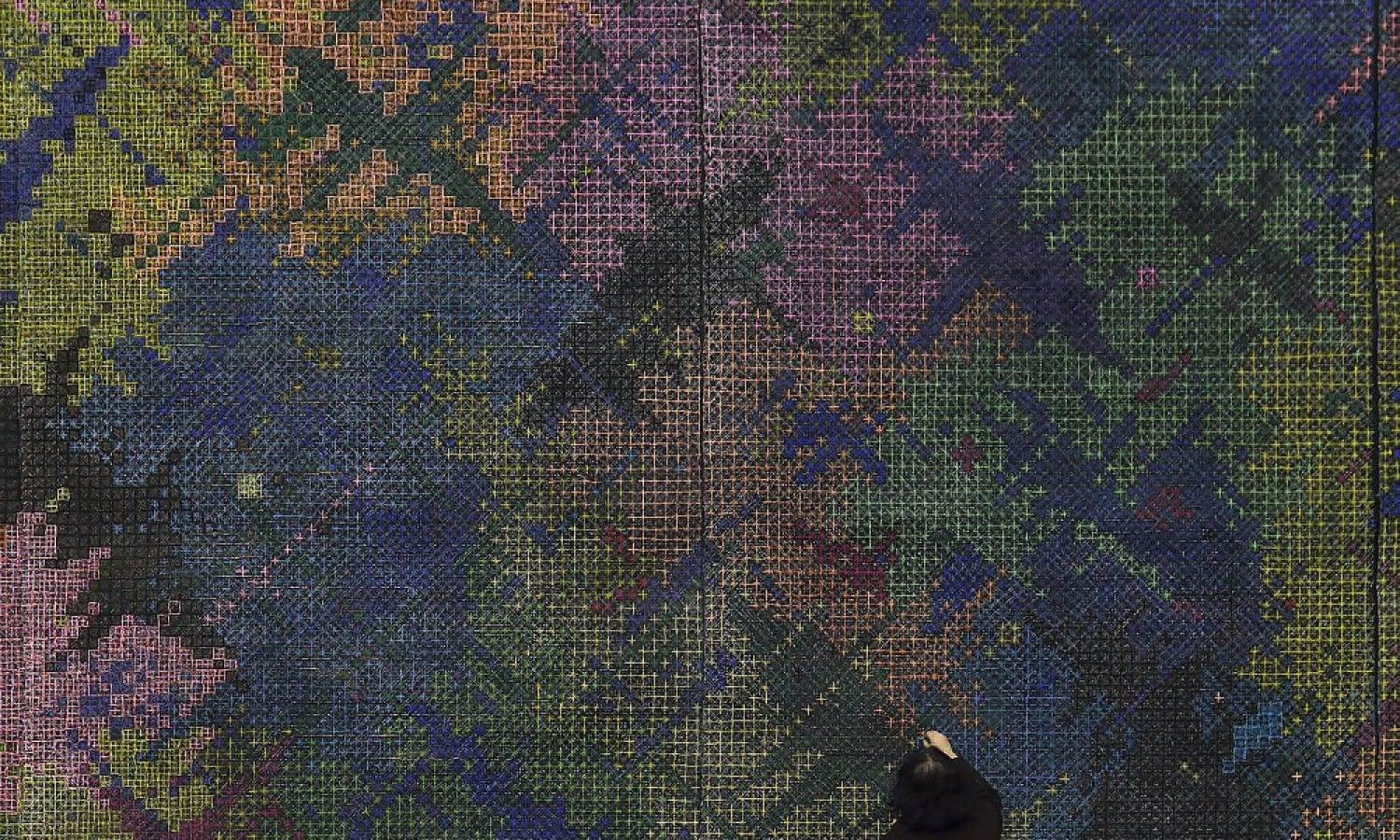 Working on Appearance of Crosses, Ding Yi (2016)
Top galleries put out their best for show as Art Basel is a competition for power and weight in an incestuously crowded market. The art world's finances are never as obvious as they are in Basel.
Switzerland, as the banking capital of the world, is well aware of how valuable the art market is to their clients and numerical systems.  Hito Steyeri, the German artist, drew attention to the dubious transactions that take place in Freeport art storage spaces, most of which are in Switzerland, in her article "Duty-Free Art".
Art Basel is about showing off. You can see not only art but also a fashionable jet-setting crowd. The VIP section is something to see for its curation. Companies that are in line with art products and the clients they serve are carefully chosen to have a presence. Champagne, oysters and fancy sandwiches are food staples. In addition, private jet companies, luxury watch brands, expensive cigars, and of course, banking by the sponsor UBS, are all standards in the insider only section.
Once the fair opens, all the important people have seen and bought what is worth buying. One of the more secretive parts of the art market is the way art is sold. It is not a typical transaction in the retail sense. Since it is such a small group of people who are constantly bumping into each other, it naturally is quite a scene and becomes a gathering reunion of sorts for top industry leaders.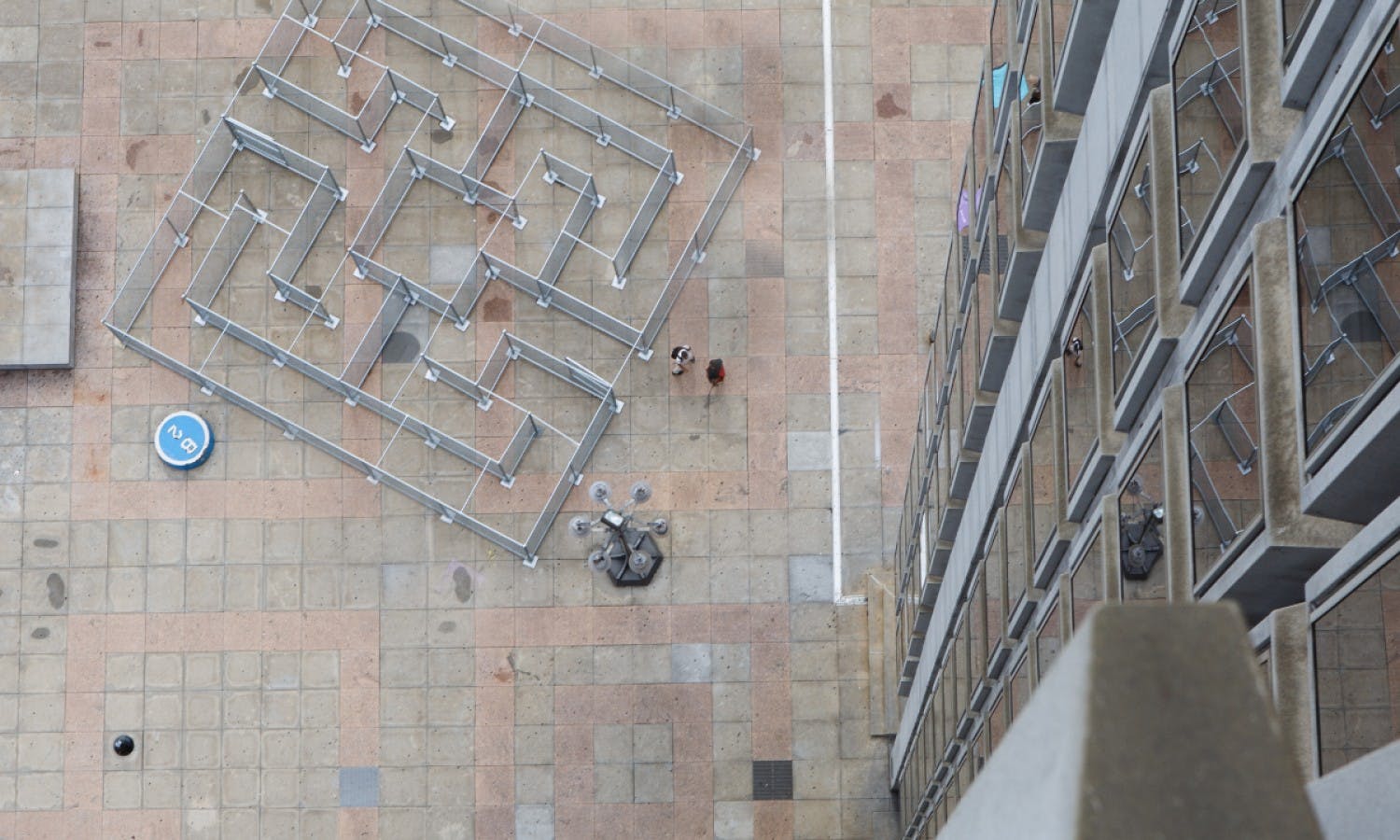 Labyrinth, Sam Durant (2015)
Having a booth at Art Basel solidifies a gallery's name in the so-called art hall of fame. This is validation in the art market as a heavy hitter with respect and prestige. The fair conveniently gives its clientele access to the world's top galleries and artworks available for purchase. Essentially, Art Basel is like a giant shopping mall selling only top-shelf artworks. However, it is not a casual excursion as art dealers and buyers are in contact about sales months before the start and during this time, all flights are booked and hotels sold out. Each year the world's art elite gather the day before the fair opens to make the real transactions just about everything that is going to sell will be sold before the doors open to the public. About 40% of gallery sales are through art fairs, making Art Basel the most coveted place for a gallery to exist.
This year's show will feature significant works by Robert Smithson, Jannis Kounellis, and Olaf Metzel about German refugees arriving in Yugoslavia in 1992.
Artworks with big names like Cark Andre, Picasso, Giacometti, Richard Prince, Dan Flavin, Anish Kapoor, Isa Genzken, etc take the fair. The mix of types of art sold here is impressive, and the timeline is expansive. There is a heavy showing of contemporary and modern art, but notable dealers like Dominique Lévy, the Swiss art dealer quite rightly stated, "This is not an exhibition, this is an art fair. It is about commerce."