Here's a look at some of the best pastry shops in Montreal as satisfying a sweet tooth is pretty much a requirement in this Francophone city.
The buzz surrounding Montreal's solid food scene is not unfounded. From savory dishes of poutine smothered with thick gravy and cheese curds, to perfectly balanced, delicately sweetened Montrealer bagels to of course, the abundance of foie gras, the silky duck liver pate found on almost every menu in the city.
But what about Montreal's delectable selection of pastries and desserts? Surely one can't imagine a Francophone city without thinking of the gourmet confections that adorn the windows of the local patisseries or the aroma that wafts through any Parisian street.  So, what must one do to satiate the desire for a dreamy flaky croissant or a cream-filled profiterole whilst living on the opposite side of the Atlantic? That person heads to Montreal, where pastries and sweet treats abound, often in the most unassuming of places.
My morning commute would be a much less stressful ritual if I started my workday by grabbing a double-stuffed profiterole on the way to the train. I discovered Patisserie St-Louis de France on my way to the Sherbrook Metro in the Plateau section of Mont-Royal.  The profiteroles (cream puffs) are filled with a rich, pudding-like cream that was unlike any I had ever tasted, then topped with a thin chocolate, pistachio or caramel drizzle. Enjoy them at a table in the "quintessentially French" cafe where savory items, such as fresh-sliced charcuterie on a baguette or generous portions of homemade quiche, are also on offer. (Patisserie St-Louis de France, Montréal,)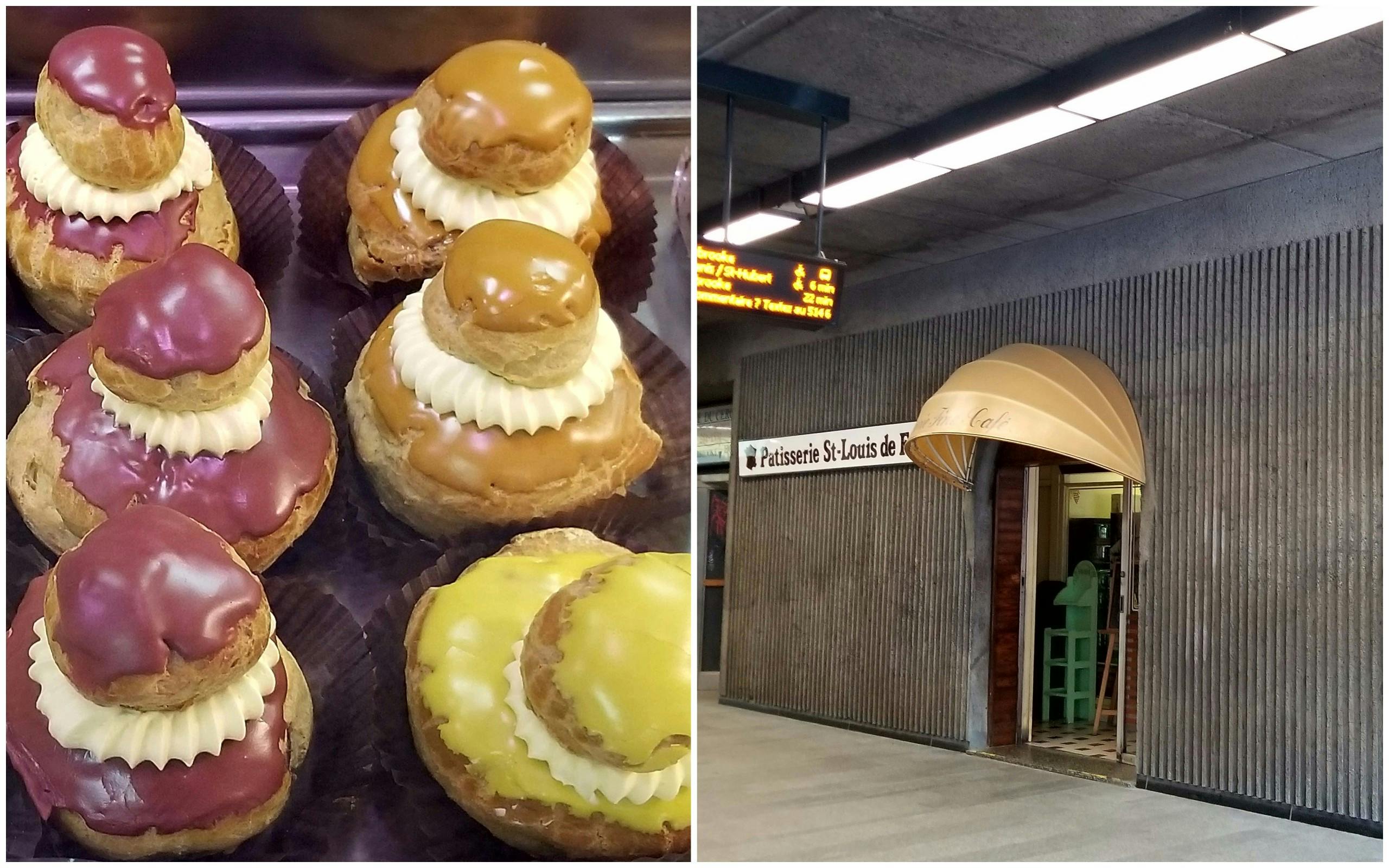 The outside of Patisserie St-Louis de France and their famous profiteroles.
While the recipes of Mamie Clafoutis may be a well kept secret, their light, flaky croissants are not. Since 2008, six locations have opened in Montreal, enticing the crowds with their delectable treats.  What can be better than a warm, buttery croissant? How about one filled with chocolate or pistachio cream? The shop's owners and master bakers, Nicolas and Joseph, founded Mamie Clafoutis to pay homage to the traditions they experienced growing up in a French household. They share memories  by providing fresh, warm treats, made with passion and skill, recalling those they had enjoyed from their grandmothers' kitchens during childhood.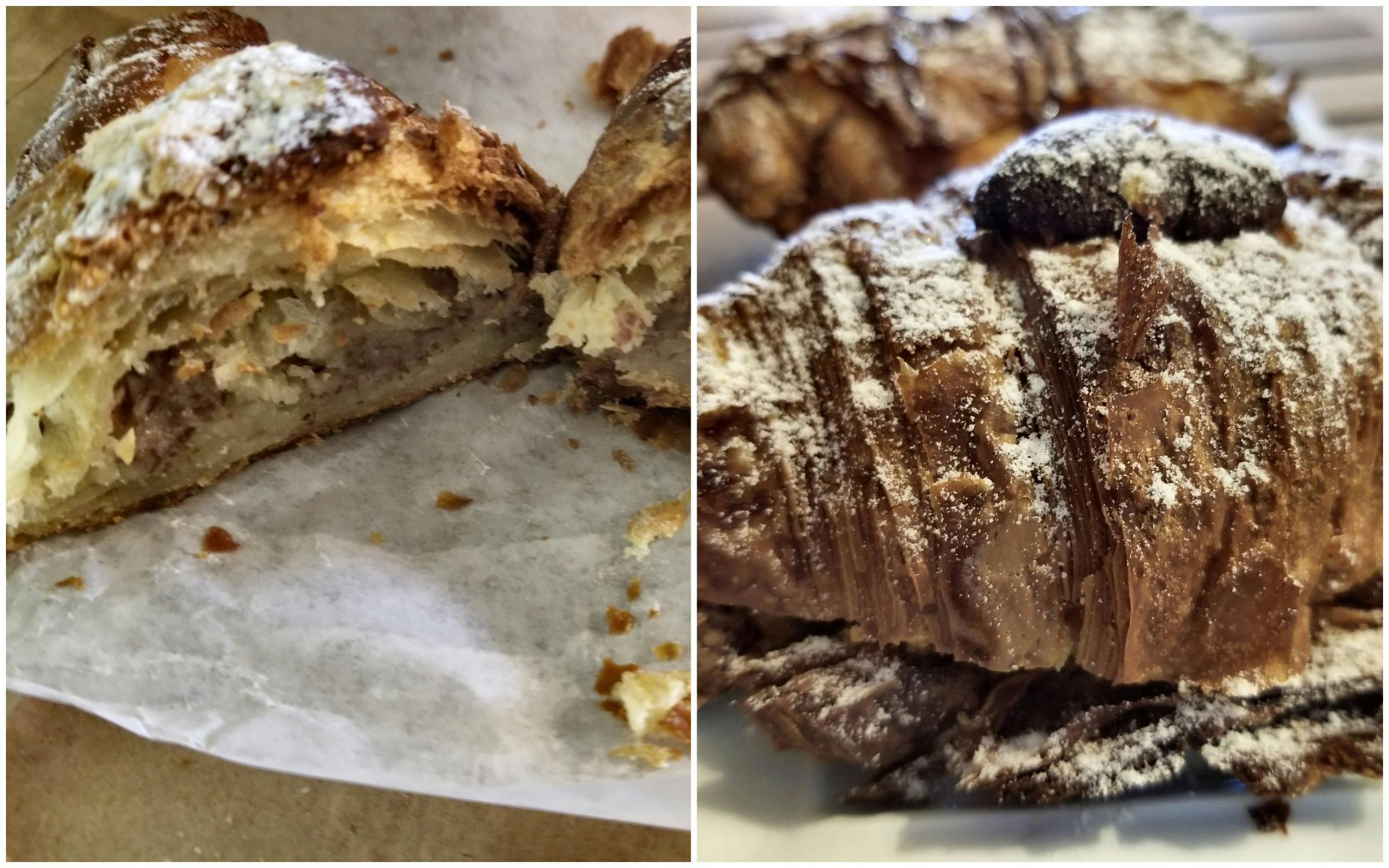 The ins and outs of the pistachio croissant at Mamie Clafoutis.
The crowds start flocking to Mamie Clafoutis pretty early, and lines begin to form around 7am.  Rest assured you'll still find most of your favorite treats even midday, as they bake around the clock. Be sure to grab a ticket on your way through the doors though, as counter service requires you to take a number.  Mamie Clafoutis, has various outposts throughout Montreal and some have a great loft area to sit back and relax while enjoying your desserts.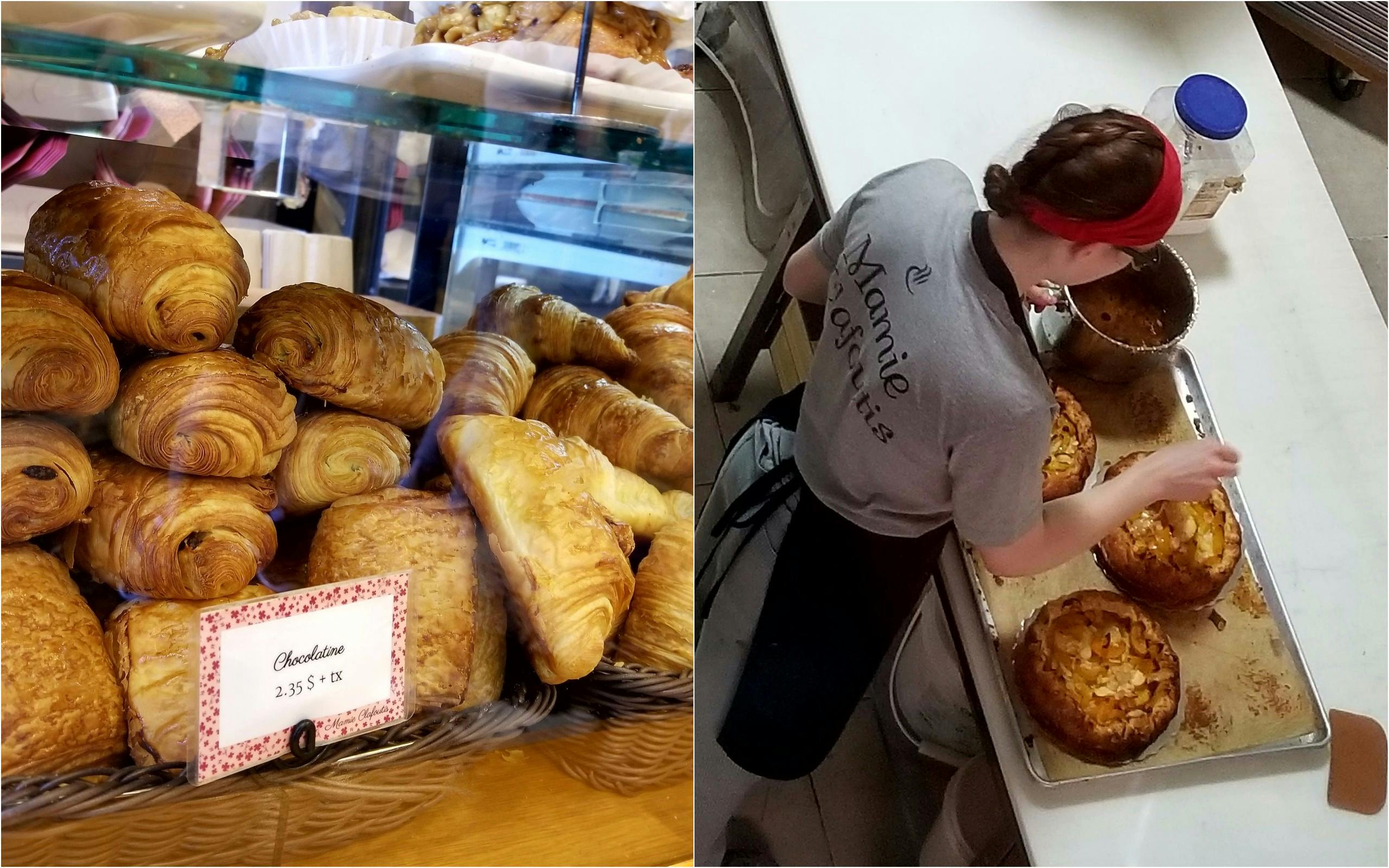 Pain au chocolate on display in Mamie Clafoutis' window; putting the finishing touches on the Tarte aux Pommes
While Juliette et Chocolat is more of a chocolate bar and creperie than a traditional patisserie, it is undoubtedly worth a mention for the delectable, chocolatey treats found round-the-clock. Because who wouldn't want a sweet plate of happiness morning, noon and night? Owner and chocolatier, Juliette Brun, calls her shops (nine in total, five of which are in Montreal) "paradises of GLUTTONY" and it's easy to understand why.  Just when you think a warm, foamy cappuccino can't get any better on a crisp autumn day, try having it with warm dark chocolate drizzling down the sides of the mug. That's exactly what you get when you order the Juliette Cappuccino.  Of course, don't miss the Complete Waffles, loaded with strawberries, bananas, fresh whipped cream and, you guessed it, a serving of dark chocolate coulis making this a sensational way to start or even end your day.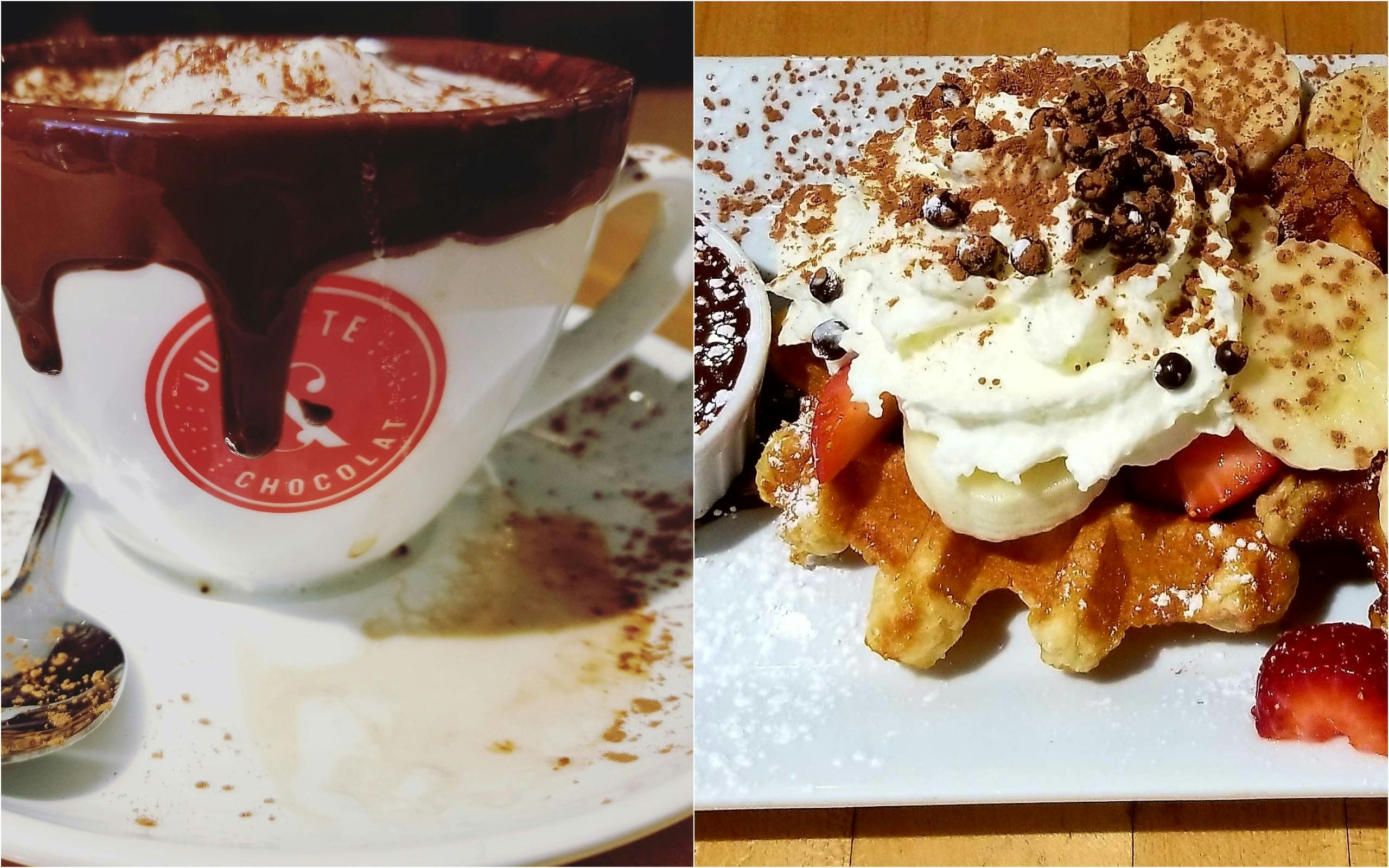 The Juliette Cappuccino and Complete Waffles at Juliette et Chocolat
Montreal is a food lover's dream.  Many of these delectable finds are found within yards of a metro stop.  With little planning and a big appetite, a weekend trip is sure to delight any food lover looking for both savory and sweet finds.