We crossed eleven countries on our trip from Lille to Shanghai. Here's a summary of what we encountered in some of those regions.
Belgium / Netherlands
In France, we call Belgium the "flat country" as, normally, no major road elevation should come in our way. But the journey was much more complex than we thought, as our knees would soon discover. Still, the Netherlands stayed true to its reputation: a country full of rivers and canals with an ever-changing climate and clouds stampeding as fast as scared beavers. It's curious to think that in three days of cycling you can cross three borders.
Germany
Welcome to the country of sausages and beer. We expected to be living like cavemen, to become starving beings with a questionable sense of hygiene – but people's hospitality here was at its peak. Most of the time, we could sleep in a nice garden, with hot showers, German beers and giant breakfasts. It was just one of the occasions when initial suspicion was easily replaced with infinite humanity.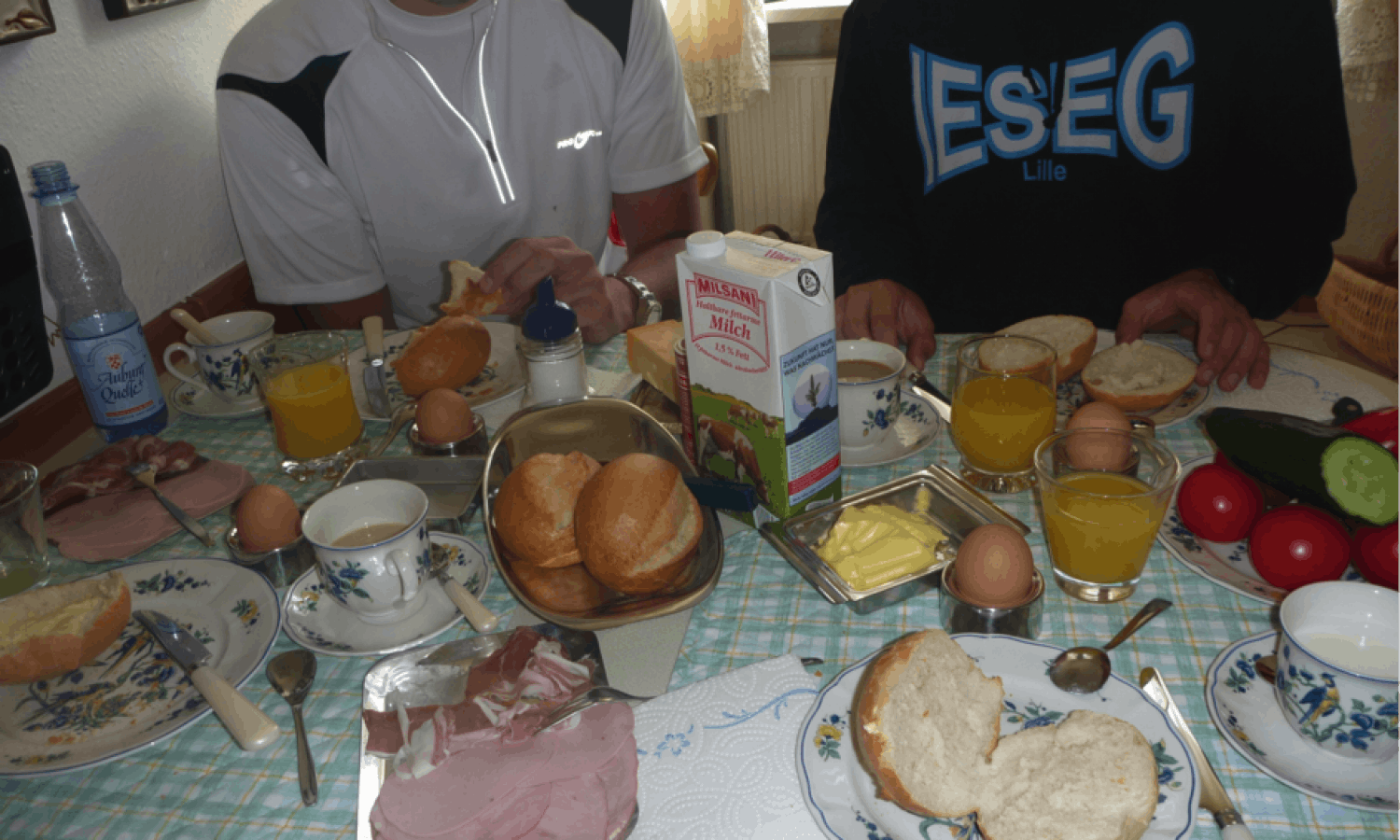 Ach! Thanks for the kartoffelsalat, Helmut!
Poland
Poland gave us the feeling of a long plain under a cloudless sky with not many places to hide from the sun's wrath. Fortunately, storks brooding here and there in their nests – silent spectators of our journey – and smiling and encouraging faces often punctuated those long straight lines. Unexpectedly, we also learned how to milk a cow.
Lithuania
Well, we were a bit worried when we first entered the country, as the three first people we asked for directions were utterly drunk. In the end, what I recall the most would be yellow, the predominant color of this region. Rape fields were everywhere and brought a welcome jolly tone to our eyes.
Latvia
If I reduced this country to one thing, it would be Riga, its capital. A memorable place not only for its monuments and history, but also for its enticing female inhabitants, whose skirts were cut ridiculously high. Boys will be boys, even when their only companion for weeks is a bicycle!
Estonia
At first, we went through a green and steep-sided land, almost like Switzerland – a quite shocking contrast with its neighbours. We also got to experience the end of Communist Europe, bypassing hundreds of lorries patiently waiting for an unlikely 'open sesame!' to be delivered.
Russia
If there is one hint to show you've just left the European Union, it would be the state of the roads. A mere puddle could hide a hole deep enough to quickly engulf your bicycle. Quite surprisingly, the bold architecture and the colored churches of their main cities, St Petersburg and Moscow, contrasted with the serious faces of its inhabitants. And be warned – in the harsh summer of Lake Baikal, clouds of mosquitoes could suck you dry in a matter of minutes.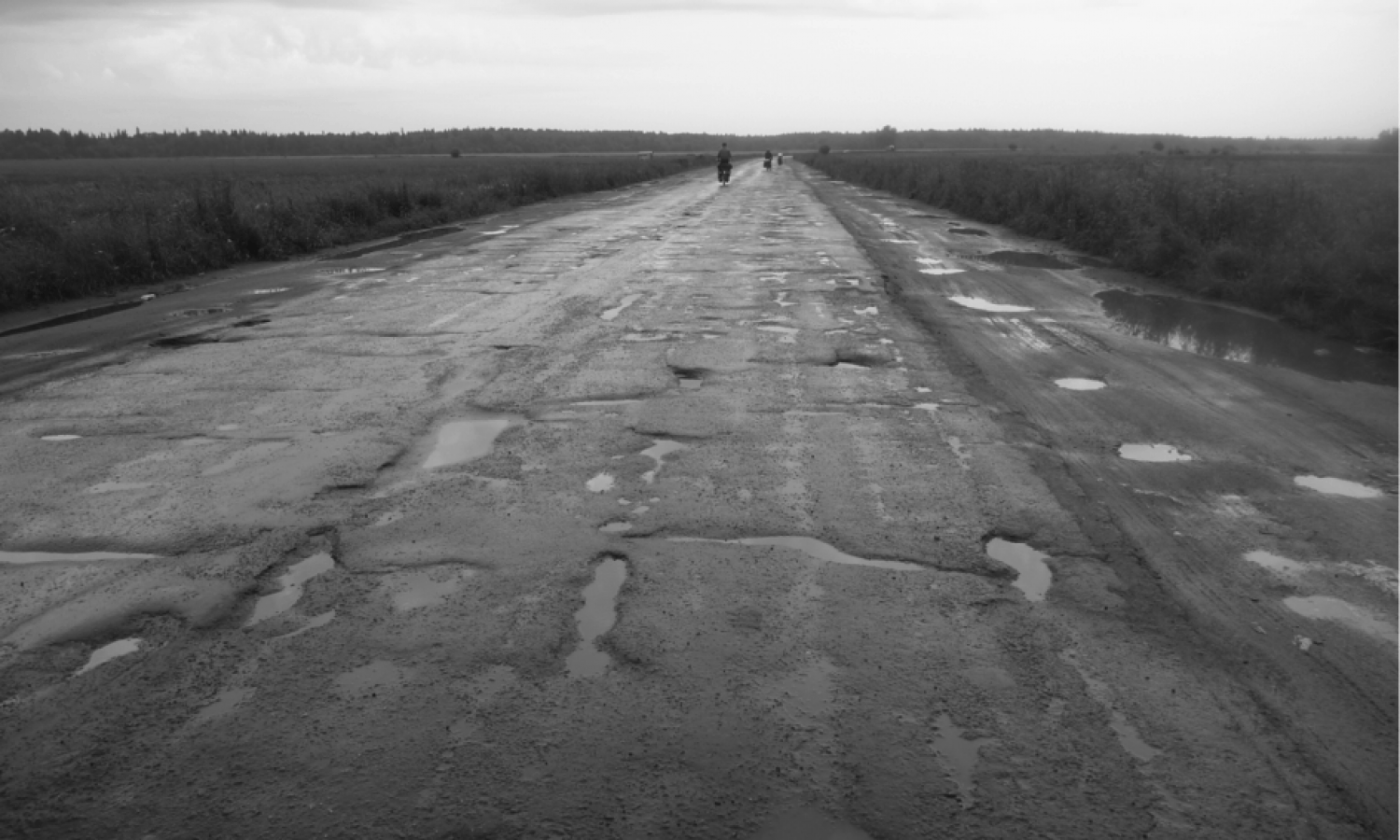 Welcome to bumpy Russia, comrade!
Mongolia
Here, we felt the first signs of real culture shock: people staring, people farting noisily and pretending nothing happened, nomads eating the balls of a sheep, or children staring at your beard as if you were Jesus. Sometimes they would come to you, stand in front of you silently, and then leave without a word. This was when I discovered instant noodles. They were our solace in the desert and a welcome alternative to the national dishes: mutton, mutton or mutton.
China
Frankly, while the North and Beijing surroundings were historical treasures, what I saw on the East coast seriously worried me. To be more specific, the way they treat nature. You see power plants everywhere, and there's persistent air pollution, which sticks to your lungs. Here and there, we really had the feeling that they were not controlling their urban growth and that someday the price will be tremendous. Apart from that, every time we stopped a band of Chinese people would mass together around us and stare at our bicycles with big eyes. Meanwhile, our European custom of eating food from individual plates without sharing was something unfathomable for them.

Just a normal day cycling in China