In a world where the internet can deliver anything to our doorstep with just a couple of clicks, New York is still a top shopping destination. Amanda Coletta, a native New Yorker and concierge, shares her New York City shopping picks with Musement.
As a New York City concierge, I find that hotel guests have been asking less and less about how to get to department store stalwarts like Macy's and Saks Fifth Avenue these days. After all, they can shop online for name brands and have them delivered to their doorstep. Visitors to the city and locals New Yorkers alike are always looking for alternatives. They want stores that tell a story. There's a place for the big box, flagship stores of course, but a well-curated shop that has items so matchless that you just have to have them…that's what you want to find when you're traveling.
Soho is synonymous with shopping, but let's be honest…that southern strip of Broadway has basically turned into a suburban strip mall of Zaras and Banana Republics. However, if you go just a few blocks east you'll find Nolita, brimming with the small, individualized shops that you think of when you imagine a quintessential downtown experience. You'll find independent stores, galleries, and pop-ups centered around Elizabeth, Mott, Mulberry and Prince Streets. Stores such as Coop & Spree (202 Elizabeth St), No. 6 Store (6 Centre Market Pl), Creatures of Comfort (205 Mulberry St) and Totkaelo (54 Crosby St) carry collections from many designers and brand names, some established while others are up-and-coming; in fact, many you won't find anywhere else. Looking for an unusual piece of jewelry, accessory, or perhaps the perfect gift? Check out Thomas Sires (243 Elizabeth St) which carries housewares, gifts and jewelry or Erica Weiner (173 Elizabeth St) who creates her own vintage-inspired jewelry.

"New York City" by Jeff Turner is licensed by CC by 2.0.
You might find some vintage pieces mixed in with the other apparel at many of the shops in Nolita, where it's easy to deep dive into the past at some of New York's best vintage shops which are not too far from there in the nearby East Village and Lower East Side. Feeling the neighborhood's punk rock vibe? Want some vintage t-shirts, jackets or denim? Check out Metropolis (43 3rd Ave), No Relation (204 1st Ave), Procell (5 Delancey St) or Mr. Throwback (428 E 9th St). If you're looking for an incredible assortment of bags and shoes visit Edith Machinest (104 Rivington St). For a bit more eclectic array of wares check out Local Clothing (328 East 9th St), the Japanese owned Tokio7 (83 East 7th St) which has some top names for consignment, or Auh20 Thrifique (84 East 7th St) for bargains.
Maybe you're still looking for a department store experience? Then British Import, Dover Street Market (DSM) is definitely worth a visit. The seven-floor fashion mecca is a great alternative to a traditional department store. While some designers such as Prada, Commes des Garcons, and Thom Browne have permanent spaces, other designers rotate with the seasons as do the art installations. Designers often create items specifically for sale at DSM. Each floor is curated differently in such a way to best showcase the items and designers, but no matter what floor you're on, avant garde is more the norm….this is definitely not Macy's!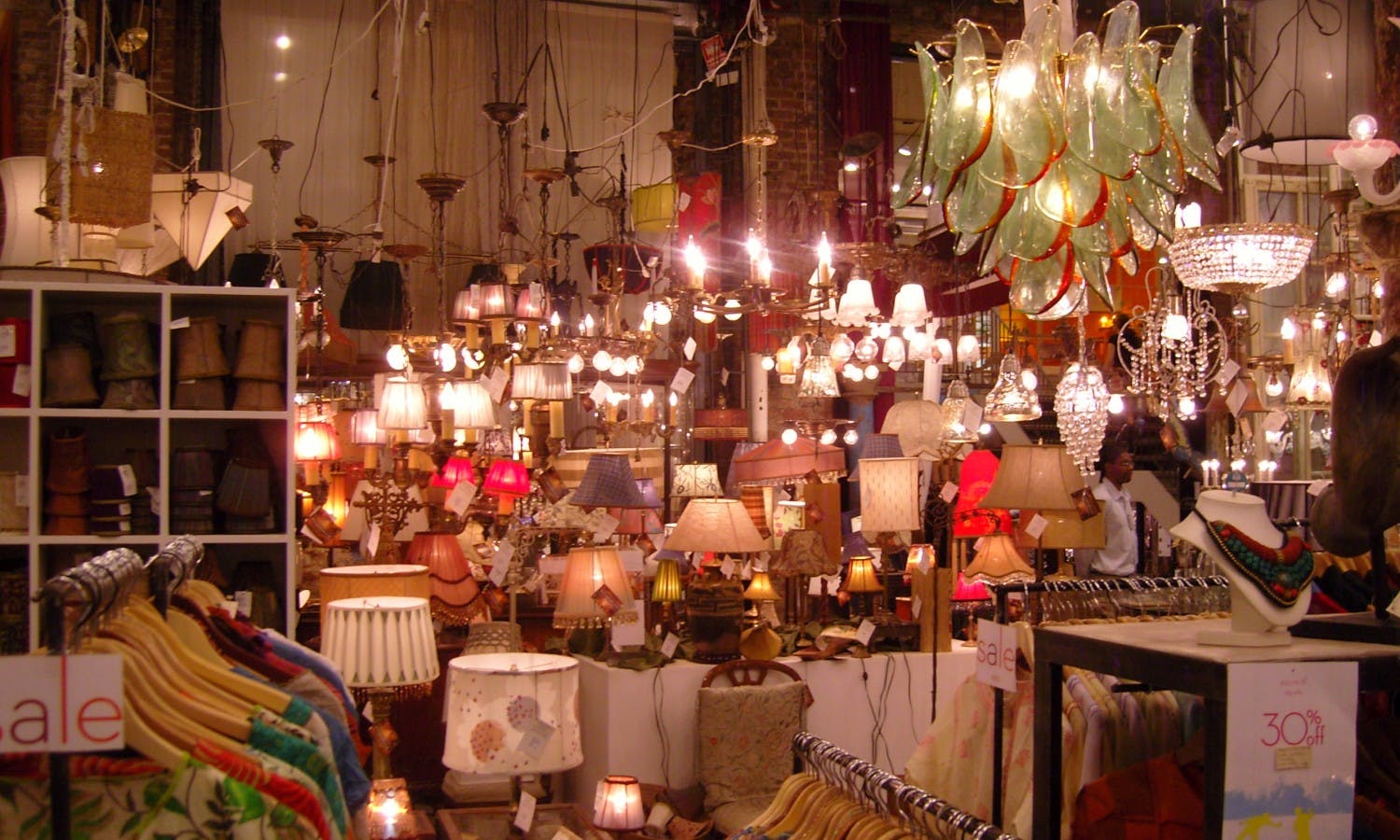 "ABC Carpet & Home in Flatiron District" by Cristina Bejarano is licensed by CC by 2.0.
Another multi-floored emporium that is a must visit while in New York is ABC Carpet & Home. The six-story destination is far from just a carpet and furniture home store. Everything is cultivated and chosen with care. Displays of merchandise are almost works of art. Even if you are not on the prowl for a new carpet, take a peek at the beautiful handmade tapestries from all over the world, each one more stunning than the next. On the smaller side, a souvenir can easily be found among the jewelry, apothecary, and unusual "knick knacks". If you're looking for a gift for your host, you will without a doubt find something in ABC's kitchen section and probably leave with a treat for yourself! In addition to shopping, Jean Georges has two acclaimed restaurants (ABC Kitchen and ABC Cocina) and a soon-to-be third. The store also has a great event space that they use for lectures and classes. Deepak Chopra himself has Deepak Homebase, a salon used for conversation with luminaries and icons as well as workshops focused on the well being of both the individual and the world, from both physical and emotional standpoints.

"Chelsea Market – New York" by Yusuke Kawasaki is licensed by CC by 2.0.
Lastly, I'd be remiss if I failed to mention all of New York's specialty food shops. If there was ever a city that was a melting pot, it's New York, and food plays an important part in that melting pot. In addition to food from all over the world, we also have goods that are quintessential New York.  If you only have one chance to buy specialty food items, Chelsea Market is the place to go, with more than 35 shops and vendors that take up an entire city block. Stop for lunch and buy some food gifts while you're there. Highlights include Amy's Bread, Fatwitch Bakery, Spices and Teas, and even Artists and Fleas which is a craft flea market if you are looking for more out of the box (nonfood) items.