Weekend in the English capital? Discover the ultimate itinerary to see the best of London in two days.
Multicultural, historic and cutting-edge, London has something for everyone, from internationally renowned museums to beautiful parks, modern architecture and sites that tell the story of the city's past. With so much to see and do, it can be tricky designing your perfect itinerary, especially if you're short on time.
That's why we've created this two-day itinerary in London, ideal for those who've never stepped foot in the city before. It includes all those must-see attractions, along with some more off-the-beaten-track experiences that let you dive deeper into the city.
Check out the two maps and read on for the full plan:
London Itinerary: Day 1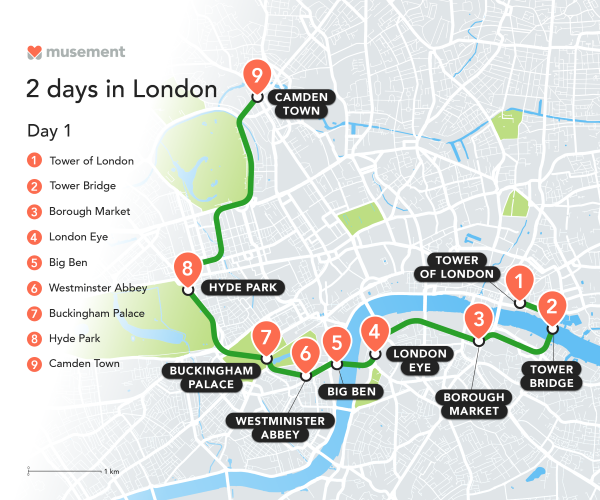 Estimated visit time: 2 hours
Tube station: Tower Hill (approx. 4 minutes' walk)
There's no better way to start your trip to London than by learning about the city's long and fascinating past. The Tower of London, overlooking the north bank of the Thames, is the place to begin. A magnificent Norman fortress, it was the terror-inducing prison of the Crown for almost a century. This UNESCO World Heritage site, where Anne Boleyn was famously beheaded, holds many treasures, including the Crown Jewels, the famous White Tower and the Royal Chapel. To fully immerse yourself in its intriguing history, book a guided tour with a 'Beefeater' tower keeper.
After the visit, which will take around an hour and 15 minutes, head to the Tower Bridge, just a short walk away. Climb the 138ft-high walkways and admire the river views from the most famous bridge in London. Otherwise, you can cross the bridge into Southwark.
Visualizza questo post su Instagram
11.00am: Take in the view from the London Eye
Estimated visit time: 1.30 hours
Tube station: Waterloo (approx. 6 minutes' walk)
To get to the iconic London ferris wheel you have two options: walk for around 45 minutes to get to Southwark, or take public transport. While the second option is certainly faster, the first is pleasantly scenic. You'll pass through a lively area, which you'll have time to explore in more depth on the second day. For the first day, we suggest taking a small detour to Borough Market, great for grabbing a quick snack or browsing the many food stalls.
Finally, you'll reach the famous London Eye, which you should visit at least once in your life. It's a fun experience for the whole family, where you'll get to enjoy a spectacular view of the city. A ride on the Ferris wheel takes about 30 minutes, but keep in mind the line to buy tickets can be long. We recommend buying your tickets online in advance.
Estimated visit time: 1 hour
Tube station: St James Park (approx. 4 minutes' walk)
Next up is the Big Ben, the bell in the clock tower that officially changed its name to the Elizabeth Tower to mark Elizabeth II's Diamond Jubilee. Left silent for five years due to maintenance work, at the end of last year the bells of the tower were back to playing their melody every fifteen minutes.
After taking a few photos of the tower, it's time to enter Westminster Abbey. This majestic Gothic-style church where British monarchs are crowned was also where William and Kate exchanged their wedding vows. With the help of an audio guide, you'll discover curiosities about the abbey and appreciate its highlights.
Visualizza questo post su Instagram
1.30pm: Time for lunch
The area around Westminster Abbey is quite touristy, which means it can be difficult to find well-priced places to have lunch. But it's not impossible. We give you three options. For a quick but tasty lunch, go to Sapori, an Italian-English sandwich chain with good ingredients and little pretension. If, on the other hand, you fancy trying classic fish and chips, The Laughing Halibut is a great option less than a 10-minute walk away. Finally, if you want to try something a little more elegant, The Caxton Grill is a very popular place that serves delicious steak dishes.
Estimated visit time: 1 hour
Tube station: St James Park (approx. 8 minutes' walk)
In a quarter of an hour on foot you can easily reach Buckingham Palace, the official royal residence in London. The building is wonderfully lavish, both inside and out. However, it's only open to the public at certain times of the year. If you travel at the right time, you can enjoy a tour inside the palace and admire the royal rooms (book well in advance to guarantee yourself a spot). But even if it's not open, it's still worth peeking in from the outside.
Buckingham Palace also happens to be surrounded by some beautiful parks. If the weather is nice go for a stroll in St James Park, an urban oasis, inhabited by squirrels and various species of birds, with lush plants and, in spring, a myriad of colorful flowers.
Visualizza questo post su Instagram
3.30pm: Relax in Hyde Park
Estimated visit time: from 1.30 hours
Tube Station: Hyde Park Corner/Knightsbrigde/Marble Arch (approx. 2 minutes' walk)
After so much exploring, treat yourself to a relaxing afternoon in London's most famous green space: Hyde Park. One of eight Royal Parks, Hyde Park covers around 346 acres and is one of the oldest parks in the city. Over the years it's hosted several events and concerts that have gone down in history.
Head to Serpentine Lake, which divides the park in two. If you want, you can rent a rowing boat and take a romantic ride on the lake. Another unmissable site is Speakers' Corner, north-east of the park, which is famous as the only place where Churchill's government could be criticized during WWII. Finally, make your way to Kensington Palace, the royal residence of the Prince and Princess of Wales. Some areas of the building are open to the public and can be visited by buying a ticket, which also lets you access its temporary exhibitions.
Spend the evening in Camden Town
Underground station: Camden Town
Artistic and alternative, Camden Town has become a classic attraction without losing its underground charm. Be sure to make a stop at Primrose Hill. Whether you go at sunset or in the evening, you can enjoy a truly breathtaking view and a very romantic atmosphere. As for clubs and restaurants, in Camden you'll be spoiled for choice. If you are looking for something hip and a little bit different our advice is to go to Mildreds, a welcoming restaurant that serves 100% vegetarian dishes.
London itinerary: day 2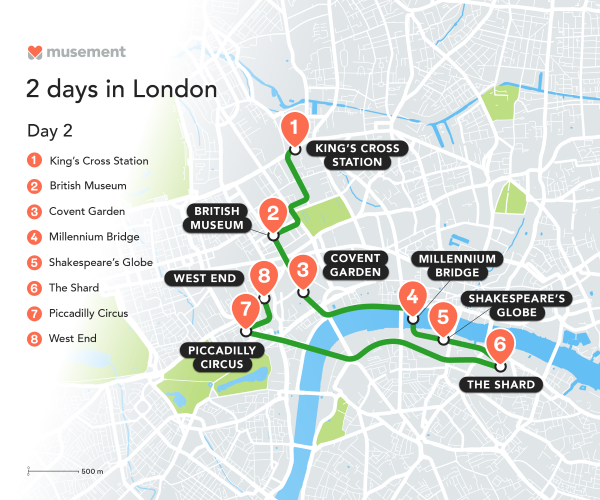 Estimated visit time: 1 hour
Tube station: King's Cross St Pancras (approx. 1 minutes' walk)
Our second day in London begins at King's Cross, one of the city's most popular train stations. Harry Potter fans will instantly recognize this station as the Hogwarts Express departs from here. Look for platform 9 ¾ and pretend to go through the magical wall with the baggage cart. There's also a Harry Potter themed gadget shop nearby.
Next door is St Pancras International railway station, which is even more impressive than King's Cross. If you arrive in London on the Eurostar, this will most likely be your stop. Before leaving, treat yourself to an elegant break on the upper floor of The Booking Office, where you can also get a good coffee.
Visualizza questo post su Instagram
10.30am: See the collection of the British Museum
Estimated visit time: 2.30 hours
Tube station: Russell Square (approx. 7 minutes' walk)
The world's first national public museum is a must-see on your first trip to London. The British Museum has a huge permanent collection with millions of artefacts spanning two million years of history. Focusing primarily on the history of mankind and world culture, the collection is divided into several sections.
The sections not to be missed include the following: Egypt and Sudan, where the famous Rosetta Stone is located; Greece and Rome, which is one of the largest exhibitions on classical antiquity in the world; and the Middle East, with the largest collection of Mesopotamian objects outside Iraq. Entrance to the museum is free, but we recommend booking a visit with a specialized guide to make the most of the experience.
1.30 pm: Lunch in Covent Garden
Has all that culture made you peckish? Go for lunch in Covent Garden, a 12-minute walk from the British Museum. In this neighborhood full of shops, bars and restaurants, it won't be difficult to find something tasty. But if you're looking for a local favorite, we suggest heading to the 5th floor of the Royal Opera House. There you'll find the Piazza restaurant, one of the few places in London where you can eat on the terrace all year round, soaking up the vibrant atmosphere of Covent Garden.
Visualizza questo post su Instagram
3.00pm: Walk from Southbank to the Millennium Bridge
Estimated visit time: 1.30 hours
Underground station: Mansion House (approx. 5 minutes' on foot)
After lunch, continue sight-seeing. If you feel like stretching your legs, walk back to the Southbank over Waterloo Bridge. Enjoy the view over the Thames as you walk up to the Millennium Bridge. This steel pedestrian bridge was inaugurated in 2000 and many will have spotted it in Harry Potter and the Half-Blood Prince and Guardians of the Galaxy.
A little further on, still on the south bank of the Thames, is Shakespeare's Globe. This theater is a recreation of the original, which opened in 1598 and burned down in 1613. Here you can see an exhibition on William Shakespeare and his works, and also take in a show.
Alternatively: if you prefer to spend a little more time in London's museums, go from Covent Garden to the National Gallery. This museum houses an outstanding collection of European art, including works by Van Gogh, Rembrandt, Vermeer, Monet and Da Vinci. While you're at it, you can pop over to Trafalgar Square.
4.30pm: See London from The Shard
Estimated visit time: 1.30 hours
Underground station: London Bridge (approx. 3 minutes' walk)
We love the London skyline so much we wanted to see it again on the second day, but this time by climbing a skyscraper. At around 1017ft high The Shard is the tallest building in the UK and, with its unusual pyramid shape, has become an icon of the city's skyline. The entrance ticket lets you access The View from the Shard on the 72nd floor, where you'll enjoy a spectacular 360° panorama of London. There's also an open deck where, with the wind in your hair, you can take in the view across the Thames and up to 40 miles away. Complete your experience with a drink at London's highest bar.
Visualizza questo post su Instagram
End the day in the West End
After a short break at the hotel, it's time to enjoy an evening in the West End. Take the tube or walk to Piccadilly Circus. This square full of billboards will most likely be familiar to you, as it's appeared in many a film. Continue your walk to Chinatown, where you'll find tons of options for a tasty Chinese dinner. Finally, how about a musical? The West End is full of theaters that host dozens of shows every day and it's not difficult to buy a ticket on the day.