Mexico City is one of the most culturally rich, kind, adventurous and interesting cities in the world. From the amazing street food to the history behind each building, it's a location you'll love in a heartbeat. Here are some of my highlights based on my two years living there
The locals know Mexico City as DF and it's one of my favorite places in the world.
Walking around the streets is sometimes like being in a time machine, going from pyramid ruins to colonial-looking buildings to modern minimalist restaurants. It's full of surprises.
But let's start from the beginning!
DAY 1
8.00am – Start your day having breakfast at Café La Blanca and take a trip down memory lane to the 1950s. This café is very traditional but attracts a diverse crowd, from artists to politicians. You won't really see other travelers there.
9.45 – Walk down to Zócalo, where you can visit the main city buildings, both religious and political. It's been the epicenter of Mexico's history since the very start. As the story goes, the Aztecs were told to build their biggest temple and city where they found an eagle eating a snake, and they did so on top of a lake. That's how Tenochtitlan was founded. Today, where the ancient Mayor Temple once sat, there's a big church called Catedral Metropolitana, built by the conquering Spanish with the stones they took from the Mexican temple. Crazy, eh?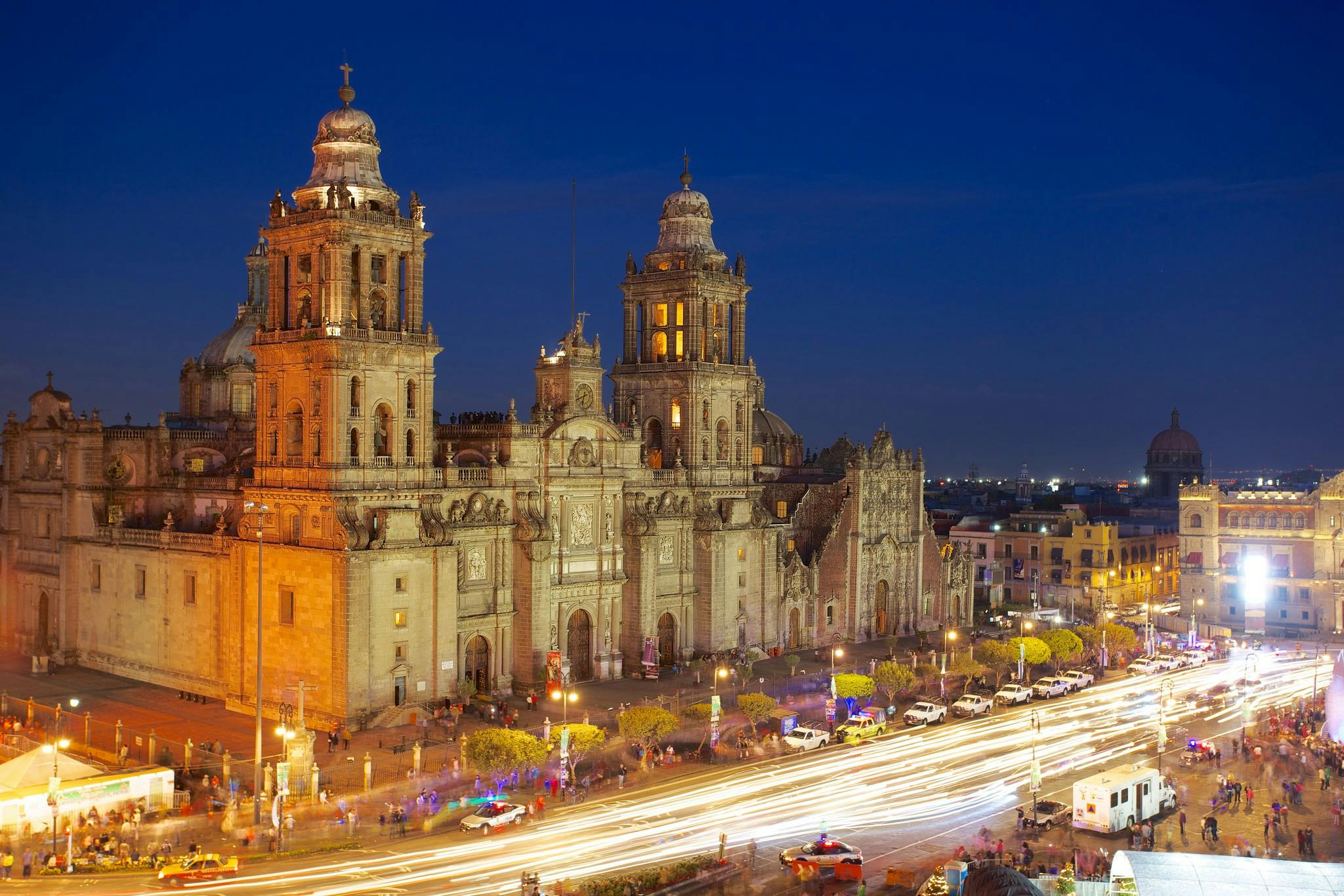 Catedral Metropolitana, Photo credit: jiuguangw via Visual hunt / CC BY-SA
12.00 – Take a walk on pedestrianized Madero street and mingle with the hundreds of locals. You'll find many boutiques, bookstores, restaurants, coffee shops and churches. If you like architecture and history, spare ten minutes to visit Sanborns café-restaurant inside the Tile House. But don't spend too much time on the food – the beautiful tiles will give you some amazing pics. If you'd like a little snack, try the tacos de Canasta Chucho. This isn't your ordinary taco. You can choose between beans, potatoes, bacon with salsa verde, eggs and much more.
1.00pm – If there's a clear sky, have a peek at the city from Torre Latinoamericana. There's a viewpoint on the 42nd floor, from which you can see many landmarks.
2.00 – What's that sound? It seems you're hungry. Mexicans are known for having late meals, so a regular lunch could be 2.00-4.00pm. Make a pit-stop at the legendary Bar La Opera, which has been the location for various movies. If you're interested, ask the waiter to show you the place where Pancho Villa left a bullet hole.
3.30 – Back on the discovery trail, it's time to visit Bellas Artes. This fascinating building has a very modern exterior but an interior that's completely Art Deco. They always have some sort of exhibition on and you'll want to stay longer because of their excellent café and bookstore.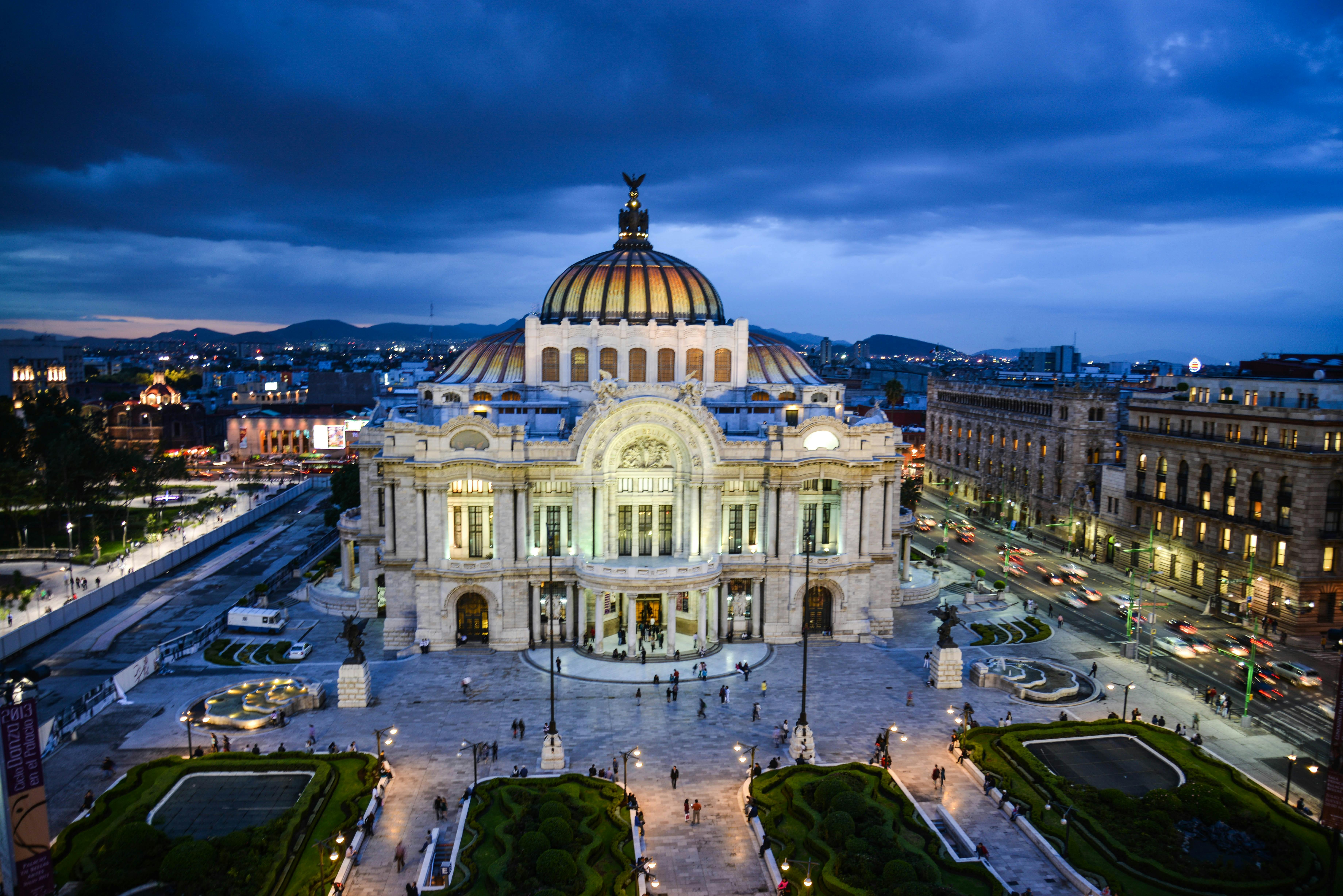 Palacio de Bellas Artes, Photo credit: Mario Paredes via Visualhunt.com / CC BY-ND
4.00 – Now you have two options. You can walk down Alameda and order a coffee at Trevi across the road, or you can go into the Franz Mayer Museum, visit the permanent exhibits and spend some time in their beautiful patio and garden.
6.00 – Continue your walk on Av Juárez. Here, you can visit the National Lottery building (buy a ticket – you never know if luck is on your side). Keep walking until you reach the Revolution Monument, where you might decide to visit the museum and viewpoint.
7.00 – If you're still a bit hungry, finish your night by having dinner at Mesón de Puerto Chico, one block from the Revolution Monument.
10.00 – After dinner, go to Garibaldi Square (Eje Central Metro, ten minutes' walk from the last station on the green line). This place is full of mariachi bands that compete for your attention. Find your favorite and ask them for a few songs (it's very important to tip in cash afterwards). Maybe then visit the legendary bar Tenampa and order a mezcal or tequila. Have a competition with your friends to see who can handle more electric shocks (an interesting Mexican tradition!) and enjoy the murals until your vision blurs.
DAY 2
9.00am – Rise and shine with breakfast in Coyoacán. It's a quiet and cute neighborhood that, back in the day, was the site of many rural homes. The place is now full of museums, cafés and it has an interesting vibe. Head to Mercado de Coyoacán, and, if you want to act like a local, order the traditional quesadillas (pronounced 'kekas') and some huaraches. After that, just stroll around the market and enjoy.
10.00 – Go visit The Blue House (La Casa Azul) – Frida Kahlo's last home. The building was donated by her ex-husband Diego Rivera, also a well known Mexican artist, to become a space dedicated to her honor.
11.30 – Head to the Roma neighborhood and walk down Álvaro Obregón. Once you're there, get lost among the streets. In Parque Mexico you can watch the kids playing and the dogs running. Take Amsterdam Street, which used to cover a hippodrome, and make your way to the Condesa neighborhood. A bookstore, antique store or a cute bistro is bound to draw you in. Enjoy the vibe.
3.00pm – Head to Avenida Reforma and see the Ángel de la Independencia. Further down the avenue towards Chapultepec you'll have to decide if you want to visit the castle, Tamayo Museum, the forest or an event at the Anthropology Museum.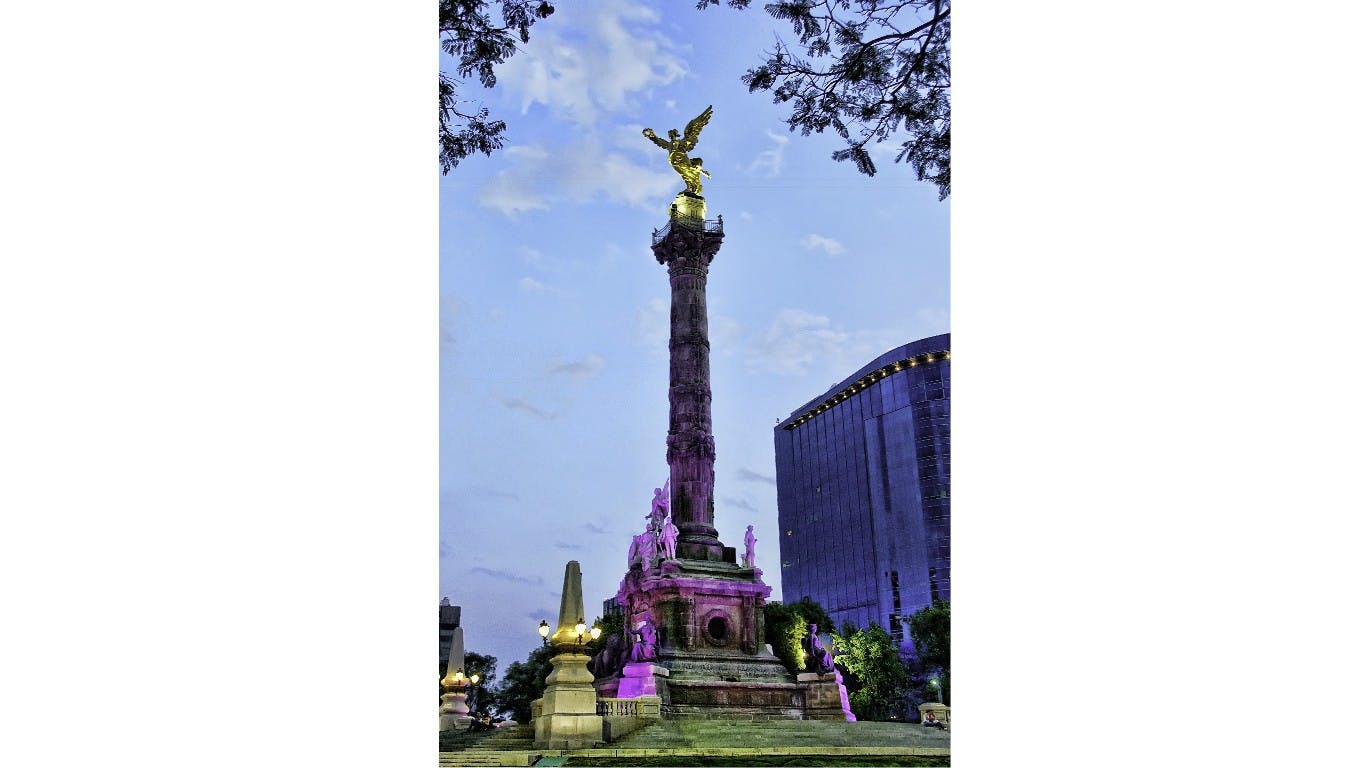 Ángel de la independencia, Photo credit: Francisco Diez via VisualHunt / CC BY
7.00 – This is the perfect time to go to the traditional Mexican lucha libres in Arena Mexico. The wrestlers usually perform on Tuesdays and Thursdays, but take a look at their schedule (https://cmll.com/?p=2976) to be certain. Have fun screaming at the fighters and eating loads of junk food.
9.00 – Dinner time! Enjoy one of the most famous Mexican delicacies: tacos al pastor. My absolute favorite taquería is El Califa, but you'll soon see that recommendations depend on whom you trust. Don't forget to order água de jamaica (cold hibiscus tea) to go with your tacos.
10.30 – If you aren't that tired, go to La Botica and try one (or many) kinds of mezcal. This is a traditional liquor from Mexico but not the same as tequila. Don't forget to eat some queijo Oaxaca with it. If you want to try something equally traditional but a bit more exotic, head to Pulquería Los Insurgentes and have a glass of pulque.
And finally . . .
The city is so flat that you can easily get around by bike. There's a public bike-share scheme, but you can also rent your own bike. On two wheels you'll see everything.
If you have more time, or if you wish to spend one of your days on an excursion, other options are to visit Xochimilco or Teotihuacán (the closest pyramids to Mexico City). This is more likely to take up about half of your day.
Cover Photo credit: Lars Plougmann via Visual hunt / CC BY-SA