New York City's MoMA (Museum of Modern Art) houses some of the world's most highly regarded masterpieces along with some lesser-known treasures. Musement takes a look at six of MoMA's hidden gems.
The Museum of Modern Art, known more familiarly as MoMA, is one of the world's largest and most significant modern art museums. It is home to nearly 200,000 works spread over 52 exhibitions. The highly esteemed cultural institution is conveniently located in midtown Manhattan, very close to Times Square and just a short walk from Rockefeller Center.
During the Christmas season, MoMA is the perfect place to escape the winter chill and warm up after taking your Rockefeller-Center-Christmas-Tree selfies. As for a hot summer day, it makes for the ideal spot to cool down and take in some art. In short, it's a must-visit for anyone in New York, both locals and travelers alike.
Among MoMA's veritable art masterpieces are some of the world's most remarkable paintings like Vincent van Gogh's The Starry Night, Andy Warhol's Campbell's Soup Cans, Henri Matisse's Dance, and Pablo Picasso's Les Demoiselles d'Avignon, to name a few.
Whether you're a first-timer trying to see as much of MoMA as possible or a repeat guest hoping to scratch below the surface, it would be unfortunate to miss some of the hidden gems, so we spoke with our friends at the museum for the scoop on their lesser-known treasures.
It is best to book skip-the-line tickets so you don't have to waste any time waiting, and when you're at the museum, make sure to find these six hidden treasures of artwork at MOMA:
1) James Rosenquist's F-111 (1964-65)
American pop artist James Rosenquist began to paint the 86-foot-long F-111 in the middle of one of this country's most tense and tumultuous decades. Inspired by advertising billboards and earlier mural-scaled paintings such Claude Monet's Water Lilies, Rosenquist used the F-111 fighter-bomber plane as his subject. Using the bomber plane as the base for all the work's panels, Rosequist incorporated commercial products and references to war. With the use of these bright colored images, Rosenquist was able to express what he described as "the collusion between the Vietnam death machine, consumerism, the media, and advertising."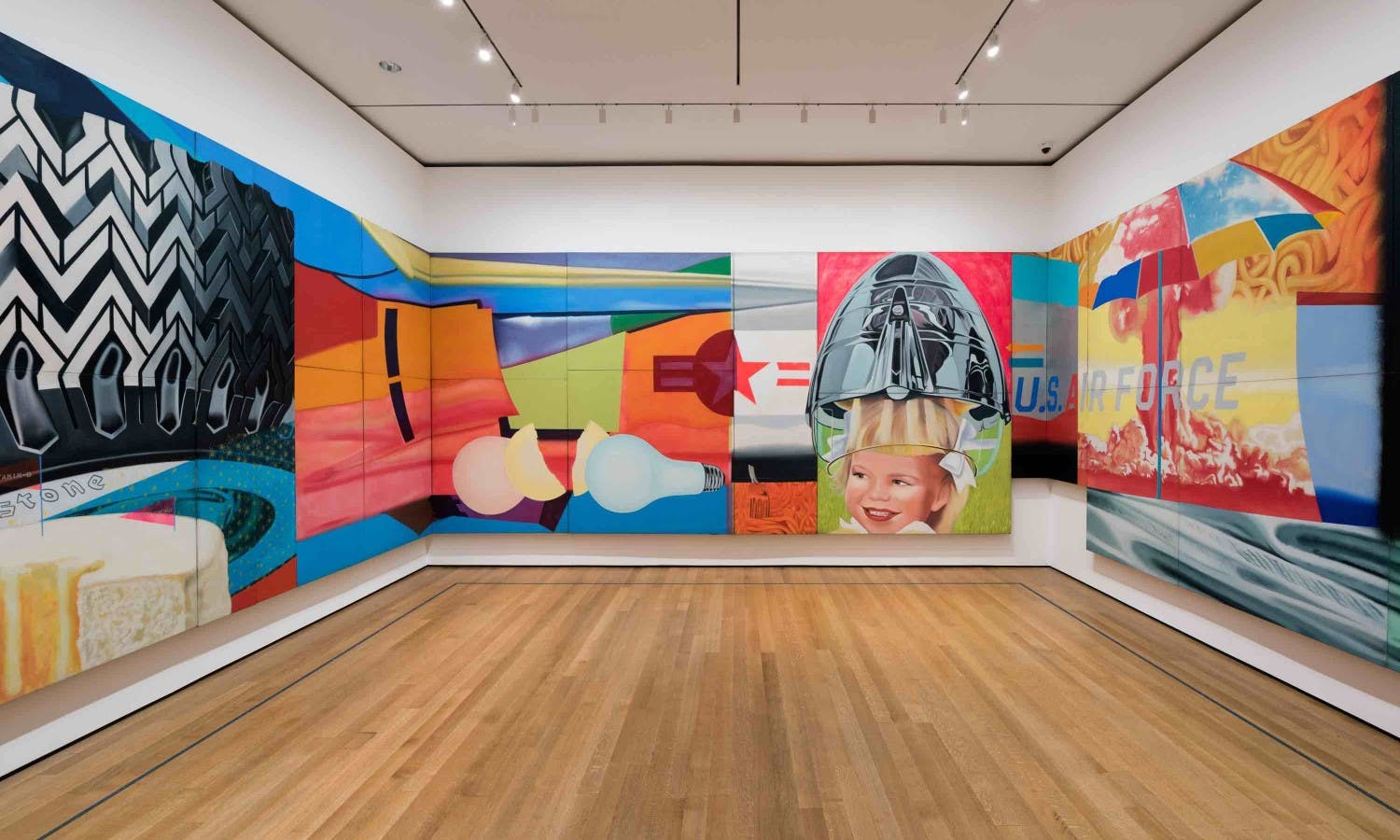 Installation view of From the Collection: 1960–1969. The Museum of Modern Art, New York, March 26, 2016–March 12, 2017. © 2016 The Museum of Modern Art. Photo: Martin Seck
2. Harry Gordon's Poster Dress (1967)
Congratulations are in order for Bob Dylan, who was awarded the Nobel Prize for Literature in 2016. These printed dresses were created during the paper-clothing craze in the late 1960s and cost less than $3. This dress bearing Dylan's likeness allowed teenage fans to parade their allegiance to the musical icon and was easily disposable after the novelty wore off. Cutting the dress at the seams allowed fans to turn what was once a dress into a poster and hang it on their bedroom wall. The paper-clothing fad was short-lived and came to an end before the decade's end.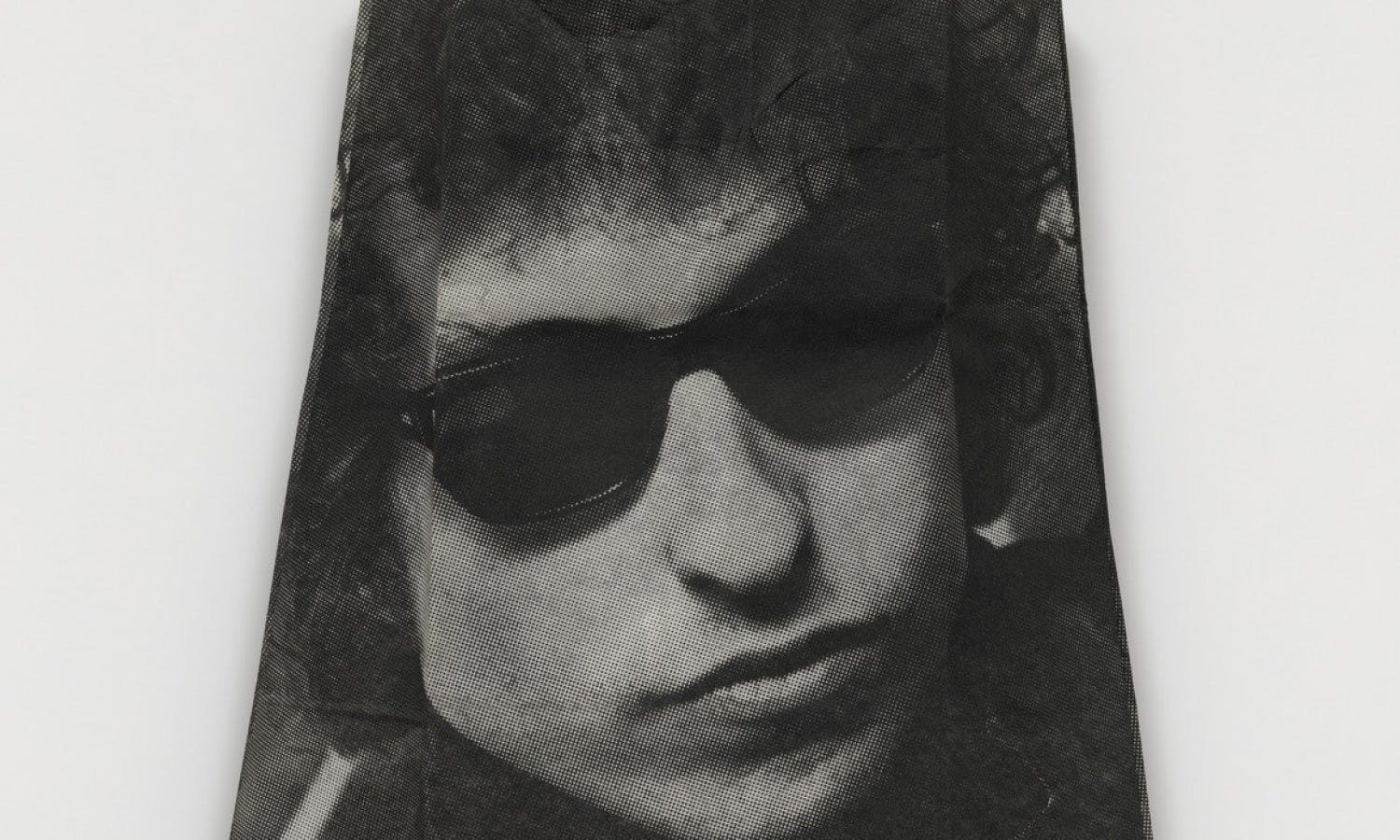 Harry Gordon. Poster Dress. 1967. The Museum of Modern Art, New York
3. The Contenders
Did you know MoMA is home to four movie theaters, an Academy Award, and a collection that includes more than 22,000 films and four million film stills?
Every year the Museum hosts a film series called The Contenders, which honors select influential, innovative films made in the past 12 months that they believe will stand the test of time. Each year, The Contenders series usually takes place from November to the end of January. Film screenings are free with MoMA admission, and many showings during The Contenders include post-screening Q&As with actors and directors. Take your film watching experience to a new extreme and attend this special event.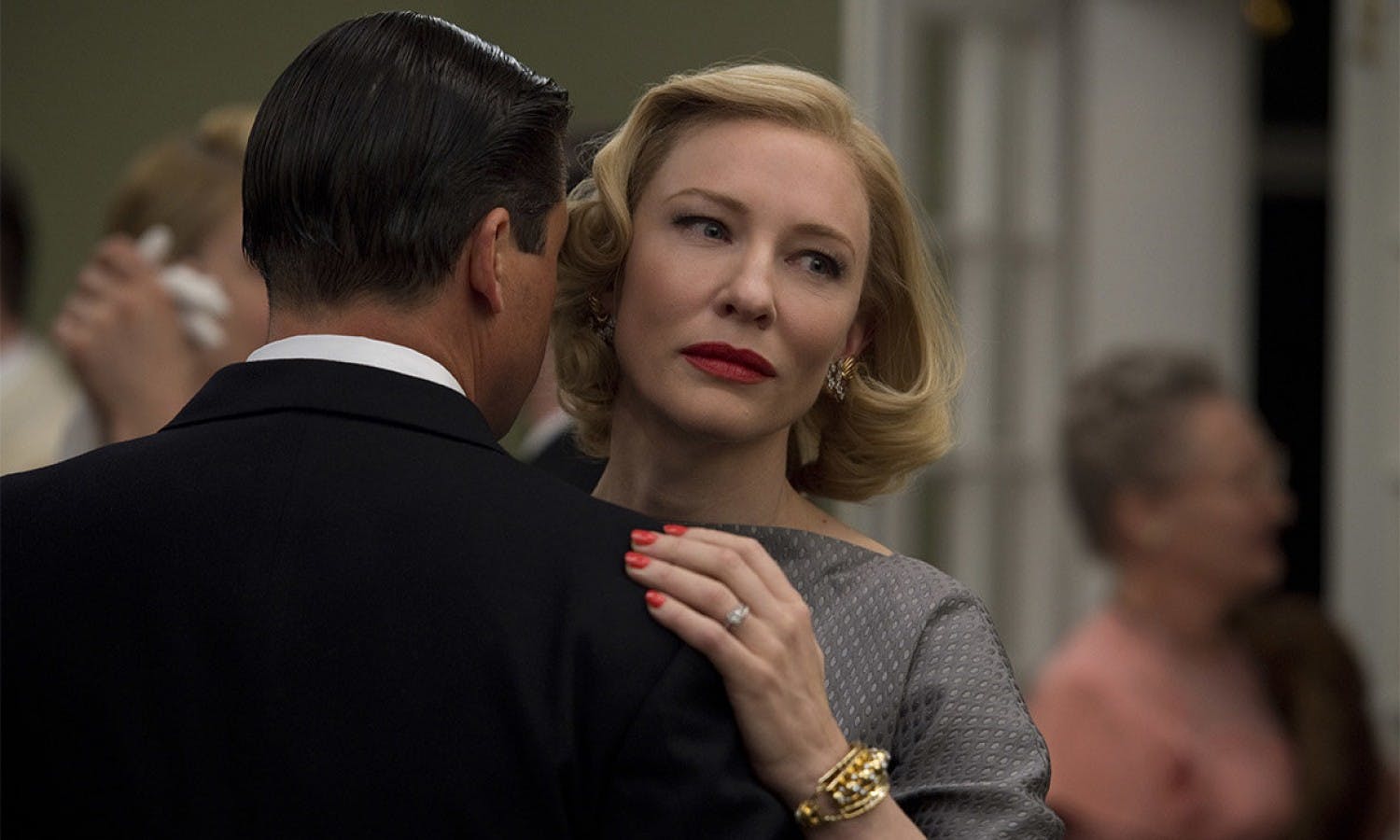 Carol. 2015. Great Britain. Directed by Todd Haynes. Courtesy of The Weinstein Company
4. Jaguar E-Type Roadster (1961)
The world's first curatorial department devoted to architecture and design was established in 1932 at The Museum of Modern Art. The design collection comprises thousands of objects, ranging from appliances, furniture, and tableware to tools, textiles, sports cars—even a helicopter. The opalescent dark blue Jaguar E-Type Roadster is now on view in From the Collection: 1960–1969. It was only the third automobile that had been granted a spot in the museum's collection, now there are six. A true engineering marvel, visitors can admire the car's sleek design and learn about its history. One of MoMA's hidden gems happens to also be one of the world's most beautifully designed cars.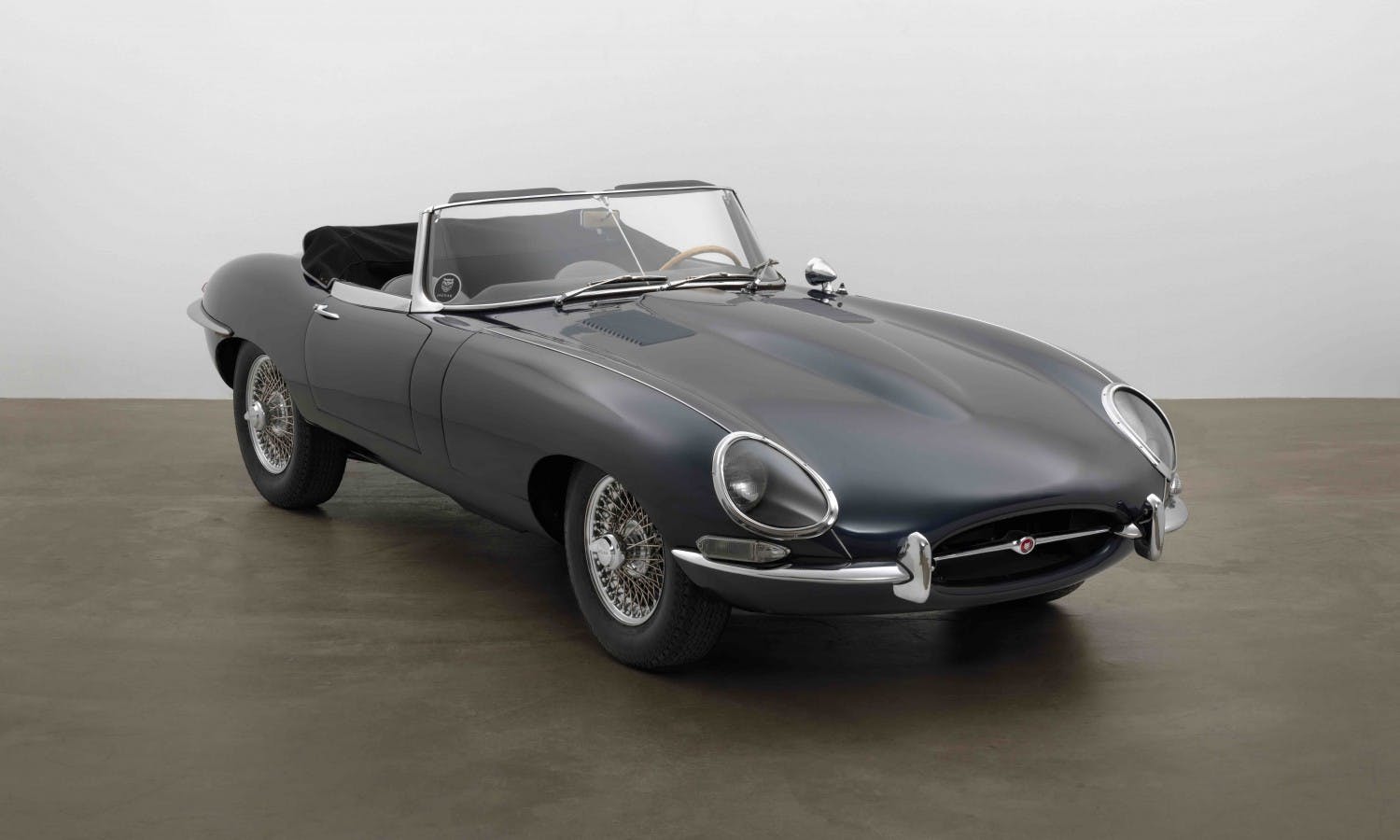 Sir William Lyons, Malcolm Sayer, William M. Heynes. E-Type Roadster. 1961. Jaguar Ltd., Coventry, England Steel body. 48 x 66 x 176″ (121.9 x 167.6 x 447 cm). Gift of Jaguar Cars
5. Arthur Young's Bell-47D1 Helicopter (1945)
Yes, we said even a helicopter. With more than 3,000 designed in the US around a 27-year span, Arthur Young's Bell-47D1 was nicknamed the "bug-eyed helicopter." Featuring a transparent plastic bubble, the utilitarian craft gives off the appearance of an insect. That, included with the copter's open structured tail, Young made an object whose delicate beauty is inseparable from its efficiency. The helicopter hangs in MoMA's atrium and can be seen from multiple vantage points in the Museum. Serving numerous purposes such as traffic surveillance and mail delivery, the Bell-47D1 was made from steel, acrylic plastic, and aluminum.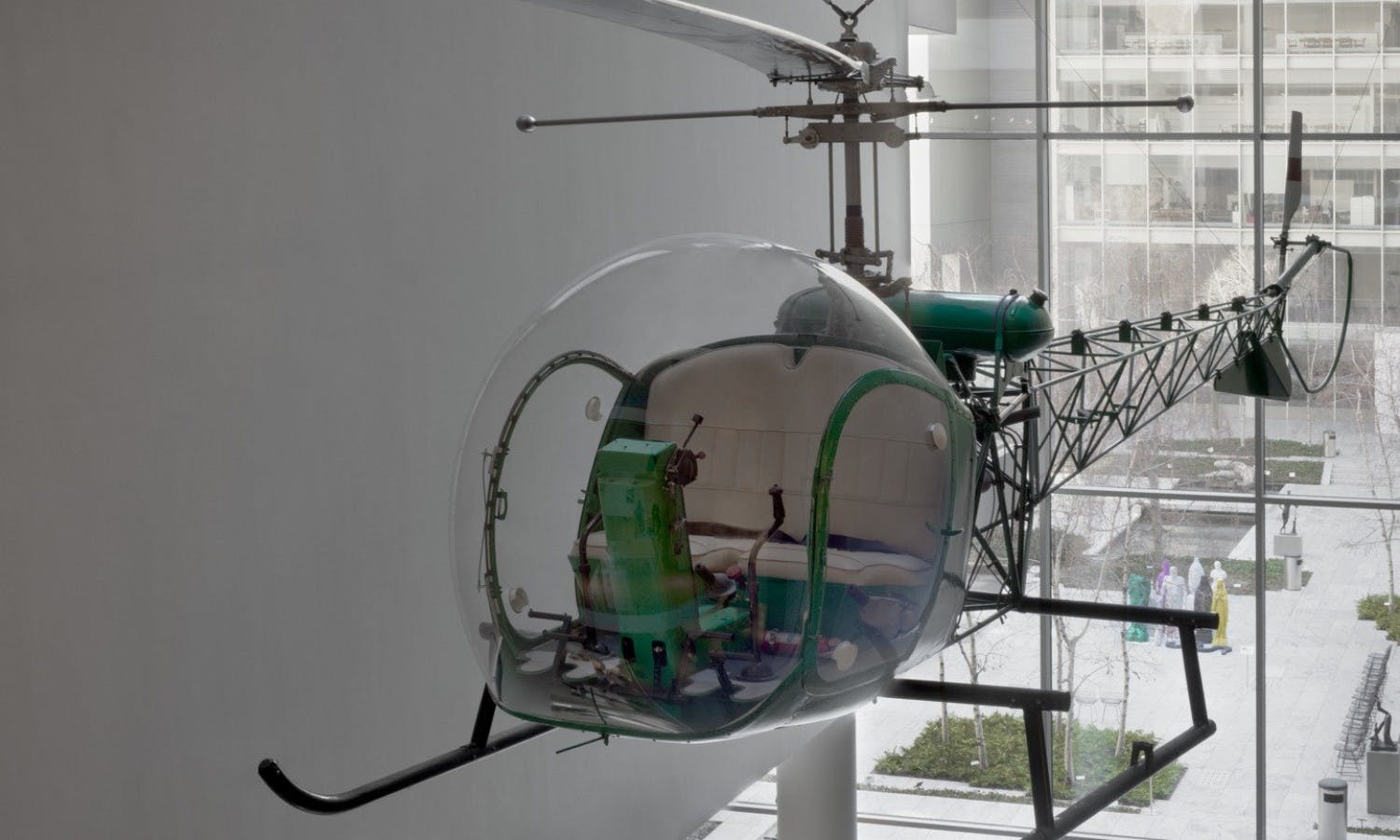 Arthur Young's Bell-47D1 Helicopter (1945), photo courtesy of MoMA
6. James Turrell's Meeting
One of New York's most beloved works of art, James Turrell's Meeting is a room-sized installation that invites viewers to gaze upwards toward an unhampered view of the sky through the roof of the building. In 2016, the room installed a new lighting feature that programs the lights to synchronize with the sunrise and sunset. Be sure to monitor the weather and dress accordingly.
An admission ticket to The Museum of Modern Art also gives you access to MoMA PS1, the contemporary art center in Long Island City, Queens. Don't worry about fitting both visits in one day – you have 14 days to make it to PS1!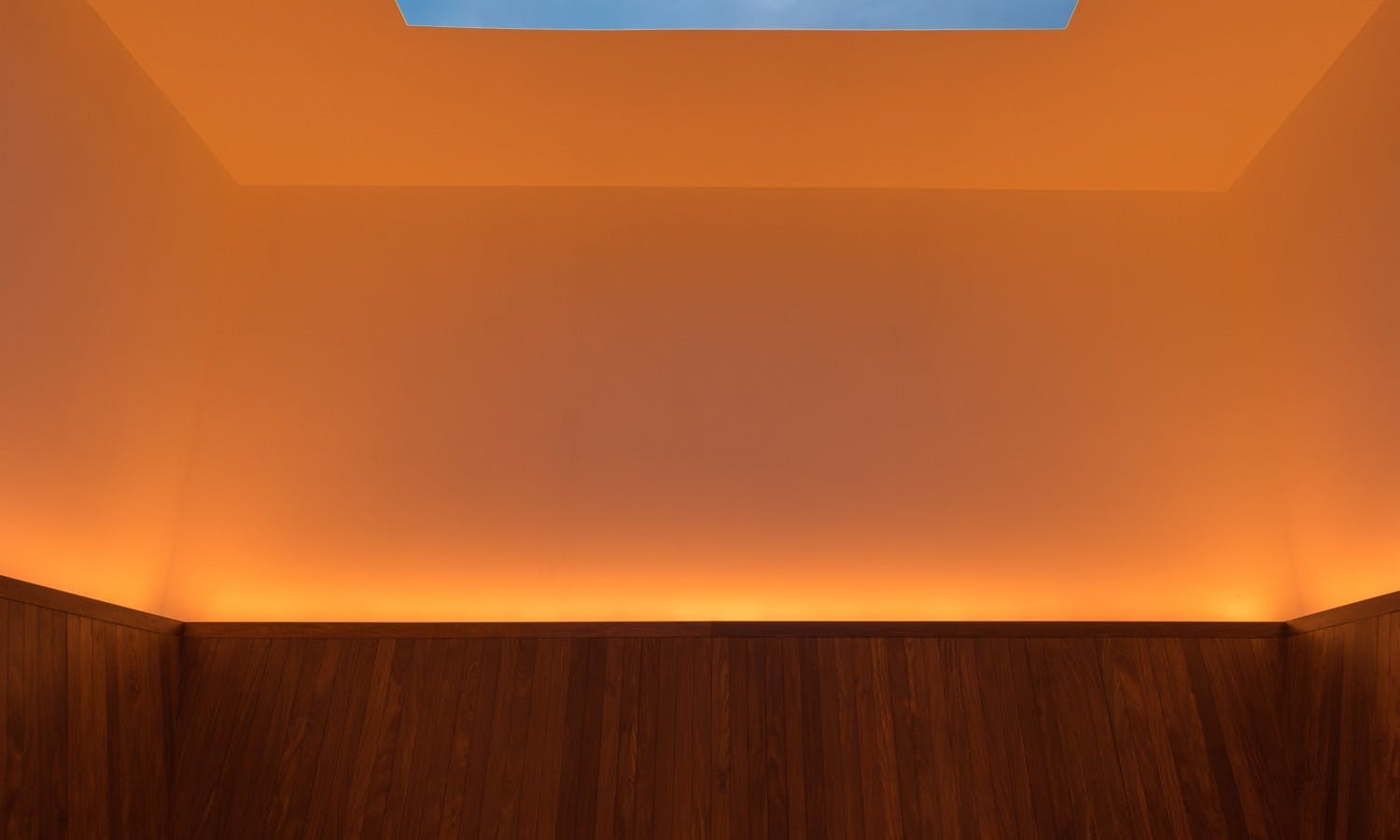 James Turrell's Meeting, photo courtesy of MoMA