As daylight diminishes and darkness reigns, the Northern Hemisphere offers one of the most spectacular natural phenomena: The Northern Lights. Musement shares 7 places to admire the majestic spectacle.
The Aurora Borealis cycle, known in lay man's terms as the Northern Lights, peaks during the fall and winter, when the days are shorter and nights are longer. They last from mid-September to mid-March, fading out as the Midnight Sun starts to approach the Northern Hemisphere.
A collision between electrically charged solar particles entering earth's atmosphere and gas particles, the Northern Lights make for a spectacle of illuminated dancing ribbons in shades of green, yellow, pink and violet that will leave you in a state of pure mouth-agape awe. During the darkness dominated months in the Northern Hemisphere, the best time to see nature's most spectacular, special-effects-free light show is between 10.00pm and 2.00pm.
The Northern Lights cycle peaks every 10 or 11 years, and the current wave is coming off the most recent peak in 2013. While in some places, the Northern Lights will always be visible in some shape or form, Aurora experts say that 2016 is the last year to see them in all their glory before they retreat only to start emerging again for their 2023/2024 peak. As can be expected, Southern lights (Aurora Australis) appear on the other end of the pole between May and September, but as ice and water dominate the South Pole's landscape, they're a little more difficult, though not impossible, to view.
Now, we're not going to sugar-coat this for you: Planning a trip exclusively to see the Northern Lights is always a gamble because certain climate conditions have to be met for them to occur, one, in particular, is a clear sky, so there's no 100% guarantee that you'll see them.  If a bad weather spell swoops in shortly after your arrival, you're likely to be disappointed on the Aurora front, but these winter wonderlands are chock full of enough activities to keep your dance card full, that we think it's a risk worth taking. Here are seven places to see the Northern Lights.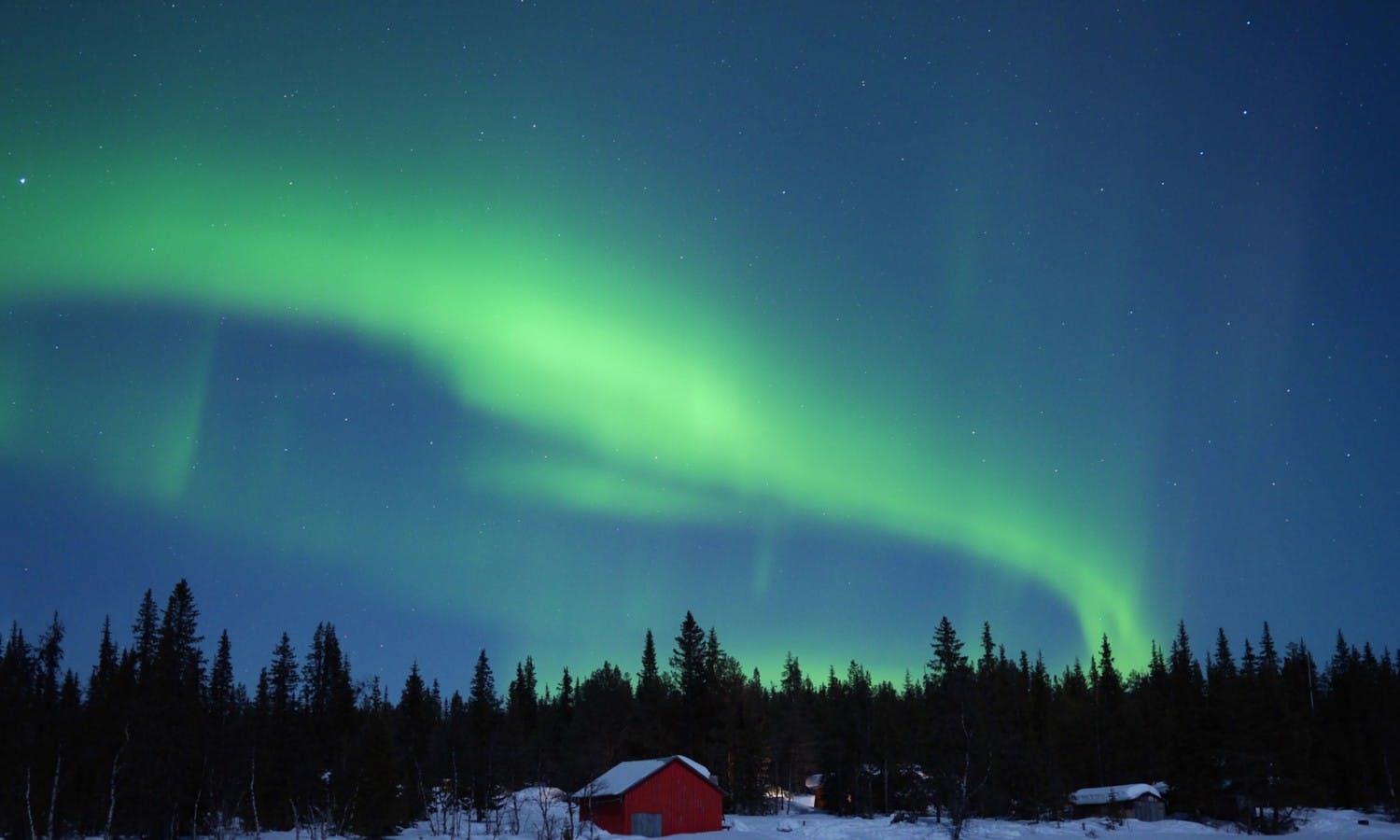 Kiruna, Sweden
1) Sweden:
The northern Swedish Lapland is one of the world's most popular destinations for typical winter activities like dog sledding, snowmobile riding, skiing and more, and they boast some serious aurora action.  Stay in Kiruna or Luleå, and take care to visit the Aurora sky station Abisko National Park, a warm and cozy shelter where you can keep watch.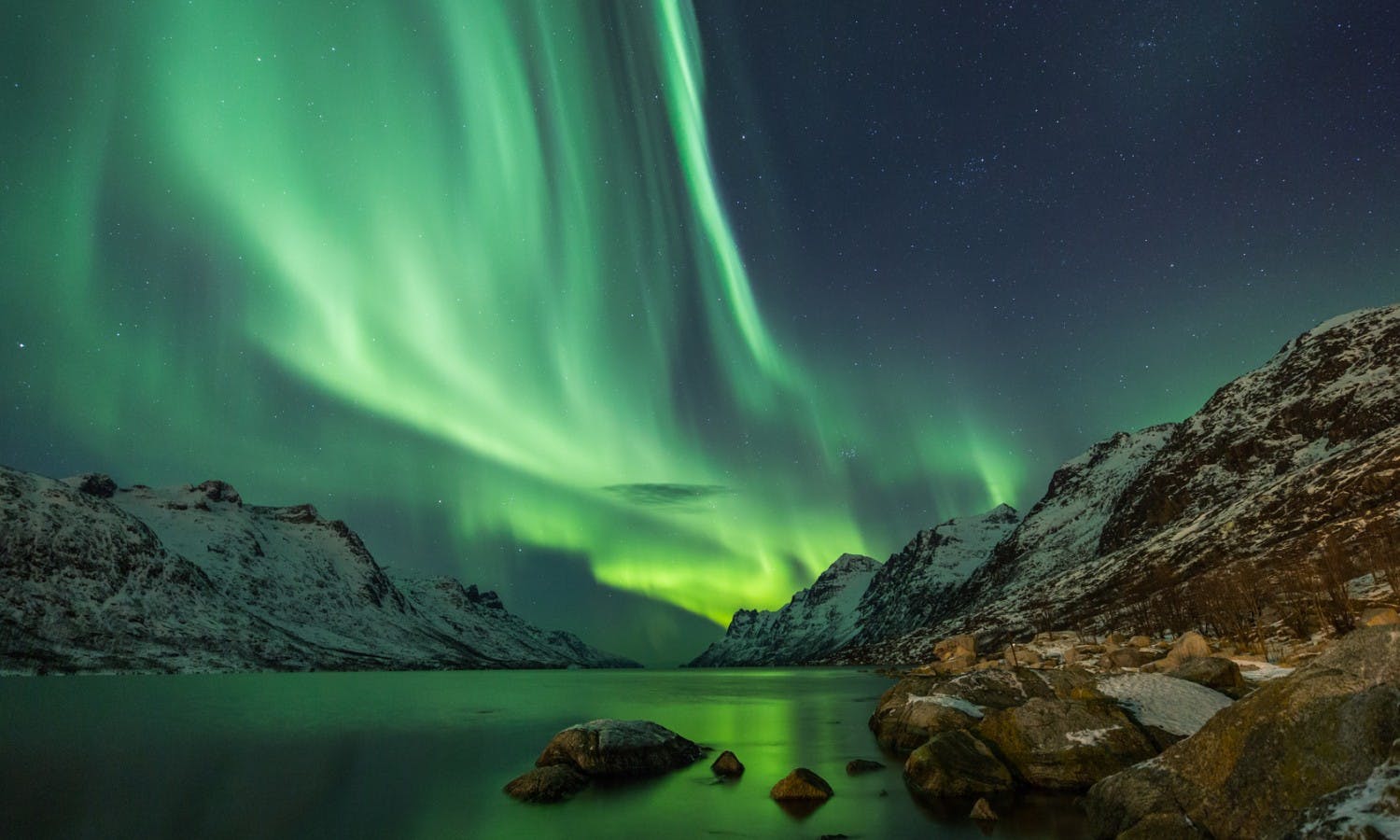 The Northern Lights between two fjords in Tromsø, Norway
2) Norway:
One of the top Northern Lights watching spots in Norway is in Tromsø, which hosts an Aurora-dedicated festival every January and February. If you feel like venturing even further into the Arctic, head to Svalbard, an archipelago between Norway and the North Pole.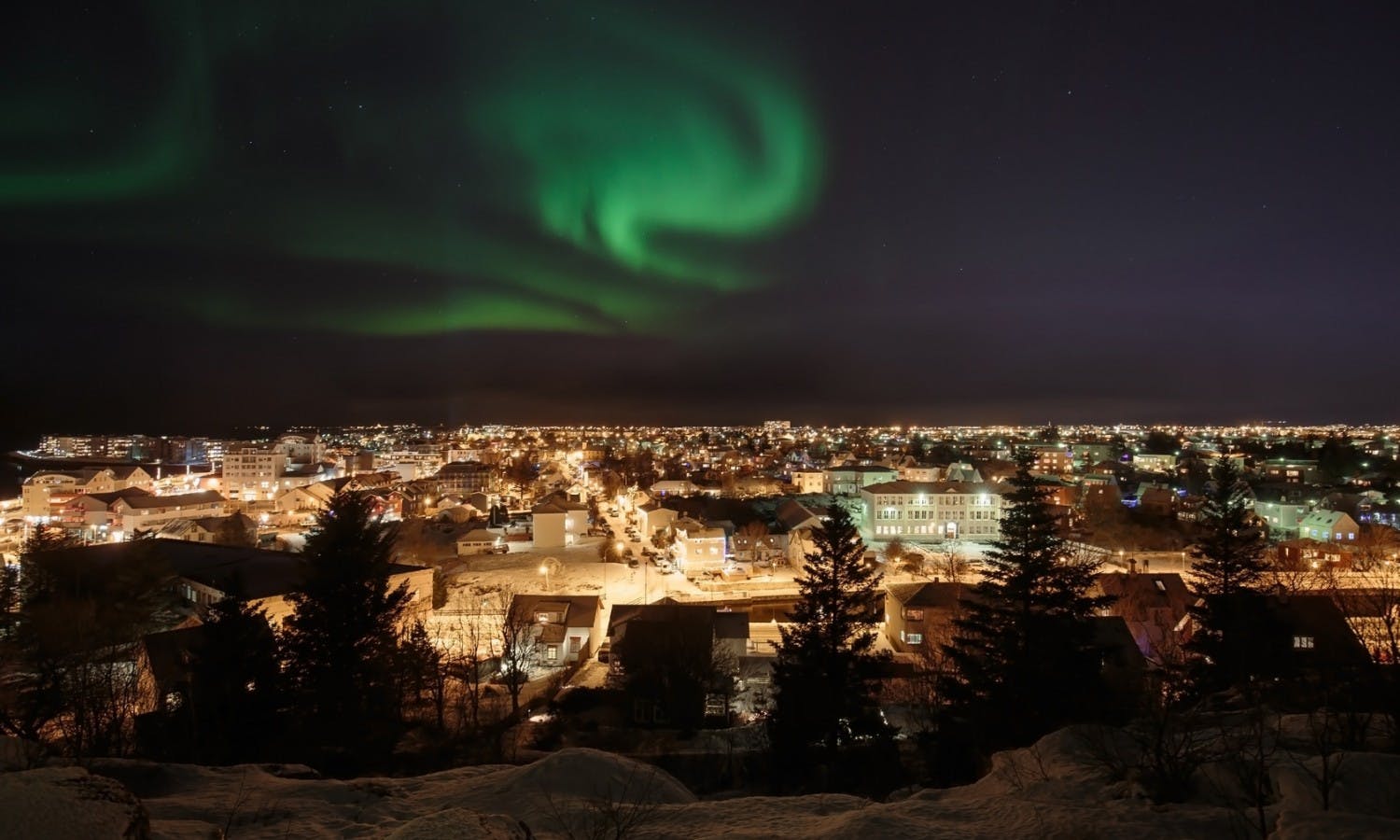 Northern Lights dancing over Rejkyavik
3) Iceland:
The light pollution of Iceland's capital Reykjavik isn't strong enough to mask the Aurora Borealis, but they're significantly brighter outside of the capital. To see these natural wonders in all their glory, you can board a boat in Reykjavik to admire them from the sea. If you prefer to travel by land, head to the Geothermal area Landmannalaugar, the shores of Vík, the lagoon of Jökulsárlón or the town of Álftanes.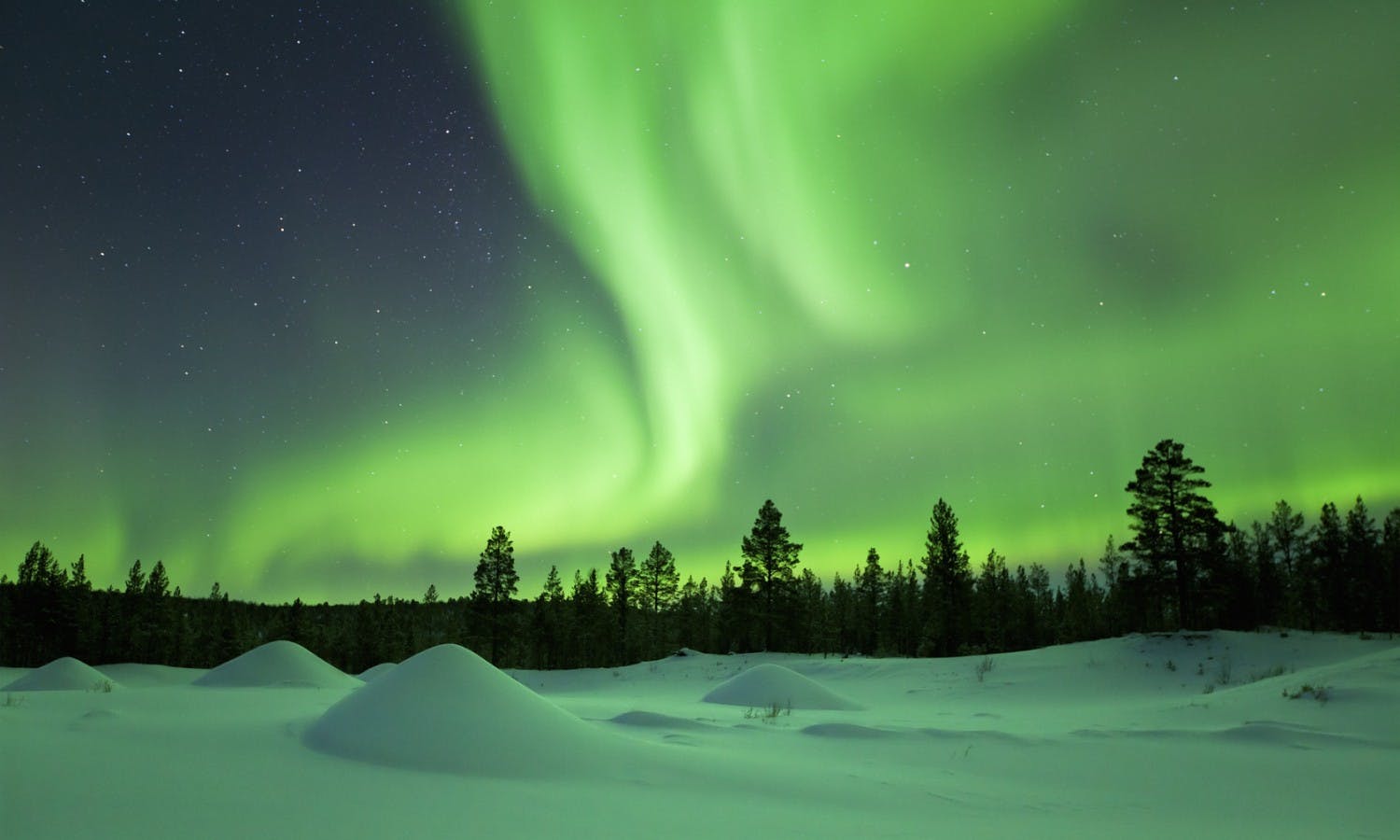 The Finnish Lapland aglow with the Northern Lights
4) Finland:
Head out of Helsinki, Finland's capital, up to the Finnish Lapland, the country's largest and northernmost region. There are plenty of activities and activities to keep you occupied, and we suggest staying in a glass igloo at the Kakslauttanen Arctic Resort, where you can watch the Northern Lights from your bed.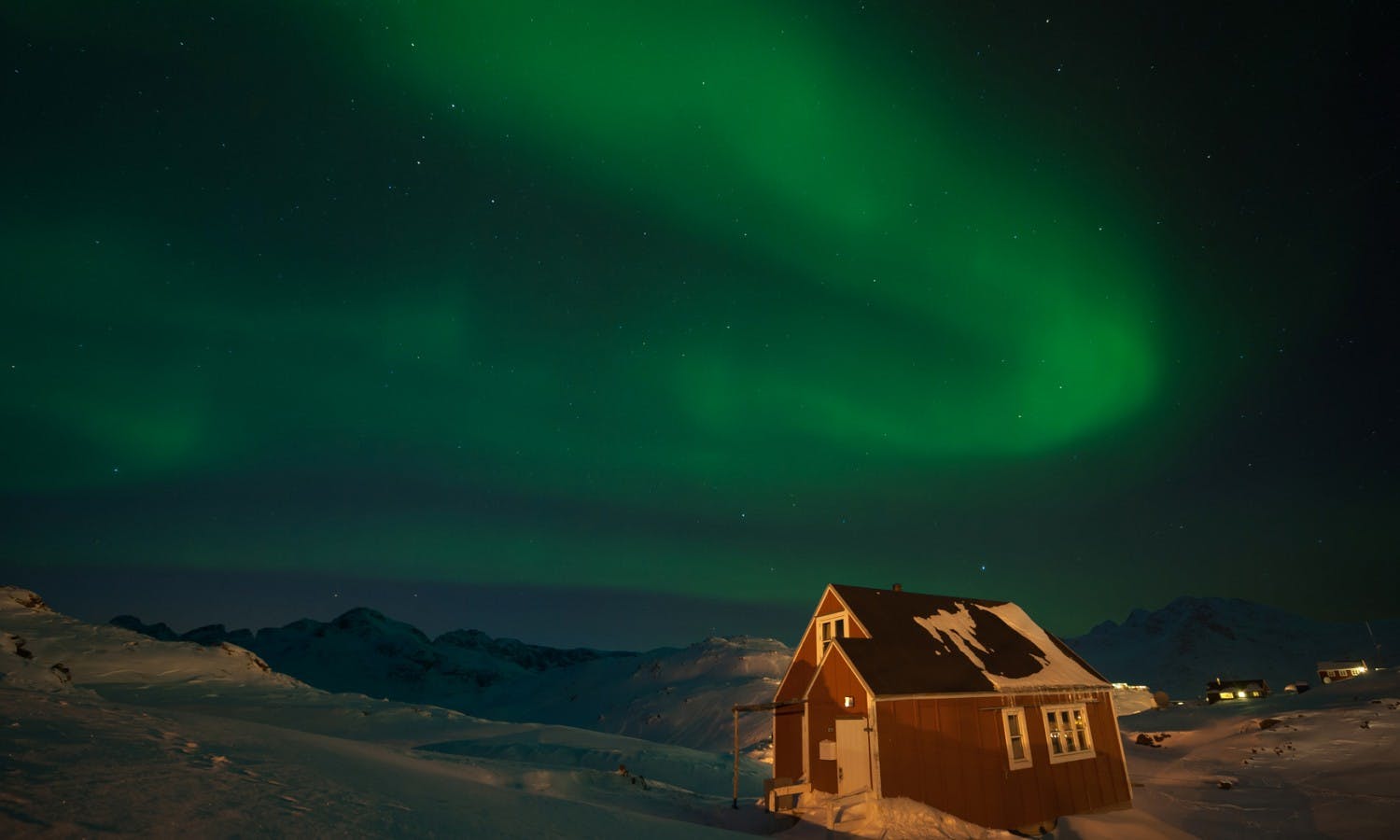 Aurora sighting in Tasiilaq, Greenland
5) Greenland:
This North Atlantic island between Iceland and North America is ideal for Aurora watching. Visit Nuuk, the capital, but head further into the country to watch the spectacle in the sky in places like Tasiilaq, Kangerlussuaq,  Sisimiut and Ilulissat, the latter of which is famous for its dog sledding. Fun fact: Local legend states the lights mean that the dead are playing football with a walrus skull.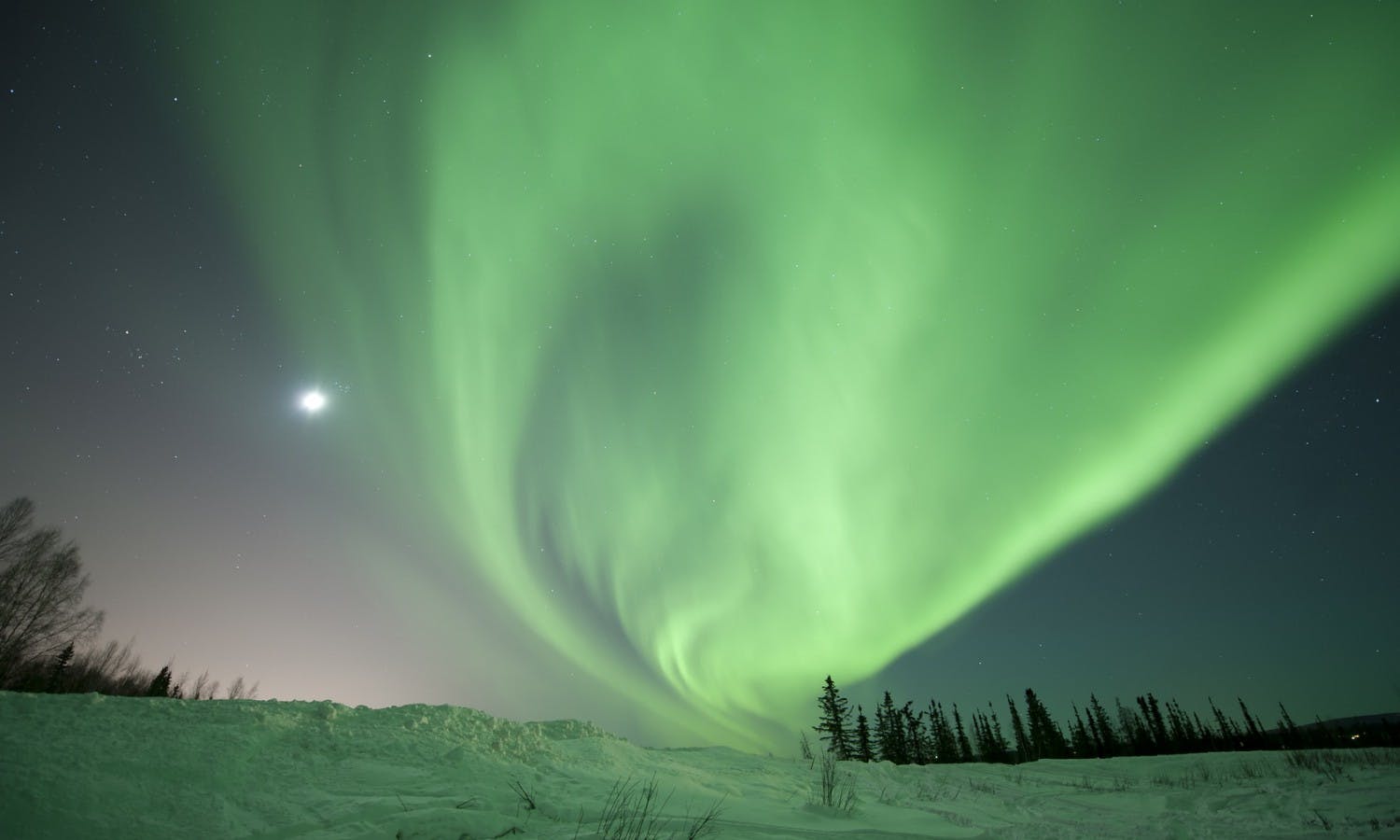 Aurora ribbons over Fairbanks, Alaska
6) Fairbanks, Alaska:
Located in the U.S.A.'s northernmost state, also one of the world's most Northernmost locales, Fairbanks hosts some prime aurora activity as well as plenty of fun-filled daytime pursuits.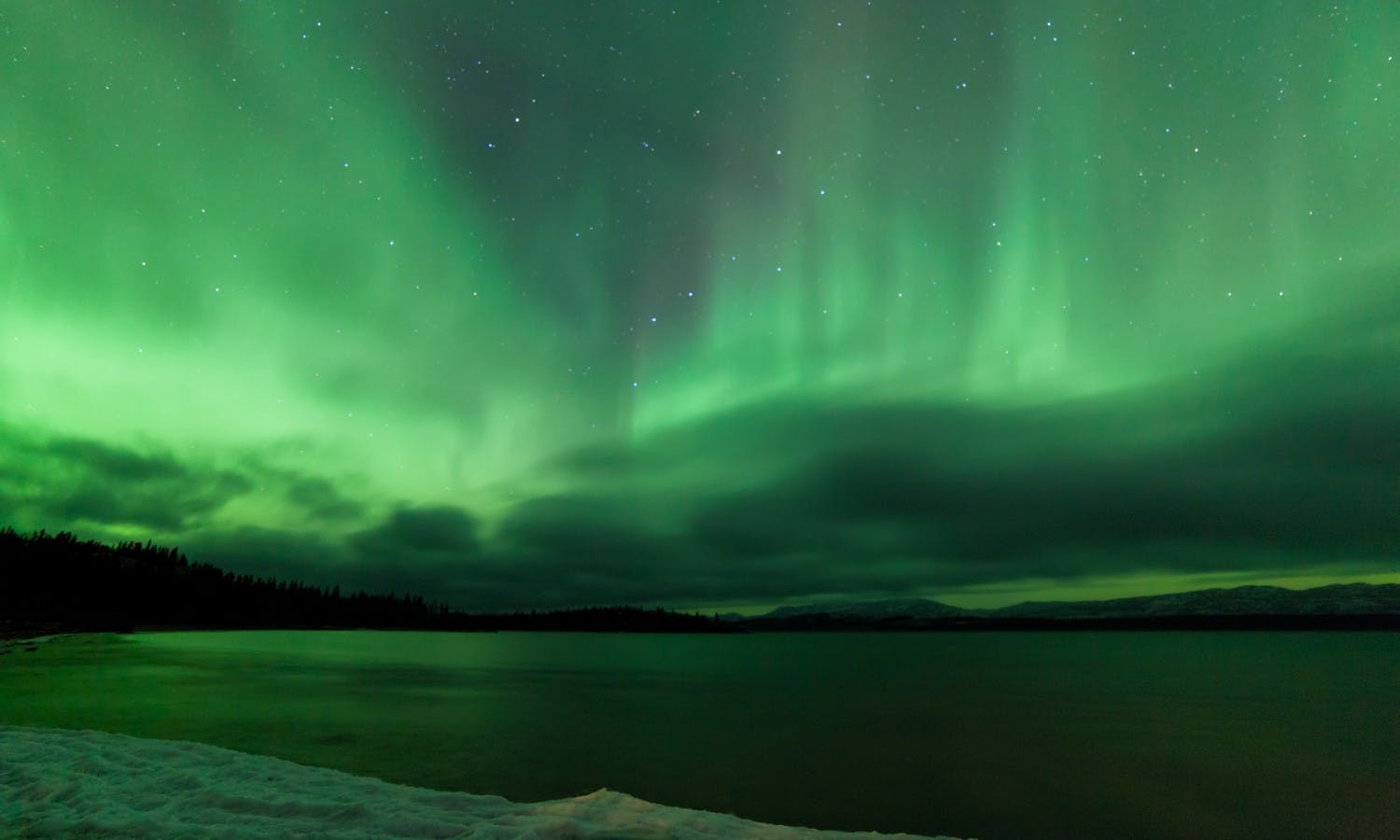 Yukon, Canada
7) Yukon Canada:
Canada's westernmost area bordering Alaska, Yukon has only one city: Whitehorse. Stay in a remote cabin, book a multi-day itinerary, unwind at the spa or explore the wilderness…Yukon is your oyster. When in this neck of the woods, take care to visit the famous Lake Lebarge.