Comprising the bottommost part of the unmistakable boot of Italy, Calabria is still a relatively unknown and unspoiled region. With more than 800 kilometers of coastline, mountains and Mediterranean vegetation, Calabria offers a quintessential southern Italian experience.
The heart of the Magna Graecia (southern Italian coastal areas settled by the Greeks in the eighth and seventh century BC), Calabria—like most of southern Italy—is a melting pot of cultures and traditions. The relatively unsung region's many claims to fame include the fifth-century Riace Warrior Greek bronze sculptures; Crotone, the hometown of mathematician and philosopher Pythagoras; and Ciro, an important wine producing area and the birth town of doctor, astronomer and Gregorian calendar inventor Luigi Lilio.
A network of organic farmers cultivates Calabria's incredibly fertile lands to harvest the region's celebrated produce like Tropea onions, olive trees, bergamot oranges and chilis. Believe it or not, most of Italy's porcini mushrooms hail from Calabria.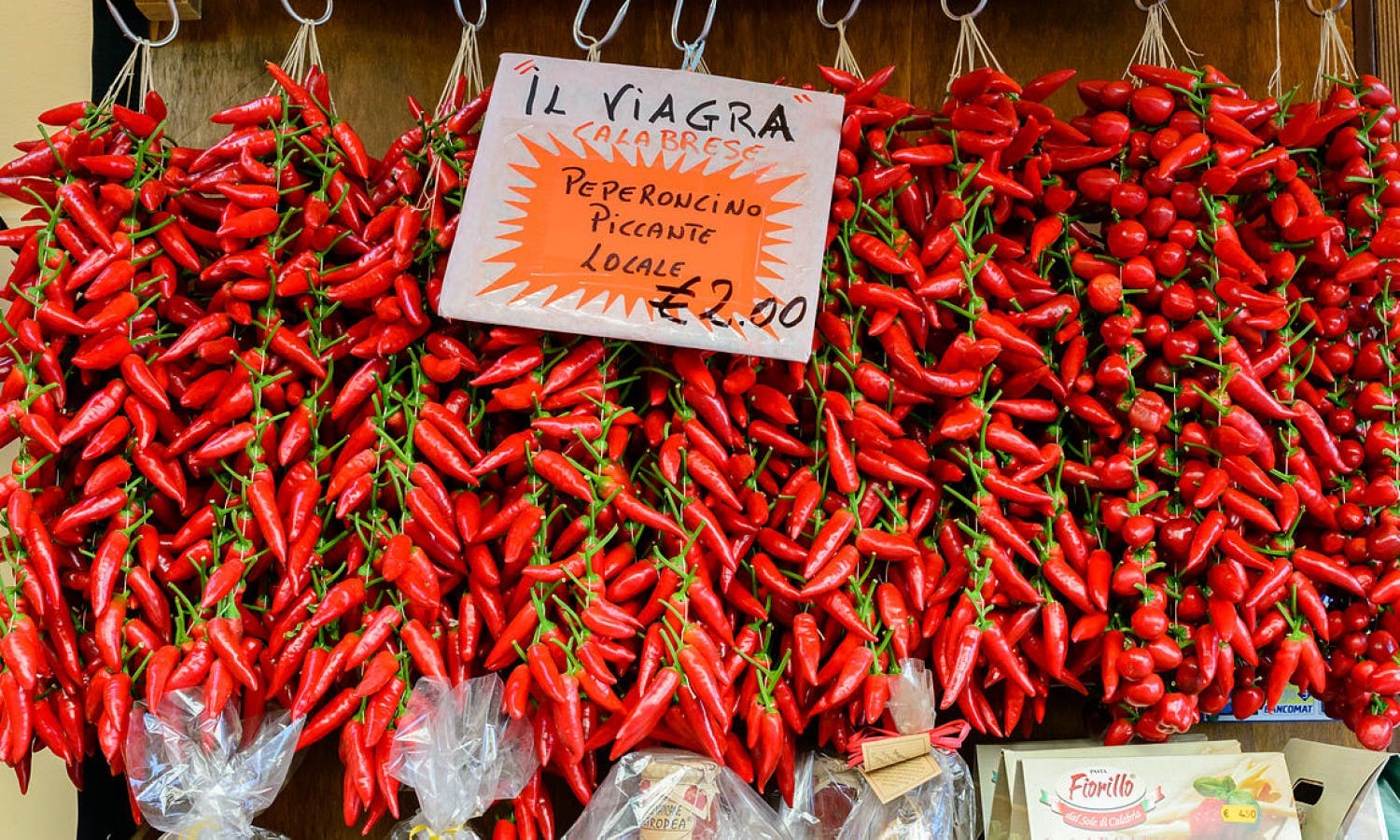 Calabria's world-renowned super hot chilies AKA "Il Viagra Calabrese." Photo: Norbert Nagel,
Despite the agricultural bounty, Calabria's 800-plus-kilometer coastline is the real draw for both Italian and foreign visitors who head here to soak up some sun on one of the many stunning beaches. On the Ionian coast, near Catanzaro, Caminia is a little nook of fairly undeveloped beach surrounded by dramatic cliffs, pebbled sand and warm water, and Diamante, once referred to as the "Tyrrhenian pearl" by Italian poet Gabriele D'Annunzio, is a spectacular jewel on the Riviera dei Cedri. Also on the Tyrrhenian coast lie the pebbled shores of Praia a Mare and its main attraction, Dino Island, a UNESCO World Heritage site famous for its six magnificent sea caves that capture light and magically illuminate the water an iridescent shade of blue.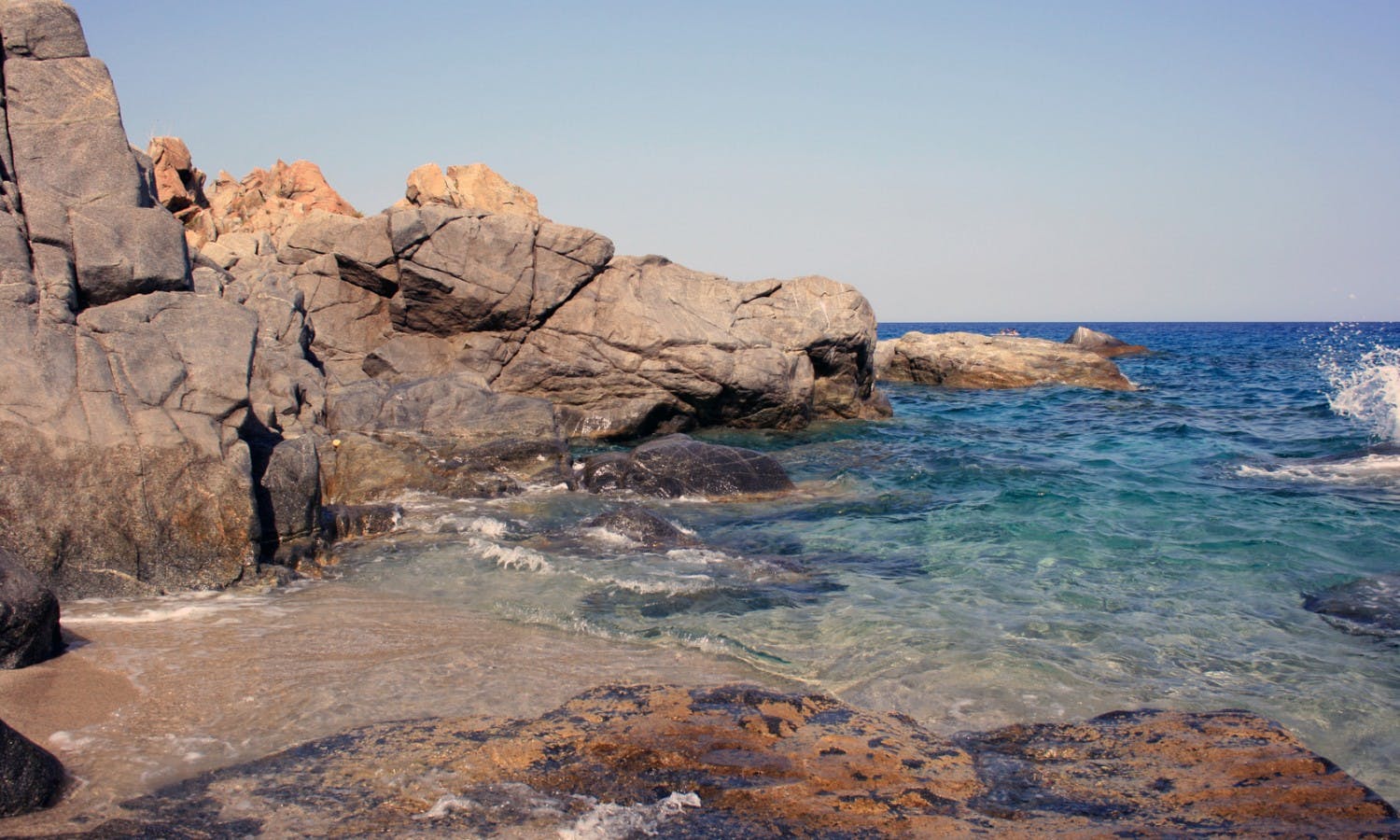 Just a sampling of the unspoiled beach in Caminia
Literature and sea lovers won't want to miss Scilla, a picturesque fishing village on the Violet Coast featured in Homer's Odyssey. It's known for its violet-hued water at sunset and sandy beaches presided over by the eleventh-century Ruffo Castle. Tropea, Calabria's most famous of coastline, is comprised of spectacular white sand, turquoise water, and a stunning coastline comparable to the Amalfi Coast and Cinque Terre.  For those looking for a bit of everything, the marine protected waters of Capo Rizzuto are among the Mediterranean's most fascinating shores, home to marine life, dotted with local restaurants, boutique hotels, cultural spots and hidden villages.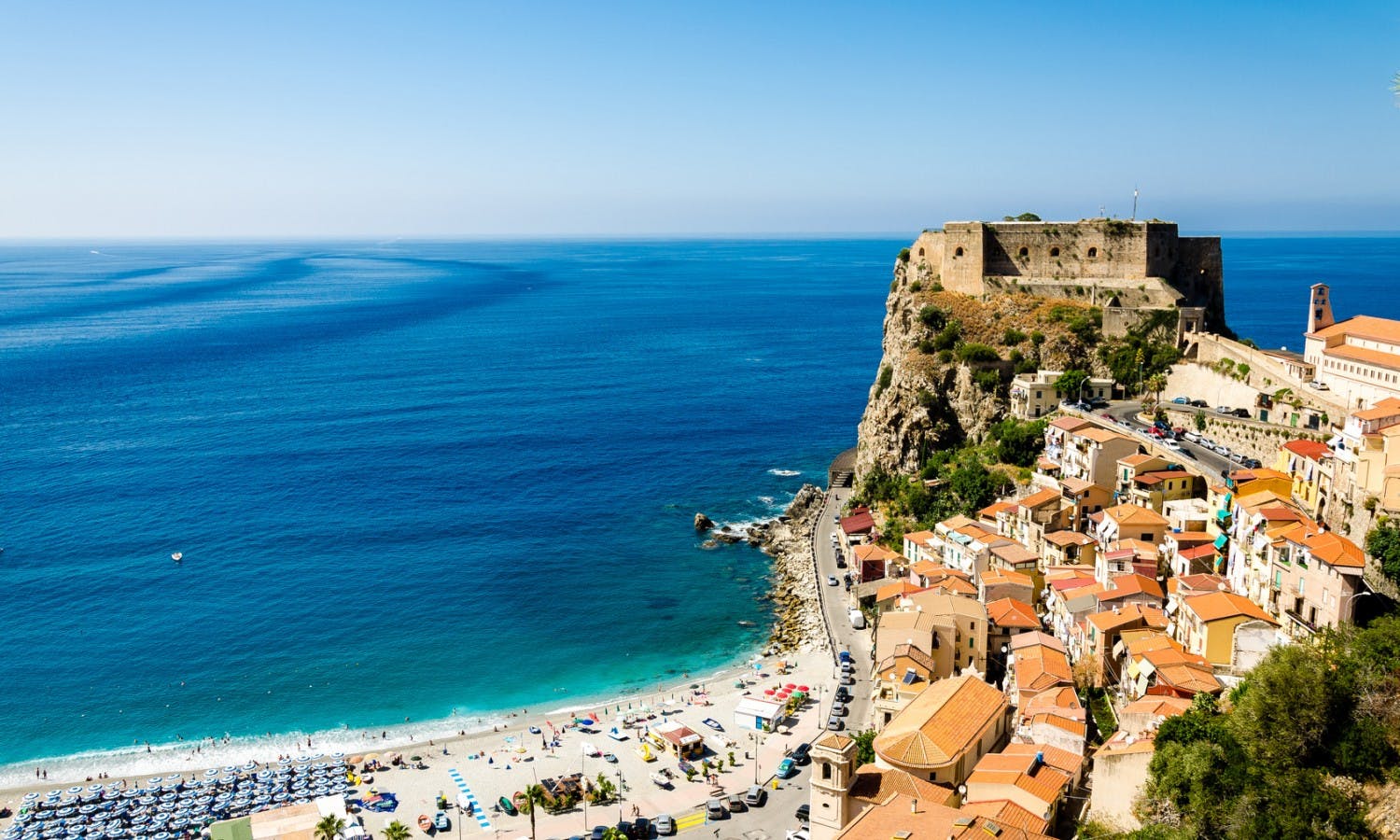 Ruffo Castle presiding over Scilla's pristine beach
For our long weekend stay, we opted for the Praia Art Resort, an albergo diffuso in a beachfront gated community that has been a popular seaside destination since the 1970s for locals as well as Neapolitans, many of whom keep a summer pieds-à-terre here.  Divided from the beach by a stretch of pine forest, part of the village has been taken over by the hotel. Here dry-stone, one- or two-floor bungalows house neat, white-washed rooms. Each is complete with their own patio and stunning bathrooms comprised of hand-made and hand-painted terracotta tiles. The hotel, which organically rises around small winding streets, has a modern Calabrian restaurant, a beautiful pool with a bar that's perfect for an aperitivo or lunch, and, of course, a white sand beach just footsteps from the rooms. Purple bougainvillea and agapanthus flowers brighten the green palm trees making shapes against the blue sky as they sway in the breeze on this particularly windy coastline (you've been warned).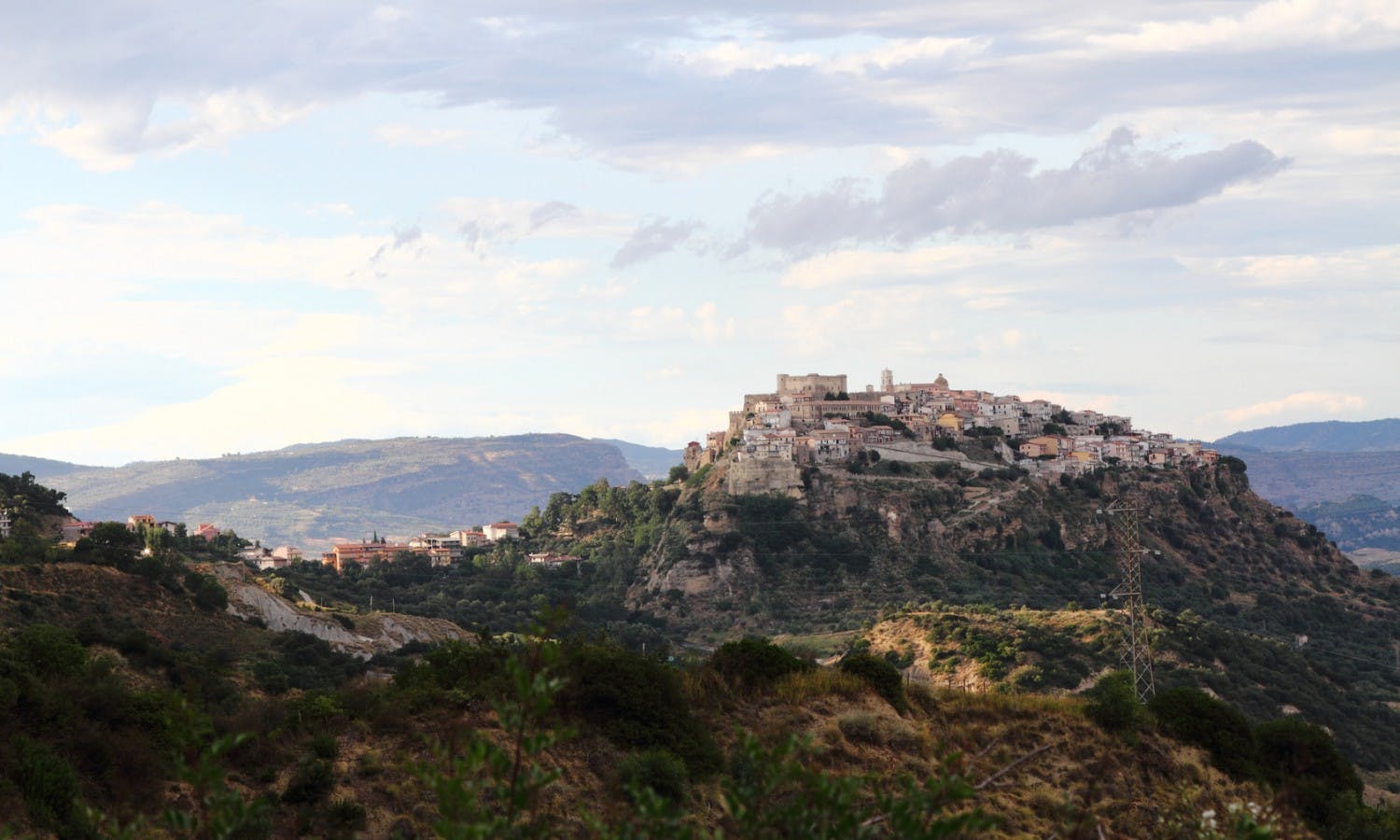 The ancient Byzantine hilltop village of Santa Severina
While the idyll of the Praia Art Hotel may be perfect for a relaxing or romantic weekend for unwinding on the beach, there are a couple of nearby culinary-centric destinations that are just a short drive away.
Head up into the hills to the ancient village of Santa Severina,  an important Byzantine center until the eleventh-century Norman conquest. Its ninth-century Baptistery is Calabria's oldest Byzantine monument. The majestic and imposing Carafa Castle was built in 1076 by the Normans on the remains of the town's prevalent Byzantine fortifications and the surrounding countryside. A definite must-see for medieval architecture buffs, military historians or just blatantly curious folks.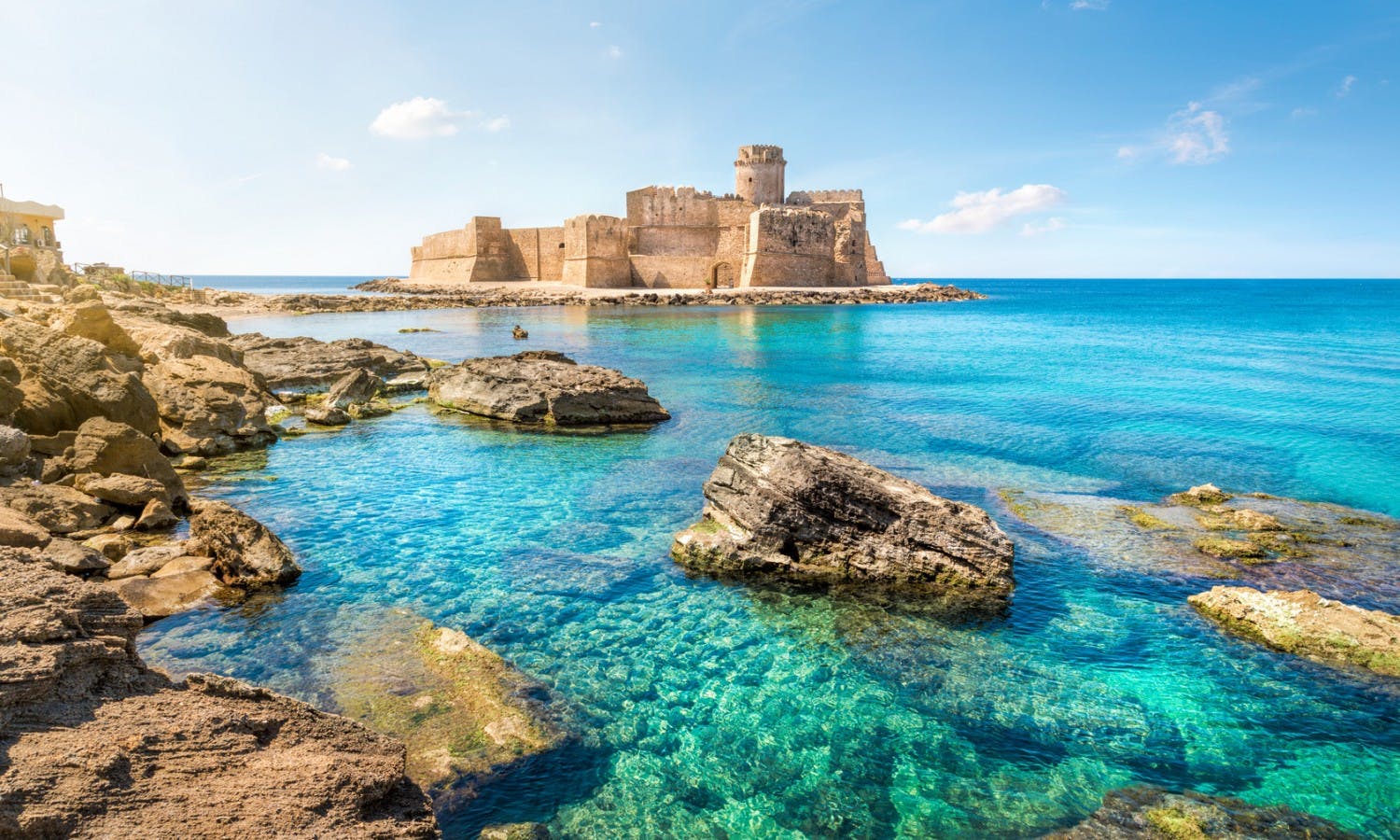 The sixteenth-century Aragon Fortress at Le Castella looks more like a sandcastle than a real one
Not straying from the military fortification trends, the town of Le Castella, just down the coast from the Praia Art Resort, is the place to be. Here the sixteenth-century Aragon fortress that once repelled the Ottoman Turks looks more like a sandcastle than a real one. It dominates the coast of this touristy village, which is most definitely Isola di Capo Rizzuto's nightlife hub. Bars, kiosks, disco pubs of sorts and more attract a younger crowd, while old-school cafes with outdoor tables provide the perfect setting to sip a refreshing glass of wine as you watch the sun sink behind the castle and beyond the Mediterranean. If you choose to stay on for dinner, dine at La Scogliera, a family run restaurant not far from the center. Larger-than-life hot and cold seafood antipasti pave the way for traditional Italian seafood preparations like spaghetti with clams or the grilled catch of the day.
Another not-to-miss culinary experience is Crotone, the not-very-pretty provincial city near Isola di Capo Rizzuto, to sample Spaghetti alla Pitagora (spaghetti with sea anemones) at Da Ercoles. This dated and somewhat over-the-top restaurant provides typical southern Italian charm with high-end service. Don't let the kitsch put you off, the food is delicious.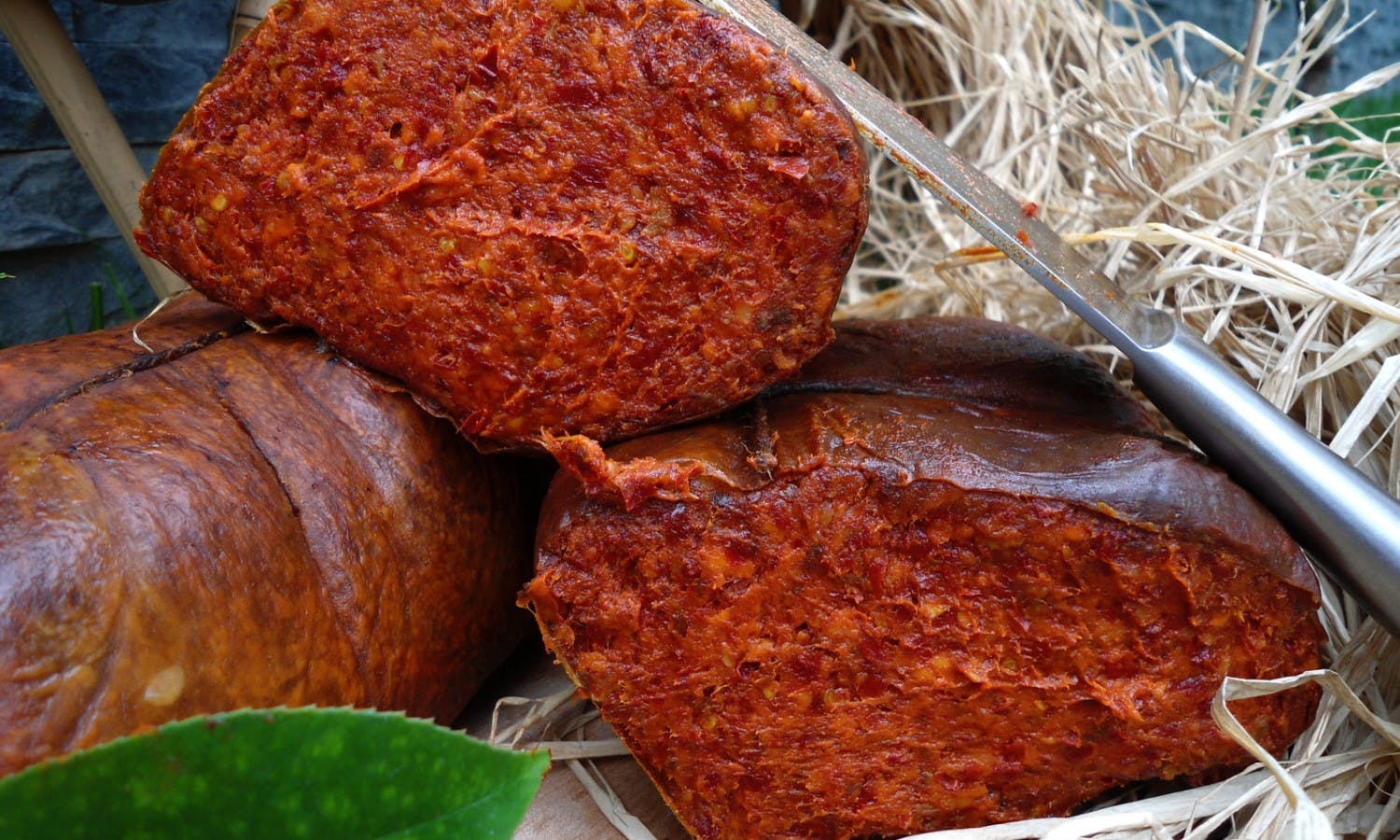 'Nduja, a spicy pork salume typical of Calabria
One of the most interesting components of Calabria's culinary traditions is that despite the seemingly endless coastline, there is plenty to eat for non-fish lovers, such as eggplant-based dishes like Calabrian caponata, and pork salumi like sopressata, 'nduja, and capocollo.  Oil-preserved stuffed peppers or marinated eggplants with chillis are a welcome alternative to all the fish. Pasta and chickpeas is a Calabrian staple as are cheeses like Caciocavallo and Pecorino Crotonese. If you're checking your luggage, make sure to take home a bottle of olive oil and a jar of pickled aubergines. You'd also fare well to stock up on some chillis.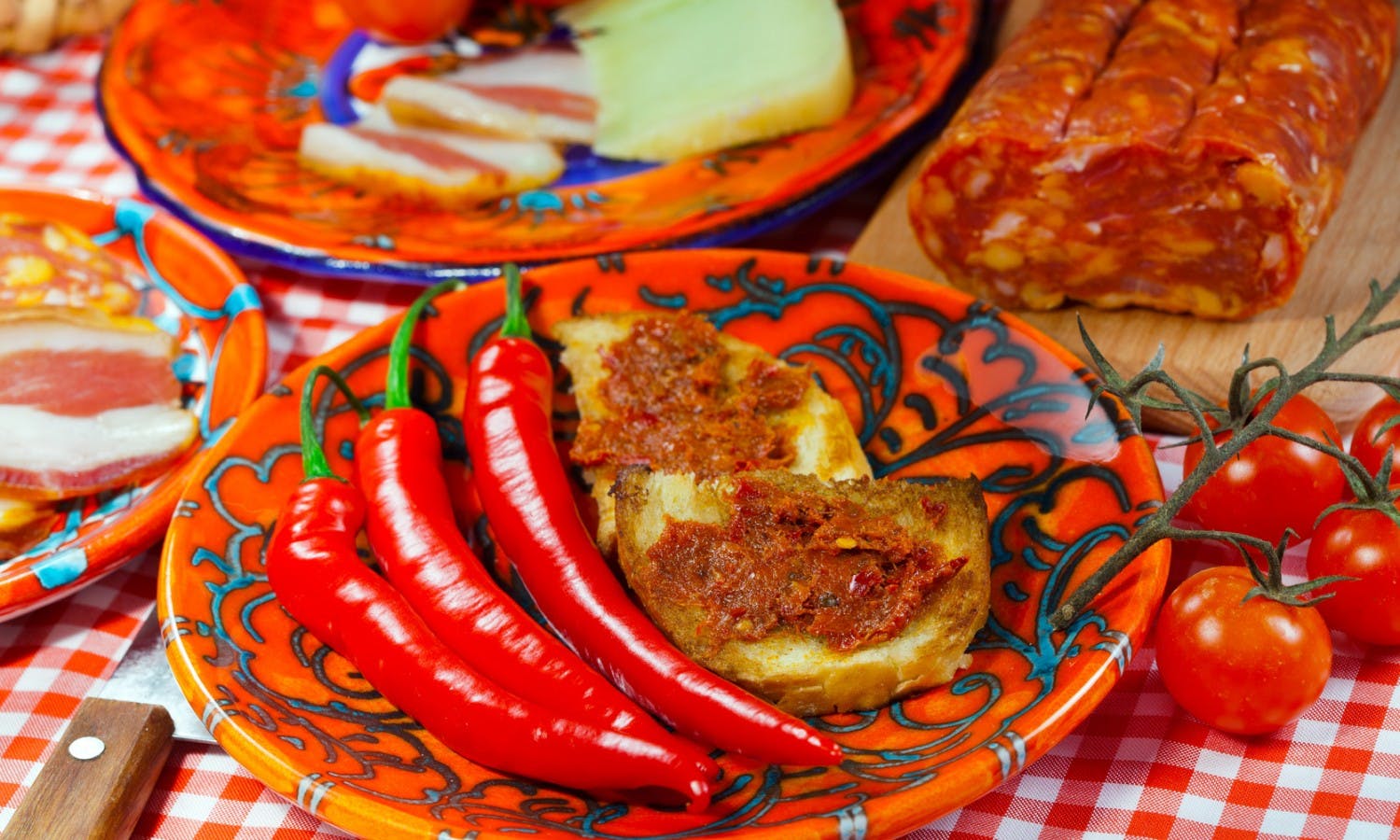 Delectable Calabrian edibles