Visiting Dubai during Ramadan? The holy month offers a culturally enriching experience. Travelers get to see a different side of the city with shorter work days, educational activities and a relaxed nightlife scene.
Ramadan is the holy month of Islam, which promotes respect of Muslim identity and culture in addition to commemorating the revelation of the Holy Quran. During this period of physical and spiritual elevation, Muslims engage in prayer—such as the morning FAJR, one of the five daily recitations—and eat suhoor together, a meal shared before dawn in preparation for sawm, a day of fasting.
During Ramadan, life in Dubai slows down. The city transforms, offering visitors a once-in-a-lifetime cultural experience. Work days are shorter and shopping centers, like the Dubai Mall (the world's largest) or the Mall of the Emirates, are quieter. The advantage of traveling to Dubai during Ramadan is that it is a 'less touristy" month. Most of the main attractions remain open, and you will most likely not have to wait in line. It's easier to purchase tickets for landmarks such as Burj Khalifa, the world's tallest building, and other attractions like the Dubai Aquarium and Underwater Zoo, Legoland, Motiongate and IMG Worlds of Adventure as well as the Louvre museum and Ferrari World in Abu Dhabi, among others. The UAE is home to some of the world's most beautiful mosques, like Sheikh Zayed Grand Mosque in Abu Dhabi and Jumeirah Mosque in Dubai, and Ramadan is an appropriate time to visit them.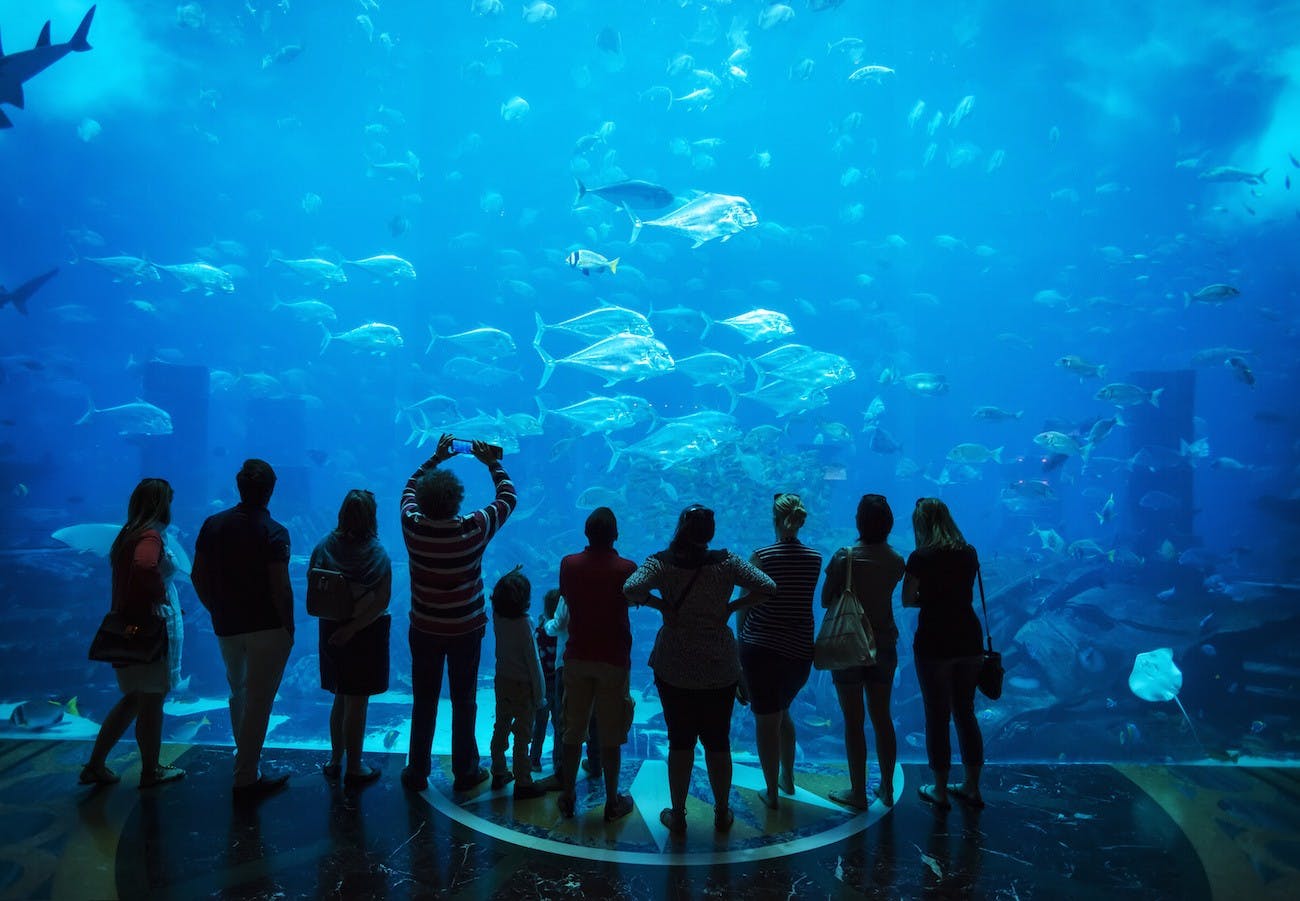 Dubai Aquarium & Underwater Zoo
The daily Ramadan fast ends with the Iftar (Arabic for "breakfast"), a community meal that not only celebrates local cuisine but also serves as a much-needed reward for a long day without food or water. Iftar is taken right after Maghrib time, which is around sunset. Traditionally, three dates are eaten to break the fast in honor of the Islamic Prophet Muhammad who was known for breaking his fasts as such. You can also fuel up for the coming fast with Suhoor (early morning feast).
From all-you-can-eat feasts to grand iftar tents, Dubai bursts into life post-sunset and Dubai's eateries offer dedicated menus and even purpose-built marquees with special food and entertainment. From the finest Arabic and Emirati dishes to shisha and board games, iftar is a wonderland for food lovers and great opportunity to interact with locals. Non-fasters can partake in an iftar to learn more about Emirati culture and traditions.
Keep in mind that if you visit Dubai during Ramadan, many locals will be fasting so visitors must abide by the rules for where to drink and eat during the day. This year the Holy month begins 27 May and ends 25 June, which marks the beginning of Eid Al Fitr, a three-day holiday known as the Festival of Fast-Breaking that marks the end of Ramadan. Visitors and non-Muslims are welcome to join the festivities.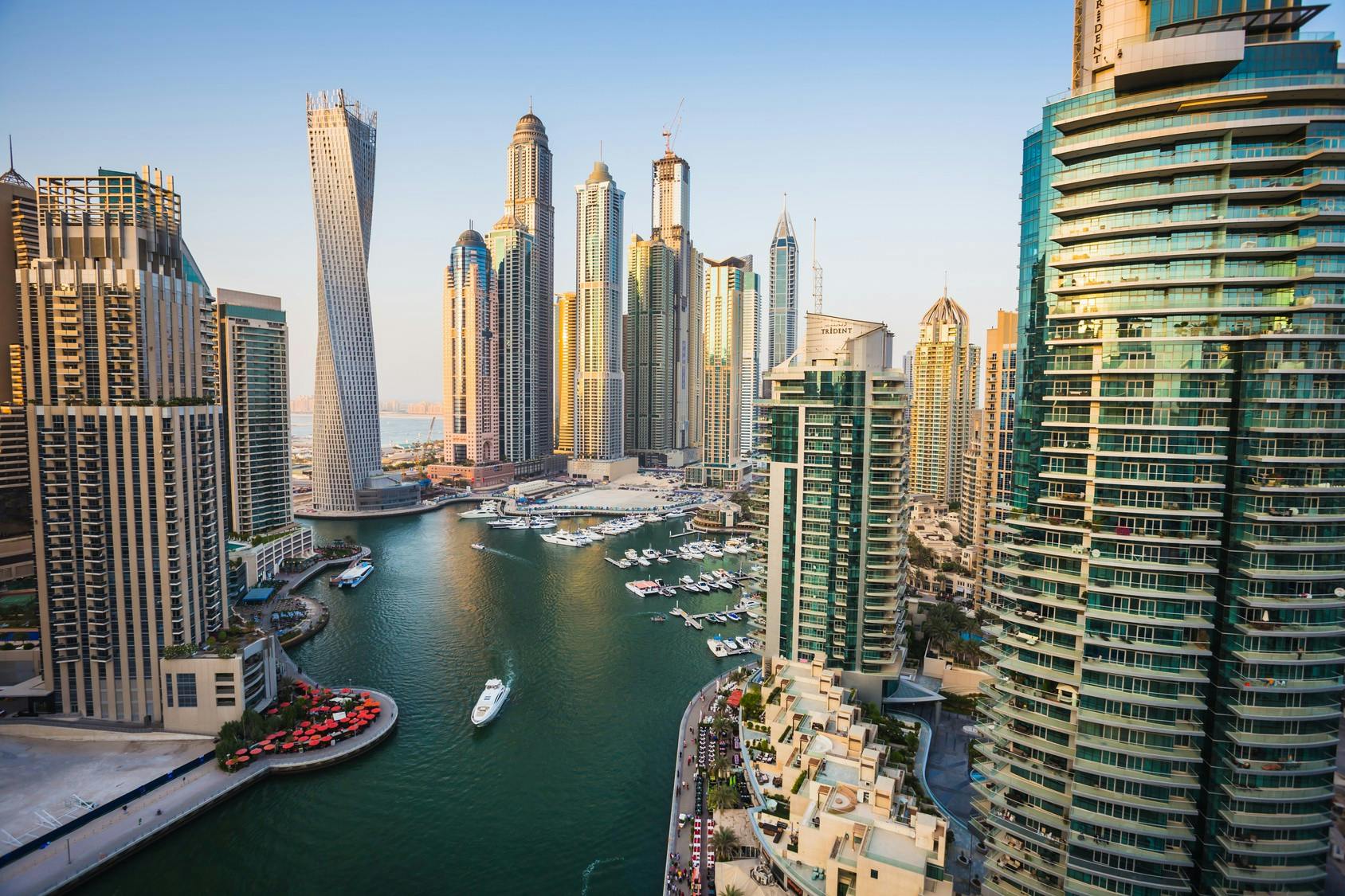 Dubai Marina
Eid Al Fitr is a truly joyous time where the Emirates are united in a sense of generosity and sharing.  Mini 'staycations', special holiday offers, shopping sprees and of course, dining experiences keep spirits high. Friends and family come together to celebrate, and theme parks and other entertainment attractions experience record attendance numbers.
Further excitement can be found in Dubai at the Ramadan Night Market shopping bazaar with more than 400 outlets. Other attractions at the market include a Kids Play Area, a variety of food options at the Food Court, a Grand Arabic themed Majlis along with an exclusive Henna Majlis for ladies. This year there is a new incredible chance for the residents and visitors of Dubai to create some new world records, break old ones and grab once-in-a-lifetime opportunity to inscribe their names in the Guinness Book of World Records. You can visit the night market at Hall 7 & 8, Dubai World Trade Centre – situated in the heart of Dubai.
Ramadan Mubarak to all!