Not only is Dubai a spectacular city for architecture and food, it's also a remarkable destination for anyone who appreciates a little bit (or a lot!) of retail therapy. From malls to markets to textile shops and more, local fashion blogger Faith Fauchelle shares her picks for shopping in Dubai.
When it comes to shopping, Dubai is a true citizen of the world. I've had the good fortune of living in seven different countries and visiting many more. Shopping in Dubai makes me feel like I've got travel memories from all my favorite places right on my doorstep.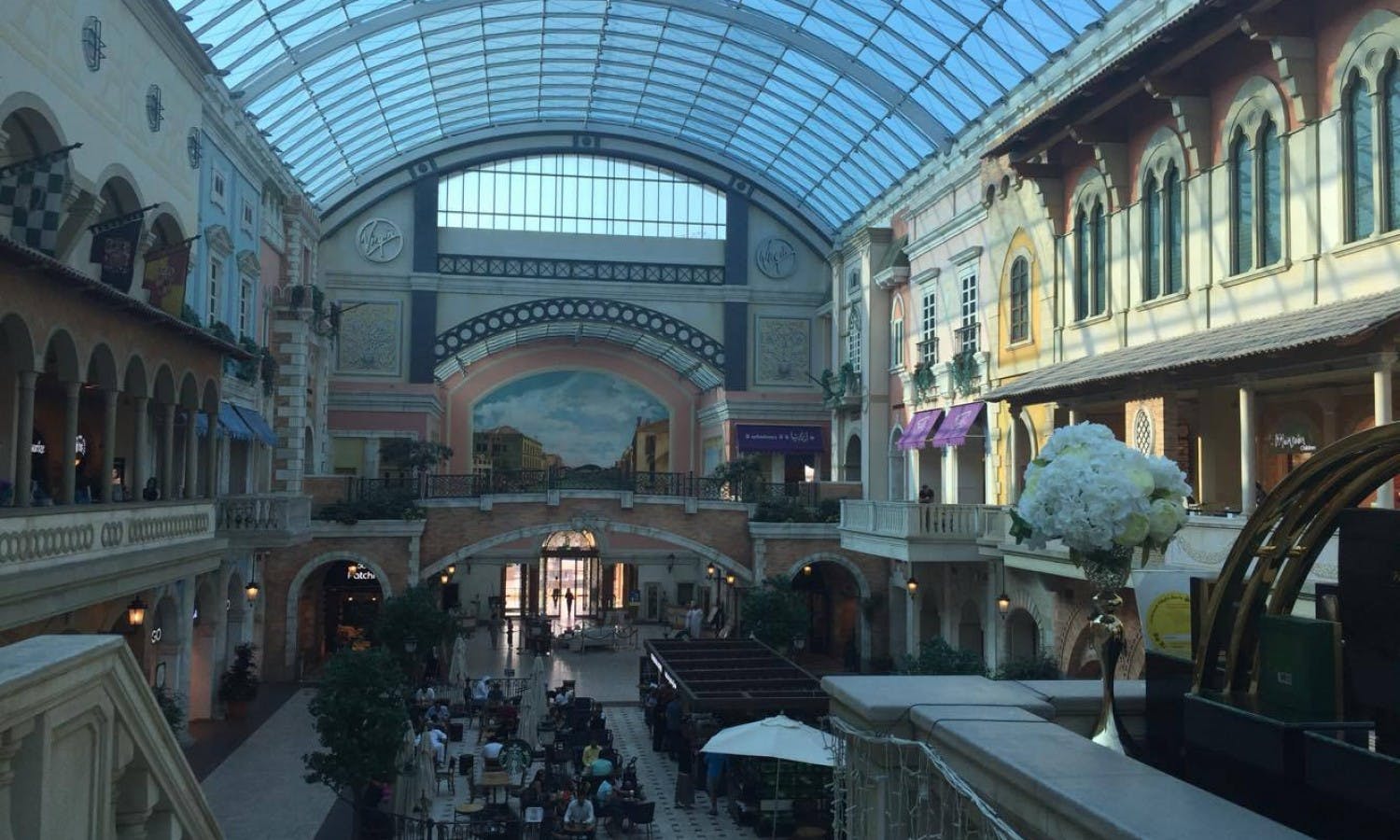 The Dubai Mercato Mall is inspired by an Italian town, photo: Faith Fauchelle
My favorite malls
The lesser-known malls offer amazing variety and are great for experiencing local life as well as for shopping without the crowds.
Mercato Shopping Mall This mall is inspired by Italy's quaint cobblestoned towns. Here you can buy chocolates from the Lebanese brand Patchi, the 'go to' gift for expats and locals alike. Upstairs you can find Dolce Antico for authentic Italian chocolate. Stop by Wilton, next to Spinney's supermarket, to drool over the 2,500 products for your cake decorating and baking needs.
The Madinat Jumeirah Souk Besides a gold vending machine discreetly located on the way out to the parking lot, the Madinat Jumeirah Souk also has Kiwi Saint Tropez, a swimwear brand that I fell in love with for one of my favorite destinations: Portofino, Italy. It's also at this shopping 'souk' where you can find one of the most quintessentially Dubai keepsakes: gold-plated playing cards. Several shops here, including Al Jaber Gallery, sell them. At a lovely store called Gallery One, you can pick up a small print of cute camels as a Dubai keepsake. While here, if you are going to a local restaurant, you can take a free Abra boat ride along the Madinat's picturesque canals. Popular restaurants here include  Pai Thai and the Mexican restaurant Tortuga, or you can have a coffee at the Zheng He Chinese restaurant. During the winter months, visit the turtle sanctuary near Zheng He.
Galleria Mall The Galleria Mall in Dubai is all about small doses of luxury. S*uce ROCKS is a fine jewelry concept store housing high-end jewelry which includes never-before-seen collections and some of the most popular brands from the region. If you wish to return to your home country with glamorous hair, pick up some products from the Aveda Hair Salon and even treat yourself to their full hair experience, you won't be disappointed.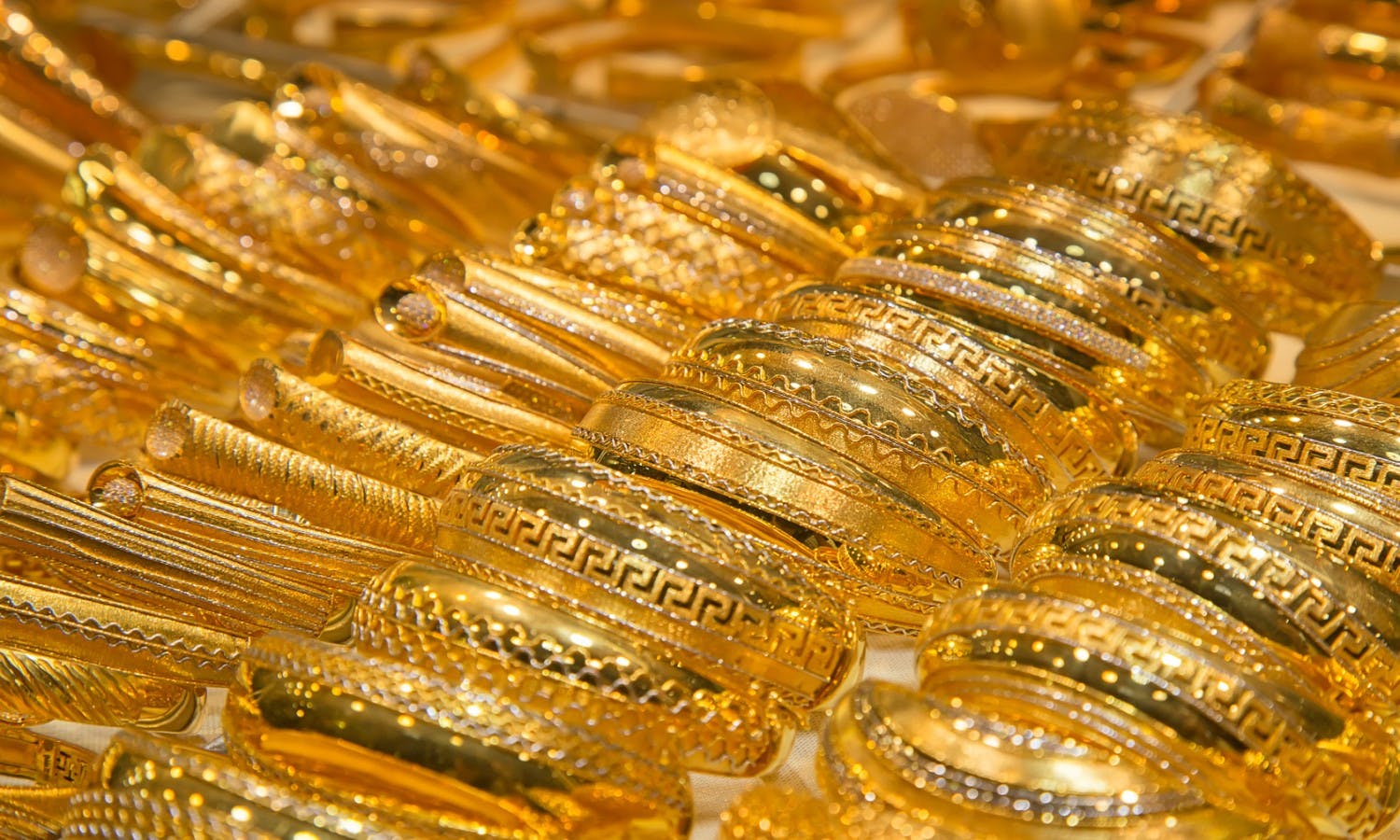 Just a small sampling of the myriad of bling for sale at the Gold Market in Dubai
The Gold and Diamond Park Located off Sheik Zayed Road, the Gold and Diamond Park is a must-visit for any jewelry needs. Whether you'd like like something fixed, cleaned, replicated or created just for you, go there! The most trusted jewelers in the mall include Cara (ask for Roger as he won't rip you off), Passion or Monili (ask for Vipul). Be prepared to bargain as it's essential to the experience. If you would like a necklace with your name written in Arabic, you can get one made at the Miracle Diamonds kiosk (k5).
City Walk 2 Although still under construction, City Walk 2 is the 'it' place to visit in Dubai right now. If you fancy the idea of a luxury children's department store where your child can play Legos while you grab a coffee and browse a comprehensive selection of children's wear, shoes, accessories and toys under one roof, then Level Kids will rock your world. While in City Walk 2, don't miss the opportunity to visit the Boutique Le Chocolat, a home-grown concept that currently houses 28 of the world's most premium chocolate brands with 60 more to come. Check out the life-sized chocolate dress! Biodome Green Planet is an origami-style glass building created to support lush, living flora and fauna including the world's largest man-made tree. You will even have a chance to get up close and personal with a sloth! Children will love Mattel's Play! Town where they can meet Fireman Sam, Thomas, Angelina Ballerina and Barney.
Mall of the Emirates My favorite shop in Mall of the Emirates is Praias, an outpost of the Brazilian swimwear brand. If you've just flown in from a colder climate sans sun lotion, you can pick up some of Vita Liberata toxin-free tanning products here. I love the natural tan that their products give to my otherwise white as snow skin. Admire the the indoor ski slope, penguin show and Lego store, and you can also pick up a pack of those gold-plated playing cards, the perfect gift for your friends back home, in the souvenir section of Carrefour.
Dubai Mall The magical fountains alone are worth the visit, but you'll find plenty to suit your fancy at the Dubai Mall. Don't miss Kinokuniya, a huge bookshop on the top floor with a lovely, free-wifi equipped quiet café. Pick up one-of-a-kind stationary gifts, decks of cards and your holiday reading.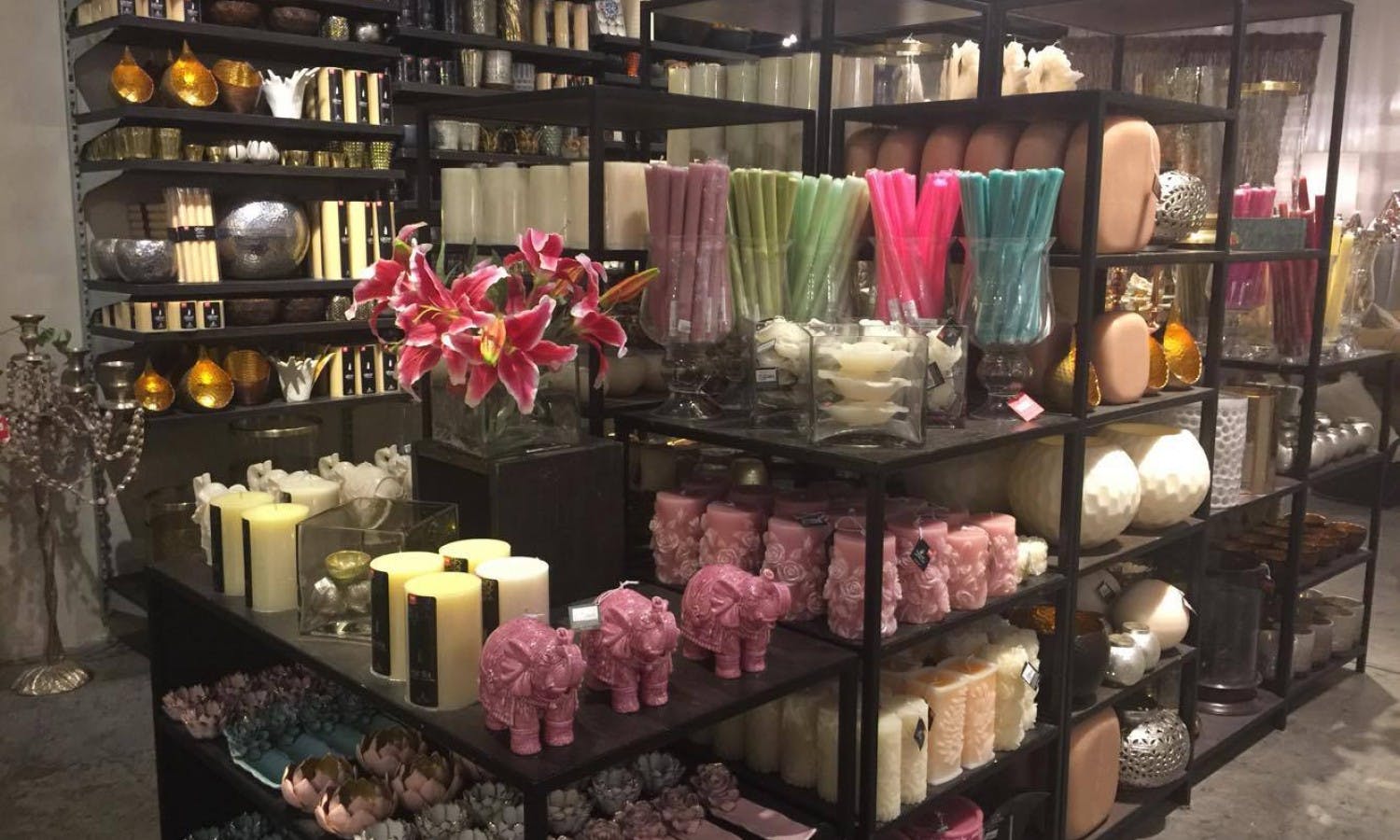 THE One offers amazing items for interior decorating, photo: Faith Fauchelle
My favorite shops for homeware and interiors
THE One store located next to the famous Jumeirah Mosque offers seasonal collections of one-of-a-kind, in-house designed furniture and accessories at an excellent value. Here, you can pick up the household trinkets that you've always wanted—but weren't sure if you needed—to add a touch of warmth and character to your home. They don't ship internationally (yet) so choose only what you can carry home with you.  If you're still in need of a homeware fix, head across the road to Zara Home to ogle at their tea towel fabrics, bed covers and pillowcases. Then go back across the road and stop at the Lime Tree Café to refuel with a piece of carrot cake and coffee. If you have the children in tow, they can play in the toy area. If your homeware fix still isn't satisfied, grab a taxi and head to Urban Yogi (bottom floor of Times Square Center near the parking lot) for some sustainable, luxurious pieces to compliment your beautiful homeware collection.
However, if lounging by the pool all day is more your style, you can shop online and have your purchases delivered right to your hotel. Check out Third Cultchr for a thoughtfully curated collection of one-of-a-kind culturally inspired, handmade home, fashion and lifestyle pieces from around the world. Another wonderful online find is Little Majils, which offers a wide variety of art, crafts and personalized designs from makers and merchants of the Middle East. Third Cultchr items can also be purchased from Little Majils which ships internationally, so you can cast any luggage woes aside and shop till you drop.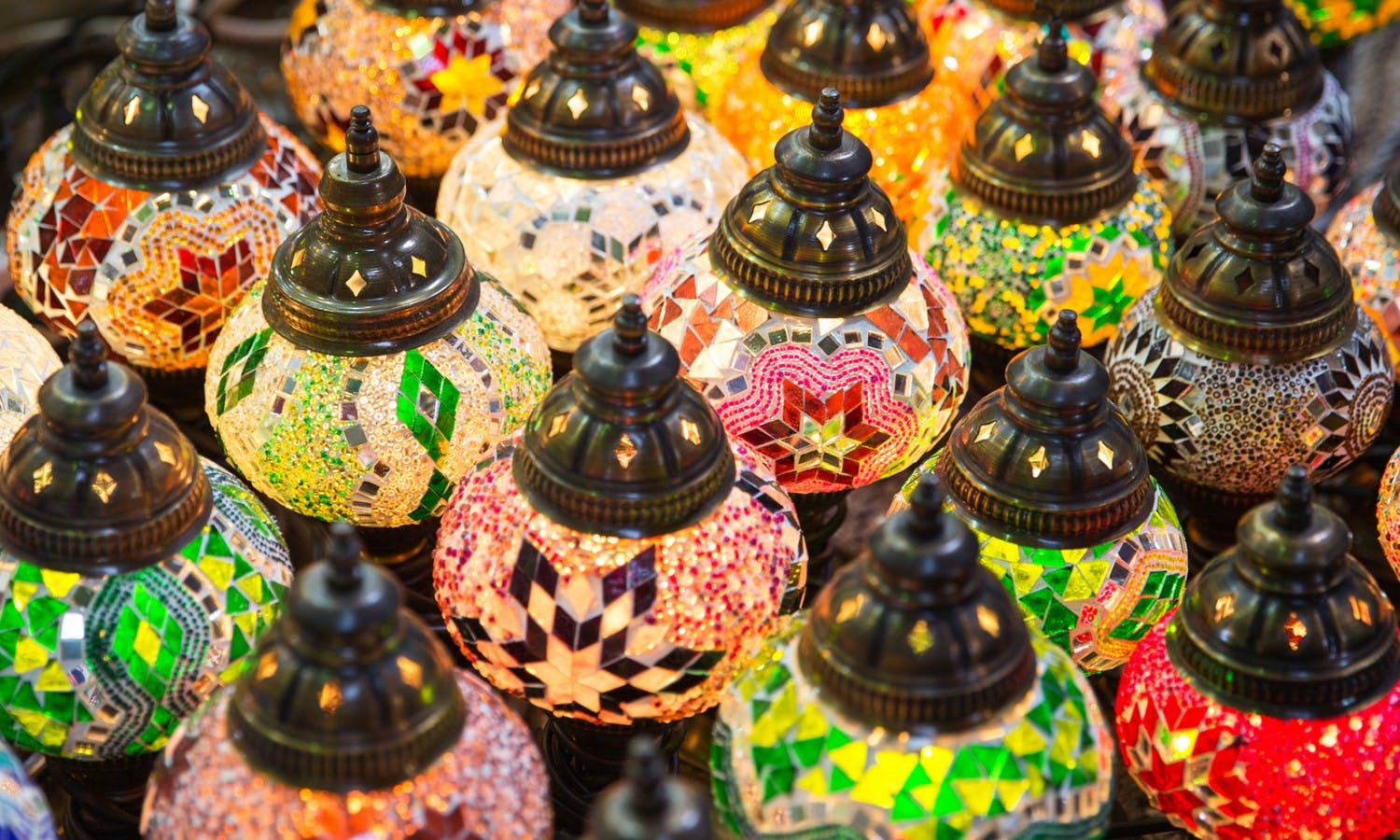 Stock up on some traditional Arab lamps at the Dubai Antique Museum or Dragon Mart
My favorite shops for souvenirs 
If you're up for an adventure, save all of your souvenir shopping for an entirely different (and much more cost effective) souvenir destination. The difficult-to-find, yet entirely unforgettable Dubai Antique Museum is a must if you are looking for Arabic lamps and decorative handicrafts for your home. Spread among four massive warehouses (all of which lack air conditioning) are miles and miles of narrow lanes with floor-to-ceiling stacks of souvenirs from Dubai, Africa, Indonesia, Egypt, Morocco, Turkey and Nepal.
Another place that will leave you a bit disorientated but in awe is Dragon Mart — this is not Aladdin's cave, this is Aladdin's city, and it's filled with objects that will satisfy your every whim and fancy. Need a neon shop sign? Or a manhole cover? What about some smoke machines? An oil painting? Look no further…check them all off your wish list here.  Dragon Mart is also the best place to buy Arabic lamps at very reasonable prices.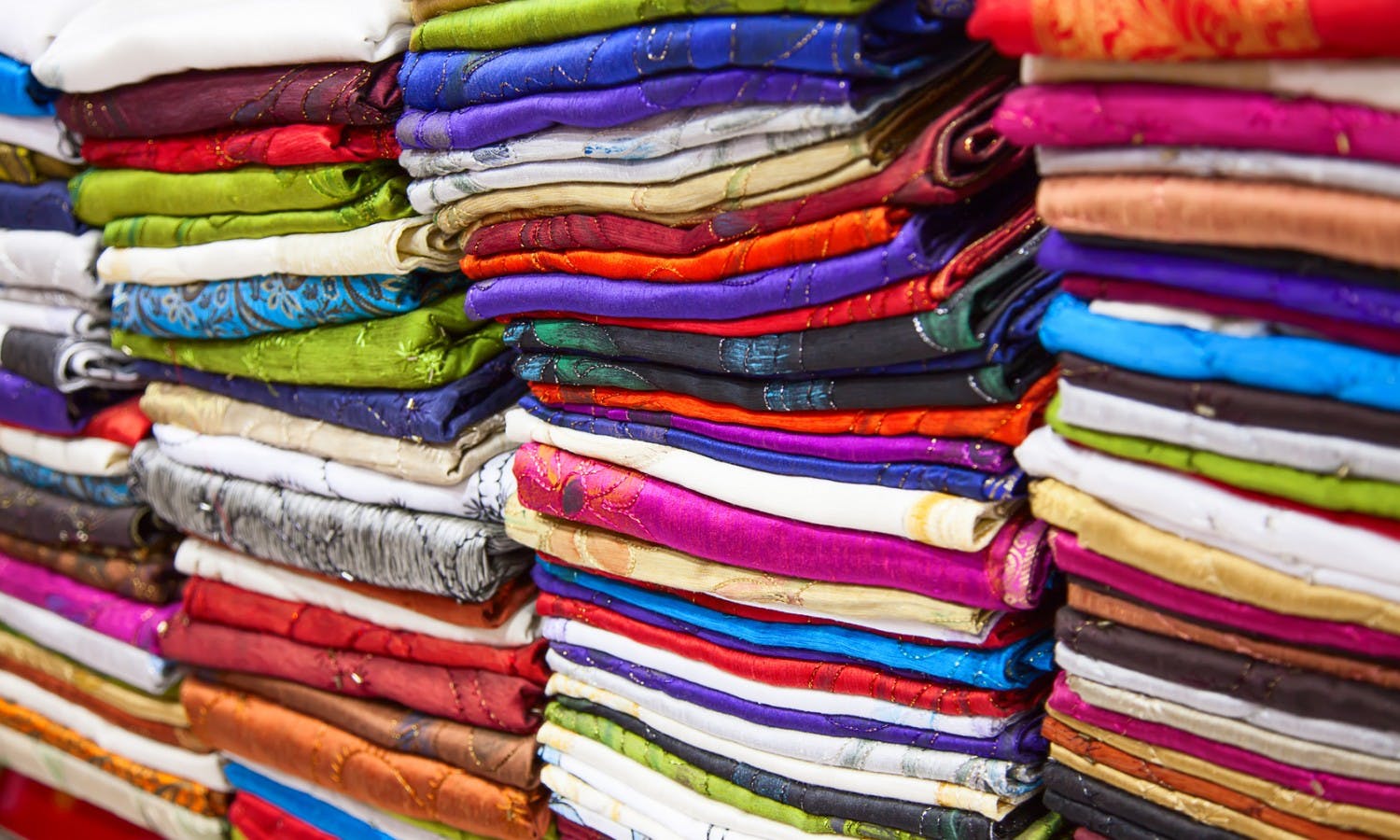 Take your pick from a seemingly infinite selection of colorful textiles
Where to find haberdashery and textiles 
Fida Trading in Satwa is the place to go for any and all haberdashery needs. They have a dazzling display of beads, buttons, thread, yarns, glitter, ribbons, lace, fur, felt, embroidery thread and hoops, Swarovski crystals, feathers and more.
Srour textiles is a fabric shop with great choices that will appeal to amateur seamstresses, professional quilter and everyone in between. The staff is friendly and the fabric usually costs anywhere from 13 to 20 AED. Be prepared…you will get carried away and buy lots!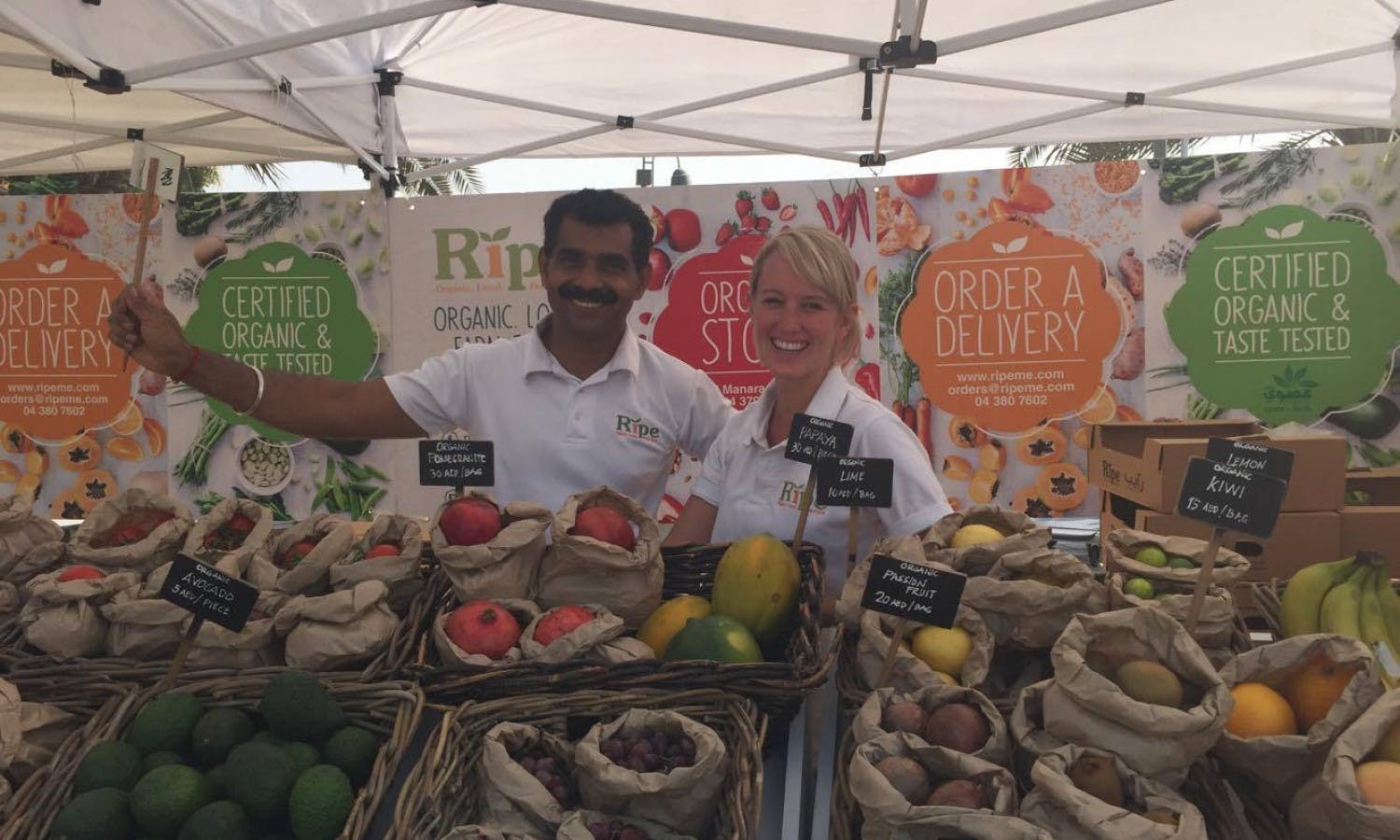 Ripe Market, photo: Faith Fauchelle
Dubai's growing market scene
Ripe Market: A weekly Ripe Market is held in different locations around Dubai depending on the season. It currently occurs on Wednesdays from 2.00pm-9.00pm at the idyllic Mina Seyahi Resort Amphitheatre by the sea. At Ripe Market, you'll find organic food; hand-crafted home items from local artists; boutique fashion for adults and children; and bespoke jewelry.
Arte: An abbreviation for Artisans of the Emirates, Arte changes venues regularly but is always in a beautiful setting. Check out their website for the most up-to-date location details.